The flights are booked, the lodging is arranged. You're going to Bristol Bay. Dang, I'm jealous.
First of all, you may be spending significant amounts of money, time and effort to travel to remote, southwest Alaska. Maybe there's a little part of you that has buyer's remorse about all that? Well, don't. Just experiencing this unique, pristine and incredibly productive corner of Alaska is worth the trip. Fishing is a cherry on top.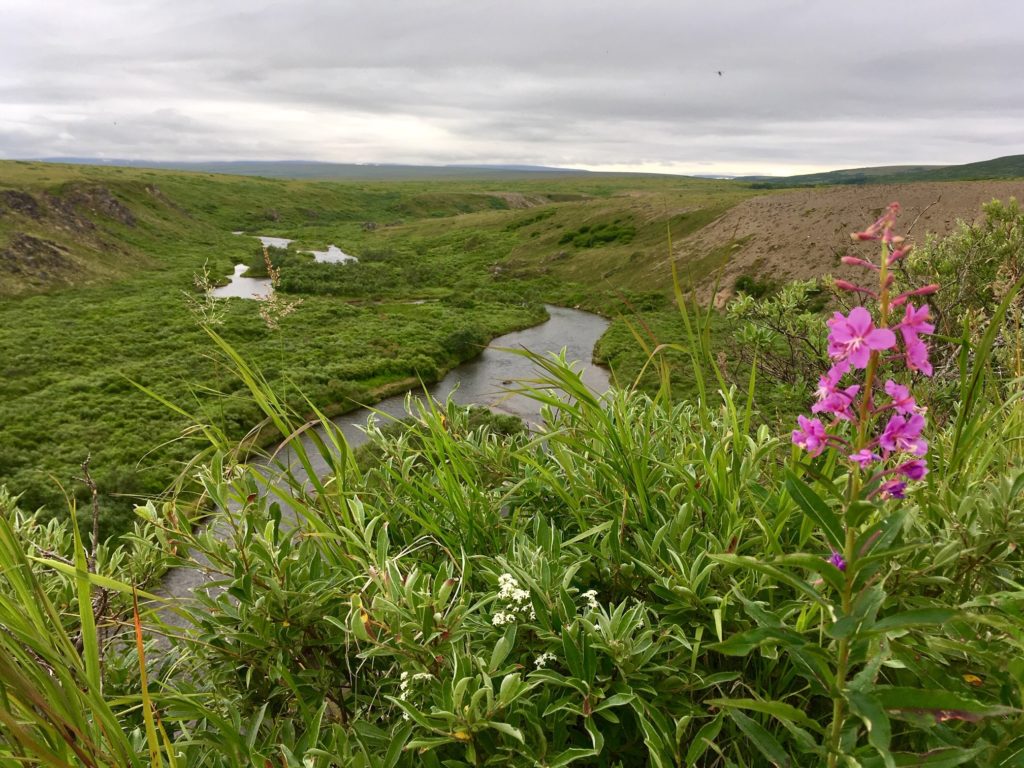 There are very few places left in the world where you can see and fish for thriving runs of salmon and massive rainbow trout, and fly for miles without seeing a road, buildings or other signs of human development. If you're anything like me, you'll be blown away by the magnitude of the place, and the special, uniquely Alaskan experience that comes with it. Assuming you're one of us 'good guys' who want to help keep it this way, I'm truly excited for you.
Preparation for and anticipation of the trip adds to the overall enjoyment so you may as well start your packing list now. There are tons of websites that can recommend the basics, but below I've listed a few Bristol Bay-specific items you won't want to leave out of your pack, and a couple you can.
Make sure to bring: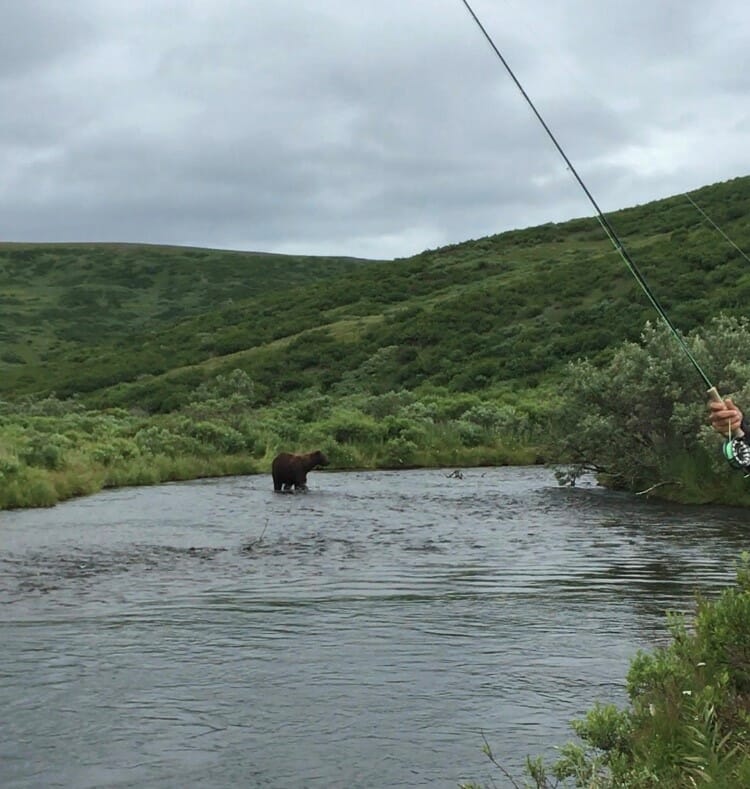 Bear spray: Don't be a dummy and buy it at home, you can't carry that stuff on airplanes! But you're going to want this, and keep it accessible, not buried at the bottom of your pack. Bristol Bay bears are well-fed bears, but they want to be on the river just like you do. Six out of 10 times, they'll be fine having their plentiful snacks and you can fish right alongside them. Three out of 10 times, they'll want to show you who's boss and sniff around or bluff charge you, but still — they really don't want to cause problems. One out of 10 times they mean business. Bear spray is good within 30 feet and don't forget to watch the wind direction.
Every layer you own, but just one of each: Sunny, July days and cold, rainy days where the wind blows sideways at 40 mph happen on the same day in Bristol Bay. When I fish, basically no matter the weather, I start the day wearing wool socks, leggings, a wool sleeveless base layer, a light long sleeve, a wool or technical mid-layer, baseball hat, and a shell. I pack an extra mid-layer, a puffy jacket of some sort, gloves, a buff, and extra socks. And snacks, always snacks.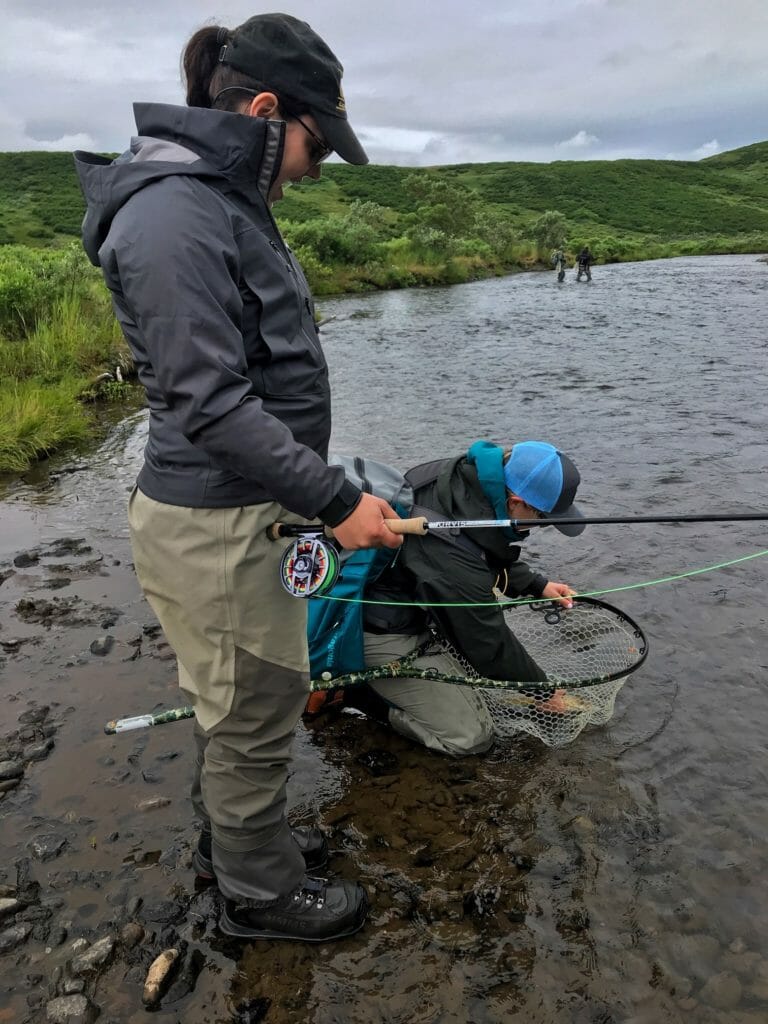 A big ass net: If it's king season, you should be able to fit your 40-pound bird-hunting dog in it. If it's trout season, you should be able to easily fit your neighbor's yappy toy poodle in it.
Soft-sided duffel bag: These are easier to load in small planes than hard-sided roller bags. And they just look cooler.
A waterproof camera: You will want to remember these awesome fish and show all your friends! But please, keep 'em wet. The fish should be partially submerged in the photos or with the river in the frame showing that the fish was minimally handled with low air exposure.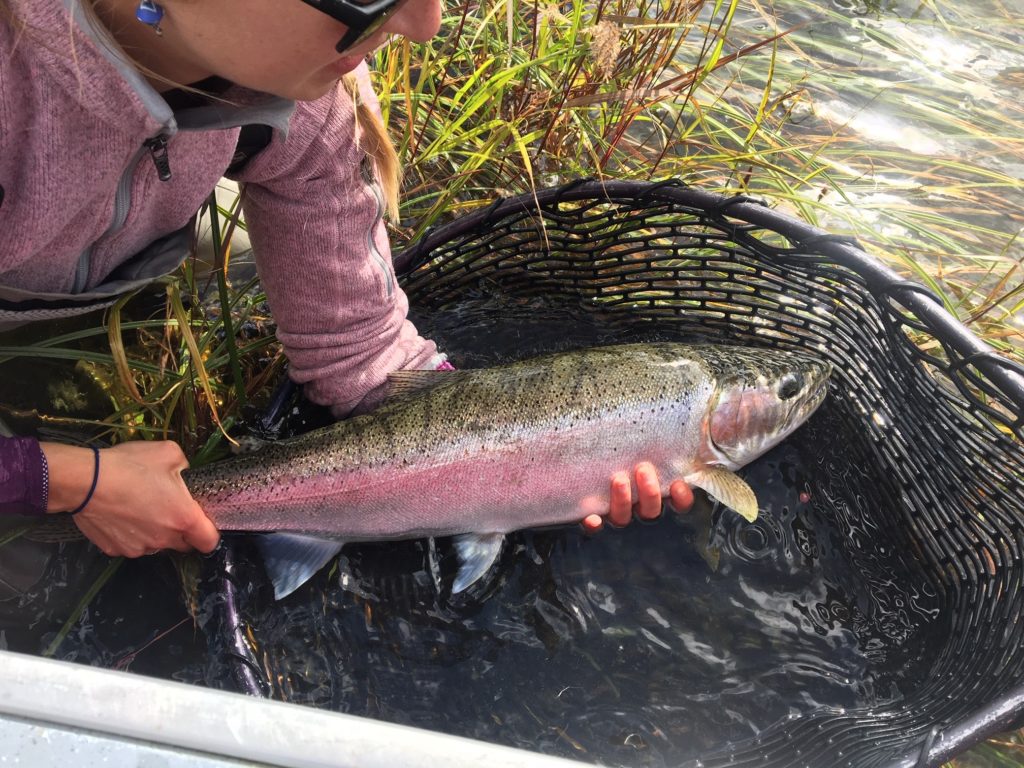 Polarized shades: There's nothing like sight fishing with a mouse pattern on a small Bristol Bay stream. Really – nothing like it. But if you're a dry fly angler anything like I am, and you have crappy shades on top of it, you'll miss the trout 99% of the time instead of the 90% of the time you otherwise would. (Spoiler: it's still fun.)
An open mind on the proposed Pebble Mine: Yep, I said it. I'm personally totally opposed, but go ahead and be open to the idea when you make your way to the Bay. I guarantee you, you won't talk to a single person from the region who is for it, you won't see a single-pro Pebble advertisement, and by the time you leave, you won't be able to fathom how blatantly lacking in soul and common sense a person must be to favor building a toxic, open-pit larger than the Hoover Dam in a place so incredible.
A fly box that's super ready to rumble: It's not uncommon to see anglers still clicking their waders on or finishing last bites of their breakfast sandwich as they run to the river or set the first hook. You're going to want to be ready to go on day one. Black or egg sucking leeches are a dependable choice, as is a bead, and an olive stimulator.
Leave at home:
Bug dope: Yes, there are going to be lots of bugs, some of them are mosquitoes, many of them bite. Most are no-see ums, that just fly endlessly around your head and couldn't care less if you're wearing bug spray or not. Most bug spray is bad for your gear and really, honestly doesn't make a bit of difference. I can't name a single guide in the Bay who wears it. I never do.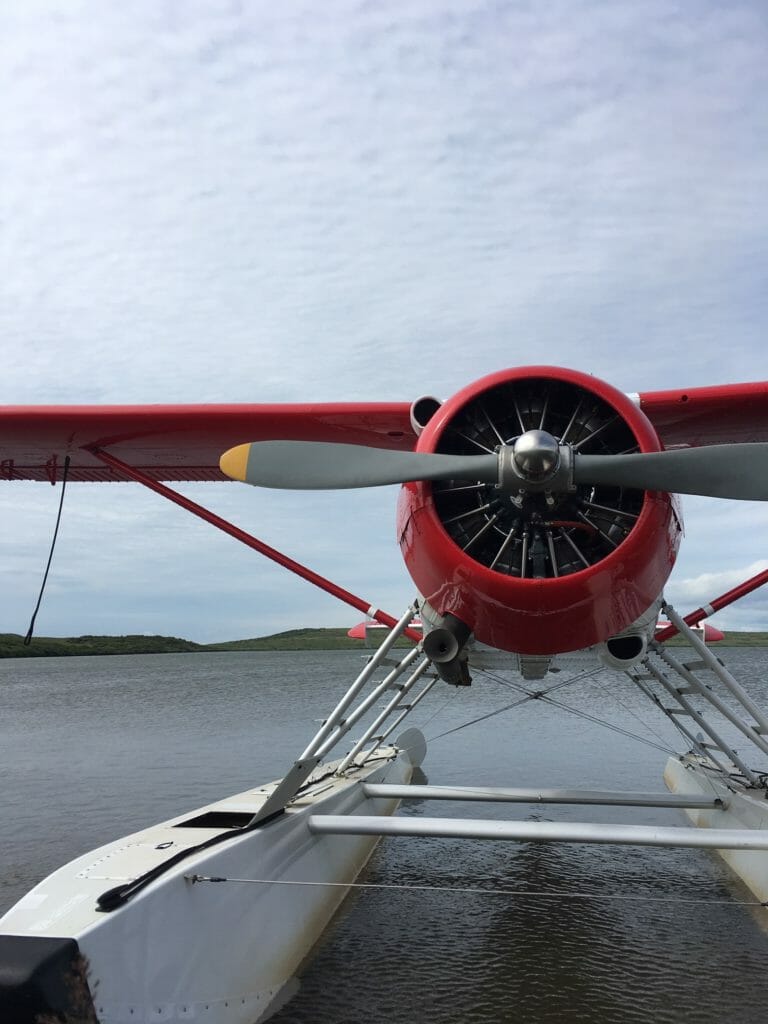 Extra clothes: Small plane pilots don't want to deal with the extra weight of those clean Wranglers that don't go under your waders or the sweater you could wear to dinner one night. Bring a dependable, quick-drying version of each layer and see what it's really made of.
Laptop: Just take a break. There's truly no better place to do it. The internet connection sucks there anyway.
If you have a layover in Anchorage on your way home, make sure to stop in to the TU-Alaska office near the airport. Grab a cup of coffee and a 'No Pebble' sticker. You can show us your pictures and we can chat about the work we're doing to protect the region. Oh, and you can leave that canister of bear spray for our staff to keep instead of the airport TSA garbage can. 😉
P.S. If this has inspired you to make a trip of your own and you need tips on where to go or how to get there, check out TU-Business Members, Alaska Fly Out .