By Ben Tayloe
A spoiled, seven year-old yellow lab named Chester and a six-week stay in Germany for my wife's job made the drive across the country a necessity. The only family member who volunteered to watch our dog happened to live on the central coast of California, a great place to visit but nearly 3,000 miles from our home in Pennsylvania. Family and friends found this an illogical choice, but Chester wasn't stepping on an airplane. The two of us couldn't complete the drive on our own, so I had to bribe my 15-year-old son to join us.
On the trip west in June, Chester, Mike and I made numerous K9 swimming stops and spent a night car camping in Badlands National Park. During our visit to the park, Mike insisted on hiking up to a plateau in a desperate attempt for cell phone service. There, the three of us sat alone on dirt and rock for hours, with a few bison roaming about in the distance. We watched the sun fall beneath red rock formations and towering spires. We also stared attentively at Mike's cell phone as the Washington Capitals vied for their first Stanley Cup. It was time well-spent as the Caps hoisted the cup for the first time, and we celebrated in darkness.
See, this brief reprieve from our long journey west was only a small part of a seemingly endless negotiation. It was only after the promise of two extended stops to fish prime trout water in Montana and Wyoming that I was able to close the deal.
We focused our initial fishing effort on the Beaverhead River and Poindexter Slough, near Dillon, Mont. The scenery was spectacular, but after record snowfalls, spring run-off made the conditions challenging in June. Many were vying for the few accessible stretches of wadable water and drift boat traffic was a constant. The only action was sub-surface, and while we caught a few fish, we had visions of native trout engulfing large hopper patterns with violent strikes on the surface while we stood alone by the river. We knew it wasn't the right time or place before we even started.
We completed the drive to California and then six flights from California to Pennsylvania to Germany and back. Ten weeks after we had started for California, it was time to drive Chester home.
On our return from California, our vision of native trout and solitude would become a reality. Driving east in August, we followed a steady stream of smoke from western fires to Jackson Hole, Wyo. The smoky haze obscured our view of the Tetons upon our arrival, but all was not lost as Mike saw his first bull moose near a trailhead along our route. As we crossed the Snake River on Highway 22, we watched in awe as a throng of vehicles waited patiently to heave their drift boats onto trailers and wade fishermen stood waist deep in the river a few yards away. This was not the place for us either.
A friend had suggested that we connect with the knowledgeable characters at JD High Country Outfitters in Jackson Hole about a secluded place to fish. There we learned that if we headed north from town and followed the long and winding Gros Ventre Road for 12 miles past the town of Kelly, we'd find solitude on the Gros Ventre River. Better yet, a robust population of aggressive Snake River cutthroat trout waited for us. The trout, referred to as "dumb blondes" by locals, were eager to pounce on hopper patterns because of the short summer season. While the trout were only 10 to 14 inches, smaller than those we caught drifting San Juan Worms and scuds on the Beaverhead weeks earlier, having them attack our hoppers on the surface added an element of excitement to the day. We were ecstatic to have caught our first Snake River cutthroat trout, and with the exception of one or two logging trucks, we had the river to ourselves.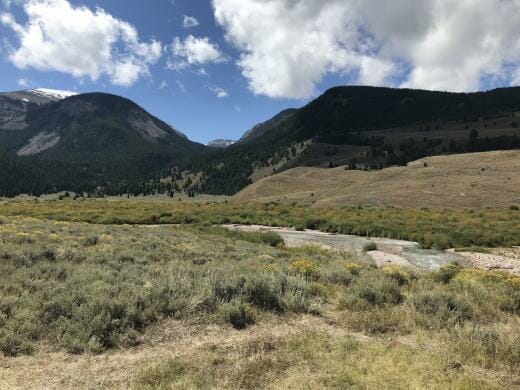 The following morning, we returned to the same location only to be pelted with rain and hail. We were told two days before that if we drove a few miles further into Bridger-Teton National Forest along Forest Road 30377, now a muddy mess, Crystal Creek would provide another secluded stretch of water with plenty of trout. Spinning tires, we made our way to the Crystal Creek trailhead. Upon our arrival, the clouds had cleared, the smoky haze had been pushed aside and snow dotted the higher elevations. More striking, the majestic Tetons were revealed, towering above it all. The scenery was spectacular and so was the two hours of late-afternoon fishing that followed.
More than a handful of trout were slapping the surface of the same small pools, many larger than we had seen the day before. We had never witnessed such frenzy on a stream. While a few trout were caught on the same hopper patterns we used earlier, black and white Chernobyl Ants brought the most fish to our nets.
With school just around the corner, it was the perfect end to an exciting summer. Upon our return to Pennsylvania, Chester, Mike and I were eager to separate from the truck and each other. I often reflect back on my favorite memories from the journey, and I'm sure Mike does the same. Watching Chester's shock and joy as he plunged into an alpine lake in Eldorado National Forest, California, celebrating the Capitals' Stanley Cup victory in the darkness of the Badlands of South Dakota and listening together to Ken Kesey read "One Flew Over the Cuckoo's Nest" as we sped through Nebraska on I-80 (is something wrong with completing your summer reading via book-on-tape?), just to name a few.
However, most often my mind returns to Crystal Creek and the image of Mike, a tiny feature of the landscape, standing streamside in perfect solitude beneath the dramatic backdrop of the Bridger-Teton Mountains and a clear-blue sky.
Ben Tayloe is a TU volunteer and a member of TU's Valley Forge Chapter in Pennsylvania.