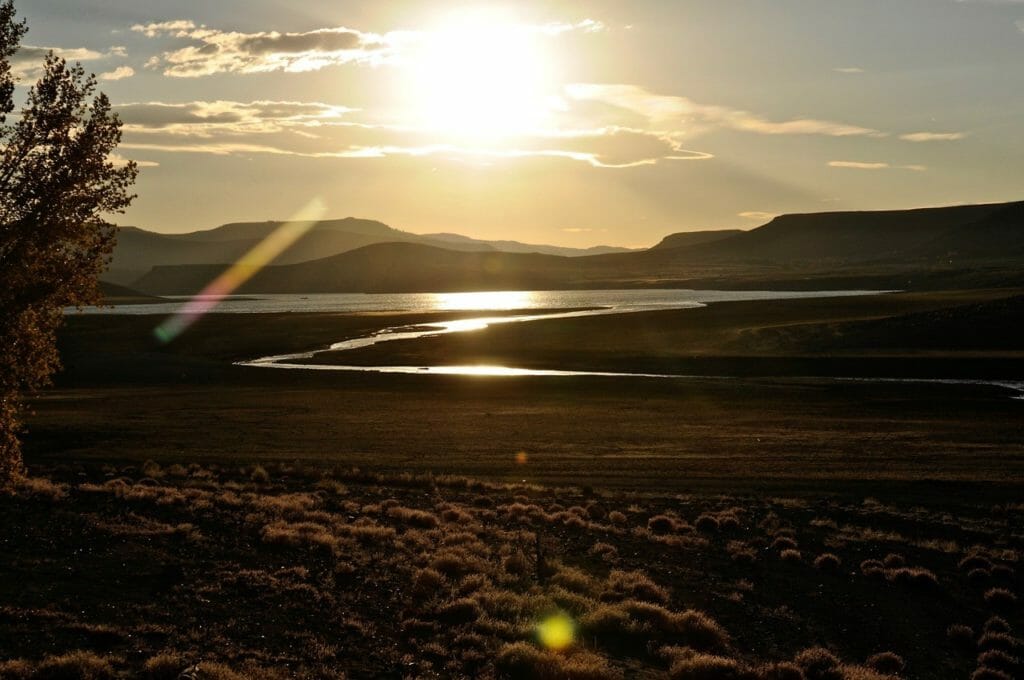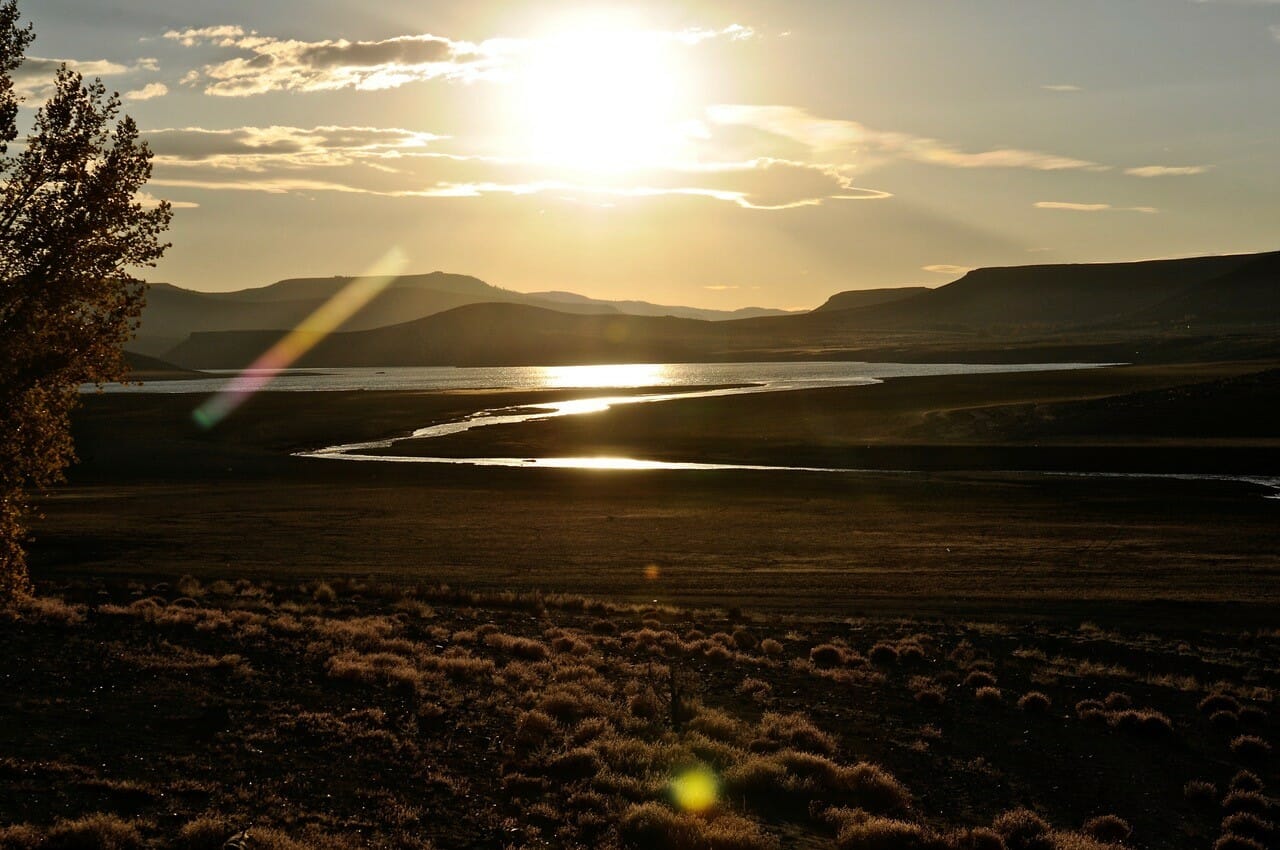 Measuring 20 miles long with nearly 100 miles of shoreline, it's difficult to ignore Blue Mesa Reservoir. Sitting on the western flank of Gunnison County, Colorado's largest body of water is a pivotal cog of the Colorado River Storage Project and the centerpiece of the surrounding Curecanti National Recreation Area, a sport fishing and outdoor recreation hub that attracts hunters and anglers from around the nation.
Yet, somehow Congress has managed to overlook the Curecanti NRA — which also includes Morrow Point and Crystal reservoirs on the eastern edge of Black Canyon of the Gunnison National Park — since it's creation in 1965. Although managed for recreation through the National Park Service (U.S. Bureau of Reclamation acts as co-manager responsible for dam and water operations), Congress has never formally designated Curecanti as a Park Service unit and established its boundaries under law.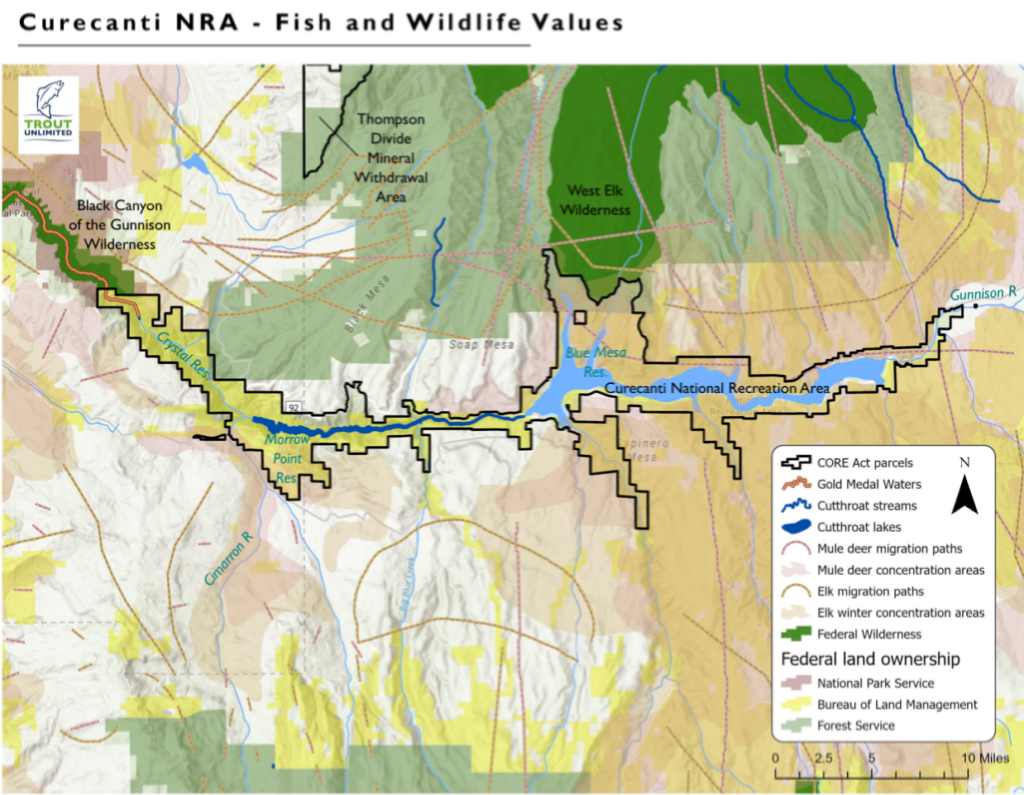 The Colorado Outdoor Recreation and Economy (CORE) Act aims to fix that oversight through one of four provisions designed to protect fish and wildlife habitat and improve access to some of Colorado's most prolific public lands. In recognition of that emphasis, several of the nation's leading sporting conservation groups — including Trout Unlimited, National Wildlife Federation, Theodore Roosevelt Conservation Partnership, Artemis, and Backcountry Hunters and Anglers — joined Senator Michael Bennet in Gunnison this week to proclaim their unified support for the legislation under the banner of "Hunters and Anglers for the CORE Act."
"Hunters and anglers in Colorado and throughout the nation recognize the importance of protecting the unique landscapes the CORE Act represents and the fish and wildlife that depend upon them," said Scott Willoughby, Colorado public lands coordinator for Trout Unlimited's Angler Conservation Program. "As we continue to see habitat deteriorate and public access to quality fishing and hunting areas decline, it has become painfully obvious that passing the provisions found in the CORE Act is long overdue. 'Hunters and Anglers for CORE' wants to put an end to that and calls on the Senate to push this legislation over the finish line."
CORE Act history
Introduced in 2019 by Sen. Bennet and Colorado Congressman Joe Neguse, the CORE Act combines four previously introduced bills into a single public lands protection package that covers more than 400,000 acres of Colorado's premier cold-water fisheries and most precious wildlife habitat. Stretching from the San Juan Mountains in southwest Colorado to the Continental Divide in the White River National Forest, the CORE Act would create about 73,000 acres of wilderness, designate nearly 80,000 acres as new recreation and conservation management areas, and withdraw over 200,000 acres from future mineral leasing in the water- and wildlife-rich Thompson Divide area southwest of Glenwood Springs.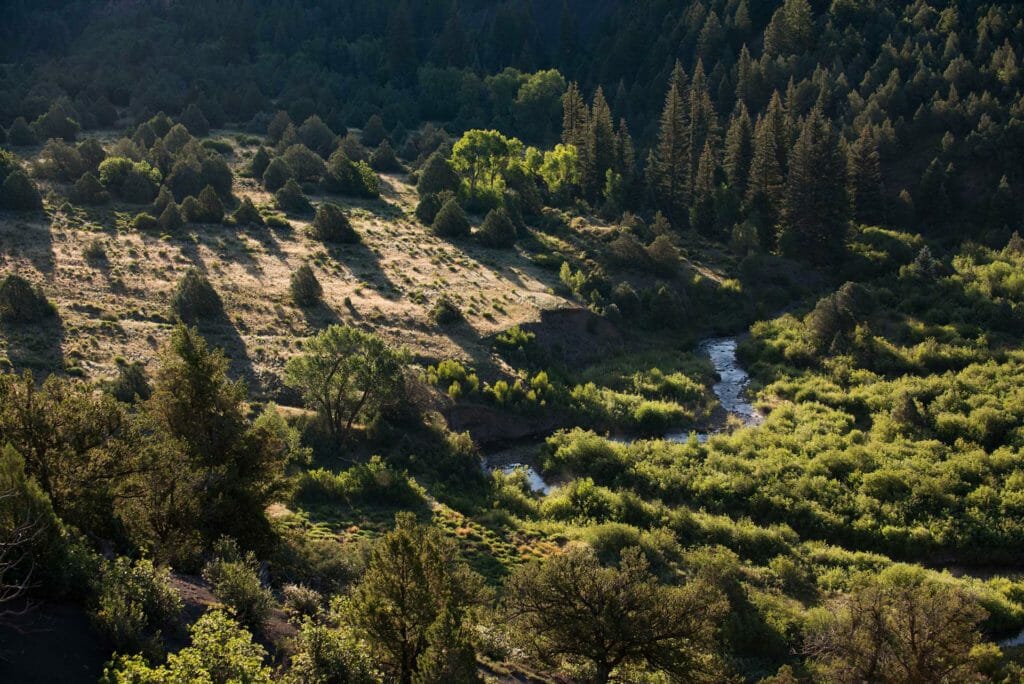 In addition to formally establishing the long-awaited boundary and management agency for Curecanti NRA, the CORE Act would also increase public fishing access along some 12 miles of the Gunnison River basin as the remaining repayment for river access lost to inundation when Blue Mesa, Morrow Point and Crystal reservoirs were filled. Despite the Bureau of Reclamation's recognized obligation to provide a total of 26 miles of public fishing easements as mitigation for losses upstream of Curecanti's three dams, that partially fulfilled responsibility has somehow been neglected for more than 50 years as well.
"Public demand for fishing access in places like the Gunnison basin has never been higher, and options for exploring Colorado's 'wild side' are shrinking daily. It's unfortunate that the federal obligation to restore access has not yet been met, but the CORE Act is tailor-made to address that and other pressing issues for Colorado hunters and anglers," Willoughby said. "Conserving habitat and providing quality fishing access are essential to sustaining Colorado's exceptional hunting and angling opportunities and the associated outdoor recreation economy. From the prime big game habitat and unique native cutthroat trout fisheries of the Thompson Divide to the pristine headwaters flowing from the San Juan Mountains, the provisions of the CORE Act answer the call from hunters and anglers to conserve and enhance the best of Colorado's great outdoors for generations to come."
CORE Act details
Beyond the public fishing access delivered by the Curecanti Boundary Establishment Act, the CORE Act provides significant protection for the lands and waters valued most by the sporting community. A recent Trout Unlimited analysis of critical fish and wildlife habitat protected in the bill's framework found that the CORE Act safeguards some 2,416 miles of streams, 100 miles of native cutthroat trout steam habitat, 12 cutthroat trout lakes spanning 804 acres, nearly 7 miles of Gold Medal fishing water and an additional 88 miles of Gold Medal waters downstream of protected headwater landscapes.
What's more, the CORE Act includes hundreds of thousands of acres of critical elk and mule deer range and nearly 100,000 acres of important migration corridors at a time when both the State and Federal government have issued special orders focused on protecting animal migration routes. The new Porcupine Gulch Wildlife Conservation Area would protect Colorado's only migration corridor over Interstate 70 for elk, bear, mule deer and other wildlife, and the Williams Fork Wildlife Conservation Area would enhance wildlife habitat for similar game species along with the greater sage-grouse.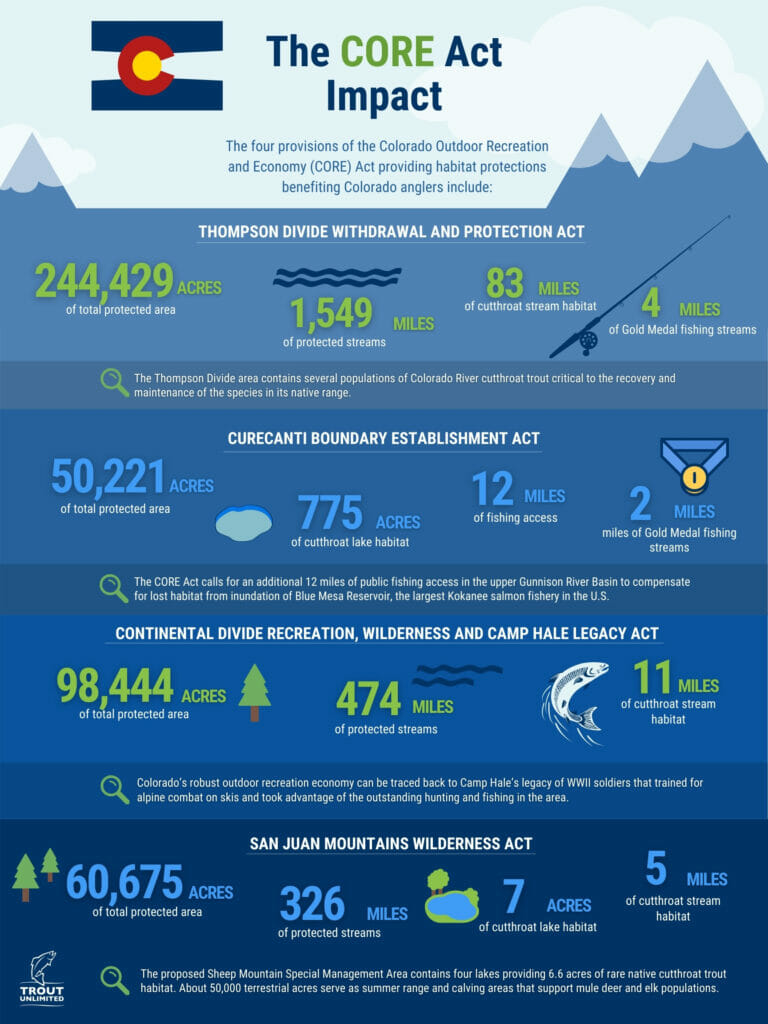 National Wildlife Federation weighs in
"The CORE Act represents an incredible opportunity to conserve some of the finest fish and game habitat Colorado has left," said Aaron Kindle, director of sporting advocacy for the National Wildlife Federation. "Our population is exploding, so it's important to consider the stressors on these landscapes and what we can do right now to plan for the future. The CORE Act represents the best opportunity to make those plans and ensure our sporting traditions will endure for generations to come. We salute Senator Bennet for continuing to carry the torch."
Backcountry Hunters & Anglers speak up
"Contained within the landscapes highlighted in the CORE Act are headwaters, migration corridors, and ranges critical to the health of species including Colorado River cutthroat trout, Rocky Mountain bighorn sheep, elk, mule deer, desert bighorn sheep and many other species," added Brien Webster, Colorado program manager for Backcountry Hunters & Anglers. "The future of our hunting and fishing traditions and the North American Model of Wildlife Management depend on our ability to conserve quality habitat and to address the needs of wildlife in the face of dynamic challenges with increasing complexities. This bill does that, and as such, is uniquely important to hunters and anglers."
Current status of the CORE Act
After first succeeding in the U.S. House of Representatives in October, 2019, the CORE Act passed in the House a second time last month as an amendment to the National Defense Authorization Act (NDAA), offering the U.S. Senate further opportunity to take up the as-yet unheard bill in conference committee when Congress reconvenes after August recess. While the legislation calls for designation of the first-ever National Historic Landscape at the U.S. Army's World War II winter training grounds at Camp Hale, it's worth noting that the last major Colorado public lands legislation to be signed into law — Bennet's Hermosa Creek Watershed Protection Act — was also approved as a part of the defense appropriations bill in 2014.
TRCP agrees – the CORE Act has support from hunters and anglers
"The four areas slated for protection under the CORE Act are some of the most sought-after hunting and fishing destinations in the state. The conservation of these landscapes has received a great deal of support from local counties and municipalities, businesses, recreation and sporting groups, and other stakeholders. By applying permanent safeguards to more than 400,000 acres of public lands in Colorado, the CORE Act will ensure that these iconic landscapes—and the economic activity they support—will remain intact for future generations of Coloradans," said Nick Payne, the TRCP's Colorado representative and leasing policy specialist.
Colorado's outdoor recreation industry employs over 500,000 people and is responsible for 10 percent of the state economy, a significant portion of which can be attributed to fishing and hunting. Protecting the public lands that support those traditional values and revenue-generating opportunities remains a top priority for sporting conservation groups like TU, NWF, TRCP, BHA, Artemis and others interested in maintaining Colorado's prized fish and wildlife habitat for future generations. The four provisions of the CORE Act will help accommodate that forward-thinking vision.
Sportswomen speak up for protections
"The CORE Act is a model for how good conservation work is done. Colorado counties worked in close collaboration with hunters and anglers, businesses, recreation groups, and conservationists to protect the lands, waters, and wildlife so vital to our Colorado way of life," said Emily Ledergerber, an Artemis leader out of Durango. "This future-focused legislation fuels our outdoor economy and safeguards the vitality of our hunting and fishing heritage. Thank you, Senator Bennet, for championing the CORE Act and our cherished landscapes."