There was a circulation of steam from hot coffee and one's breath as excited chatter filled the crisp fall morning air. Though the morning was cold, hearts were warm, and the anticipation of tight lines was on the mind. The day had finally come for the Armed Forces Fishing trip!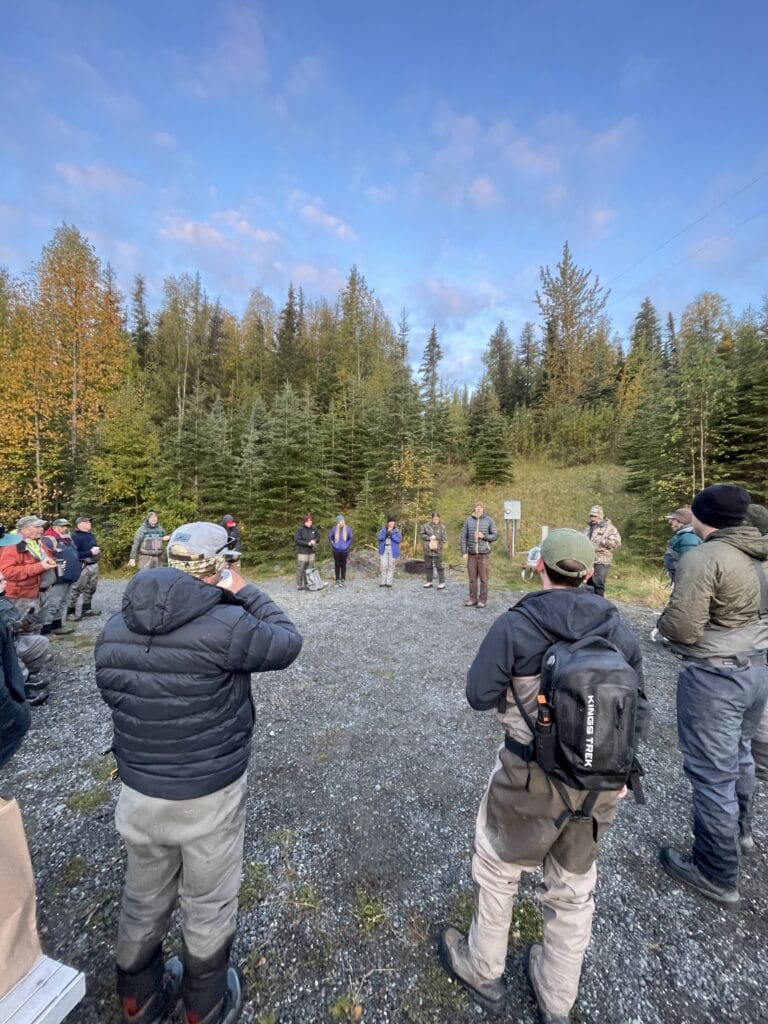 This trip has been hosted regularly by Trout Unlimited Alaska and Kinross Alaska since 2018 as a small way to show our appreciation to the women and men that have served as a member of the Armed Forces. This trip never ceases to foster connections, community and a much-appreciated reprieve from the everyday hustle and bustle of life.
This year we headed down to the Kenai Peninsula to host 14 service members for a day on the middle Kenai River with five guides from Trout Unlimited's Kenai Guide Ambassador Program.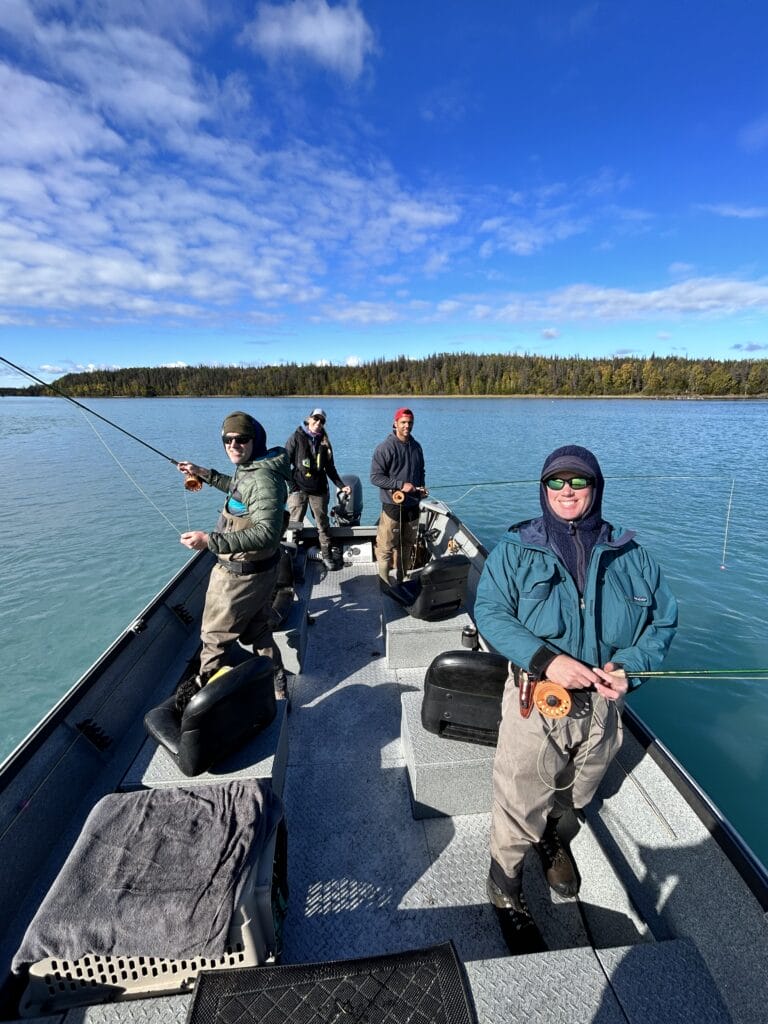 Fishing, community and healing are three of the common interests amongst trip participants. Members of the Armed Forces often express dealing with various mental health issues, including PTSD, anxiety and the feeling of isolation with the realities of having to move around often. One participant stated, "Fishing is more than a passion for me, it's a relaxing way for me to deal with the daily discomfort of my wounds, injuries and mental condition due to the war."
In the last five years, we have seen first-hand the potential this trip has in providing a community, connection and a healing space for participants. Whether it's the act of casting a fly rod, the adrenaline of hooking into a healthy, spotted rainbow trout or simply spending a day in nature; this trip seems to provide just that.
Fishing experience varies amongst trip participants, and we often hear a need for more resources when it comes to gaining the skills and confidence to hit the water on their own. Fishing in a new area, let alone learning how to fly fish all together can be very intimidating, so this year we were excited to offer an optional "intro to fly- fishing 101" course the evening prior to our day on the water! This course involved learning the basic fishing knots, line set-up, what flies to use and when to use them, as well as basic casting techniques. Not only did participants leave learning something new, but they also left with a few new fishing buddies as well.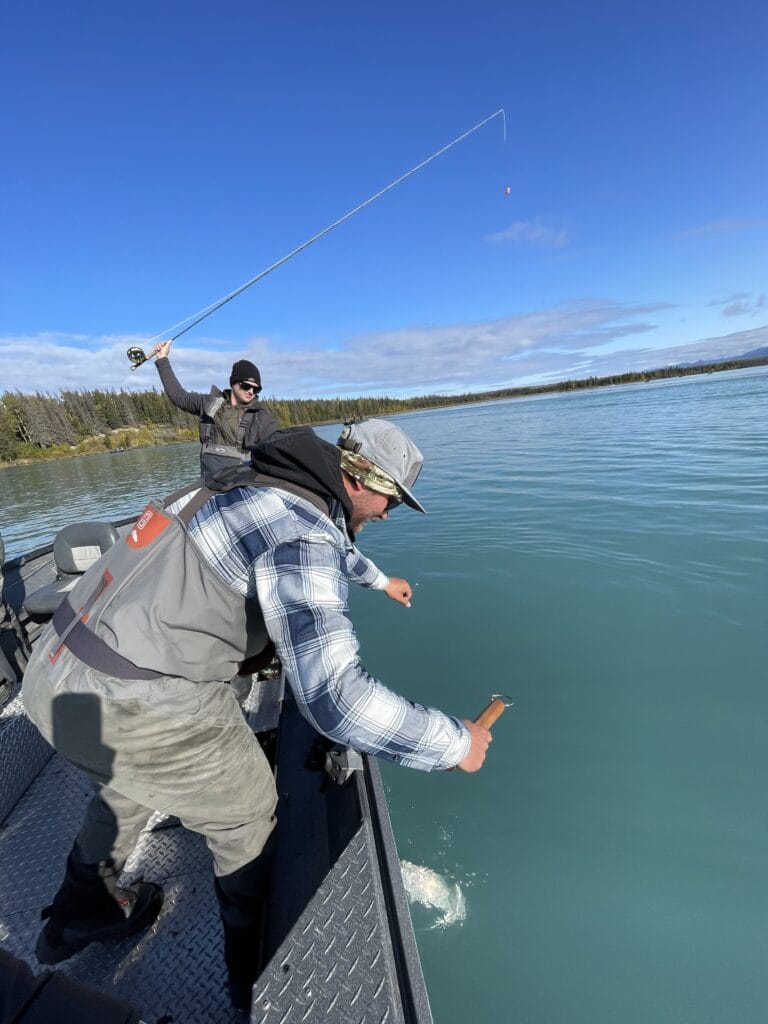 With some good groundwork set, we hit the water zooming upstream with the luxury of fishing from a powerboat. Participants finally got to put their newly learned skills to the test. It didn't take long for the sun to sooth the frigid air and "wahoo's" to be heard from up and down the river. The bite was on! Among the many highlights were many participants catching their first rainbow trout or Dolly Varden, and many even caught their biggest rainbow trout that day.
There truly is something to be said about beginner's luck and fishing. One participant that had never fly-fished before ended his day not only with having had a very successful first day fly-fishing, but to top it off he landed a 27-inch Kenai River rainbow trout. The best part of the experience was the many boats that stuck around to watch him battle this beast and celebrate with cheers when he finally got the fish to the net. He exclaimed, "this is a fish of a lifetime!", and we couldn't agree more. It doesn't get much better than that.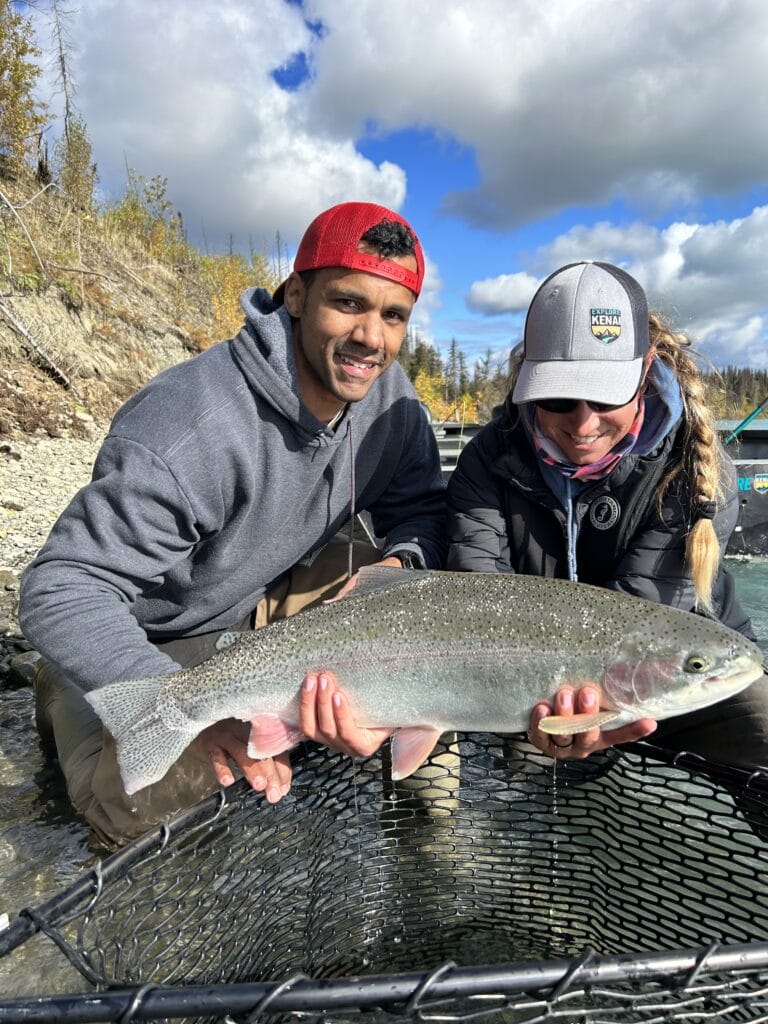 As everyone started making their way back to the boat launch for dinner, fish pictures were shared with the stories that went along with them. From the smiles and excitement between the participants, it was apparent it was a good day on the water, but more importantly friends were made. Fishing aside, this was one of the highlights of the trip. The feeling of connection amongst what started out as a group of strangers turned into a newfound community bonded over one simple interest –– fishing. Bring the powers of nature and community together, and there is no better cure.
Special thanks to our Kenai Guide Ambassadors; Dallas Voss with Explore Kenai, Drew Petrie with Lost Boys Fishing LLC, Shawn Coe with Chasing Tails Alaska, and Travis and Lori Price with Fish Em LLC.