Anchor could be connoted as negative, as something heavy weighing you down, but if you look at some of its synonyms, things start looking up. Cornerstone, lynchpin or foundation; these more aptly describe what rivers mean to me, especially lately. Rivers feed my soul, rejuvenate my spirit and bring solace during life's challenges, and boy has life shown me challenges.
After my cancer diagnosis, my world unraveled. Life filled with appointments, scans, tests and many, many decisions. Chemo started and my world rocked even harder. Sidelined from my normal winter activities of backcountry skiing, sledding, cross country skiing and all things at my normal pace, I read and slept. This new normal I could manage through fishing — if only it wasn't mid-winter. Typically, I'd hit the river when I couldn't rely on my ordinary outlets for soul-quenching, but the weather was frigid and due to the treatments, I couldn't stay warm indoors, let alone with cold water rushing over my lower half.  
That was until this week. Luckily, we live close to a tailwater that fishes well year-round and weather forecasted to reach highs in the 40s on a day I felt up for it. I piled on the layers, charged up my heated insoles (yes, they're a thing and yes, they are wonderful), stocked up on my hubby's custom flies and headed to my anchor — the river.  
Ahh, fishing
Accelerated breath and obvious muscle loss surprised me when wading through the current, but my heart swelled seeing herons, osprey and other birds soaring overhead, and hearing the soft sounds of riffles and undulations told me all was right in my world. Then the noses started breaking the surface. We tied on teeny, tiny dries with emergers trailing and caught trout after trout on top, in January. The warm sun energized us, our smiles lit up my heart and the envy of nearby anglers was palpable.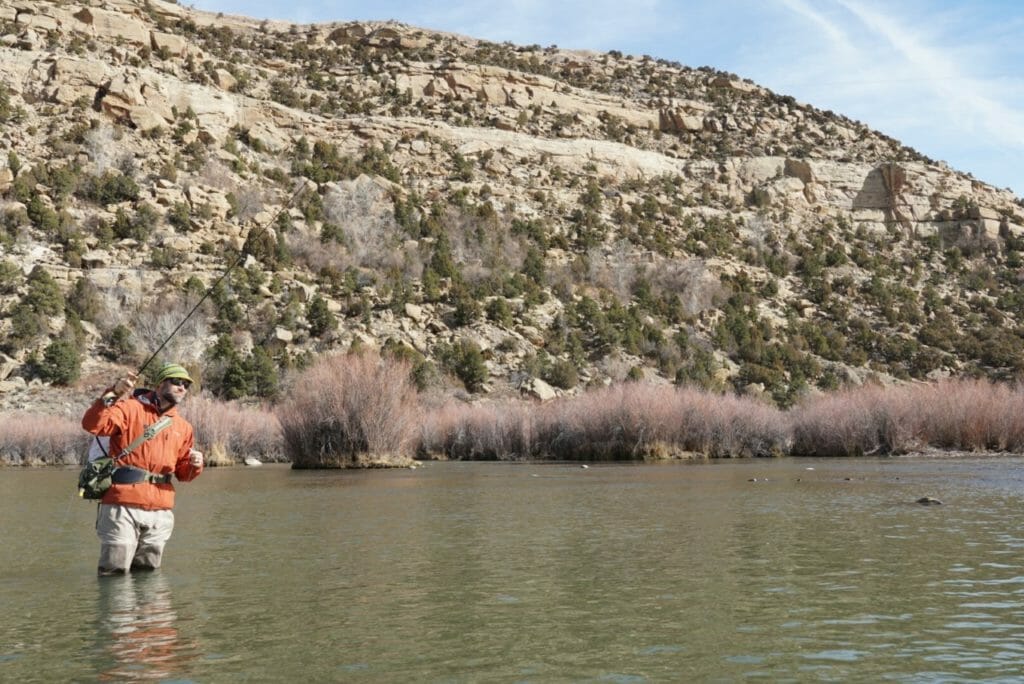 We soon wore out our welcome in that run, so I went exploring. I trekked to a nearby island to find dormant plants, animal scat, frozen inlets and yet still a surprising amount of life. I laid down on cold, but welcoming sand to stare at the nearby rock face to scour for more wildlife. With clouds starting to form high in the atmosphere, I could feel the next storm coming. The brief break warmed every cell of my being and the prospect of catching more fish discouraged a nap. I get plenty of those at home in front of the fire these days.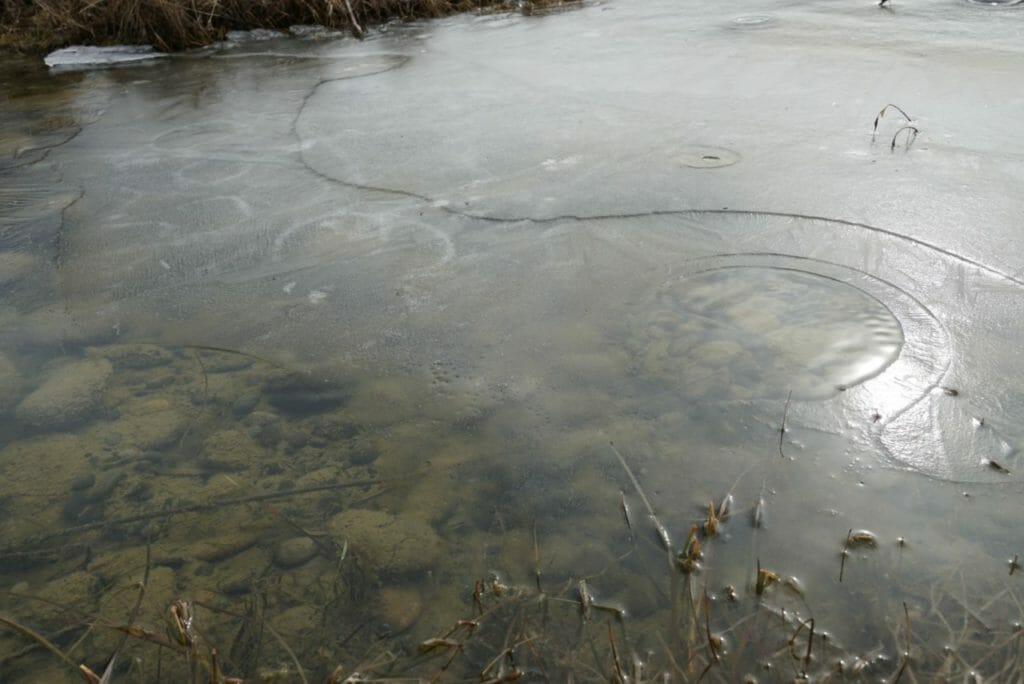 As I made my way back to the river, I saw a monster rainbow slowly sipping in what could constitute a back eddy replete with foam. I was in the perfect position to drift a fly to him, but an angler just a rock's throw downstream was whapping the water with his nymph rig every 10 seconds conducting what's affectionately called the San Juan slap. Performed in an effort to rid the setup of the notorious San Juan moss, I could hardly concentrate on the delicate operation of sending a dry fly into this fish's mouth, so I politely told him he should chase after this beautiful specimen and went on my way.
I kept wandering around looking for more snouts, when my husband called me over to a giant, mid-stream rock where he was warming his feet to watch all the sippers near him. I picked up a few more trout on my way to him and then watched as hundreds (yes, seriously) of stockers jumped and leapt over each other for the midges floating their way. I could watch trout rise all day. It conjures up thoughts of what a fish sees, how they see it, when they decide what's worth chasing and when it's worth staying in their safe zone.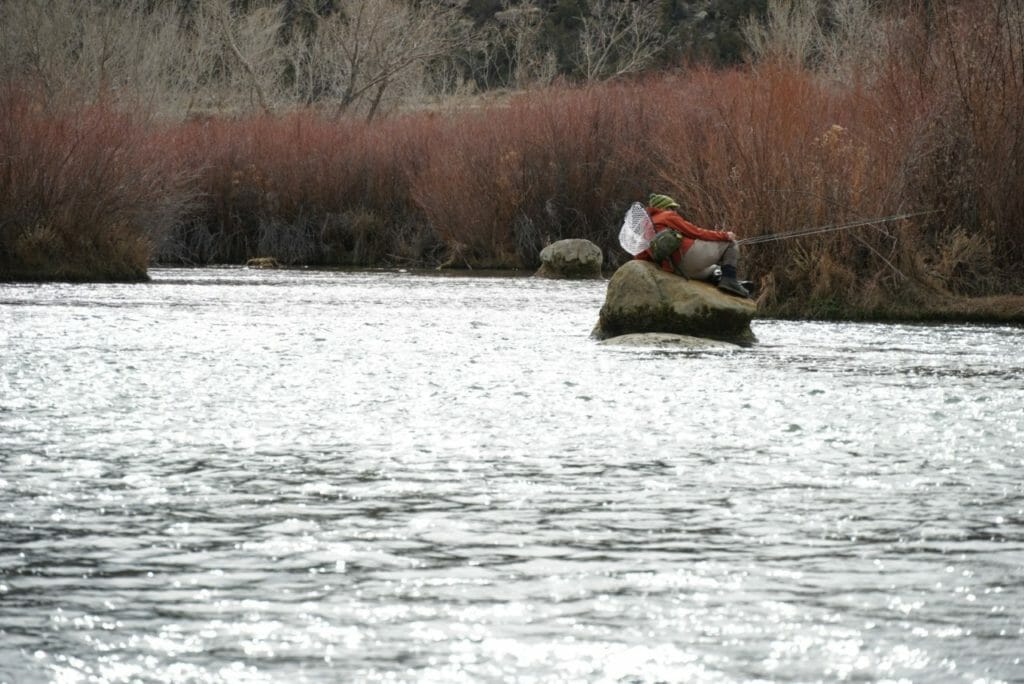 With the sun completely obscured and frozen appendages, we wandered through the many braids to see what fish were doing around each corner. With less and less activity, we called it and headed for home.
Rivers, they nourish and anchor, and I appreciate them greatly. Nothing will replace the lynchpin of my life like cold, clean rivers.  
Kara Armano is the southwest communications director for Trout Unlimited. She lives in Durango, Colo.