There's a little desert trout stream that catches runoff from the Bitterroot and Lemhi ranges in eastern Idaho, and it's easy to get to, even during spring "mud season."
The creek isn't anything terribly special, really. It's managed for water delivery and as a put-and-take fishery—its habitat is pretty marginal, given its high gradient and its appropriation for use as an irrigation conduit. But, for early season fly fishers, it's a great destination, even during a viral pandemic, where staying away from others is ideal and something that can be managed with little effort, given its miles and miles of unfettered access. In fact, it's a great shoulder-season fishery — in fall, after the throngs of ATV riders and RV campers are gone, it's downright gorgeous out on the sagebrush sea. And in the spring, before most folks have their campers ready for the season, it's the perfect place to shake off winter's rust and get some real, honest-to-God fishing in.
Summer? With its easy-to-reach campsites, miles of dusty ATV trails and hoards of people crammed among the creek's thin slice of willow and alder greenbelt? No. No thank you.
But this little creek is one of several unique to this corner of Idaho. Like it's bigger cousin, the Big Lost River a couple of ranges to the West, this stream flows southeast out of the mountains and eventually soaks into the Big Desert to become part of the slow-moving Snake River Aquifer. Over time, its waters flow beneath the Idaho National Laboratory and under the black lava flows of Craters of the Moon National Monument. Some 200 years after soaking into the sand and grit of the desert, its waters reemerge near the town of Hagerman—they literally burst out of the basalt canyon walls and finally find their way into the Snake River.
It's a cool hydrological story, and one that hasn't been too terribly tarnished by the footprint of mankind (despite the presence of a nuclear energy laboratory sited precipitously over the aquifer).
Oh, and there are fish.
Not native fish, mind you. In fact, many fisheries biologists claim this and the other seeps streams of the region were likely fishless when the pioneers arrived and claimed the land from the native Shoshone and Bannock tribes. There might have been some native whitefish in the Big Lost, but that was likely it. This stream and a few others like it hold fish today thanks to the ingenuity of early Mormon settlers who recognized them not only as sources of clean, cold water, but for their food-bearing potential.
And that's what this place is today. It's stocked at a regular clip by the Idaho Department of Fish and Game with hatchery rainbows — each one a perfect replica of the one that slid down the hatchery truck ramp before it. They provide a recreational outlet for those summer mobs, and Fish and Game fully expects these fish to be caught, harvested and consumed, often on site, by campers and bait-dunkers.
But, alas, some of the hatchery fish survive the summer. Many even make it through fall and winter. And by the time spring rolls around, a lot of these fish are still there, a bit older, a lot wiser and, in some instances, quite a bit bigger.
And they're delicious.
There are precious few places where I dare harvest a trout these days. This place is one, largely because this little slice of paradise through the cold and snowy desert in March and April is a dependable destination where a healthy meal can be found, all while enjoying some early season outdoor time. Knocking a few of these foot-long rainbows over the head (just right for the frying pan or the smoker) is perfectly OK by me, given that there's no native or even wild fish at risk. These fish were put here for one reason, and one reason only: To be caught. I know full well that, in just a few weeks, the hatchery truck will be back and thousands more trout will be summarily deposited in the waters of this small, desert brook.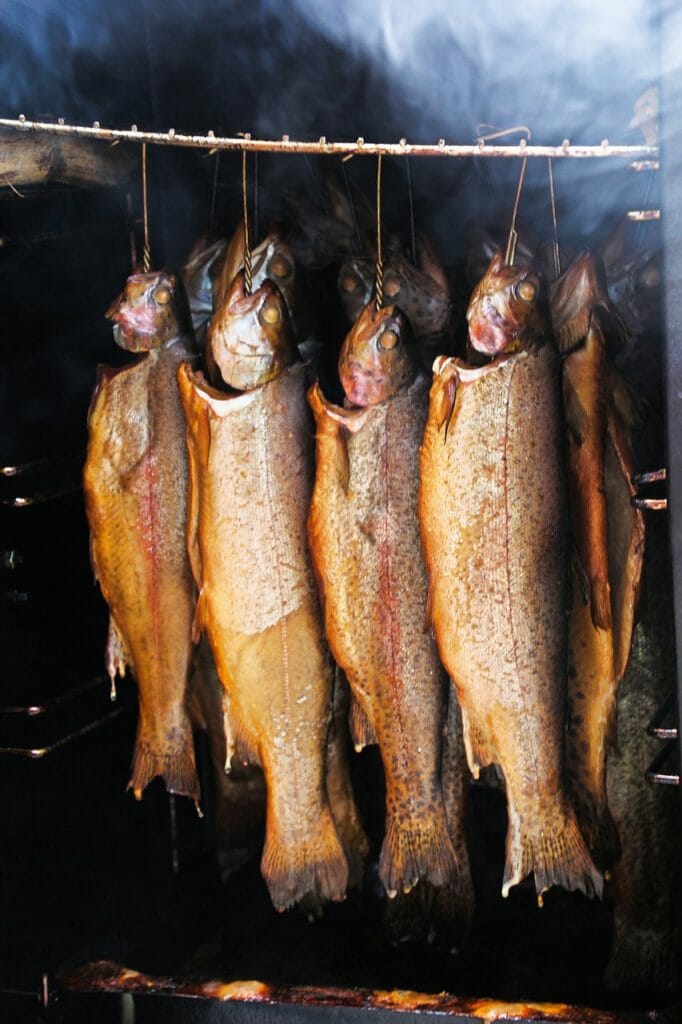 I've taken to making a few trips each spring to this place with the sole intent of bringing fish home. They don't last long — rarely do they make it to the freezer. Often, they sizzle on the grill within hours of being fooled by something so base as a San Juan Worm drifted through fast water under an indicator. Sometimes they find themselves gutted and soaking overnight in a teriyaki brine before being slow-smoked the next day.
It's usually an unsophisticated sojourn to the water. Crimp the barbs? Nah. Worry about matching the hatch? Why bother? A 'bugger or a worm will work just fine. Light tippet? Unnecessary.
And, sometimes, fishing is a secondary endeavor. Last week, during a warm spell, we hit the creek with my little camper, largely because we wanted to feel the sun on our pale skin after a typically long Idaho winter. We didn't see another soul, so our social-distancing commitment remains intact, and we managed to do some damage to some brown liquor in the process.
As a bonus, I now have a pair of smoked trout cheese balls (see recipe below) in the freezer, ready for a time when it might be a bit safer to enjoy the company of others.
Often, "put-and-take" fisheries around the country earn the ire of those who believe they're more pure of heart, that all trout, regardless of where they swim or why and how they swim there, deserve to be released. More often than not, I agree. But some places are meant to slake the hunger of the meat angler — and for now we need places like this, so folks who fish for food can coexist with those of us who generally don't.
And, even those of us in the catch and release crowd, like yours truly, sometimes like to eat a few trout, too.
Smoked trout cheeseballs
Ingredients
2 cups teriyaki smoked trout (see below), chopped in a food processor.
½ cup finely diced onion
½ tablespoon minced garlic
3 cups cream cheese, softened
½ tablespoon cayenne pepper
1 teaspoon dill weed
½ teaspoon lemon juice
½ cup sliced/chopped almonds (our your favorite nut)
1 teaspoon salt
1 teaspoon black pepper
Start by brining trout (or trout filets if the fish are big enough) overnight in a mixture of equal parts teriyaki sauce and water. Smoke the trout for about four hours over applewood or alder. Peel the smoked flesh from the bone (if you're not using filets) and chop in a food processor. Add in the onion, garlic, red pepper, dill weed, salt, black pepper and lemon juice. Mix until you have what amounts to a fish meal. Add in the softened cream cheese and mix thoroughly with the fish—it will help if you use your hands. Shape into two "balls," each about the size of a baseball. Roll balls in the sliced/chopped nuts until they are covered. Serve with a sturdy cracker, or wrap in plastic and freeze for a post-pandemic get-together.