We've all been there. It's summer. We're headed somewhere fishy and the sooner we get there, the sooner we can assemble the 4-weight and hit the water. We've squeezed a weekend's worth of beer and grub into the back of the SUV, and we're ready to stand knee-deep in a trout stream and wash away all that's wrong with the world. We're on some two-lane highway in the middle of nowhere, and the speed limit is merely a strong suggestion.
Well, except for the old guy in the matching belt and shoes wearing the floppy hat and the too-big, might-have-just-gotten-his-eyes-dilated sunglasses driving patiently down the road hauling an RV. For him, he's going the speed limit, but not the one offered in black-and-white on the sign alongside the road. He's going as fast as his rig will pull his home away from home, complete with slide-outs, an on-board flat screen, the La-Z-Boy recliner, the marble-countered kitchen with the convection oven and the master suite armed with a second TV and, of course, the satellite dish.
He's got his window down, his arm on the door, and he looks in the side-view mirror every now and then, somewhat apologetically, at the line of traffic he's managed to assemble behind him.
And there we are third in line waiting impatiently for the next nexus of a dotted yellow line and a break in the oncoming traffic. Damn it. It could be hours. I hate that guy. I hate his massive trailer. I hate his snot-nosed kids who can't wait to get to the campground so they can plug in the xBox, and I can't stand his grumpy wife who insisted that the massive micro-mansion on wheels "is what it will take to get me into camping."
And then, about four years ago, I bought a camper.
Becoming the problem
In my defense, it really is a camper. It's not a massive 40-foot beast that could support a small caliphate during the zombie apocalypse. It's a trailer with some extra clearance and a handful of amenities that will make summer a bit more fun for a guy who likes to chase trout in the Rockies.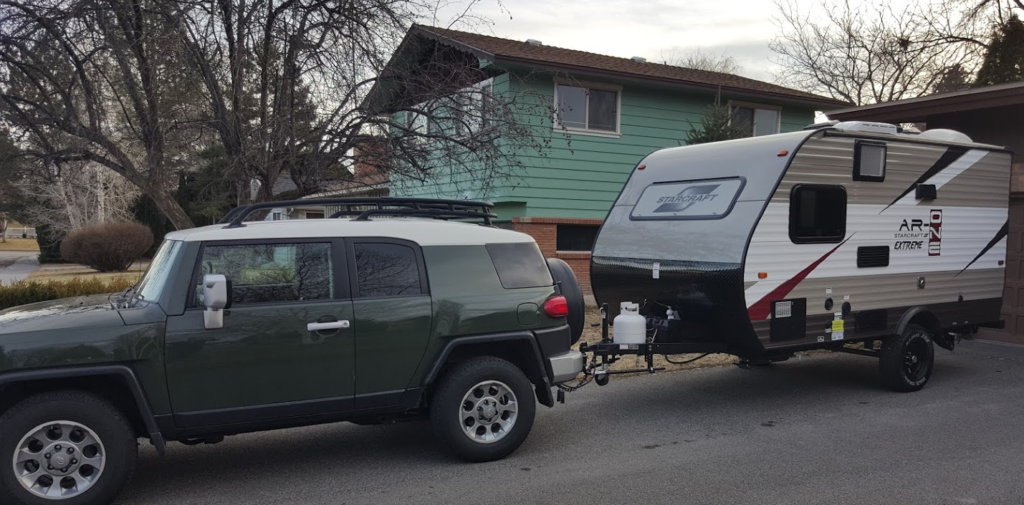 But I get it. I'm going to be that guy. Well, not exactly (but I am a proud member of the Good Sam Club!). No slide-outs, and no xBox. And I'm single, so … no wife, grumpy or otherwise.
And I bought the camper with purpose. I was a few months away from taking a three-month sabbatical from work, where I'd traverse the spine of the continent north through Canada and Alaska, all the way to Dead Horse on the shores of the Arctic Ocean. It's a cute little trailer, and while it doesn't have the amenities one might find in a massive fifth-wheel towed behind a dually and equipped with a jacuzzi and its own massage therapist, it does have a toilet, a microwave, a small fridge and, most importantly, a shower.
Indeed, I'm kind of a princess.
Before I hit the road on the ambitious excursion, I towed it a few times behind my trusty FJ Cruiser—I noticed it did run a bit slower thanks to the 3,500 or so pounds I pulled behind it. I was quite certain I'd be the bane of everyone who got caught up in my wake as I abandoned the interstate somewhere north of Missoula in early July en route to the Arctic. 
I was sure I'd collect my share of haters as I slowly fly fished my way through the northern Rockies and eventually the trout and grayling rivers along the Alaska Highway. And I suspected the oilfield truckers on the Dalton Highway would wonder what on earth I was thinking as I towedmy high-clearance, mini-RV over the Brooks Range on the way to Deadhorse.
RV lessons to learn
But before one can actually hit the road on any extended adventure, it pays to learn all the little things about being an honest-to-God RV owner. If you show up at the dealership and simply drive away thinking you know everything about your RV … well, you're in for a few surprises.
There are simple lessons we learn quickly, like, "Don't store the heavy stuff up high." I learned this lesson as I cleaned up half of a bottle of exploded dish soap off a vinyl floor on my first venture into the woods. Store heavy stuff down low. And tie all your cabinets shut with bungy cords. Seriously.
There are other lessons, too, like don't drive with the window blinds down or the windows open. Use pull-outs when you're driving so folks can pass you without cursing you and your ancestors. Keep your battery charged and understand some basic electrical concepts. Know the limits of your propane tank and just how long you can be "off the grid" without a recharge. 
Most importantly, get to know your "black water." Not intimately—that's the stuff pink-eye is made of. But understanding how your little traveling fishing cabin works "under the hood" is vital, and nothing is more vital than the management of your utilities, of which where the poop goes is one.

Practice makes perfect
I think there's value in practice, no matter what you're doing, and toting an RV around is no different. In just a few weeks, l learned quite a lot about the inner workings of these amazing vehicles. They truly are engineering marvels. Considering that all of the necessary comforts of home (and a few unnecessary ones) can be toted along the highway in a box that weighs less than 3,000 pounds, much respect should go to the folks who have helped these traveling mess tents evolve into something so portable and yet so functional.
There's no doubt that a recreational vehicle, used appropriately, of course, can enhance your fishing and make it more comfortable, if that's a concern for you (as I've gotten older, it certainly has for me). It allows me to stay on the water until the last possible moment and "retire" to the camp chair under the awning, enjoy a drink and eventually fall into a relatively comfortable bed.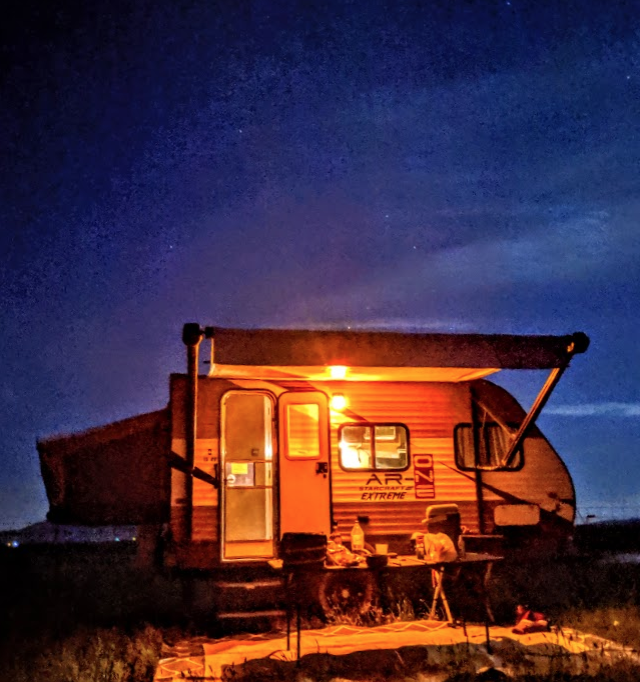 All of that will allow me to fish harder and longer on the day that follows.
My motivation for such a purchase was basic tunnel vision. I wanted to travel in some semblance of comfort without expending a small fortune on hotels and meals while putting myself in the best situation when it comes to time on the water. And, of course, it has long-term value—it's proven to be a really great purchase, as it just finished its fourth summer of camping and fishing in the Rockies. 
Sure, it's earned a few dings and some "wear and tear" as I've broken it in over the last few years. But I'm comfortable enough with it—and in it—that I'm up for any challenges it might present.
I've gotten pretty good at the RV thing, I think. I hate to tempt fate by claiming a certain amount of expertise, but after four summers, I know more about my camper than I do about my home's plumbing system. 
Eventually, if I get good enough, I won't be that guy.