It got so cold so early this year that our aspens and cottonwoods didn't really turn. Their leaves simply froze in place when the mercury dipped below zero in early October, and they've spent the last few months drying into sickly, gray, paper-thin ghosts and falling without ceremony to the ground. 
Season theft. We were robbed of one of the best parts of fall. 
The beauty of high-country aspens that glow bright green among dark evergreens all summer long is only mastered by the arrival of autumn, when these trees, seemingly exhausted from quaking in the breeze for three months or so, go out in a blaze of glory. The same could be said for river-bottom cottonwoods that grow tall and shade trout water all summer long, only to turn bright yellow and magically flutter to earth in the angled autumnal sunlight.
Not this year. As I look out my window at the little backyard aspen grove I planted years ago, I still see leaves on the quakies … dead, brown, crispy leaves. No gold this year. Just listless shades of depressing taupe frozen in limbs and covered in snow.
It happens now and then. Every fall can't be perfect, hope as we might. And I think anglers are more tuned into seasonal changes—particularly as summer retreats and fall moves in from the top down. I'm not a big fan of fall—for me, it's the season just prior to the cold and the gray that comes with winter—which is where we sit now. Today's high temperature? All of 19.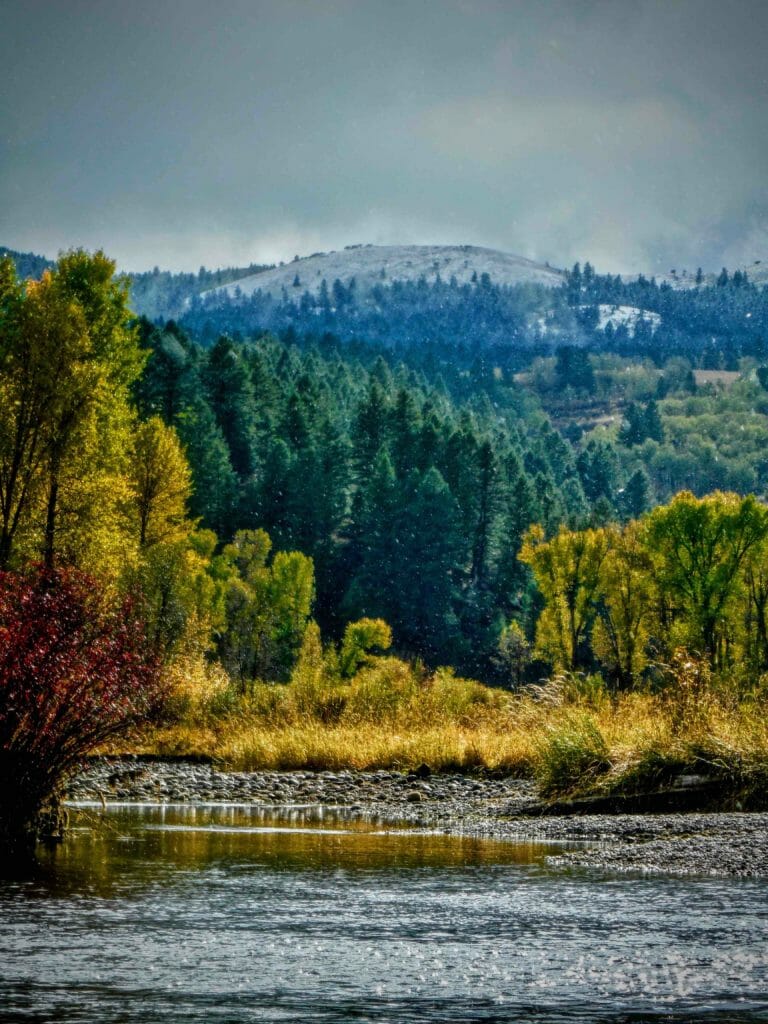 Fall is like a Sunday afternoon. It's still the weekend, but you know you're eventually going to have to wake up the next day and go to work. Or like binge-watching a great show, only to arrive at the last episode.
So, in our minds, we have to get the most out of it. And when, now and then, it doesn't really happen like we hope it will, it's a big letdown. Those lifeless leaves … heartbreaking.
It's funny. We go from high summer and "hopper season," where we get the privilege of spending a few weeks throwing giant dry flies to seemingly insatiable trout, to the bluster of fall, and "Blue-winged Olive season." This is when we get to reintroduce ourselves to our waders (because as sure as Virginia is for lovers, summer is for wet-wading), wear shirts with long sleeves and squint while we tie a size 20 RS2 to size 4x tippet and hope the trout somehow pick this fly out from all the naturals on the water. 
But, now and then, winter sneaks in with a 15-below zero uppercut in October, and we're left without a fall to speak of. No golden aspens. No fiery cottonwoods. Sideways blizzards featuring ice pellets and Arctic pestilence. 
This is the stuff of seasonal affective disorder, no? 
Of course, I recognize the bitterness in myself. As I get older, I understand that there are fewer of these seasons left for me to enjoy and appreciate. When just one season goes inexplicably sideways, for whatever reason Mother Nature decides to employ, I feel little swindled. 
It's proof that making plans as an angler based on "Well, this time of year, you can expect to see the such-and-such hatch on the river" is a fool's errand. 
A few years ago on a summer-long trip to the Arctic, unusual amounts of rain followed me all the way to the Brooks Range. When I should have seen terrestrial bugs in August, I was still fishing Green Drake patterns, an early-summer mayfly. It was hardly a tragedy—it didn't cost me a season of fishing. But it's proof that depending on hatch charts and history isn't always the wisest strategy when it comes to planning your fishing. There's no such thing as dependability when it comes to seasons. This last fall proves it.
Like the trout we chase, seasons change, sometimes brilliantly. Sometimes abruptly. Don the waders. Fish anyway. There are only so many seasons left.
This article first appeared in Hatch Magazine.