The UPS man came to the door the other day, a pretty big package in his hands.
It was from Simms.
Not too long ago, the arrival of orders from outdoor gear retailers would make me giddy.
Soon, I'd have my hands on a new rod. Or a new reel. Some cool flies or lures. A set of sweet polarized shades or a multi-tool.
I'd tear open the box to check out my new gear and immediately start plotting about how soon I could put the stuff to use on the water or in the woods. This time, the reaction was more muted. And that is becoming more normal.
Nowadays my packages are filled with toys less often. Instead, the items are often geared for basic survival as I try to keep doing the same stuff with a body that is not the same as it once was.
Take the Simms package.
The first thing I pulled out was a wading staff, my first.
I remember in my early days of fly fishing seeing guys in streams with staffs hanging off their wading belts. Each time they moved to a new spot, they would grab the staff and use it as a third point of contact with the river bottom as they moved gingerly to the next spot.
I felt sorry for those old dudes having to spend all that time moving slowly when we young bucks were jumping around spending our time fishing. Sure, I fell sometimes. But it didn't even hurt!
Then this spring I tried to wade a familiar spot in one of my favorite rivers. Not too long ago I could easily move through the run. This time it was a struggle and I felt like I was one misstep away from a long, cold trip to the Atlantic ocean.
The other stuff in the box was also geared toward keeping me healthy — sun-protective clothing.
I've never been too careful in the sun. But when your doctor points to a spot on your arm and says, "I don't like that," that can get your attention.
The spot turned out to be not that big of a deal. It was actinic keratosis, basically a scab caused by sun damage. I actually had three, all burned off by a dermatologist who said I'll be fine, but who also urged me to exercise more sun caution.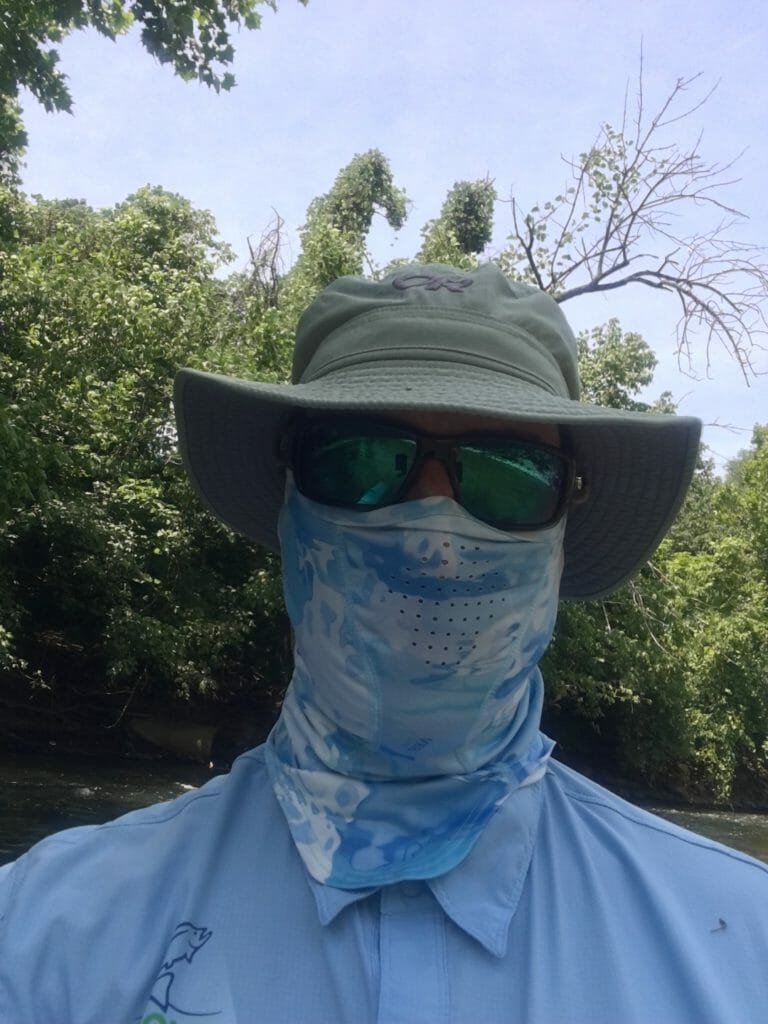 So there was a new long-sleeved fishing shirt, sun gloves and a face gaiter.
It seems head-to-toe coverage is actually pretty fashionable these days, even with youngsters, though I think the proliferation of Buffs and other facemasks probably is as much about making a fashion statement than about sun protection.
I broke it out on a recent afternoon outing on my local river. I had the river to myself, but maybe if someone had spotted me in my new attire they would have thought there was a new, hip young angler on the river.
Then they would have seen me grab my wading staff, moving slowly toward my next spot. The would quickly realize I was just another aging angler who is having to divert a growing portion of his fun budget to necessities and not toys.
But if that boring stuff keeps me out there having fun for longer, it's money well spent.
Mark Taylor is Trout Unlimited's eastern communication director. He is based in Roanoke, Va.