Terry Prettyman enjoys lunch while sitting by the Logan River on a beautiful fall day in Logan Canyon. Brett Prettyman/Trout Unlimited
By Brett Prettyman
It was a fishing trip I will never forget. My dad, on the other hand, had forgotten we caught fish by the time we got home.
I won't forget for many reasons.
It was an all-too-rare day on the water with my dad. We caught native Bear River cutthroat on the Logan River — which helped me start my second Utah Cutthroat Slam. As a bonus, fall was bursting with color in Logan Canyon, one of my favorite autumn destinations.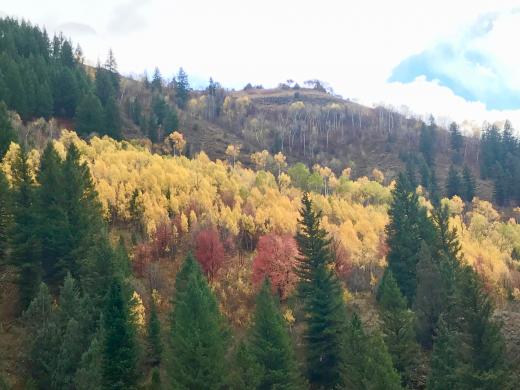 My dad may still remember parts of our day in Logan Canyon, but chances are, even those will eventually fade away like the big cutthroat that came from the depths to eye my fly before rejecting the imitation and sinking back into the shadows.
We received an official diagnosis of early-onset Alzheimer's last summer, but our family has recognized his growing issues for several years – like losing weight and avoiding social events. Like most people, we attributed the early signs as just getting older. It was much more. My stepmother, of course, was the one to witness the decline. She continues to serve as his primary caretaker because my brother and I live in a different part of the state. She is a true hero for the daily challenges and frustrations she faces while caring for my father.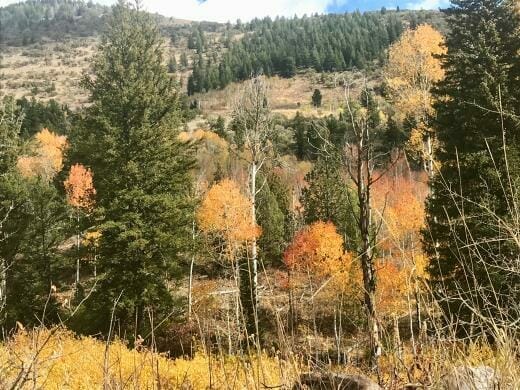 Trout Unlimited staffers get Columbus Day off, but my wife and kids still had to go to school, so I planned a trip north to take dad fishing.
We stopped and picked up some sandwiches in Logan and headed up the canyon. We talked about places we had fished along the river in the past and areas we had camped. Some of his recollections were detailed and vivid. It gives me comfort to imagine his memories of spending time with family and friends in the outdoors will be the last to fade.
We shed some tears on the drive and I told him some of my earliest and fondest memories were made on fishing trips we took together – some in the same canyon we were visiting.
We found a campground closed for the season and parked at the gate. We had the place to ourselves and our pick of the perfect place for a picnic. Our conversation continued as we watched fish rising in the river just across from our dining area.
I worried about my dad's balance, so I didn't bring him any waders. I figured we could find a place to fish from the bank. This was not that place. I suggested we go look for another place.
"But the fish are rising here," he said. "Go get 'em".
I smiled like a little kid, just like I did when he said the same thing when I was a child.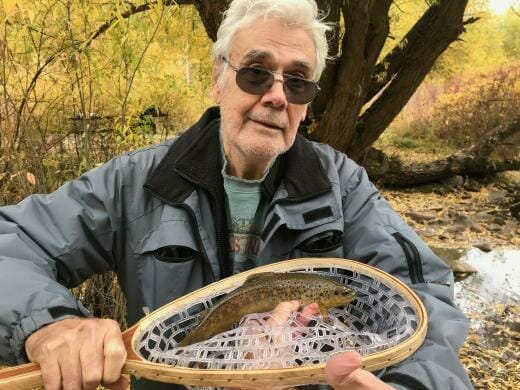 I waded out and started to work to the fish. I missed a couple and turned around to see if dad saw it happen. He laughed and motioned for me to cast again. A few more casts and I finally got a fish to stick to the fly. I worked it in and just before I went to net the brown trout I turned to see if he was watching.
He was gone.
I immediately flashed to television news reports about people with Alzheimer's wandering off into the woods and getting lost. I quickly netted the fish and set the net on some rocks to hold the trout safely in the water and I took off to look for my dad.
I ran along the bank upstream peering desperately through the thick bushes hoping to see him. I must have run a quarter of a mile before I turned around. I hurried to the bathroom in the campground thinking he may have headed there. It was locked. Was he in there or was it closed for the season?
My heart raced knowing every moment could push him further away from me. I ran downstream past the fish, still hooked, in the net. I had been screaming "Dad!" the entire time, knowing my voice was likely being lost in the sounds of the river. I flashed back to my childhood when I did the same thing when lost at the grocery store trying to find him. The situation had flipped from my childhood.
"Dad!" I yelled, wondering how long I should look before calling for help.
And there he was, a couple hundred yards down from where I had caught the fish. I didn't want to startle him so I tried to gain my composure.
"Where'd you go?," I asked through deep breaths of exertion and relief.
"I was just checking to see if there were some good holes downstream," he said looking at me with quizzical eyes.
I patted my dad on the back and said I had something to show him. We walked back up to the original spot and I walked into the river to retrieve the net. The fish was still there. I unhooked it, made sure it was ok and then let dad pose for a picture. I had him let it go.
We made eye contact and then fell into a hug. Just like my childhood, but again, the roles felt reversed. I felt like the responsible one and it was terrifying.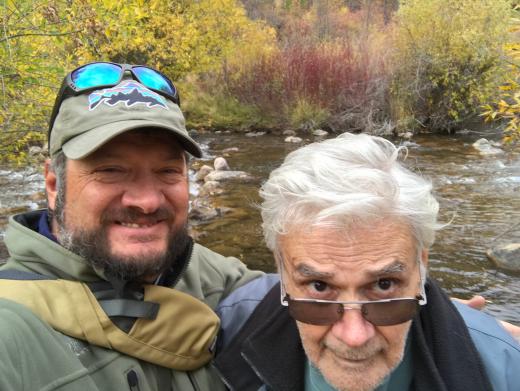 I had eyed some good spots during my sprint upstream and suggested we head that way. By this time, I could tell he was getting tired. I helped him make some casts and he got a couple of fish showing interest, but no takers. He handed me the rod.
"Go get 'em".
I made him promise to stay put, found a casting a position where I could see him and started fishing. Another brown took the fly and I quickly pulled it away from the hole, hoping it wouldn't bother the other fish actively feeding.
On the next cast I hooked a native cutthroat. I had hoped it would be dad to land any cutthroat, but, as he always tells me. "beggars can't be choosers".
We posed for a selfie at the river and sat at a picnic table soaking up the fall scenery and cool air before heading back the car.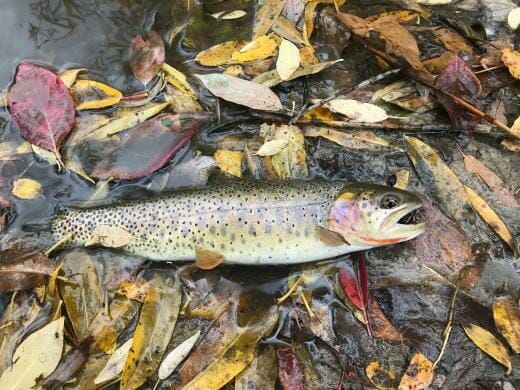 We called my stepmom once were back in Logan. I heard him tell her, "We didn't catch anything."
I gasped, laughed and said loud enough for her to hear over the phone that I had pictures to prove we did.
Take time to make memories, even if those involved may not remember a few hours later. Just getting away for some time in the canyon was good for my dad and it worked wonders for me – even if I did temporarily lose him.
It was truly a day I will never forget – or will I?
I hope to get more trips in with dad, but who knows what the future holds? I'd also like to get my stepmom out for some fishing. I know she needs the therapy of the outdoors likely more than I do.
Brett Prettyman is the Intermountain Communications Director for Trout Unlimited. He is based out of Salt Lake City.