We care about clean water, healthy fisheries and vibrant communities. We roll up our sleeves to volunteer, we sit on our boards, and we strategize as members and leaders of staff. We want you to join us. 
Thanks to initiatives such as TU's decades-old Women's Initiative – now Diversity and Inclusion Initiative – and those of our partners, new groups have engaged in coldwater conservation and the sport of fly fishing. The aim of this blog series is to highlight these friends, in hopes of making many new friends of broad stripes. In this series you'll meet people of diverse communities – our good ideas, what we have in common, and where we differ. Know someone we should feature? Nominate them here.
Since it's not possible to sit down and have coffee or spend an afternoon on the river to show you what we're up to, a blog post will have to do. As you read, we hope you'll consider joining us. We need your ideas to help make a bigger impact.  
Together, we'll help protect the special places we love.  
Diana has been a dedicated TU member for over a decade and, according to her nomination, "is an amazing example of a passionate, smart and hard working woman and mother." Her list of contributions and accomplishments is long. You can see and her father featured in a recent F3T film for a trip they did into the Thoroughfare to document the return of Yellowstone Cutthroat trout. You'll enjoy learning more about Diana.
Introducing: Diana Miller
Hometown: Cody, Wyo.
Current town: Jackson, Wyo.
Briefly, what's your history with conservation?  My history with conservation began during college. I always knew that I wanted to work outside and with animals of some sort. I decided to pursue a career in wildlife management at Colorado State University. During my time there, I learned a lot about conservation and the many variations of it. At that time, I was generally focused on the fuzzy critters, but after my first seasonal job as a fisheries biologist, I knew that was where my future lie. After a stint  of working seasonal jobs that were all conservation related (surveys for snowshoe hare in the Routte National Forest, monitoring sagebrush recovery after fire in Idaho, as well as conducting fisheries and aquatic habitat surveys in Wyoming) I headed back to school for my Master's degree in fisheries management at the University of Wyoming. Graduate school was a great experience that put me in the middle of a west-wide fisheries conservation issue facing two native, non-sport fish. After grad school, I applied for, and accepted, a job as a fisheries biologist with the Wyoming Game and Fish Department.
I am proud to say, that conservation is what I strive for every day. To expand my contribution to conservation, I joined Trout Unlimited during graduate school (2006) and am still a member today. I became active with the Wyoming Council of Trout Unlimited in 2009 and am still engaged with the Council. In 2018, I joined the board of my local, Jackson Hole, chapter of Trout unlimited.
What is your history with fishing? I began fishing with my dad when I was young, but I didn't do it all that frequently until college. Dad and I would take canoe trips into Quetico Provincial Park to fish and camp. To be honest, for me, it's never been about the fishing. It's about the fish and being on the water.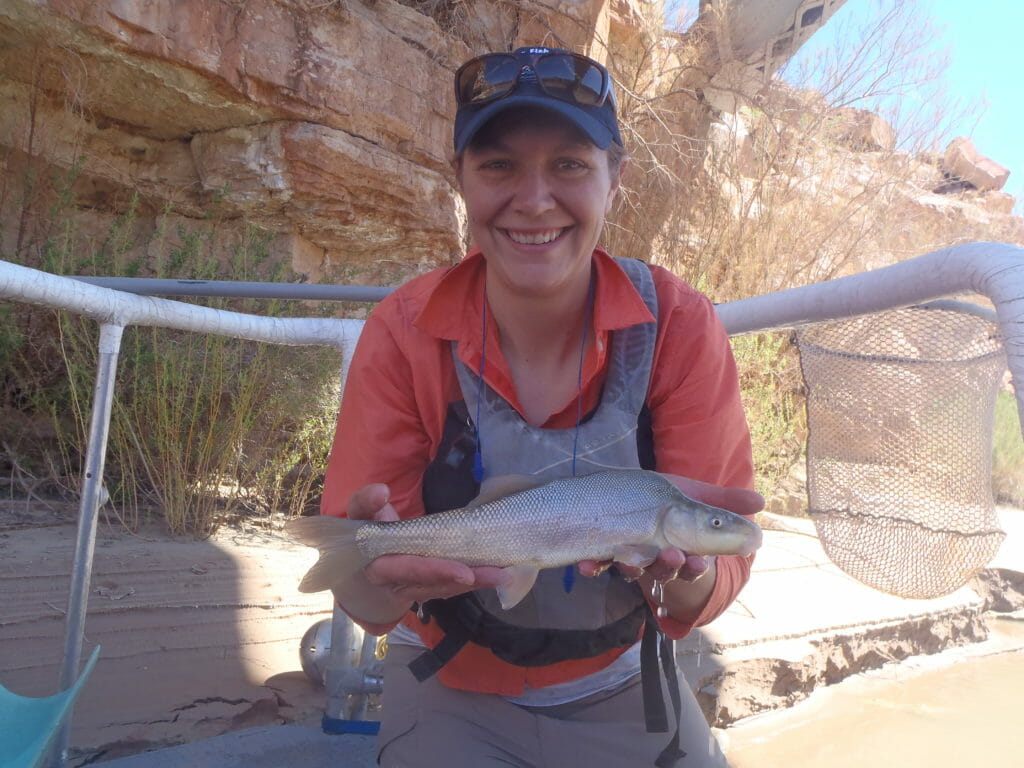 Describe one challenge you face & how do you overcome it. One of my biggest challenges has been learning how to be a field biologist and a mom. I have a wonderful 3-year-old daughter who has completely changed my life. As a field biologist, I spend long days on the water and days at a time in the backcountry. This became much more difficult when a small person started depending on me. Learning how to balance work and home life was certainly the hardest thing I have faced. It was made easier by the support of an amazing husband who gives me the freedom to keep doing what I love as well as the support of my parents and my in-laws who help care for our daughter when our workload is heavy.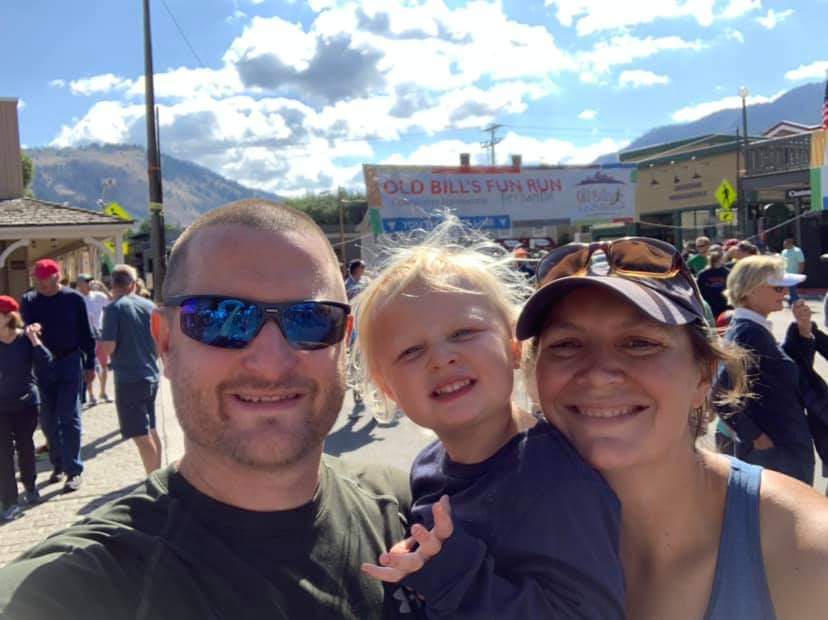 What does 'giving back' mean to you? To me, 'giving back' is not that accurate, 'paying it forward' is more in line with my feelings. I want to leave the world a better place for those that come after us.
Describe a perfect day. Wake up to relax in a quiet house with a cup of coffee. Followed by a sunny float down the river with my family and friends. This would be followed up by a BBQ on the deck (with said friends and family) where everyone leaves by 7:00 so I can read books to my daughter, put her to bed, and still have time to hang out with my husband and sit on the couch and knit. 🙂
What was your first job?  Dishwasher. My folks owned a guest ranch and I washed dishes in the restaurant.
If you could squeeze just one more thing into your regular routine, what would it be? Seeing my family more frequently. Even though we all live in the same state, we don't get to see each other nearly enough. Regular get togethers would be such a wonderful thing.
What do you want to see in the future of Trout Unlimited or in conservation? This is a hard one. I think that the conservation community, both in TU and out of it, is working hard to do the right thing. I think, if I had to pick one thing, I would like to see conservation groups be more open to working with other, sometimes disagreeing, groups on common issues. I think we all get ideas into our heads about who is right and who is wrong and miss opportunities to work together to implement change.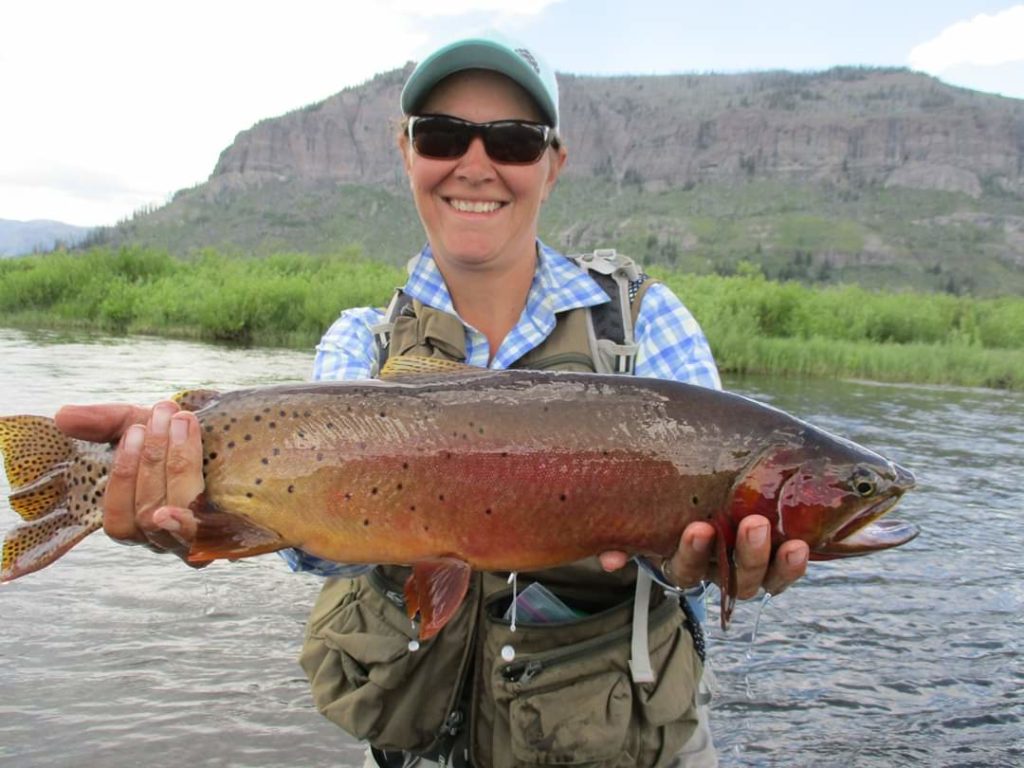 What is an example of something awesome you've seen that helps make conservation or fishing more inclusive to new groups of people? I think there has been a big push to be inclusive of women into the conservation world. I think the trend of all-women fishing groups is very successful and has brought many women into the world of conservation and fishing.
Name a person you admire. Why do you admire them?  My Dad. I admire him for so many reasons that I can't possibly list them all. He is the most dedicated person I know when he believes in an issue. He can get more done in a single day than I can in a week. He pushes people to be better. He is logical. He is generous. Just to be fair, he is also stubborn and demanding. 🙂
Why Trout Unlimited? I think TU allows people with passion and drive an outlet to do good things. Not everyone is as lucky as I am to have a job where conservation is a part of everyday life. For those folks who want to be a part of the solution, TU gives them that opportunity.
If you want to join Diana and grow the community and work of Trout Unlimited, we encourage you to become a member! For a discounted first-time membership, click here: https://gifts.tu.org/we-are-tu