The ongoing coronavirus outbreak and the subsequent lock-downs and stay-at-home orders are hitting the fishing industry particularly hard, and guides might be taking the biggest hits of all. Cancelled outfitting bookings translate into cancelled guide trips. With no work, there's no money, and it'll be tough for a lot of guides to make ends meet.
As guide-trip clients, many of us have our favorite guides — real pros who put us on fish and help us become better anglers. Despite not being able to get out on the water thanks to the ongoing pandemic, we can help those who've helped over the years, thanks to a Colorado artist.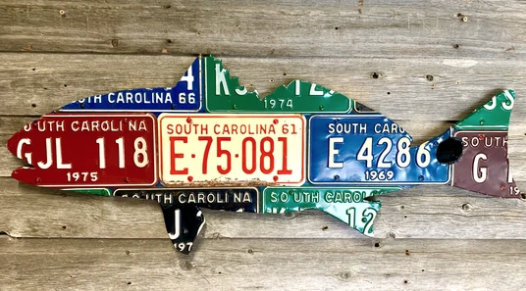 Cody Richardson, who crafts fish sculptures using old vehicle license plates is now giving to 30 percent of the proceeds from his art to guides chosen by his customers. It's simple. Order a sculpture featuring license plates from specific states or a mix of states, and designate the guide you want to receive the donation from your purchase.
Richardson's artwork ranges from wall-hangings to full-size sculptures of Florida tarpon, and they're priced accordingly. They all feature old vehicle license plates that are regionally specific to the fish they depict.
If you're interested in helping a local guide, and maybe dressing up the fish camp or the cabin, check out Richardson' art. In trying times, helping each other makes a big difference.