It was humid and drizzly—the warmest day of the year so far, but nothing could contain the excitement of these kids. "Are you excited to go fishing," I asked a young boy named, Derrick. His smile was all the answer needed.
More than 40 inner city kids met this past weekend at the Winans Meadow Trailhead at Leakin Park for the annual City Catch sponsored by the Maryland Chapter of Trout Unlimited and Bob Wall and the Baltimore City Recreation and Parks. An equal number of volunteers from the chapter showed up to help the kids learn to catch fish. City Catch started when the late Gov. William Schaeffer was the mayor of Baltimore. Jim Gracie, one of the legends of Trout Unlimited, was one its earliest advocates.
"As a kid, I came here and fantasized about catching trout," Jim recalled. "Most kids have two impressions about city streams: One, don't go there because it's not safe; and, two, that's where you throw your trash because it goes away."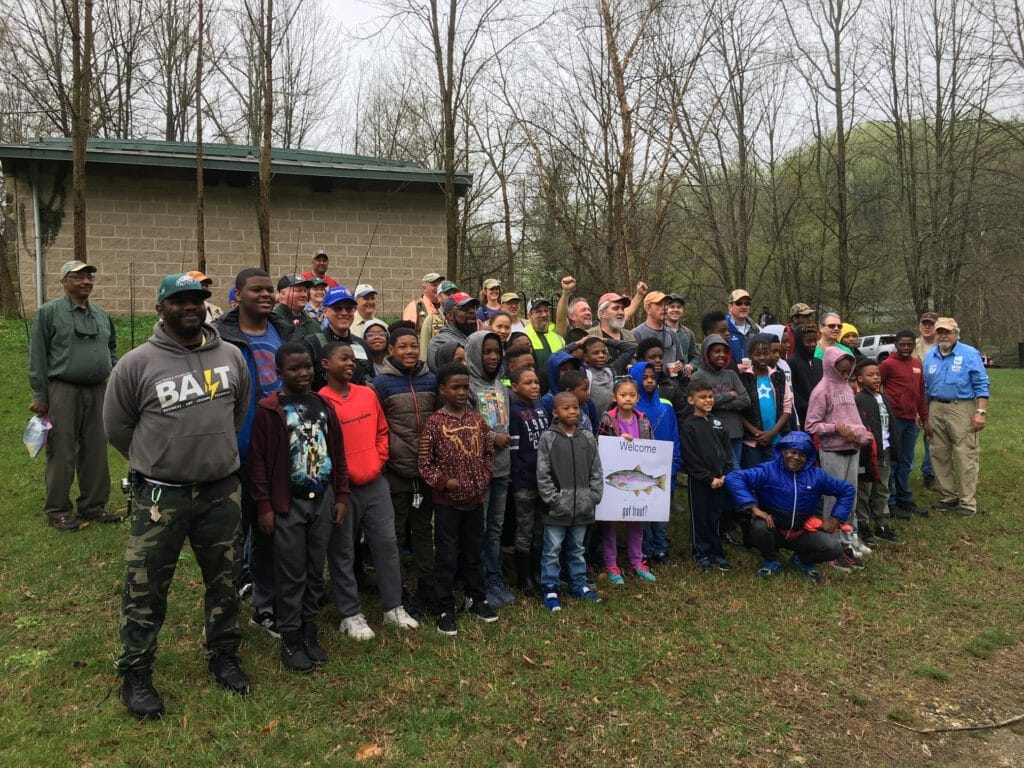 City Catch is carried on today by superstar volunteers such as Tom Gamper, Jay Boynton, Greg Davis, and Ben Legg. Jay walked me to the creek that the chapter had recently stocked with trout for the kids to catch. "I want to catch a gold fish," one of the kids yelled. Another responded, "I'm going to catch a whale!"
The volunteers were incredibly patient, and all of the kids, most of whom had never handled a fishing rod, caught fish. Rocks were thrown into the water. Before long, a rod was lost in the center of the creek. Another child slipped and soaked his pants and sneakers. In other words, the kids acted like kids on a stream should act.
A few years ago, a Baltimore Sun reporter spoke to Adrian Briscoe of West Baltimore about City Catch. "I took part in this (City Catch) when I was 14, and it changed my life," said Briscoe, of West Baltimore, who accompanied his sons. "I grew up in the Gilmor Homes housing project in the 1980s and never got in touch with nature.  "Now, any chance I get to fish, I take it. I love the peace of mind. … My kids had never been fishing and I wanted them to see a broad view of Baltimore. It's mind-pleasing out here."
One of the great challenges we face as a nation is ensuring that the next generation cares about conservation—healthy lands and clean water. In the span of a single generation, America has moved from a society where 60 percent of us grew up in rural areas to one where 80 percent of us live in cities or suburbs. It is absolutely essential that we connect people to nature however we can.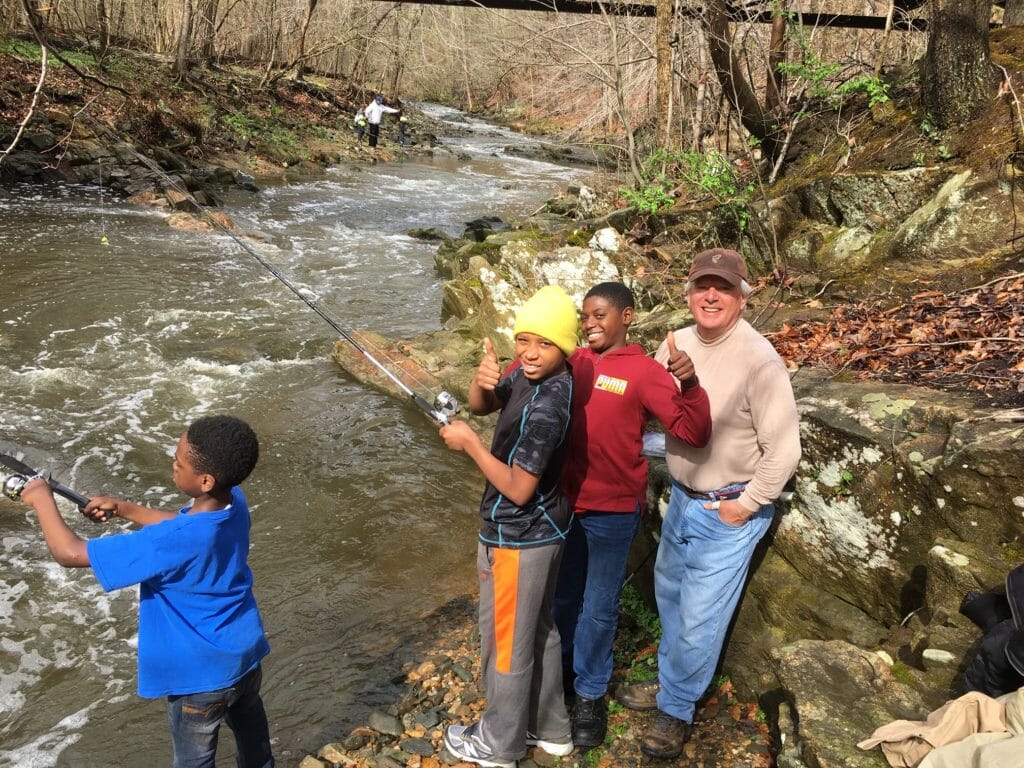 I recall visiting a woman in the Greenpoint section of Brooklyn when I worked for the U.S. Forest Service. We were there to tell her that the maple tree outside her front door needed to be cut down in response to an invasion of exotic Asian long-horned beetles. Through her tears she said, "I planted that tree the day I learned my son was killed in Vietnam."
Each of the children that showed up were given their own rods and reels provided to Trout Unlimited at cost by Baltimore's own Tochterman's Fishing Tackle. At its root, conservation is defined as taking actions today that will make the world a better and healthier place for people tomorrow. Connecting kids to nature through programs such as City Catch is essential. Derrick asked me if he came back next weekend if he could fish again. I explained that if you take care of creeks and rivers like this one, you can always catch fish.
He smiled and said, "That's what I am going to do. I want to take care of these creeks. And, I want to fish again next week!"