An offer from Trout Unlimited for those who served
At TU we thank our veterans on this Veterans Day, but also every day throughout the year, for the sacrifices they have made for all of us.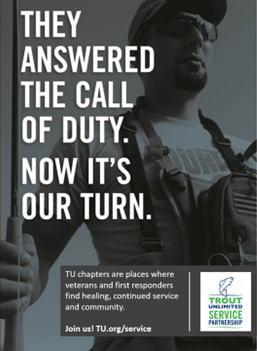 Did you know that 200 TU chapters have an active TU Service Partnership program in place and that these chapters put on nearly 1,000 events and activities for veterans and/or first responders just last year?
That's thousands of veterans who were taken in by their local volunteer community, introduced to the therapeutic benefits of fly fishing, and invited to participate in ongoing activities and even volunteer leadership. This has been a critical reprieve for so many of our nation's heroes after some challenging years of COVID-related isolation.
Our program is called the Service Partnership for good reason. Our chapters partner with a suite of local or regional organizations, agencies, and businesses to successfully implement their outreach and engagement activities. Dozens of chapters operate in partnership with our good friends over at national-level groups like Project Healing Waters, Rivers of Recovery, and Warriors and Quiet Waters, too.
Just this fall, we've partnered with the Tragedy Assistance Program for Survivors (T.A.P.S.) and the National Parks Trust to provide dozens of fishing retreats for surviving military families in National Parks—the very lands and waters their loved ones swore to protect and defend.
"As we express our gratitude, we must never forget that the highest appreciation is not to utter words, but to live by them." – John F. Kennedy
TU volunteers showed up in droves to places like the Upper Chattahoochee Recreation Area, the National Mall in Washington, D.C., Olympic National Park and Great Smoky Mountain National Park.
One surviving mother, who took part in the TAPS Togethers fly-fishing event in the Upper Chattahoochee Recreation Area of Georgia, shared: "This was my son's favorite pastime and he always talked about taking us fly-fishing with him. I had so much fun here today with my daughter and granddaughter, his sister and niece. It really felt like he was here with us, right here close to home."
Through our many partnerships, TU volunteers are living our expression of gratitude to our veterans and their families.
As an additional token of our appreciation, TU is extending a complimentary, one-year trial TU membership to all new-to-TU veterans. If you have a friend or family member who is not already a TU member, has served our country and shares our passion for conservation and fishing, we hope you will forward this message to them and share this offer. And if that's you, thank you for your service. We hope you'll join our community of anglers and conservationists.
From all of us at Trout Unlimited, a very happy Veterans Day.