Chris Wood finds inspiration on the Lost River in West Virginia
Tom Rosenbauer of Orvis occupies a space close to the Pope, Bruce Springsteen and Melissa Etheridge for me. While my spiritual life and love of music were well sated by the latter folks, it was Tom's book, The Orvis Fly-Fishing Guide that captivated and confounded me as I learned to fly-fish in college. Tom's descriptions of how to select the perfect fly, tie the perfect knot and cast the perfect loop were so plainly and cleanly written.
In the evening, I would read his book and determine to unlock the mystery of the sport. In the morning, I would stand in the river and untie Gordian knots—not from my leader, but from the fly-line itself. The truth is that the first trout I ever caught on a fly was not from a well-placed cast, but from a Zug Bug dangling behind me on the New Haven River in Vermont while I untied a knot in my fly line!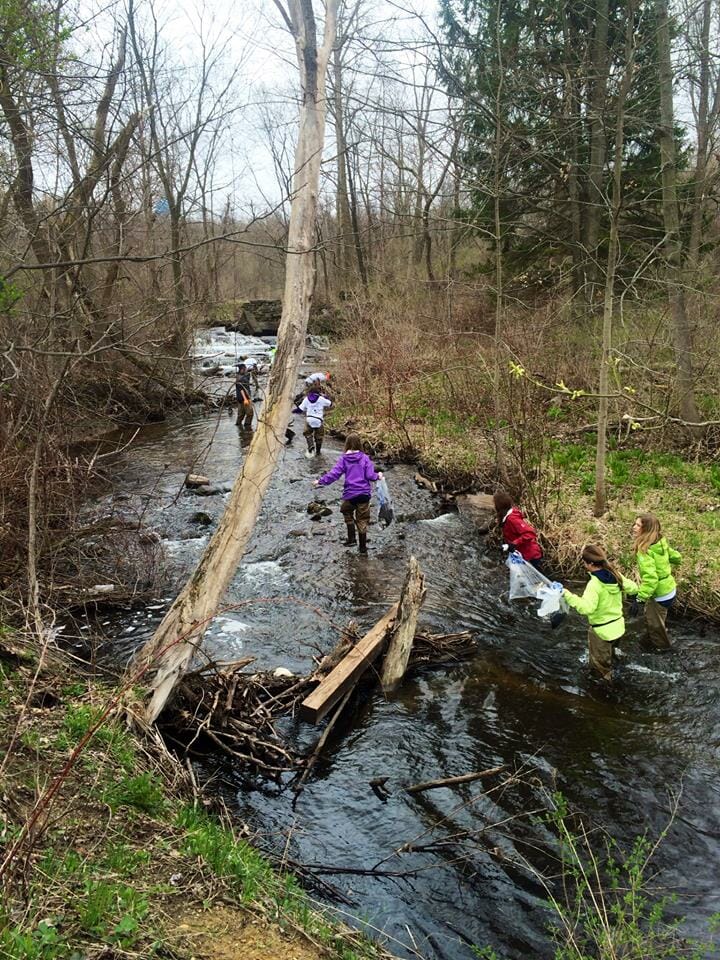 I was on Tom's Orvis podcast last week discussing TU's conservation priorities. Tom mentioned that he and his son had participated in TU staffer Jacob Fetterman's efforts to engage nearly 400 volunteers to plant well over 1,000 trees on the Battenkill River, near the Orvis headquarters in Vermont.
I replied that tree-planting and stream cleanups are a basic entry point to conservation for many people. Tom said something like, "Well, I would much rather plant a tree than pick up trash. Planting trees has a much larger environmental benefit."
Tom is right, but there is no disputing the value of stream clean ups. This Saturday, I left the house at about 6 a.m. to drive to a GPS point along the Lost River in West Virginia.
A few months before, Jeff Kresch, one of our project and engagement staffers in West Virginia, sent me an invitation. He wrote:
"It dawned on me that you don't get many invitations to events coordinated by more localized staff members. … There won't be any camera crews, no one to report to, no phone calls, just a group of folks who are passionate about seeing the Lost River become a better place. While cleaning up trash isn't the most fun event we hold, it is one of the fastest ways to make a visual impact to a stream, it's great for wildlife, and it gives volunteers the instant gratification of doing something great for their local waterway."
We cleaned up 86 contractor-size bags of trash from that roadside. This is trash that would have found its way into the Lost River then into the Cacapon River then into the Potomac River, and into the Chesapeake Bay and the Atlantic Ocean. To Tom's earlier point, will that have a significant material impact on wild and native trout and salmon? Probably not.
But stream cleanups are a point of entry for many into conservation work.
Consider Jeff's story. In 2014, he started a Facebook group called "Fishing Report WV." People were complaining about the trash in and around rivers and streams, so Jeff decided to do something about it. He began organizing stream cleanups. The first year he did three, the next five; one year he organized 16 different stream cleanups. At one cleanup, a conservation leader in West Virginia said to him "you will never have the impact you want by picking up trash. Trash will always be with us. Water quality is a much bigger problem in West Virginia."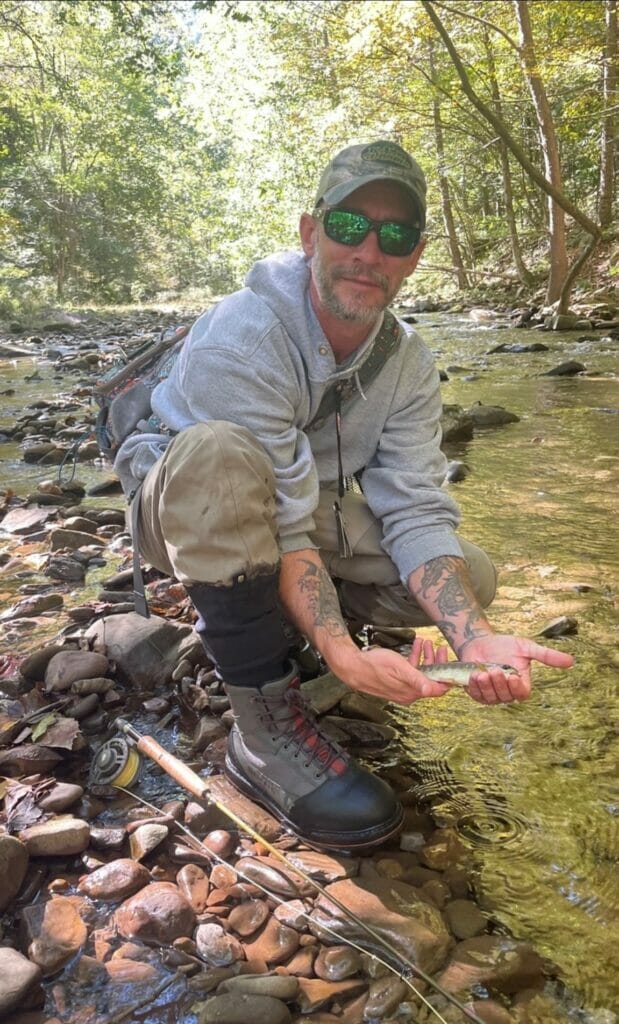 As Jeff says, "After finding out that our biggest problem was acid mine drainage for my local watershed, the Tygart River, I wanted to learn everything there was to know about that and how we planned to treat it. This cycle of finding a problem, researching a solution, continued until I decided that I wanted to spend the rest of my life trying to make sure that my kids would always have a beautiful place to fish."
Conservationists around the state convinced Jeff he needed a college degree to break into the field, so at 40 years old, he went back to school to get a Bachelor of Science degree. He started as a TU employee a few years later. The four-mile stretch that we cleaned up was his 40th stream cleanup in the past nine years.
At lunch, Jeff said, "this needed to be done for a long time and we will plan to stay after it every year." He chose this four-mile stretch because we worked with a remarkable woman, named Hope Yankey, a local landowner in the headwaters of the Lost River. Jeff describes Hope as "an incredible human being and one of the best landowners I have ever worked with."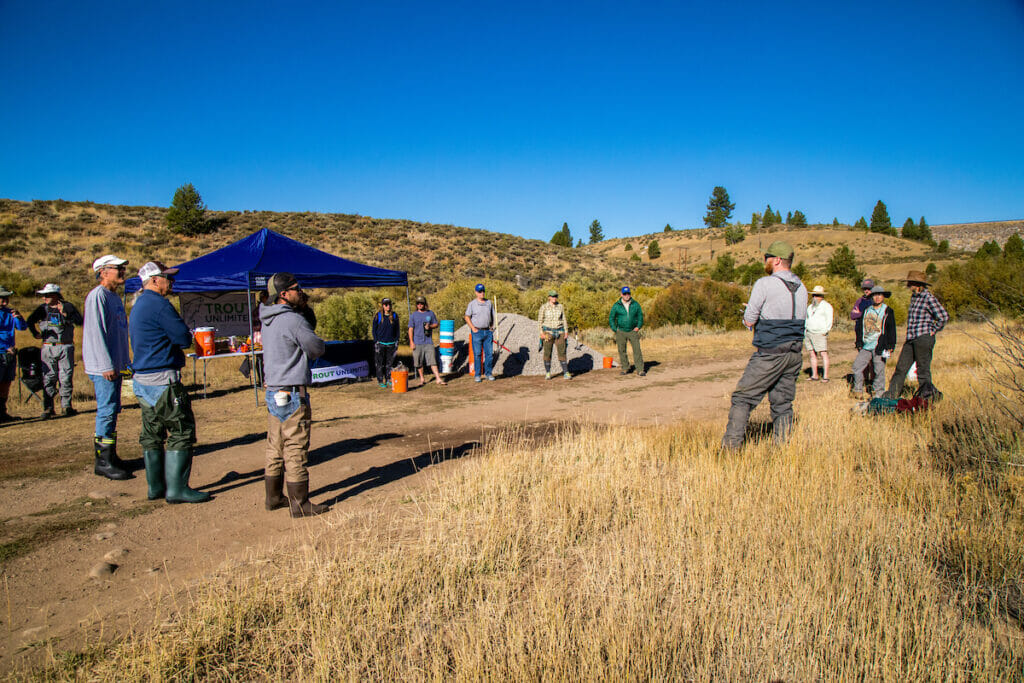 TU fenced cows out from her headwater stream that feeds into the Lost River and planted over 1,000 trees to help shade the stream and make the water cooler for the trout downstream.
As we donned gloves and protective vests, I asked Hope why she took up this work. She replied, "I have lived on, and loved this land, since 1981. It has been a joy to me. I want to give back."
Sure, planting trees is more satisfying than cleaning up after folks, but we need to both—and both are ground-floor entry points to conservation. At TU, we are refashioning rivers by the hundreds of miles, pulling out dams and culverts, making big impacts at watershed scale. But underpinning those complex projects are simpler local efforts, like planting trees or picking up trash.
Eighty six contractor bags of trash later, thanks to Hope and Jeff and all the other neighbors who showed up to give us hope.