At Trout Unlimited, we do all kinds of events. We do everything from the barbecue after the river cleanup to big blowouts like the upcoming CX3 in Portland, Maine. And we're pretty fussy about where we do them, because a big part of any event is the location. The first law of event planning (or for that matter, vacation planning) is the same as the first law of real estate: "Location, location, location." When it comes to events or vacations, Hubbard's Yellowstone Lodge near Emigrant, Mont., has it nailed.
Part of that is just about where they are. Emigrant is just far enough off the beaten path to be wild and beautiful, but still easy to access. The lodge is on Tom Miner Creek, overlooking the majestic Yellowstone River just north of Yellowstone National Park.
The fishing is a reflection of the location. Hubbard's is lucky enough to be able to offer its guests chances at five different species of trout. From wild native Yellowstone cutthroats to voracious silver-sided rainbows to giant browns, their guides can put you on whatever you prefer. They have a large variety of water to choose from in their area, from small pocket water fisheries to iconic Montana rivers to extremely technical spring creeks. But fabulous fishing is only one part of the Hubbard's experience.
Hubbard's Yellowstone Lodge has twice been selected as an Orvis Endorsed Fly Fishing Lodge of the Year. That's a prestigious honor, awarded by people who know the ins and outs of running a lodge.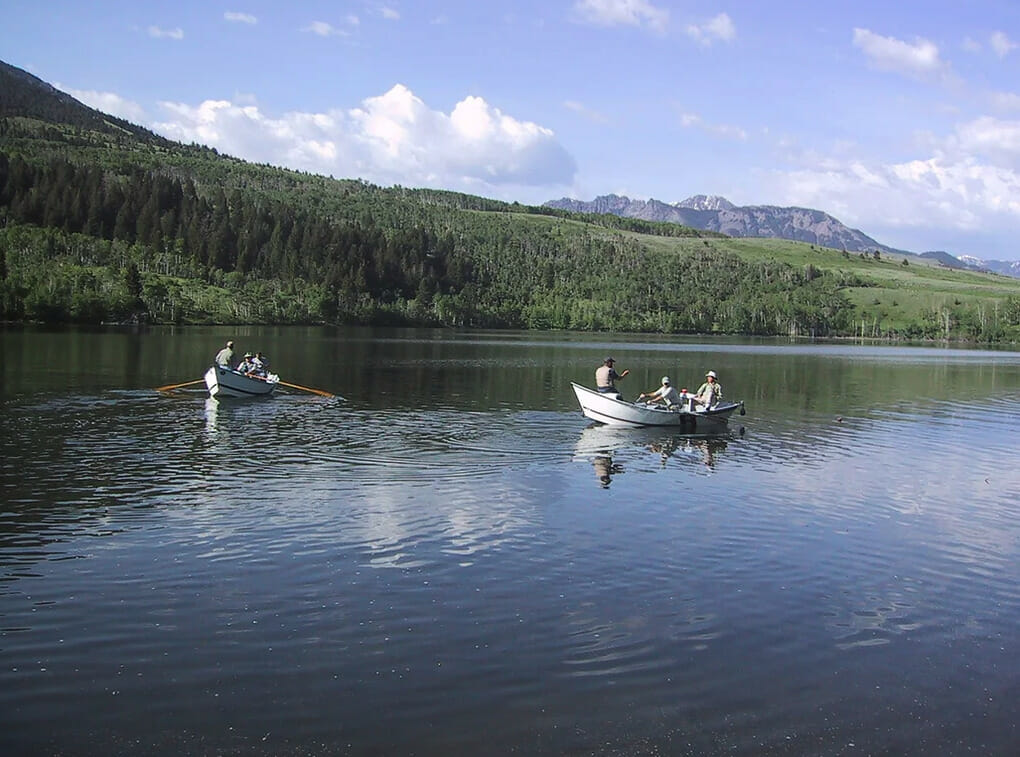 Nancy Hubbard and her crew at Hubbard's are pros in every sense of the word. They provide first-class lodging and dining. The rooms all have breathtaking views, tile bathrooms, luxurious beds with Pendleton blankets, 600 thread count sheets, and L'Occitane amenities. Each room has a unique touch of Western character.
Every night, there's either a cookout on the front deck overlooking the Yellowstone River or open seating in their private dining room with Merrell Lake just outside the windows. Breakfast comes with house-made baked goods, fresh fruit, and made to order omelets, eggs, pancakes, waffles, and more. They do stream-side lunches or grill out at the lodge on the back deck.
After a day of adventures, you can gather in the Rocky Mountain Spirit Bar. Choose from a wide selection of domestic and premium beers and fine California and Northwest wines. Dinners are prepared by their professional chefs and the mouthwatering desserts are prepared daily by the pastry chef. They are happy to provide meals for most dietary and nutritional needs upon request.
You've probably seen news coverage of the tragic flooding along the Yellowstone River recently. It's been bad news for many of our friends along this iconic American river. But the good news is that Hubbard's Yellowstone Lodge is open and eager to host you and your family, friends or business colleagues on the adventure of a lifetime. They're a proud TU Business member.
Hubbard's Yellowstone Lodge
Nancy Hubbard
Emigrant, MT 59027