Fly-fishing the foundation for a special bond between volunteer and veteran
SALEM, Va. — The guide, like any experienced guide, was helpful but firm.
"Try to cast to that seam," she said. "And mend a little sooner."
Seyward McKinney reacted with a barely audible, "OK."
She was too busy concentrating to waste effort talking.
"That was really good," the guide said after the next cast.
Another brief answer: "Thanks."
Becky Hancock isn't an actual fishing guide. She's a volunteer with Project Healing Waters and Trout Unlimited. McKinney is a disabled veteran, and the bond between the two is strong.
"We're friends," Hancock says. "At least I think of it that way.
"I hope you do, too."
McKinney nods and smiles.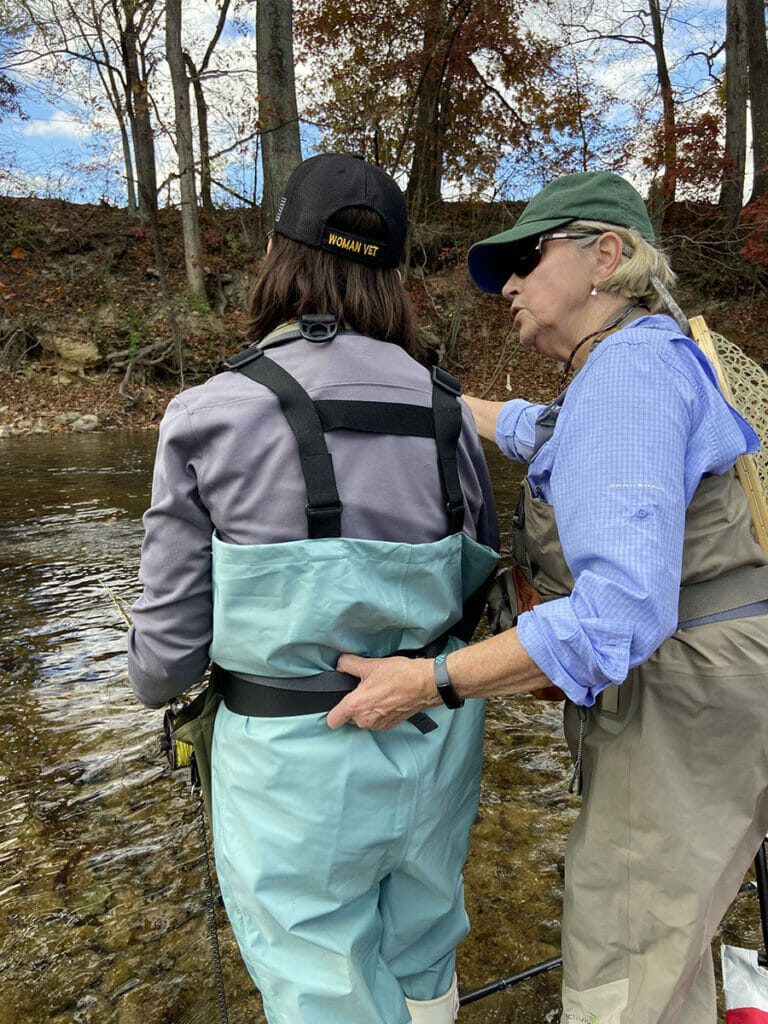 A desire to serve
McKinney was an eighth grader the first time she traveled to New York City from her home in Salem, Va. Among the many amazing sights she took in during the visit were the Twin Towers of the World Trade Center. On a visit a few years later, the towers were gone and McKinney knew exactly what she wanted to do after she graduated from Glenvar High School.
She wanted to enlist in the Army.
As a surgical technician, McKinney was in the OR during complicated procedures, including during an eight-month tour to Iraq in 2004.
A few years later, after returning to the U.S., McKinney was herself a patient. She'd not been feeling well, including suffering terrible headaches. A CT scan revealed that she was suffering from a brain arteriovenous malformation (AVM), which happens when blood vessels that connect arteries and veins in the brain become tangled.
McKinney underwent several brain surgeries and related procedures, and two radiation treatments. Nine days after her final surgery she suffered a serious stroke.
McKinney, who would eventually medically retire as a staff sergeant, spent the next two years at the Walter Reed Army Medical Center in Bethesda, Md., recovering and rehabbing.
Now 38, she has limited use of her right arm and right leg, some facial paralysis and diminished peripheral vision in both eyes. She also suffers from aphasia, damage to her brain that can affect how she speaks and communicates.
Paths to recovery
Like so many disabled veterans, McKinney wasn't content to let her challenges define her. She immediately sought out innovative paths of therapy. She does yoga, music therapy and exercises at a local gym.
One of her first therapeutic loves was horseback riding. She is active in the Healing Strides equine therapy program and has made excellent progress as an equestrian.
"I'm trying to do the Paralympics as an equestrian," she said.
Not long after moving back to Salem to be close to her parents and the Salem Veterans Administration hospital, McKinney learned about a monthly fly-tying class hosted by Project Healing Waters and the local TU chapter. That first night, she met Hancock.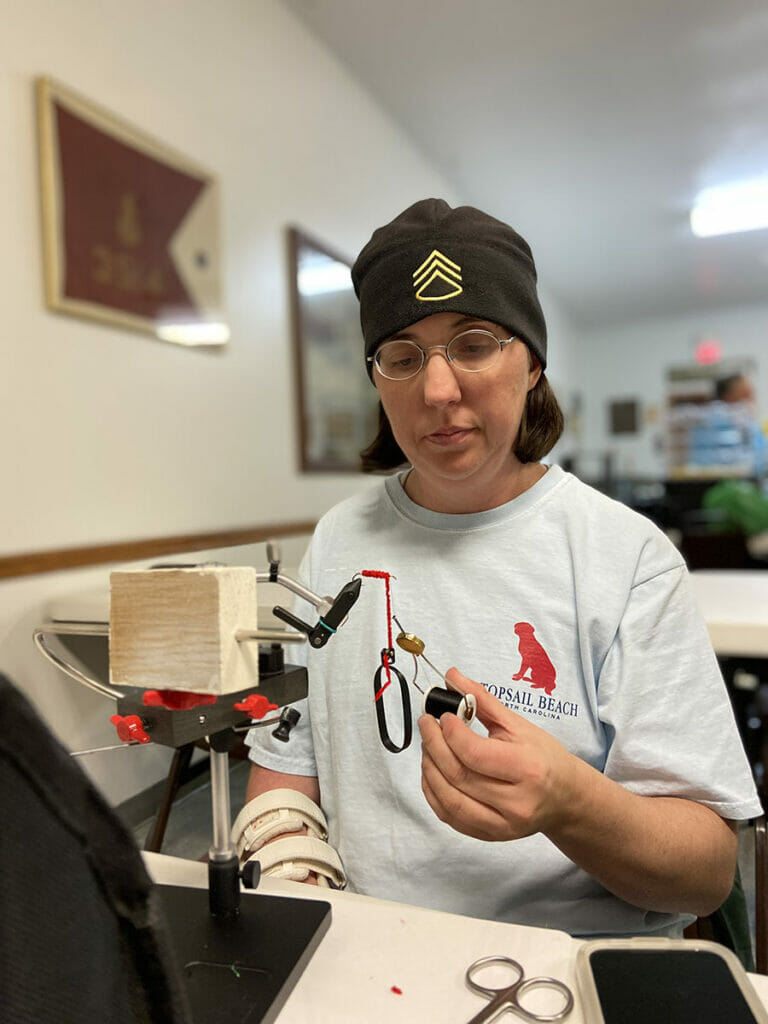 "My parents took me that first time," McKinney recalled. "But then we found out that Becky and I live only five minutes from each other, so she started bringing me."
That was more than seven years ago and the two have become an inseparable team at the tying sessions, as well as in the water.
Hancock, a retired biology teacher who is 73 and recently widowed, came into flyfishing through tying, starting with private lessons with local tyer and angler Blane Chocklett more than 20 years ago.
She is a longtime volunteer with the Roanoke Valley TU chapter, not only with the chapter's support for Project Healing Waters but with the chapter's Trout in the Classroom program and its involvement with a local summer camp for kids.
"Being able to watch the bond between Seyward and Becky grow is the perfect example of the rewards we receive when we offer our time for others," says Kathy Mueller, a volunteer leader with Roanoke TU and Project Healing Waters. "We have watched Seyward become more confident and independent. We have watched Becky during a difficult time of her life share the gift she has of helping others.
"Watching the difference this incredible bond has made in each other's lives has been a blessing to my life as well."
Do you have a friend or family member who served and would appreciate a Trout Unlimited membership? We're offering them free to new-to-TU veterans.
Though Hancock is a skilled tyer, working with McKinney has required her to learn and even invent innovative techniques required to tie with only a single hand.
At the vice, she pushes McKinney.
"When I've tied with some of the guys, they tend to want to do things for me," McKinney said. "Becky wants me to do it myself."
For example, the addition of an "Evergreen Hand" on the vice helps McKinney keep working materials at the ready. Sometimes — as when tying a Baby Matuka streamer during a recent session — she has to tape a feather to the hook before she can begin tying it in. She finishes flies with a skilled, single-hand series of half-hitches.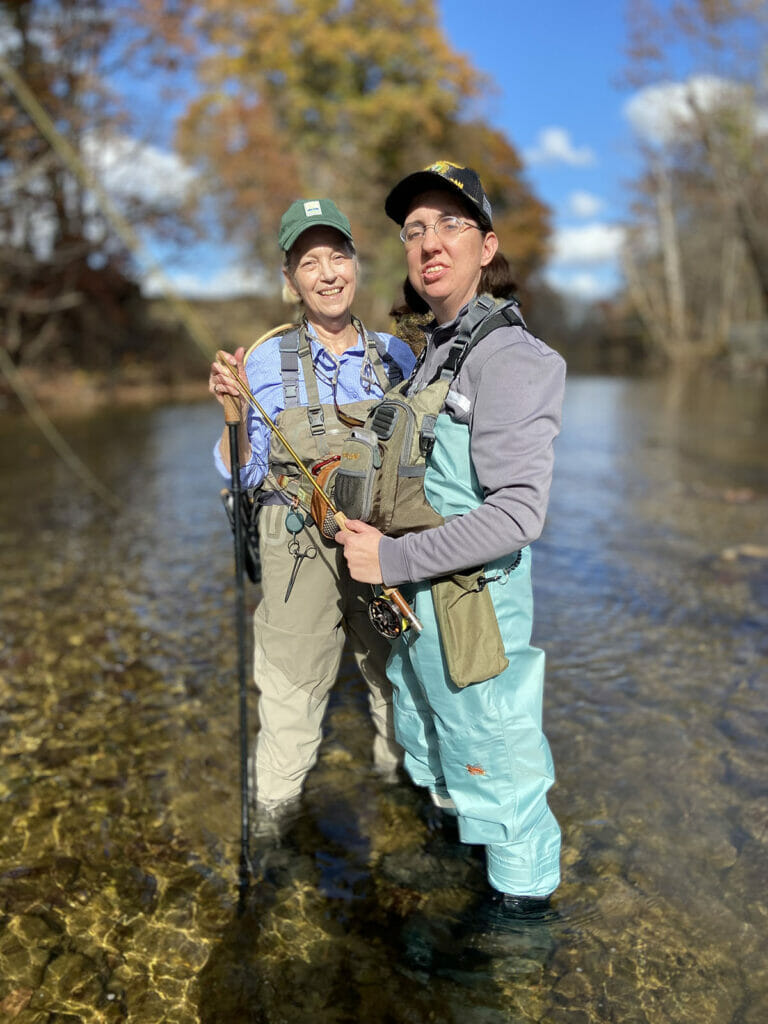 It takes time. She might finish one fly in the time an able handed tyer can complete a half-dozen.
The activity exercises her coordination and concentration.
"She's gotten really good," Hancock says.
On the water
Just as tying requires extra time and effort, so does fishing.
On a recent pleasant fall day, Hancock picked up McKinney for a quick trip to the Roanoke River, where they would target stocked trout in a Delayed Harvest section of the stream.
They are well-practiced in the routine. McKinney is able to don her waders on her own but needs help with her boots. The two sit across from each other in camp chairs.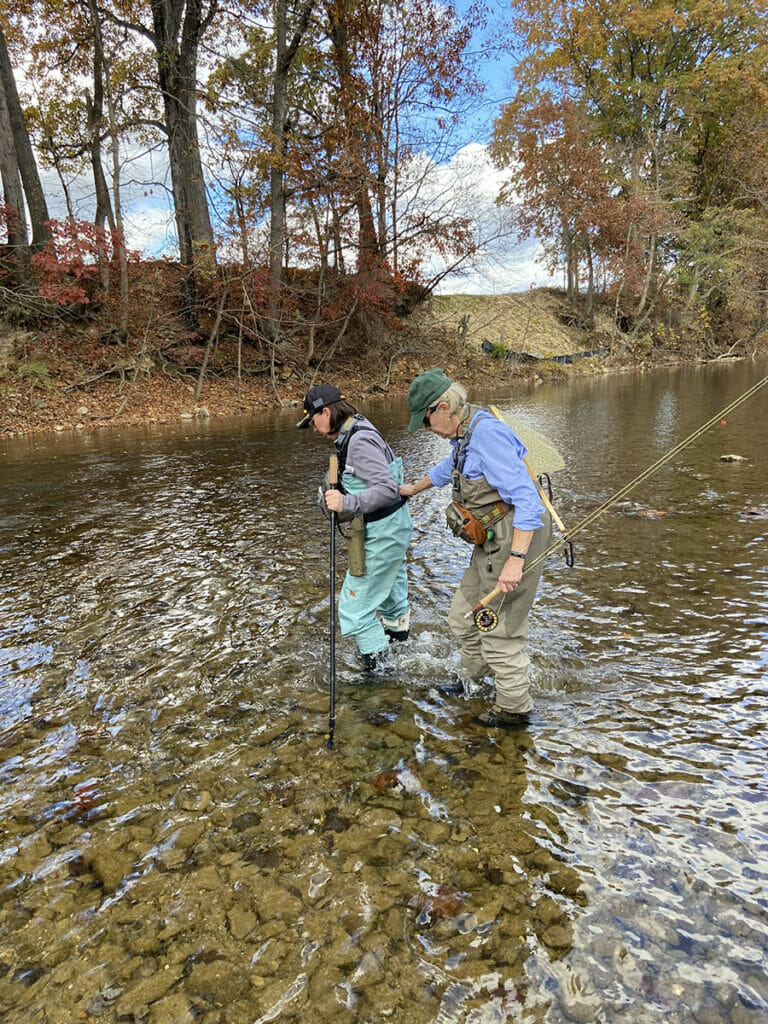 "Is that too tight?" Hancock asks as she laces up one boot, which must fit over a brace McKinney wears on her lower right leg. "This brace makes it tough."
"It's fine," says McKinney. "It will loosen up in the water."
Once they get to the river's edge, Hancock grabs on to McKinney's wading belt. Carefully they wade together though shin deep water to get to a good spot. Hancock brings along a camp chair so McKinney can sit down if she needs to.
"But she never wants to sit," Hancock says with a laugh. "Maybe I'm the one who needs the chair?"
McKinney is quite good with single-handed casts.
"Her roll cast is especially good," Hancock says with pride.
McKinney is able to do much more for herself now than when she started. The activity helps her exercise her mind, body and even her vision.
"With my rehab, being able to flyfish has been so therapeutic," she says. "You have to have good concentration and you have to be able to hear the sound of the line."
Hancock had rigged up a two-fly nymph rig, a small nymph trailing behind a larger olive Wooly Bugger. They watch the strike indicator intently as it rides through the riffle. After 20 minutes of effort, Hancock asks McKinney if she'd like to move.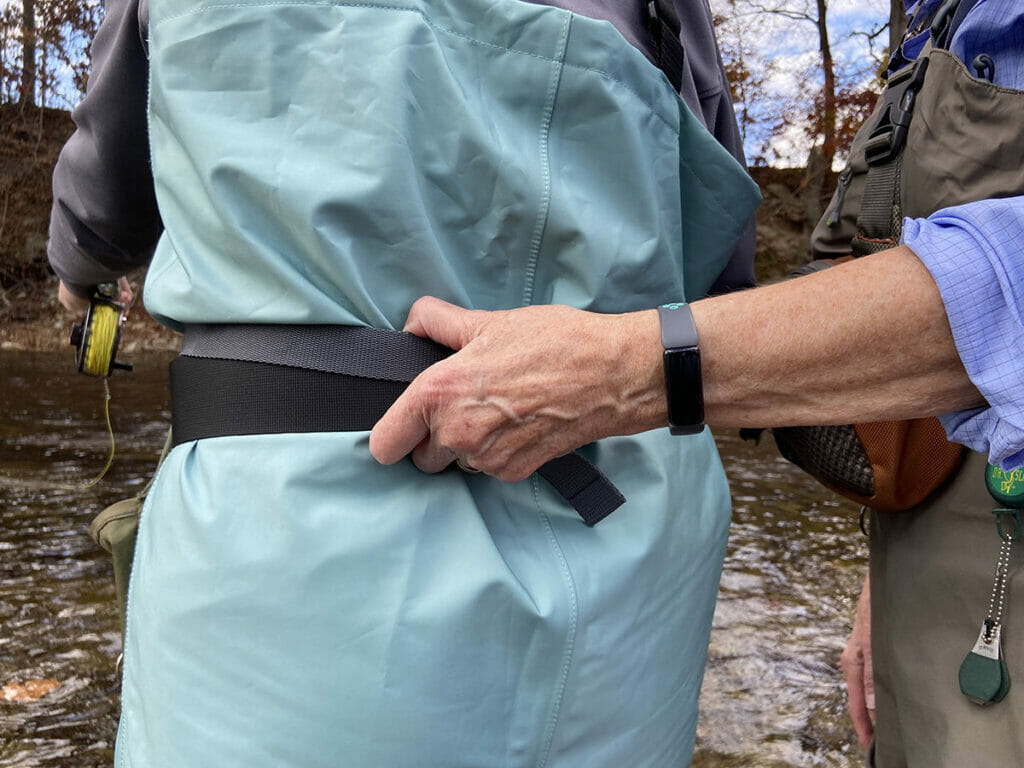 "I think I'm ready to go," is the answer from McKinney, who has already had a busy morning of horseback riding.
Hancock doesn't push it. She'd had a tough physical therapy session herself that morning for a hamstring she'd pulled in a fall a couple of months ago.
"Well, it was nice to get out," Hancock says.
McKinney nods. Hancock grips the wading belt and the two wade back ashore.
"We'll go again soon," Hancock says.
"I know," McKinney answers.
Over 200 Trout Unlimited chapters have an active Service Partnership Program – serving and engaging veterans and first responders. In the past year, TU chapters have put on nearly 1,000 events for veterans and/or first responders. That's over 5,000 folks who found healing through fishing and community connection through our shared commitment to our conservation mission. Dozens of chapters operate with our partners at Project Healing Waters Fly Fishing, an organization dedicated to the physical and emotional rehabilitation of disabled active military service personnel and disabled veterans through fly fishing and associated activities including education and outings.