Editor's Note: The Strawbridge family from Lakeland, Fla., is hiking the length of the Continental Divide Trail – all 3,100 miles of it – from Canada to Mexico. Henry Strawbridge, 14, will be providing updates of their journey to Trout Unlimited as they pass through the historic range of seven native trout species. You can track the family and see reports submitted by Henry on this map.
By Henry Strawbridge
If you can avoid going into Pinedale, it is an eight-mile walk in and a seven-mile walk out, do it. Even with the five miles it skips you add roughly 10 extra miles to enjoy the town.
That being said, we did enjoy Pinedale. We even decided to take a zero — a day with no miles — there and stayed at a nice hotel.
Waking up, after a day of rest, we got a hitch up to the trail with a couple making a motor home tour around the West. They were looking for a place to buy a new home once they moved from their old one. They had, until recently, lived in San Francisco only a block away from where my mom and dad had lived before they had their beautiful children and decided to escape to less costly lands.
We made it back to the trail right when the sun was setting. After a less restful night's sleep, we climbed out of and down from the Rocky Mountains into high desert terrain. About an hour after lunch, dad and I stopped by the South Fork of Fish Creek to catch some cutthroat trout.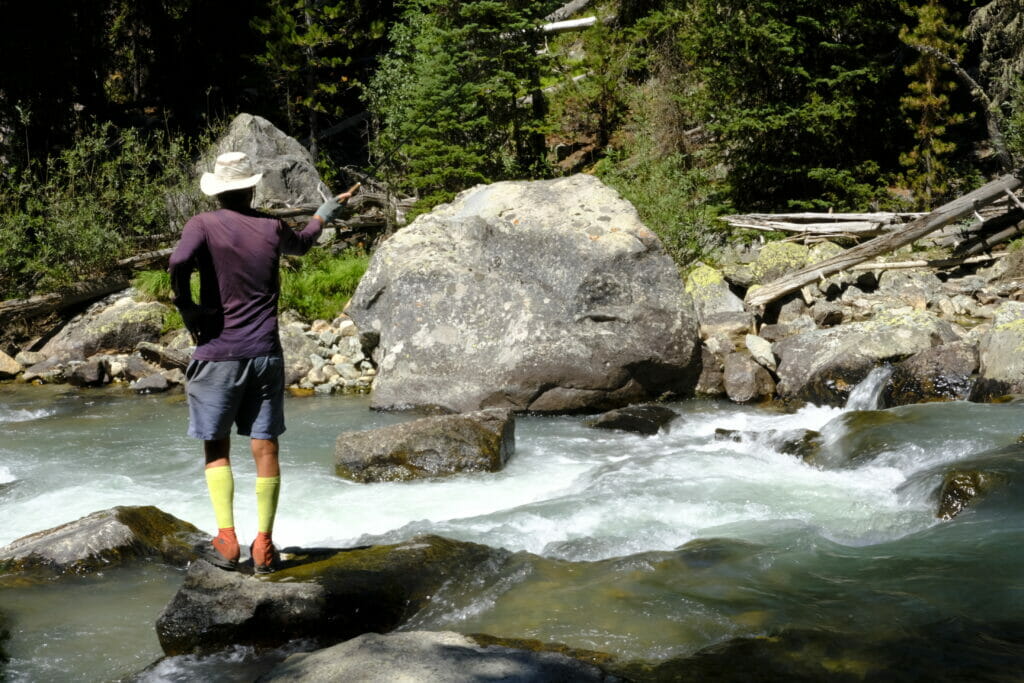 We joined back up at the trail with only one cutthroat caught between the two of us, not our best showing. But after another hour of catching up we hit the main fork of Fish Creek. There, taking about the same amount of time, we caught about 20 cutthroats and even a few rainbow trout. Toward the end of the day we stopped again to fish in another small creek and started catching golden trout for the first time on the Continental Divide Trail. It was one of the best fishing areas we've hit so far and worth the trek if your wanting a good day on the water.
The next morning was the day of the Cirque de Towers, a much anticipated hike. We left the trail in the morning and began to climb up to the valley of walls that formed a fortress of cliffs. Apparently, the way into the beautiful valley is called Texas Pass. This climb is much harder than any climb I've ever done, and I hope I never have to do one like it again. The trail walks along several lakes as it shallowly climbs up a gorge. But the trail and the gorge both disappear and leave you to make your own short, steep switchbacks straight up to the pass. Over the top you enter the famous valley of Cirque de Towers and drop down all the way to a lake.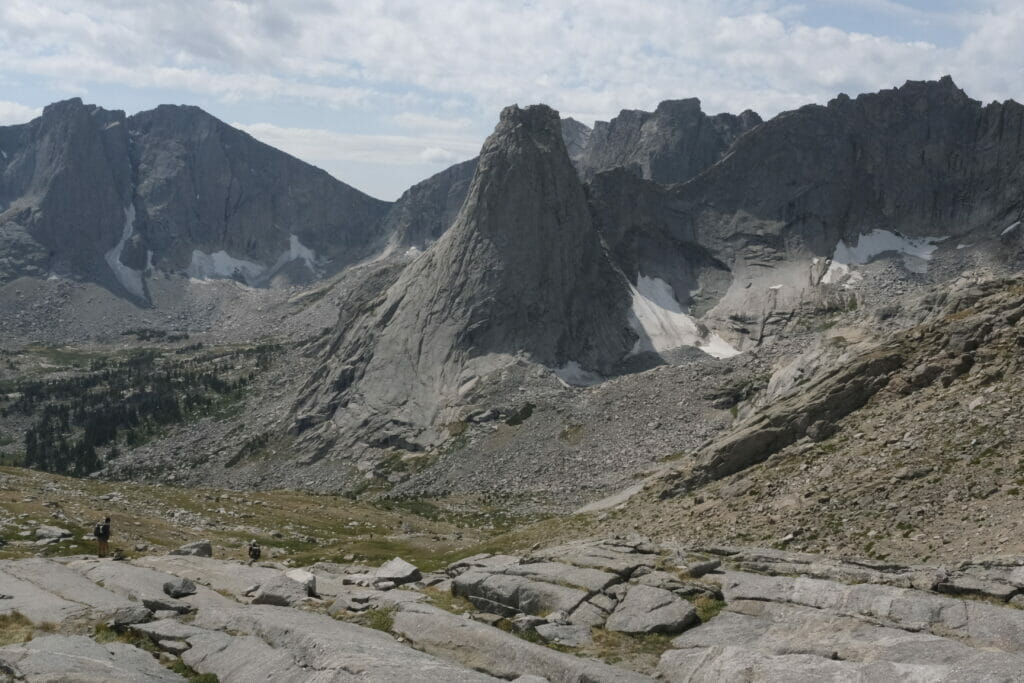 Completely exhausted, we stopped and ate lunch and tried to catch some spooky trout in the lake, but we were unsuccessful. The rest of the day we took pictures and climbed up two more passes not quite as hard as Texas. Finally, after one of the hardest hikes yet, we joined the CDT again and made it all of 10 miles more. Worn out and ready for a change, we looked at the maps and decided to head for South Pass. With little success in fishing, the work of the day didn't have a lot of reward.
We've now entered the desert, a terrible place for a person who already has a sunburn. We walked out of the national forest and entered waterless plains covered in scratchy sage brush. Doesn't look like there will be any fishing for a while.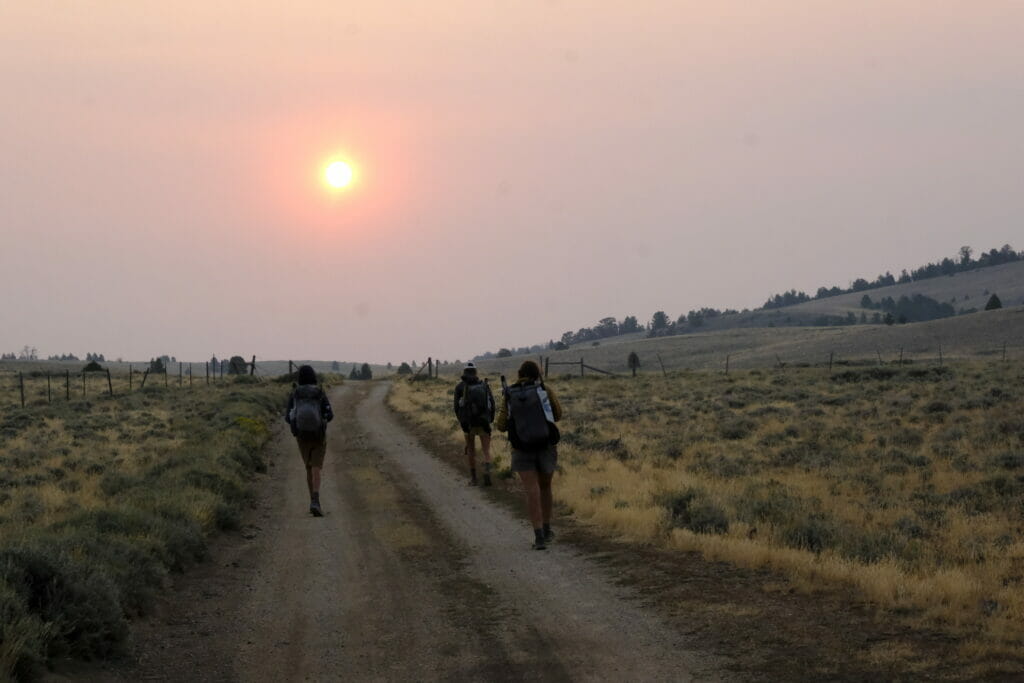 We resupplied quickly and walked three miles to our next destination, a burger from Atlantic City. The city had tons of old mines and historical places, we even passed by an old, decaying, wood building where Butch Cassidy paid a $20 gold piece to stay for one night. Wonder if he caught any fish around here.
Picture yourself tired and hot looking for a nice Gatorade or a ice cream bar from a gas station. Then imagine walking down a hill into a valley with only 56 people and two restaurants to choose from. It was not what we expected, but it had a really cool history. We chose the single restaurant that was open and thoroughly enjoyed it. Wouldn't you?
Until next time,
Henry
COVID-19 note: The Strawbridge family anxiously watched as the coronavirus issue threatened their plans to do the CDT this year. After careful consideration the family made the decision to drive to Montana to start the trip to avoid any possible exposure on airplanes. None of the family members are exhibiting symptoms. They will continue with limited contact with the outside world throughout the duration of the trip.