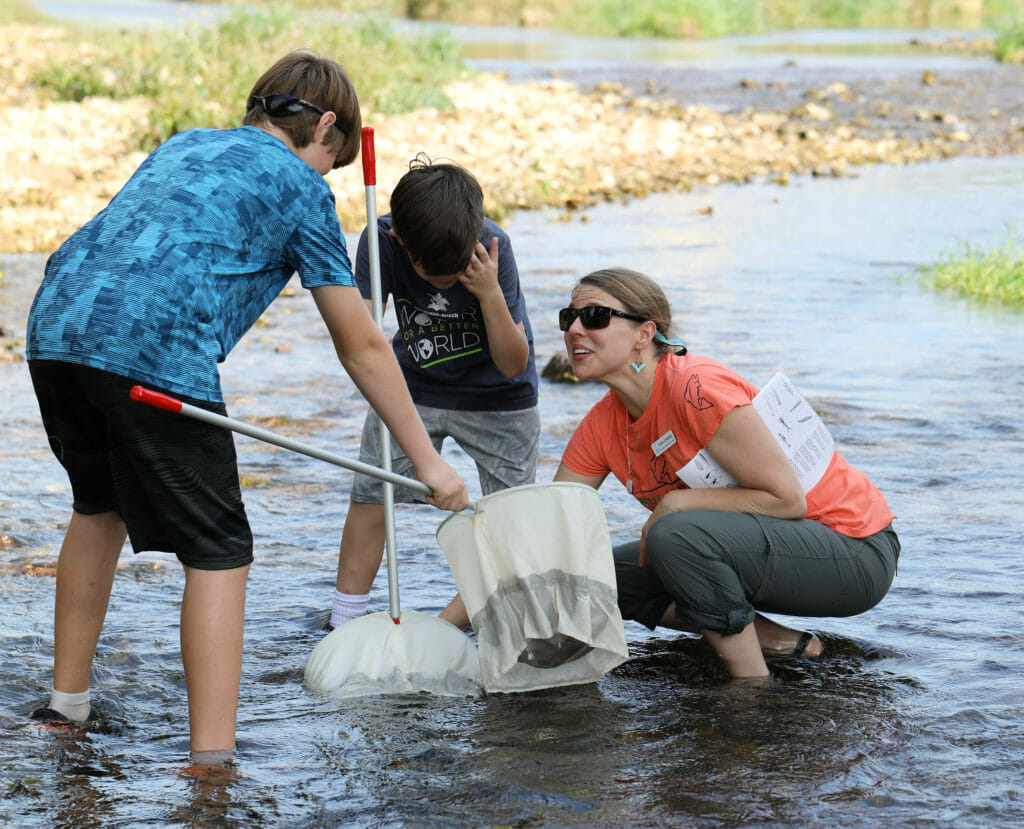 Each year since 2016, Trout Unlimited offers a family-friendly outdoor event at our Annual Meeting. It's a nice change of scenery from the all-indoor conference center presentations. Don't get me wrong, I love the hospitality suite and NLC sessions as much as the next guy, but there's something about getting your boots wet in a local stream with a group of enthusiastic kiddos, wouldn't you agree?
Boots on, reels seated, and nets out, Headwaters staff joined Jeff Belk of the Outdoor C.A.R.E. program and Arkansas 514 chapter volunteers for three hours of STREAM (science-technology-recreation-arts-and-math) education. Thanks to Jeff's hard work and recruitment of a local middle-school fly fishing group, plus a few sign ups from Annual Meeting attendees, forty-one kids and their families came out for our 4th annual STREAM Kids event at TU's Annual Meeting in Rogers, Arkansas! Several of Belk's high school students also came to instruct and mentor the younger kids.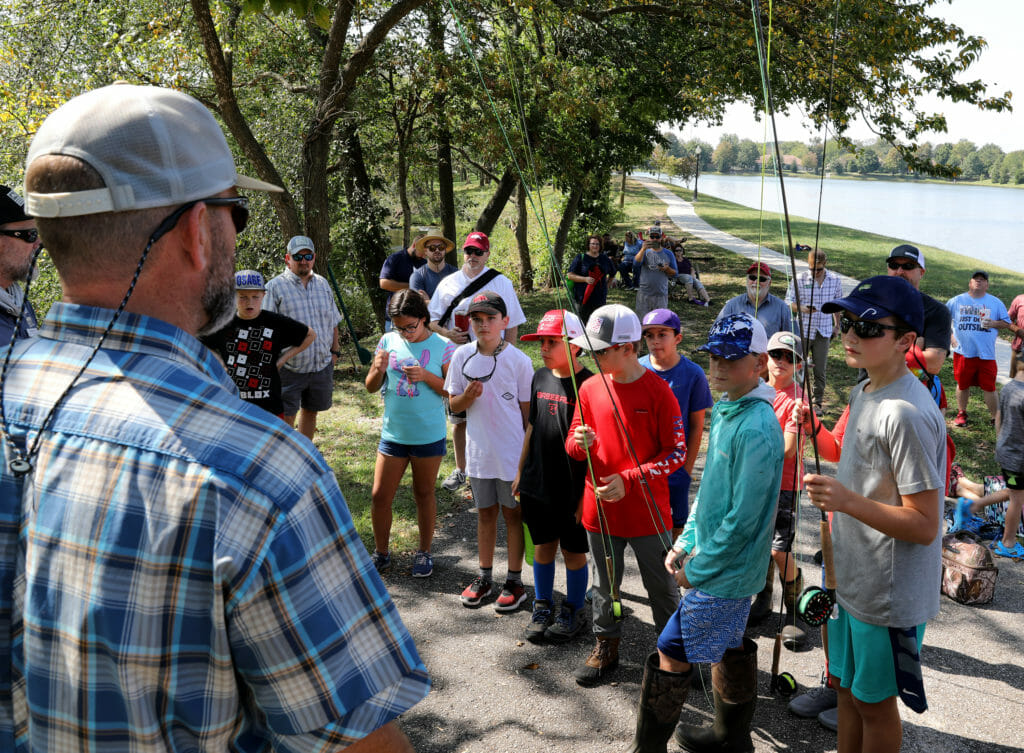 The great thing about an event like this, is that a chapter could use this event as a model to coordinate something similar for their next family-friendly event!
How to run your own kids event
Set up stations
We had around 20 kids, so we divided into three stations for the first two hours of the three hour event. Smaller groups allow for more engaged learning and an environment where most feel more comfortable asking/answering questions.
Water quality/stream exploration – we had D-nets and rolled over rocks to look at the macroinvertebrate life in the stream. Check out this link to the prompt under "Macroinvertebrate and water quality sampling" as an example of how to introduce the term and concept of macroinvertebrates to prep them for learning and exploring! We also did some chemical monitoring of the stream. If you have the equipment to check the pH and other chemical factors, this is another great way to look at what's going on besides what we can see with the naked eye. It's also another way to view your stream as a scientist!

Knot tying: smaller groups allowed for more one-on-one learning with knot tying. Use old fly line to tie knots onto paperclips or a cork with an eyelet screw on the end to mimic a hook. We learned the improved clinch knot and double surgeons loop, two of the basic knots of fly fishing.

Casting 101: if you are lucky enough to be on a pond (as we were) you can start with the roll cast. It's simple enough and prevents lines from tangling and flying around every which way. If not, a presentation cast is also a great place to start. Check out these Orvis videos for tips on teaching these basic casts.
Supplies and instructions for sampling
For a comprehensive list of supplies and instructions, check out the links under "Macroinvertebrate and water quality sampling" on this troutintheclassroom.org webpage.
Essentially you'll need some nets, a dichotomous key for identification, and appropriate clothes and shoes for wading.
Other tips and preparations
Safety first! Go over safety instructions during your introduction, e.g., necessary eye/head protection, environmental concerns, and wading safety.

Prepare an introduction for the group. One thing I always do after introducing myself is ask for kids to raise their hands if they've heard of Trout Unlimited. Then I ask if anyone knows what TU does. Someone usually knows we "protect trout" and I use this as an opportunity to explain our mission and why it is important! This is also a great time to give them an overview of what they'll be doing for the day and why it matters. If you can, save time for a reflection at the end so participants can share with each other what they found or their favorite moment of the day.

Allow plenty of time for exploration in the stream. If some kids are more drawn to the plants or crayfish, rather than the aquatic bugs you were ready to talk about, that's ok! Try to find a way to relate them back to the bugs (did you know crayfish are macroinvertebrates, too?) or ask them to compare the features of the things they are interested in. For example, we found a lot of crayfish in the stream in Arkansas and some of the kids couldn't focus on anything else. So, I asked them to start comparing and contrasting the markings on the crayfish. Do you think they are different species? Can you tell a difference between females and males? It's ok if you don't know the answer, it's fun to be inquisitive and explore together!

For knot tying it is good to remember that kids will be at several different levels in terms of knot savviness. Be sure and slow down the process and show each individual step. Have those kids that already know a knot help teach others. It's also good to teach what part of the cord or fly line or mono is the "running" part and which is the "standing" part. Kids understand these terms easily and it helps keep the knot from blurring into one big confusing (and frustrating) mess.
Integrating one or all of these activities into your next family-friendly event is a great way to engage young people in hands-on experience in science and angling. These sorts of activities create meaningful connections to the outdoors so that they care about their natural resources into the future.
Contact Tara Granke or Franklin Tate of the Headwaters Youth Program for more information.