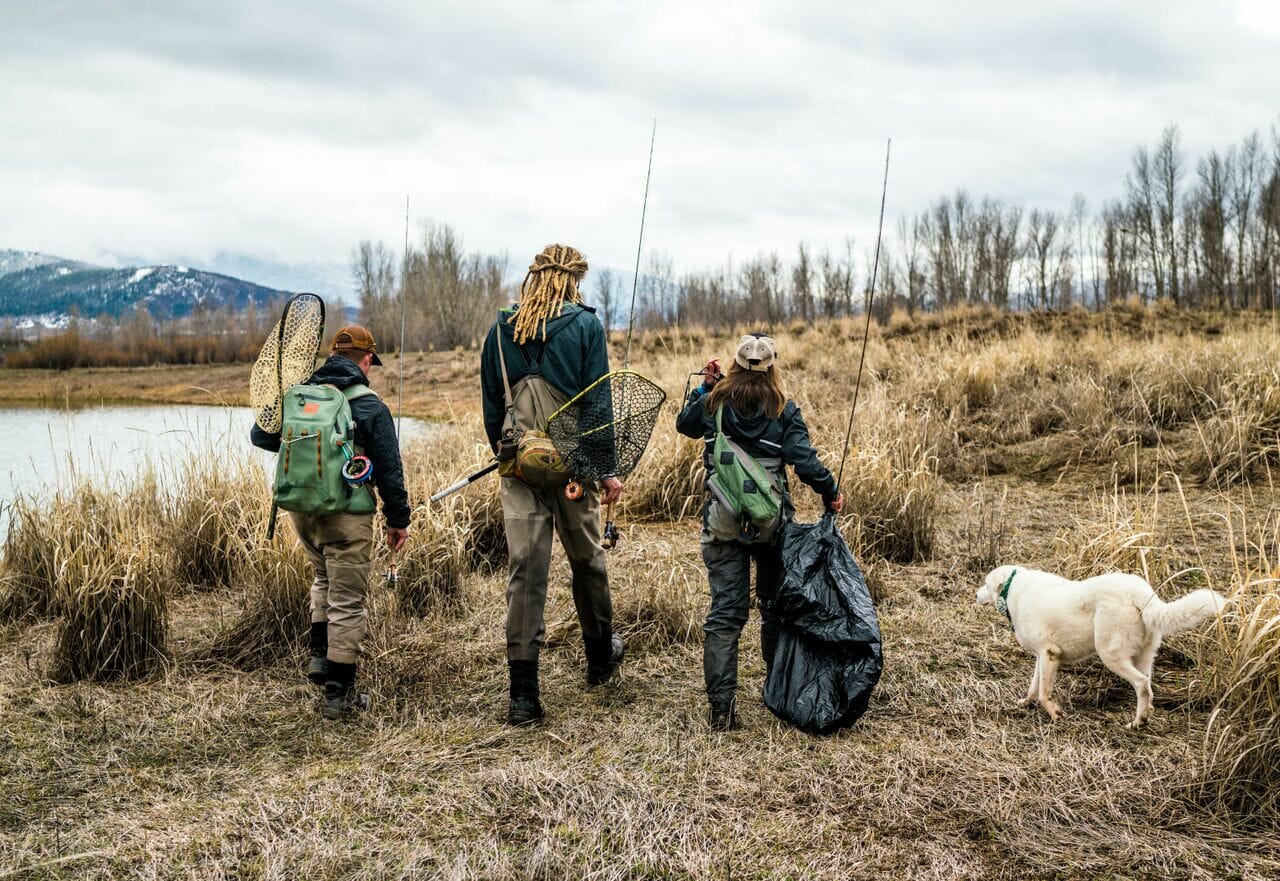 TU Costa 5 Rivers Club Spotlight:
Fort Lewis College
The TU Costa 5 Rivers Program is a network of over 70 college fly fishing clubs that work to encourage anglers of all experience levels to get involved in conservation and their local communities.
Fort Lewis College is located in Durango, Colorado. This club has a diverse group of 34 members. Thanks to Brian Garland, the current club president, we were able to get an inside look at their club and how they promote fly fishing and conservation in southwest Colorado.
Tell us a little bit about the 5 Rivers club at Fort Lewis College.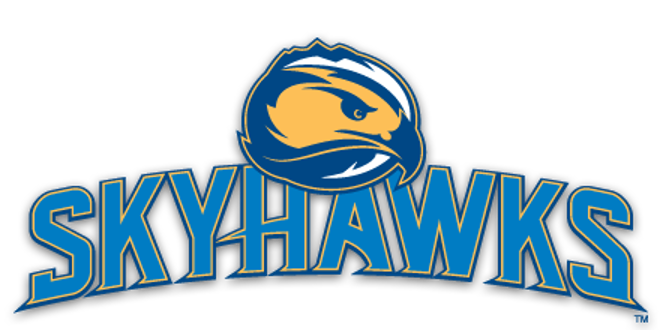 Our club consists of a group of students who are passionate about fly fishing, and conserving/protecting our local fisheries. We encourage students to become involved and contribute to making a difference in the fly-fishing community.
We are an extremely young club, but we don't let that stop us from contributing. Whether it is helping at a local TU event or doing a waterway clean up or restoration project, the Fort Lewis College Fly Fishing Club is an active part of the community and continuing to grow.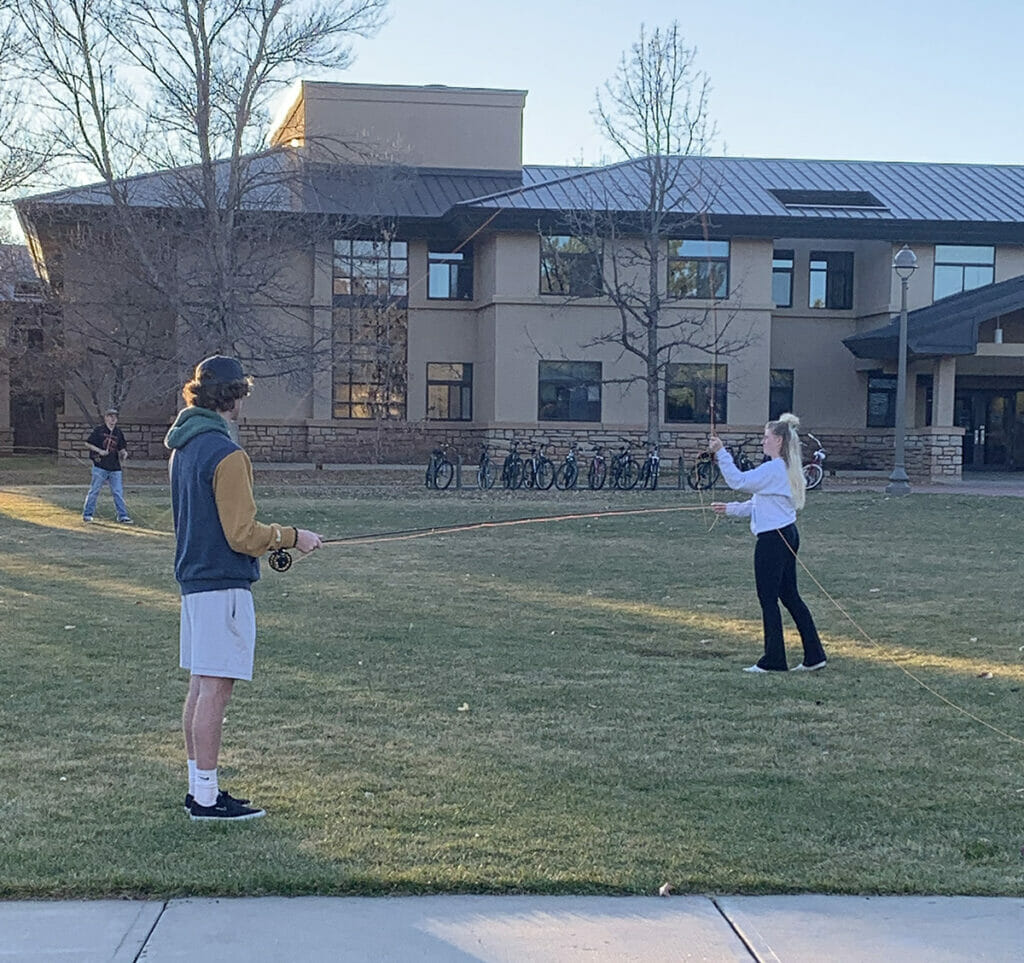 How did your club get started?
Our club started a few years back with some passionate, experienced anglers, but it slowly died off, with Covid and online classes.
I knew about this club when I was in high school so when I came to Fort Lewis College I was eager to meet people that I could fish with that were around the same age as me. I work at the local fly shop in town, Duranglers, and the guys at the shop encouraged me to ask around and see if I could get the ball rolling on the club again.
I found Brandon DenHartog, assistant director of recreational services, who would be our club advisor and was just as eager as I was to get the club started again. We chatted about our visions for the club.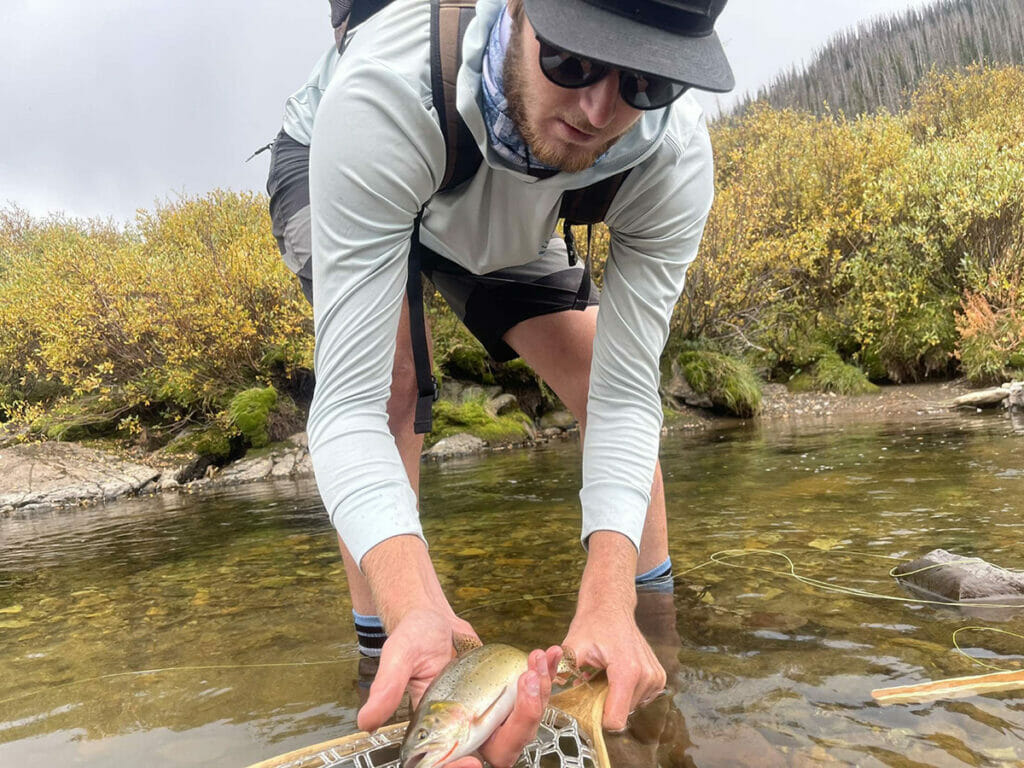 One vision that I had was to include students who had never fly-fished before but had an interest in taking up fly fishing. Soon enough, I was the president of the club and was out recruiting people to join the Fort Lewis College Fly Fishing Club.
I am proud of what our club has become in just the past couple of months and there is still so much learning, growing, and fishing to be had.
Can you describe the local fishing scene?
The fishing at Fort Lewis College is phenomenal. The Animas River runs right through town and has plenty of holes 5 to 10 minutes away from campus. It's nice to take a lunch break, work on some homework, and be able to fish all within a two-hour window.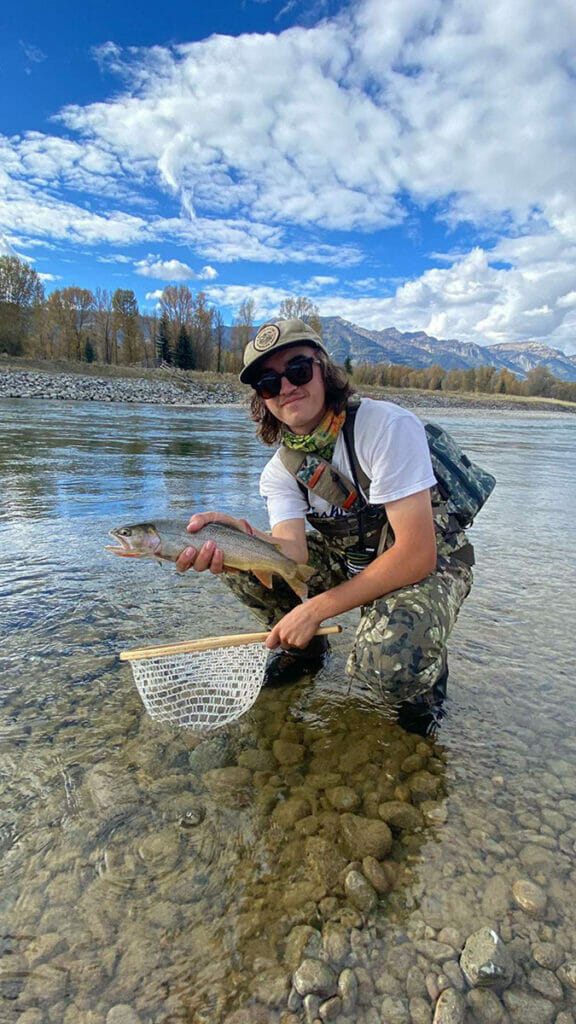 I think I speak for every young adult that enters college when I say that it is a stressful time. Fishing for an hour on the Animas is just right to de-stress and prepare mentally for what is next in the day.
The waterways in and around Durango are endless. Heading north you can fish mountain creeks filled with brook and cutthroat trout. Heading east you can fish the Florida River and the Los Pinos River. Both are freestone rivers with rainbow and brown trout. Heading south, we have one of the most famous tailwaters in the western United States, the San Juan River, which is a very technical tailwater with brown and rainbow trout. Head west toward the town of Dolores and you can fish the Dolores River, a freestone river containing rainbow and brown trout.
The fishing is incredible in the Southwest. I find myself most days of the summer just picking a direction to drive and fishing whatever comes to mind first. It is a pretty unique and special place.
What does the Fort Lewis 5 Rivers club have planned for the rest of the year?
Every first Wednesday of the month we have a meeting where we discuss what the month holds for the club. In the month of September, we held two river clean up days on the Animas River. We also participated in a cleanup that our local 5 Rivers TU chapter hosted. A huge shoutout to them and all the hard work and effort they put into protecting, restoring, and conserving our local fisheries.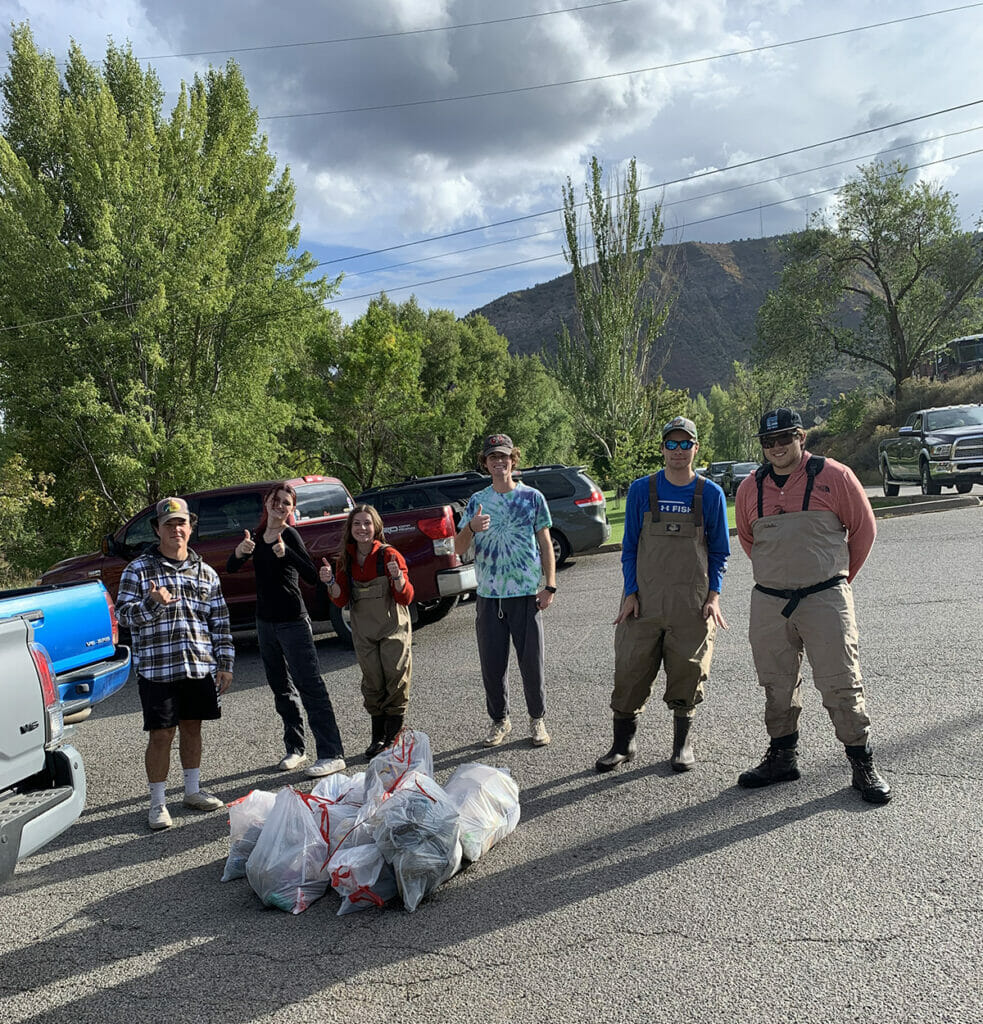 Other events we held in the last two months included casting clinics and 101 classes through Duranglers, covering knots and fly patterns.
If your club could take on any conservation, habitat restoration, or outreach/education project in your community regardless of budget, what would it be?
We would love to clean and restore the Animas River and other local waterways. As a club we would want to have a mass cleanup where we could remove all the debris and trash in and around the Animas, specifically. This would not only make the Animas River a better fishery but would also help the community.
How do you recruit new members?
When it comes to recruiting new members, it was all word-of-mouth. Aidan, the club vice president, and I would be fishing, casting in the grass, or eating dinner, and stumble across students who go to school with us and are interested in what we were doing. As we got more members, they began to tell their friends about the club and that they should take up fly fishing.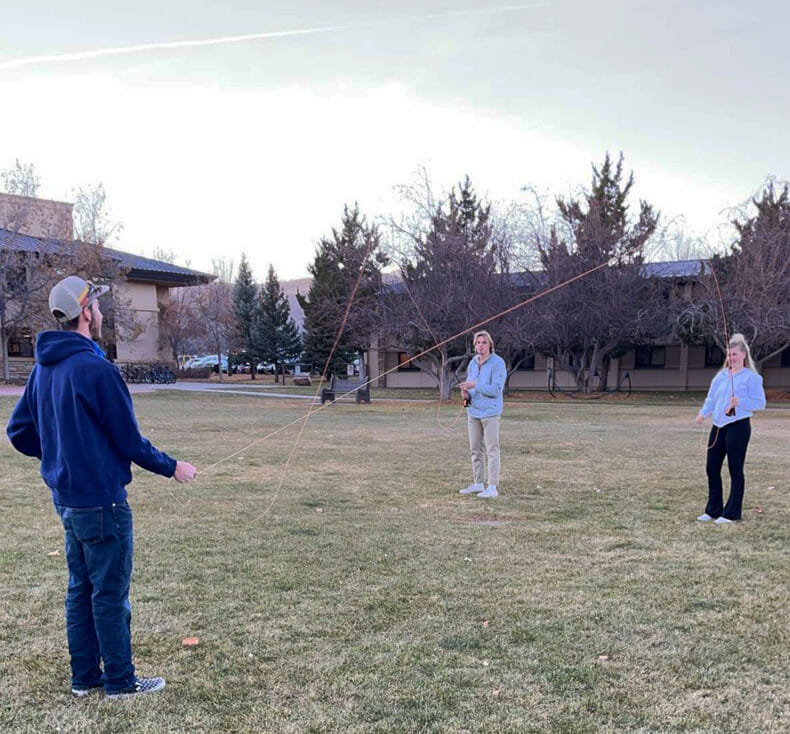 We continue to grow our club as a whole, with members ranging from complete beginners to moderate and experienced anglers.
What would you say to a college student who is considering picking up a fly rod for the first time or is interested in getting more involved with the fly-fishing community?
To a college student picking up a fly rod for the first time, I would tell them that this activity is so very special and can be so meaningful.
It may seem difficult at first but once you get it, it will click. Don't give up no matter what because nothing compares to catching your first fish on the fly rod. That memory becomes engrained in your head for forever and can change your life.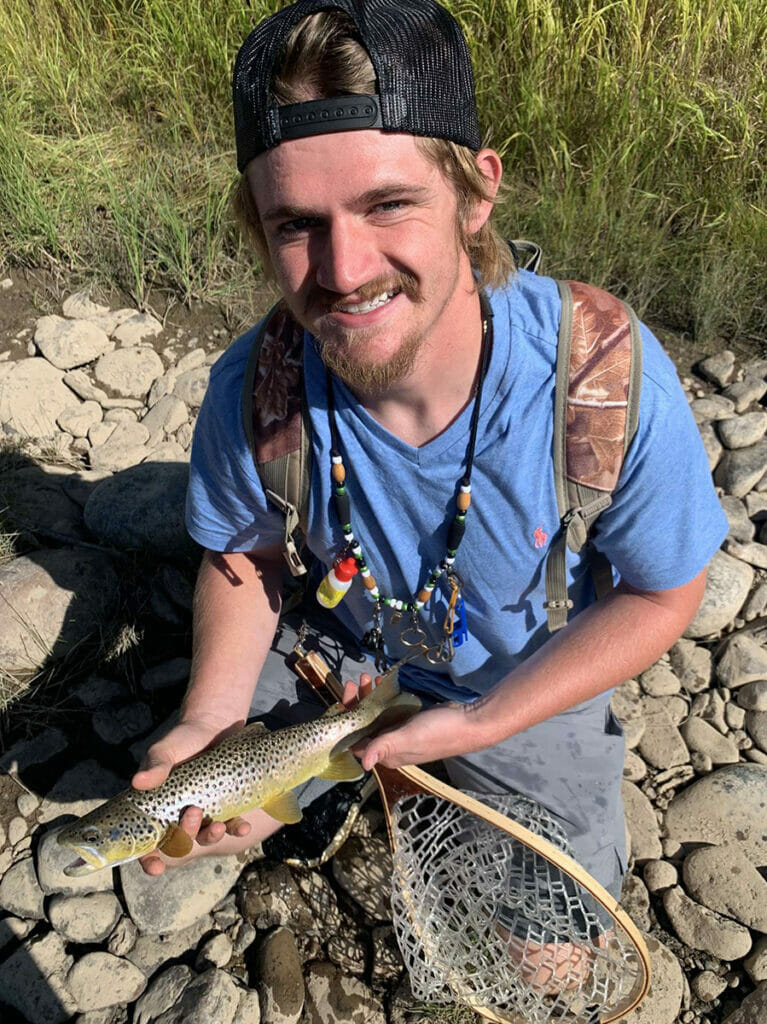 Fly fishing can bring so many good people together and create lifelong friendships and memories. It isn't about how experienced you are or how many fish you catch. It is about getting outside and creating memories and friendships that will last a lifetime.
What is your club's biggest challenge going forward?
Our club's biggest challenge moving forward is finding ways of fundraising so that we can afford to buy gear for beginners that may not have waders and rods. Fly fishing can be expensive, especially for your average college student. Our club typically has rods that students can use but this isn't the case when it comes to waders. It would be awesome if we could have rods and waders so that we could outfit students to fish.
In your mind, what does the ideal future of your club look like?
The ideal future of the club is to continue to have a diverse membership and broad experience level throughout the club. In the future, I hope to host overnight trips where we can travel to new places to fish. I want the Fort Lewis College Fly Fishing Club to be known around campus, and the region, as one of the top clubs and a place where anyone and everyone is welcome.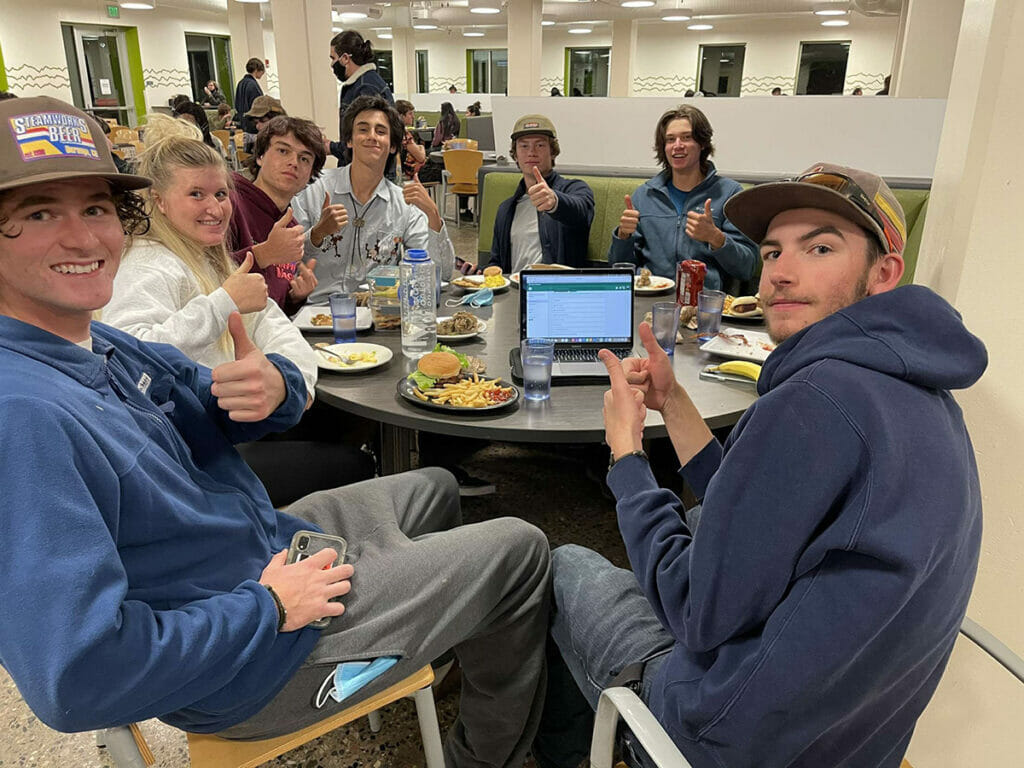 I want this club to impact people's lives through fly fishing the way that fly fishing has impacted mine. It brings me peace and joy in the darkest of days. I want this club to continue long after I graduate and know that it made an impact on students and got them into something that they can enjoy for the rest of their lives.
Finally, I want students to realize how important the conservation aspect of fly fishing is and how important it is to protect our local waterways and fisheries so that they can be enjoyed for generations to come.