[et_pb_section admin_label="section"]
[et_pb_row admin_label="row"]
[et_pb_column type="4_4″][et_pb_text admin_label="Text"]
We care about clean water, healthy fisheries and vibrant communities. We roll up our sleeves to volunteer, we sit on our boards, and we strategize as members and leaders of staff. We want you to join us.  
Thanks to initiatives such as TU's decades-old Women's Initiative – now Diversity and Inclusion Initiative – and those of our partners, new groups have engaged in coldwater conservation and the sport of fly fishing. The aim of this blog series is to highlight these friends, in hopes of making many new friends of broad stripes. In this series you'll meet people of diverse communities – our good ideas, what we have in common, and where we differ. Know someone we should feature? Nominate them here. 
Since it's not possible to sit down and have coffee or spend an afternoon on the river to show you what we're up to, a blog post will have to do. As you read, we hope you'll consider joining us. We need your ideas to help make a bigger impact.   
Together, we'll help protect the special places we love.   
We are familiar with Alex thanks to his participation and leadership in our Youth Leadership Council and the Teen Summit. But it was his brother who jumped on nominating him, calling Alex "a great young leader." He said, "If there is anything that I know my brother by, it is his love of fly fishing, the outdoors and conservation."
We had to know more, and we're glad we did. And frankly, we're still thinking about how to be more like Alex's friend, Vince! (Read on to learn why.) We're lucky to have ya', Alex!
Introducing: Alex Herrera (Instagram: @Tex_mex2)
What's your hometown, and where do you call home now?  Born and raised in New Braunfels, Texas.
What's your history with conservation? My introduction to conservation was through a summer camp called Coastal brigade, which focused on saltwater conservation along the Gulf of Mexico.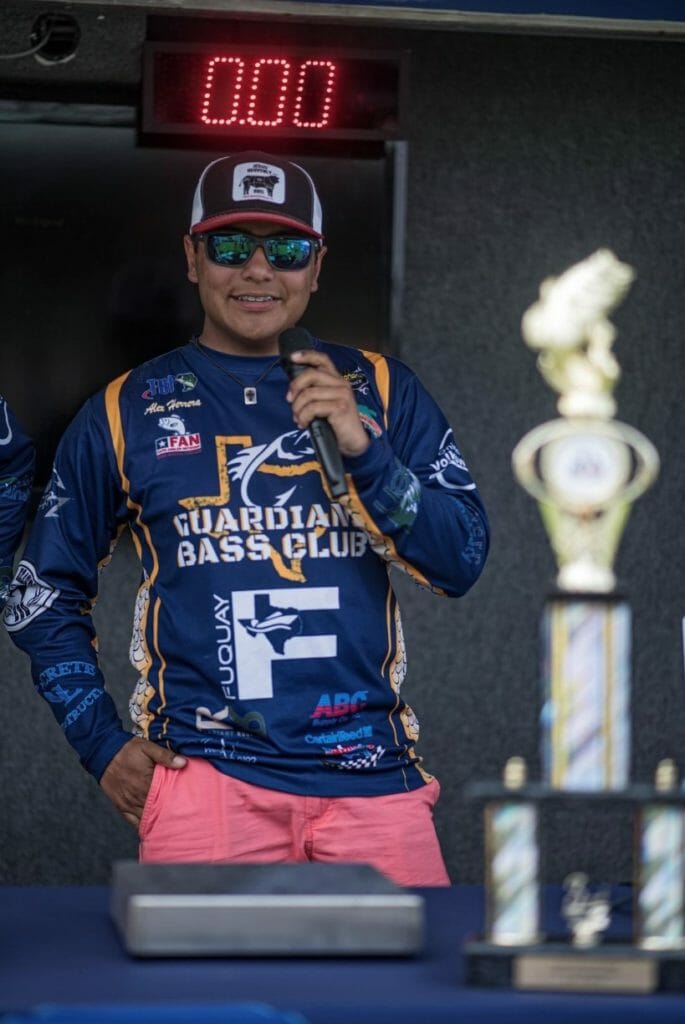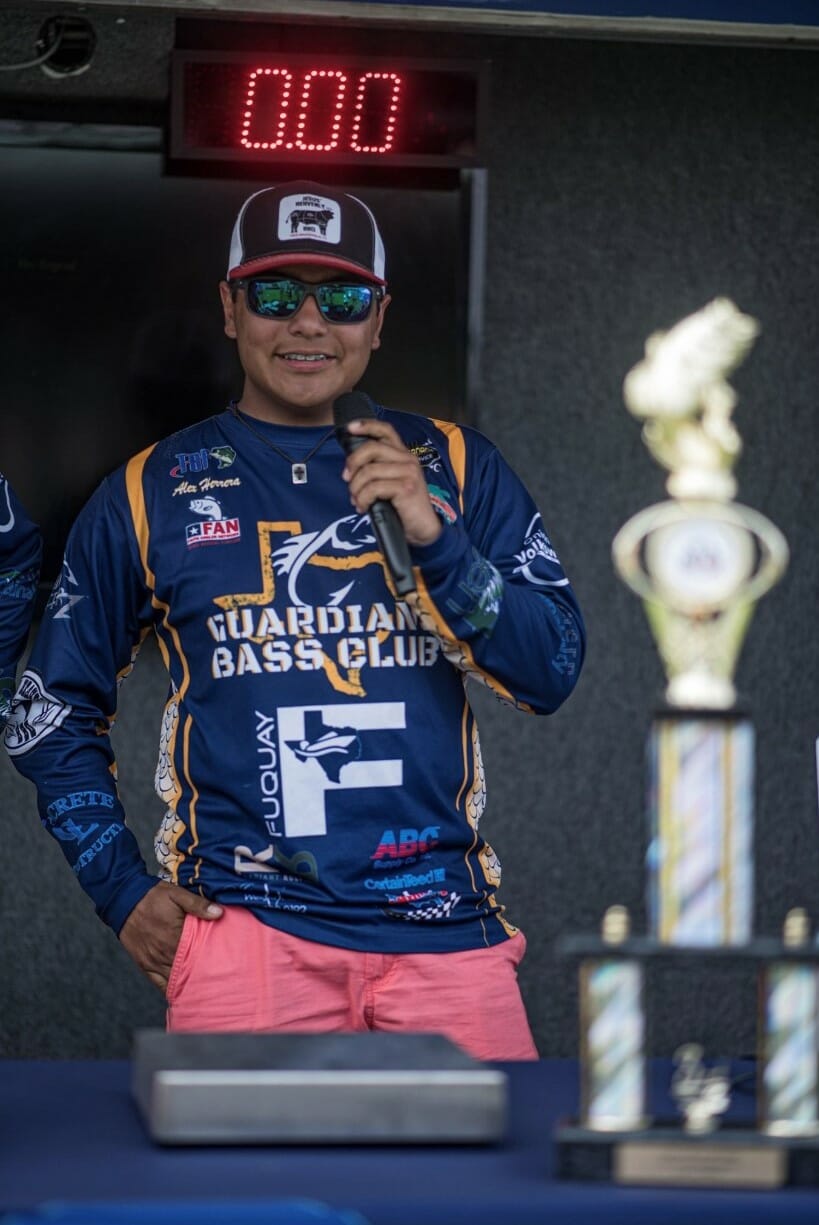 Briefly, what is your history with fishing? I started fishing little farm ponds with my dad when I was about 3. My uncle taught me how to fish in the bay for things like redfish and speckled trout when I was about 6. After that I was on my own. I taught myself how to bass fish and eventually how to fly fish. I've been fishing tournaments for bass for about four years now and I've been fly fishing for almost eight.
Describe one challenge you face and how do you overcome it. I've definitely battled with being a minority in this industry. I sometimes feel as though my presence isn't always welcome, or at the very least alarming to others. I'm also really young for my interests and hobbies, so I'm often seen as just another kid who thinks he's a hot shot because he caught a fish or two. I really don't think skill in any field has any relation to age, ethnicity or gender, but rather dedication and experience.
What does 'giving back' mean to you? Giving back to me has always been a broad term. I have been blessed with many opportunities, so I try my best to share all of them with others. I spend a lot of time teaching younger kids to fish, cleaning up around the river, and just doing my best to make sure this planet is a little bit better when I leave.
I believe it's up to my generation to take the torch of conservation that they are being handed and run with it. We need it now more than ever.

Alex Herrera
What is your favorite book or music? I've never been a big reader, but I love music. I listen to a lot of Texas red dirt, and my favorite band is Flatland Cavalry. They just seem to always have a song to describe exactly what I'm feeling and carry a message well beyond a 3-minute song.
What was your first job? My first job was working for my dad's BBQ catering company. I'd spend hours up at night smoking meat and spend all day serving and slicing food. The work wasn't all that easy but, then again, I never really had a choice in the matter. I still value the experience and it taught me a lot about the real struggles of adulthood early on.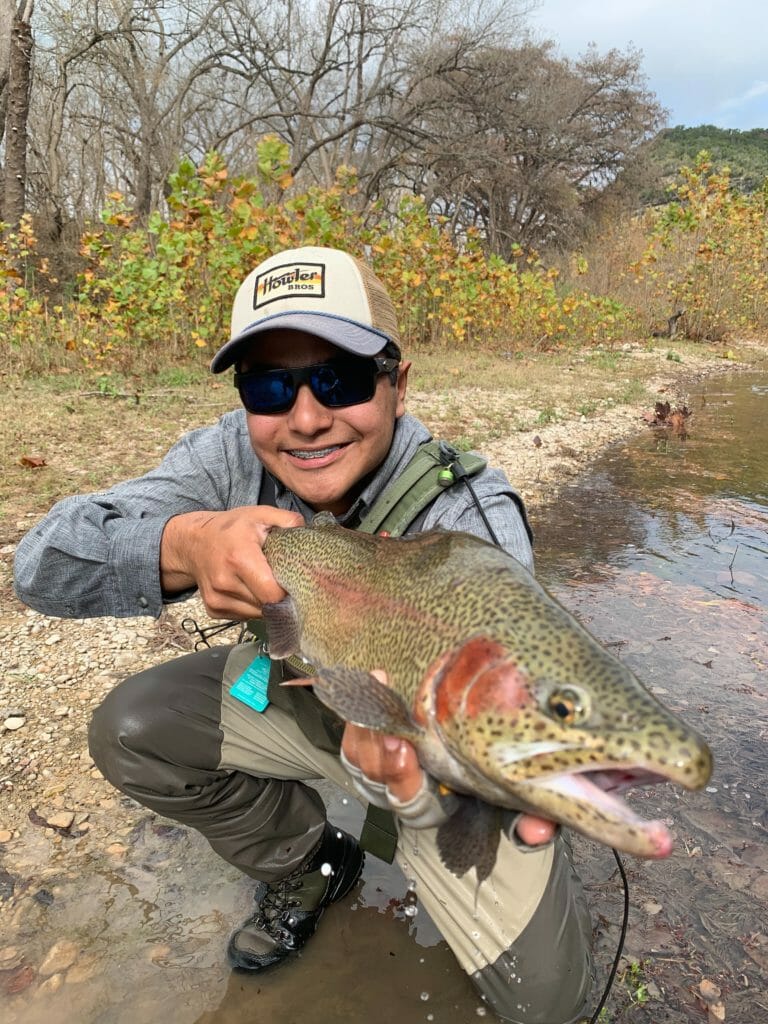 If you could give advice to your younger self, what advice would you give?  This is a question I think about quite a lot. The little kid I used to be wouldn't believe you if you told him this is where he'd be today. I'd just tell him to keep shooting high and that eventually all his dreams would slowly fall into place. He just has to give it time. I can still remember wanting my own fishing jersey more than anything else as a little kid, and I honestly don't think 8-year-old Alex would be able to handle seeing himself on a stage, with a jersey, taking home a trophy. But these things don't just happen, and I'd make sure he knows that he has to work for it every step of the way.
What do you want to see in the future of Trout Unlimited or in conservation? I'd like to see more people aware of conservation efforts and their effects on the world around them. I feel like much of what we do goes unnoticed by anyone who isn't directly involved. I'd also like to see more people like myself involved. After going to a few local chapter meetings I found out very quickly that Trout Unlimited is occupied by anyone but young minorities. I was the youngest in the room by about 20 years. My friend Chris, who is in his late 30s, is the only reason that number is as low as it is. Without him, I'd say I was the youngest by about 40 years. I believe it's up to my generation to take the torch of conservation that they are being handed and run with it. We need it now more than ever.
What is an example of something awesome you've seen that helps make conservation or fishing more inclusive to new groups of people? I have volunteered with a group here in central Texas called the Fin Addict Angler Foundation. They teach under-privileged kids about fishing and conservation during their free clinics. It's amazing to see these kids discover a world they never knew existed, and it only gets better when they feel a fish on the line. There is a sparkle in their eyes you just can't find anywhere else.
Name a person you admire. Why do you admire them?  I'm sure he'll get a kick from reading this, but I greatly admire my friend and neighbor Vincent Davidson. He's my old fishing partner's dad and captained our boat for a season. My friend moved out, but Vince and I still keep in touch. He would take me out bass fishing because he knew my family didn't have a boat, and when my parents were busy, he'd take me down to the river and we'd spend hours chasing trout. The man never asked for anything in return. He did it purely out of the kindness of his heart. He is there to lend a helping hand to anyone he might run into on the river, and despite his "grumpy old man" appearance, he is one of the kindest souls I have ever met. He's a great father, angler and conservationist. I think we should all try to be just a little more like Vincent Davidson.
Why Trout Unlimited?  I can't really tell you why Trout Unlimited. It all just kinda' fell into place day by day. I think this path just formed itself long before I decided where I wanted to go. I've always had a passion for fishing and the outdoors, and TU does a lot to protect the things I love, so it just seemed like a natural fit. I don't think I would put forth half the effort that I do towards conservation if it weren't for Trout Unlimited. I'm not sure that I would have done much to find a trout outside of the Guadalupe River if I didn't know what I know now. I really do owe it all to TU and the wonderful people that keep its wheels turning.
If you want to join Alex and grow the community and work of Trout Unlimited, we encourage you to become a member! For a discounted first-time membership, click here: https://gifts.tu.org/we-are-tu
[/et_pb_text][/et_pb_column]
[/et_pb_row]
[/et_pb_section]