Steelheaders, anglers and river-lovers of all types in Washington state have new water quality improvements and greater protections for critical wild fish populations to celebrate this month.
Washington is currently the only state in the Pacific Northwest that allows suction dredge mining* in fish habitat listed as critical in the Endangered Species Act, meaning it allows an activity known to cause harm to fish to remain underway in places our fish populations are their most sensitive. Sometimes, suction dredging was even permitted when waterways were closed to fishing.
GREAT NEWS: the state legislature just passed a bill that will change that, and better protect Washington fish and waters.
Washington's water quality and fisheries resources are critical to the state's economy, amounting to $4.5 billion annually. Despite this, wild salmon and steelhead populations continue to decline. We hope this legislation is another step toward moving this trend in the opposite direction.
Trout Unlimited was backed by a coalition of other organizations, faith-based groups, and Native American tribes in getting this done.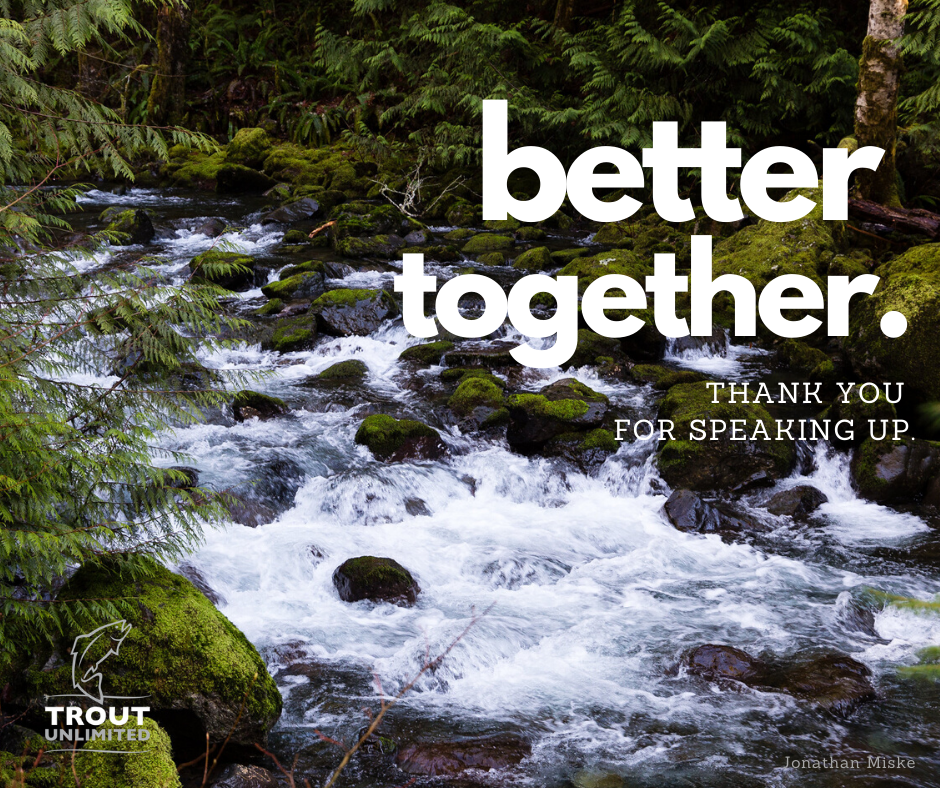 We chatted with one of our exceptional volunteers at Trout Unlimited about what this victory means to her.
JW: You spent a LOT of time and effort on this! Why was it so important to you personally to get this legislation passed?
Pat Hesselgesser: I saw first-hand the damage and destruction that suction dredge mining caused while working with my local TU chapter up in the Teanaway watershed. I couldn't believe the damage that had been done to this small little stream years ago. It just left a huge scar in the landscape.
As I became more familiar with the issue and started seeing more areas of damage, I started reading the evidence-based scientific literature supporting the harmful effects of suction dredge mining on fish. That really hit home with me since my career in medicine as a neurologist Nurse Practitioner was always about practicing evidenced-based medicine. I spent years making decisions about treatment and care for my patients based on medical evidence. Once I read through all the studies I could get my hands on regarding suction dredge mining, I was even more convinced that it was a practice that needed to stop in critical habitat areas. Then I started working with the WA state council on the Advocacy Committee and became more involved in the fight to legislate against it.
It's personal because I find my own solace and respite in the wild places and waters of Washington and other states. Their beauty gives me renewed energy and joy, so I know protecting these places and the fish that spawn there is worth the fight.
JW: What did you learn about the legislative process while working on this bill?
PH: It takes a village to get it done. The biggest difference, in my opinion, between last year's failed attempt to pass legislation and this year was the coalition that kept growing. More voices equals more legislators listening. We also were able to start increasing our grassroots advocacy work within Washington TU, I think that also helped. I know when we can activate constituents to call, email (etc.) their legislators, the policy makers start paying attention.
JW: What's next for Washington waters and fish?
PH: There is still work to be done after the bill is signed into law. We must make sure there is a path forward to regulate this through Department of Ecology and the Washington Department of Fish & Wildlife.
Generally speaking, as grassroots advocates, we will continue to fight for keeping our waters cold, clean and flowing, while protecting the wild fish that live here through reconnecting and restoring our watersheds. Fighting to save endangered salmon, steelhead and bull trout are top priorities, but also protecting our wild native trout in WA. We are working to expand programs throughout the state to help chapters take on meaningful conservation work in their areas.
JW: Anything else you want to say or convey to TU members?
PH: It's such a great feeling to get out and DO something, anything to help our fish and protect these waters.
There are many different ways to help – from planting trees, or hiking through headwaters with a roving pit tag reader, to just spending a couple of hours at an event table sharing information with your community about TU.
If you are a TU member who might be thinking you would like to DO something to help, please contact your chapter leaders and volunteer your time. Even if it's only one time or once a year, every chapter always needs help, and it feels great!!
We're grateful and inspired by volunteers like Pat who take the time to engage on issues that are important to them. These protections would not have been possible without many folks in Washington who took the time to make their voices heard on this issue.
In gratitude,
The TU Team in Washington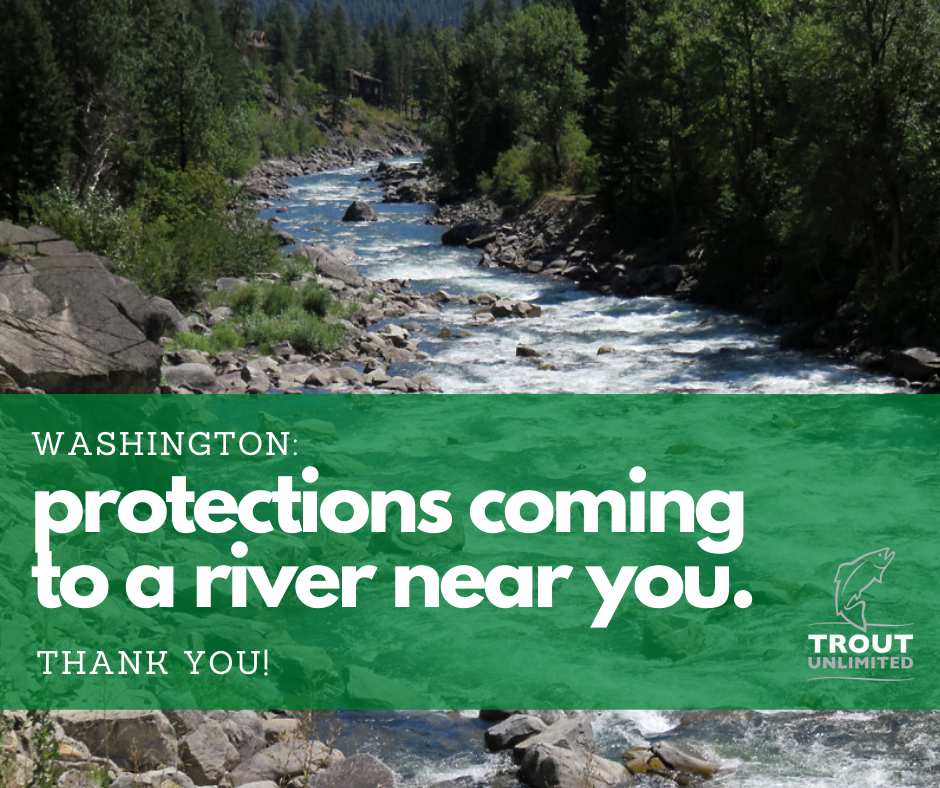 *Suction dredge mining is a form of mineral prospecting that uses gas-powered dredges to vacuum up rocks, gravel, and sediment from the bottom of creeks and rivers to search for gold. Proven impacts of suction dredge mining include erosion and sedimentation, mobilization of mercury and other heavy metals, increase in water temperatures, water contamination, habitat destruction, as well as physical impacts to fish eggs, juvenile fish, invertebrates, and other aquatic organisms.