We care about clean water, healthy fisheries and vibrant communities. We roll up our sleeves to volunteer, we sit on our boards, and we strategize as members and leaders of staff. We want you to join us.    
Thanks to initiatives such as TU's decades-old Women's Initiative – now Diversity and Inclusion Initiative – and those of our partners, new groups have engaged in coldwater conservation and the sport of fly fishing. The aim of this blog series is to highlight these friends, in hopes of making many new friends of broad stripes. In this series you'll meet people of diverse communities – our good ideas, what we have in common, and where we differ. Know someone we should feature? Nominate them here.   
Since it's not possible to sit down and have coffee or spend an afternoon on the river to show you what we're up to, a blog post will have to do. As you read, we hope you'll consider joining us. We need your ideas to help make a bigger impact.     
Together, we'll help protect the special places we love.     
Ryan Heisler is the first member of his family to attend college and is dedicated to watershed preservation and restoration. He is currently pursuing his Master's degree in Environmental Science and Policy. Ryan's story shows us how involvement with TU can be a catalyst for a lifelong hobby and even a career path.
Introducing: Ryan Heisler (Instagram: @rheisler123
Hometown: Mechanicsburg, Pa.
Current Town: Plymouth, N.H.
What's your history with conservation? My history with conservation started during my childhood. I was raised with an immense amount of respect for the outdoors and what it had to offer and grew up exposed to a lot of outdoor recreation.
The most pivotal moment within my conservation history would have to be my time spent at the Rivers Conservation and Fly Fishing Youth Camp (IG handle: @rcffyc) hosted on the shores of the famous Yellow Breeches Creek in Pennsylvania. The camp, run by a dedicated board along with help of the Cumberland Valley Chapter and other chapters from around the state, brings together roughly 30 passionate youth anglers and leaders, ages 13-17.
Students get exposure to the field of ecology, freshwater conservation, and fisheries biology, all of which are taught by the state's leading experts who volunteer their time. I've returned to the camp many times since attending in 2013 because I want to pay it forward for helping me discover my passion for fisheries biology. Apart from the camp, I have also been a part of a TU Teen Summit, founded and served as a 5 Rivers Club president for four years, and worked for Trout Unlimited as an intern in Pennsylvania. It's safe to say that I have grown up with Trout Unlimited, and I couldn't ask for a better upbringing.
I have grown up with Trout Unlimited and I couldn't ask for a better upbringing.

Ryan Heisler
What's your history with fishing? I picked up fly fishing shortly before attending conservation camp and was actually told about the camp at a local fly shop while buying materials to tie. After that week of instruction and education, it was all over. I have the sport to thank for all of the amazing relationships and lifelong memories I've made standing knee deep in a stream or river.
Being so young, I'm excited to see where the sport can take me, and be introduce to the great people I know I'll meet. I hope to one day incorporate the sport into my scientific work, bring fisheries science into the hands of concerned anglers and guides.
What does 'giving back' mean to you? To me, giving back means repaying a debt. I know it's a little odd, but I see giving back as a way of repaying our debt to the greater good. We've all benefited from the small acts of kindness done by strangers, and many of us never recognize it. Giving back is your way of making someone or something else's life better or easier and we should seek out every opportunity we get.
What was your first job? My first job was being an umpire for little league baseball.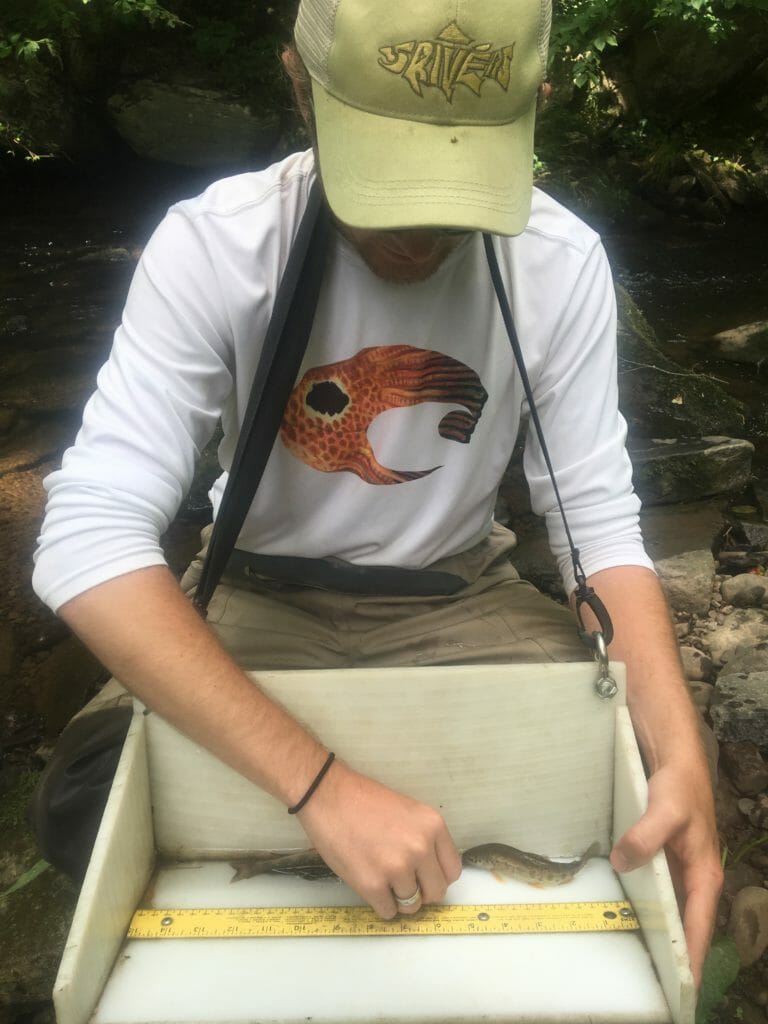 When was the last time you thought, "Dang, I'm pretty awesome"?  Being a first-generation college student, I would say I had a moment like this at the end of my bachelor's degree and when receiving acceptance into a master's program doing research on Eastern Brook Trout. I will never forget that time in my life because it was filled with opportunities that I never imagined would be possible.
If you could give advice to your younger self, what advice would you give? 
Two pieces of advice: First, embrace what you love, who you are, and share it with anyone who will listen! Second, go study fish and don't worry about what people think or say. They can take a hike.
What do you want to see in the future of Trout Unlimited or in conservation?  I really want to see more opportunities for younger generations, encouraging involvement and creating passion for cold water resources. As a past president of a 5 Rivers collegiate club, I hope to see this program grow even larger and begin to incorporate more scientific research into their programming and club activities, exposing young fly fishers to the sciences of our cherished resources, but also to bolster the experience of those seeking degrees within the freshwater conservation field who, one day, would really love to work for TU. Another major priority should be to increase diversity in both fly fishing and conservation, opening doors to communities that aren't well represented within either.
Go study fish and don't worry about what people think or say. They can take a hike.

Ryan Heisler
What is an example of something awesome you've seen that helps make conservation or fishing more inclusive to new groups of people?  I know that it is heavily contested, but the growth of competitive fly fishing has been very exciting to witness and participate in. I believe that the addition of competition could help make fly fishing a more popular nontraditional after-school sport, hopefully encouraging more youth involvement in fishing and conservation. After participating in fly fishing competitions, I can say that I have never met a more welcoming group of anglers who really care about their fisheries.
Why Trout Unlimited?  Trout Unlimited cares! It cares about clean water, healthy fish, and the future. Experiencing Trout Unlimited as both a volunteer and seasonal employee, I know that TU is supporting the future of freshwater conservation and I'm so grateful to be along for the ride.
If you want to join Ryan and grow the community and work of Trout Unlimited, we encourage you to become a member! For a discounted first-time membership, click here: https://gifts.tu.org/we-are-tu