by Kevin Terry
Growing up in rural northern New Mexico gave me the opportunity to interact with Rio Grande cutthroat trout in their beautiful and rugged native habitat.
I also loved engaging with so many different people with different cultural backgrounds. I was blessed with great mentors with a diversity of perspectives. Some were teachers, some family and friends, others just people in my community with whom I crossed trails. One teacher, a fan of Ernest Hemingway, shared with me the quote, "endure with grace under pressure".
This quote has become a mantra for me, especially in my work with Trout Unlimited. I think it's a good way to define a core value of TU's mission and work, relating directly to one of our keystone mottos, "Take care of the fish and the fishing will take care of itself".
In 2013, I had the tremendous opportunity to tag along with my good friend Andrew Todd of USGS, who was leading an effort to study stream temperatures in conservation populations of the Rio Grande cutthroat trout. This was a great way to get to see new country and streams and familiarize myself with populations in the Colorado portion of the historic range. Some of the streams were as you might expect, with healthy riparian jungle and small channels boasting good riffle-pool ratios and quality habitat.
Others were in desperate need of help.
State of critical Rio Grande cutthroat trout habitat
The La Jara Creek watershed begins in a sprawling high-elevation valley with little ribbons of green flowing into what is now a reservoir on the main channel of La Jara Creek. I was blown away when I first saw it––it reminded me of the Valle Vidal, one of my childhood haunts in New Mexico. While I had spent extensive time in the area, I had never seen this incredible place. Then we zoomed in, bouncing around on a neck-breaker of a road finally arriving at our destination of Jim Creek. A very different story from the upper watershed; Jim Creek was absolutely trashed by a century of overgrazing.
The lower reaches of Jim Creek were in the worst shape, with a grossly overwide channel owing to a complete lack of riparian vegetation and hoof damage. The stream was a long shallow riffle, lacking pools of any kind nor enough stream power to pass even fine sediments eroded from banks and adjacent fields.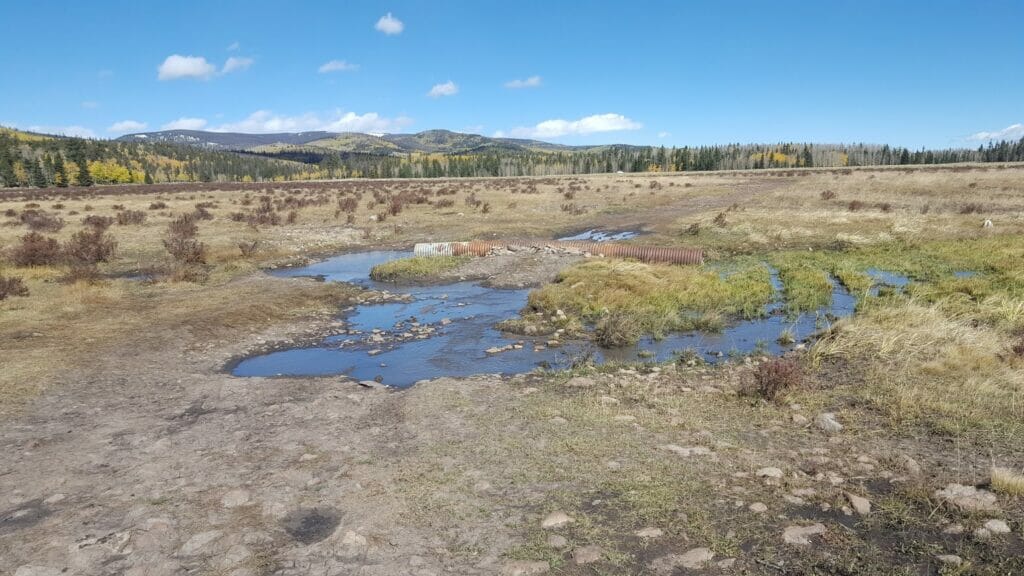 Unfortunately, the list of threats to Rio Grande cutthroat trout in Jim Creek also included a well-established population of invasive brook trout, which in a 2016 fish sampling assessment appeared to be approximately 40 times more plentiful than cutthroats. Indeed, it looked like the brookies were almost certain to extirpate native cutts and that work to improve Jim Creek was a lost cause.
Hope regained through protect and restore work
Addressing these challenges involved every tenet of the TU model starting with Protect, leading to Restore and, most recently Reconnect work, all the while including a heavy dose of Sustain or, as I've come to view it, "enduring with grace under pressure."
The project started in 2014 with TU and local conservation partners recruiting volunteers to build over five miles of fence on state land. With riparian protection in place, native vegetation responded, and sedges once again armored the banks and started to shade the creek, occasionally dropping a hopper or ant into hungry mouths. The San Luis Valley TU chapter and later volunteer partners at Running Rivers started an annual volunteer program to maintain the fences and plant willows and sedges to accelerate the restoration of riparian vegetation. Since this project enabled grazing permitees to continue to use the land without impacting native trout, the State Land Board was quick to support our effort to protect the creek.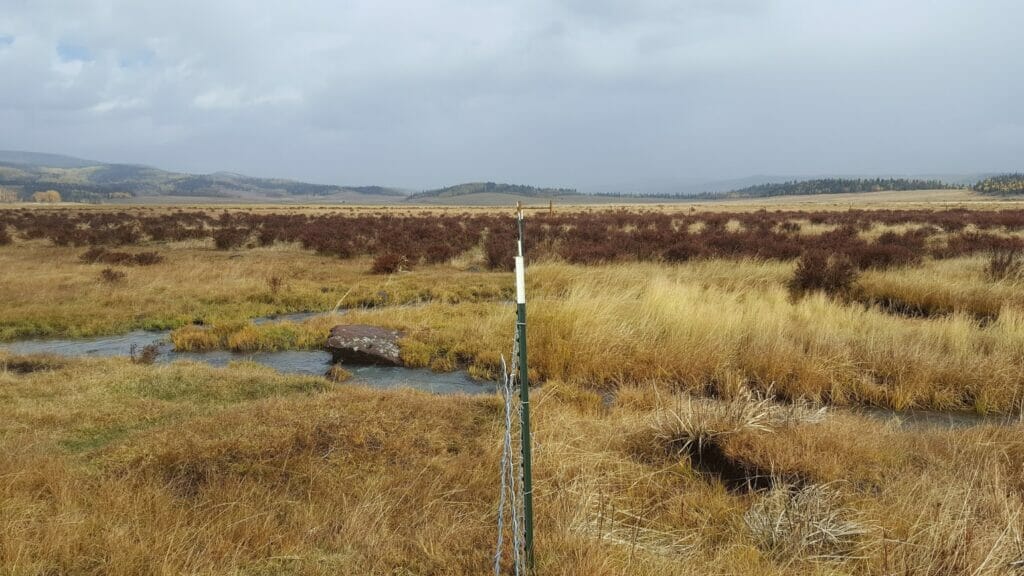 With protection in place, we turned our sights to restoring habitat. Re-establishing and enhancing pool habitat were important priorities, and we used small, rubber tracked machines to narrow the channel in order to induce proper sediment transport. Three phases of habitat work resulted in 2.5 miles of stream channel improvements which were finally completed in the fall of 2020.
Just this June, we installed two bottomless culverts on Jim Creek and an unnamed tributary, reconnecting cutthroat populations. The new culverts improved water quality as well; when the previous undersized culverts were in place, high flows often flooding over them, made a mess out of the road crossing sending silt into the creek. Another riparian exclosure was installed as well, protecting the new mainstem culvert and another quarter mile of Jim Creek.
Sustaining the gains
The results of these projects are trending positively. A healthy amount of pool habitat resulted in more and bigger cutthroat trout, and the fishing greatly improved. Encouraged by the gains, CPW, TU and Running Rivers added another piece to our annual volunteer event in 2020, which included a brook trout removal effort using backpack electrofishers to selectively remove brook trout and relocate them below the dam in La Jara Creek.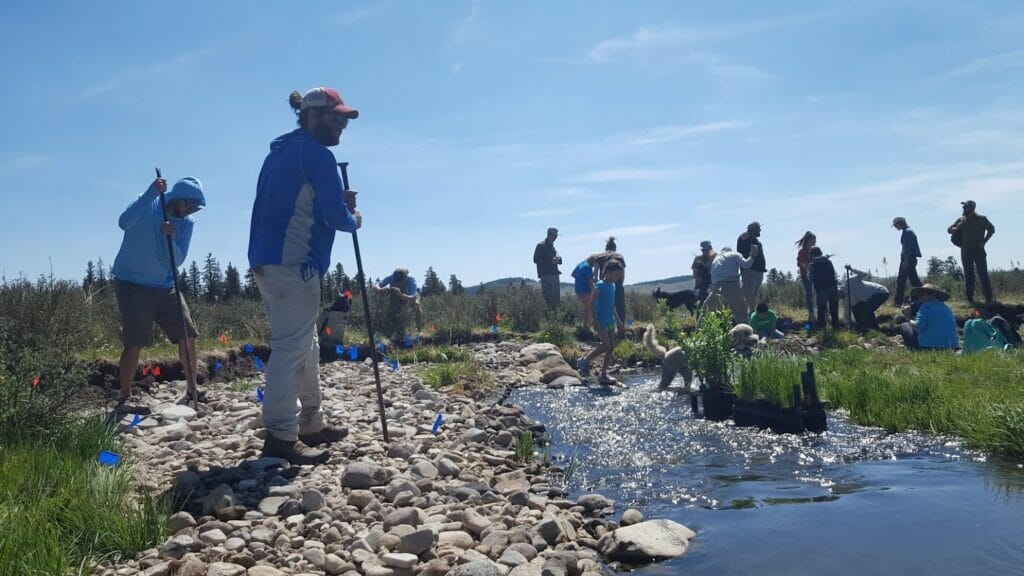 Additionally, the San Luis Valley of Trout Unlimited launched the Jim Creek Brook Trout Challenge, encouraging chapter members to harvest the daily limit of 14 brook trout, especially in habitat like beaver ponds where electrofishing is difficult. In 2020, we removed nearly 200 brook trout with electrofishing and chapter members harvested another 120 of them through conservation angling. In 2021, the results really started to shine, with approximately 80 percent of the fish captured in the reaches where we did habitat work being pure Rio Grande cutthroat trout. Some of those fish were up to 15 inches, and cutthroat numbers were even improving upstream where sampling and fishing is difficult. The work continues, and we will sustain it, because that is what TU does.
We have had tremendous partners throughout the life of the Jim Creek project. The State Land Board has not only been supportive of every aspect of our work but has contributed significant funding to the effort. Despite years of discouraging cutthroat trout data, Colorado Parks and Wildlife has never given up. Running Rivers, a group dedicated to connecting people to rivers through recreation and on-the-ground projects, has generated bodies to the San Luis Valley Chapter's annual volunteer day for the last three years, drastically improving our capacity to steward Jim Creek and accomplish our tasks. We have also partnered with local groups like Move Mountains and Conejos Clean Water, introducing local kids to cutthroat trout and high-country camping.
Taking care of rivers is the foundation of TU's work and its work that will continue for generations yet to come. In this glimmer of time, I can say without doubt that the work is worth the effort and sometimes it simply takes a little endurance and a lot of patience. I am proud to work for TU and I am proud to serve my community alongside the great people of the San Luis Valley chapter.
Kevin Terry is the Rio Grande Basin program director for TU's Western Water and Habitat Program.