On a controversial river in a drying landscape, ranchers look to science, technology and the law to send just a little more water downstream.
Jesse Kruthaupt's dad found the family's future ranch stretching along a place called Tomichi Creek nestled in a valley on the Western Slope of Colorado's Rocky Mountains.
It was the late '90s, and the family—Kruthaupt, his three brothers, two sisters, mom and dad—were living in Gunnison, Colorado, where Kruthaupt's dad was the superintendent of a nearby school district and mom worked for a local nonprofit. Kruthaupt encouraged his dad to go for it: buy the property with the help of a conservation easement and give the kids a place to work, fish and play. The land housed herds of elk and mule deer, as well as sage grouse and an occasional moose. But it was the wild brown, rainbow and brook trout fishery in the creek that did it for Jesse, even if that stream would sometimes disappear in dry summers.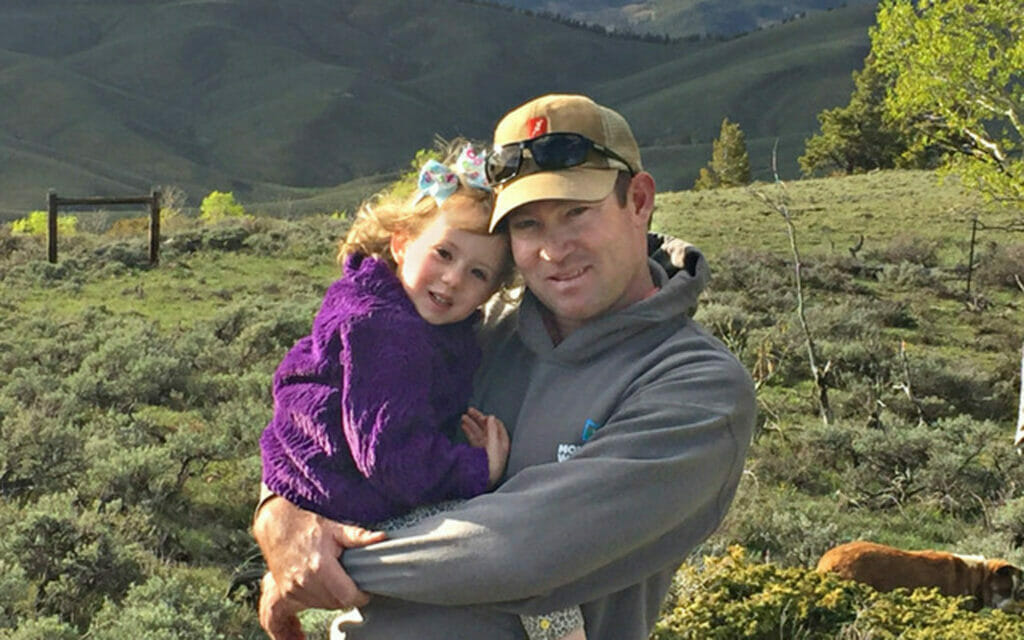 Almost three decades later, Kruthaupt's family still owns that piece of land where they raise hay for cows—one cutting per summer. They're also in a constant state of tinkering to prevent the stream from fading: changing fencing to keep the herd out of the stream and protect riparian areas, updating irrigation systems to make water use more efficient, filling out lengthy applications to cumbersome government agencies to keep more water in the river. And during the day, Kruthaupt, who is now a project leader for Trout Unlimited in the Upper Gunnison, works with other ranchers in the area to figure out similar projects on their land.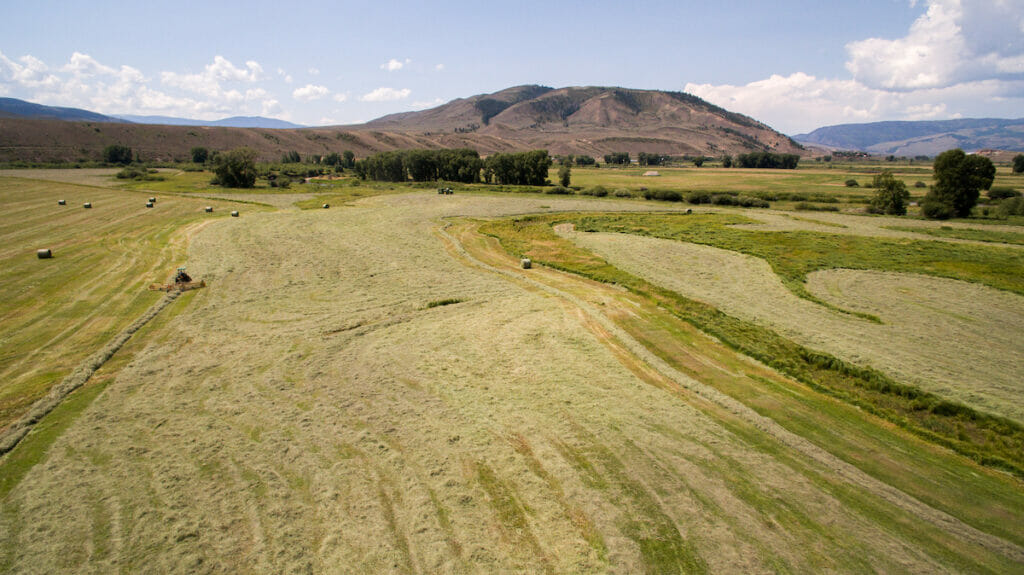 The result is more water in streams later in the summer when the snowpack has gone, land is thirsty and wild trout are struggling to find cool places to hide. These are local solutions to local problems. But they're also part of a much bigger, more complicated, much more controversial Colorado River system that dominates the western landscape in a time of increasing drought and a rapidly changing climate.
Kruthaupt wants ranchers in the upper stretches of the Colorado to see that they can use water, grow hay and run cows in ways that do not harm (and could potentially benefit) the river, its trout and surrounding riparian areas. And so far, he's getting them on board.
"There's nuance in these ag operations," Kruthaupt said. "They can have a bad reputation for hammering watersheds, but at the same time, these historic operations maintain a massive amount of fish and wildlife habitat."
One river, two countries, seven states and 30 tribes
The Colorado River itself starts as a mountain stream high on the west side of the Rockies just south of the Wyoming border in Colorado. From there it meanders through mountain valleys, into sagebrush steppe and then desert, linking reservoirs and growing larger at each confluence with rivers like the Eagle, the Gunnison, the Green and the San Juan. It historically ran like a blue vein through and along the nation's seven Southwestern states, eventually dumping into the Gulf of California.
Its pulses brought life to an arid West, but also floods, which is why, in the 1920s, California proposed building a reservoir to control flooding and provide water for irrigation. In a massive effort, the other six Western states—though notably not any tribes or Mexico who also shared the water—agreed to divvy the resource and signed the Colorado River Compact.
In 1931, the federal government began building Hoover Dam. It would be decades before the West realized the compact overshot the amount of water available.
"And those estimates are wildly inaccurate now because of climate change, which is aridifying the Colorado River Basin," said Anne MacKinnon, an expert on Colorado River water and law and author of Public Waters: Lessons from Wyoming for the American West.
What followed since the Hoover Dam went up has been a near-endless series of lawsuits, negotiations, conversations, renegotiations, compromises and, more recently, front-page photos and headlines of evaporating reservoirs and parched landscapes. Just this spring, another deal was reached in an effort to ensure water supplies for the seven states relying on the Colorado.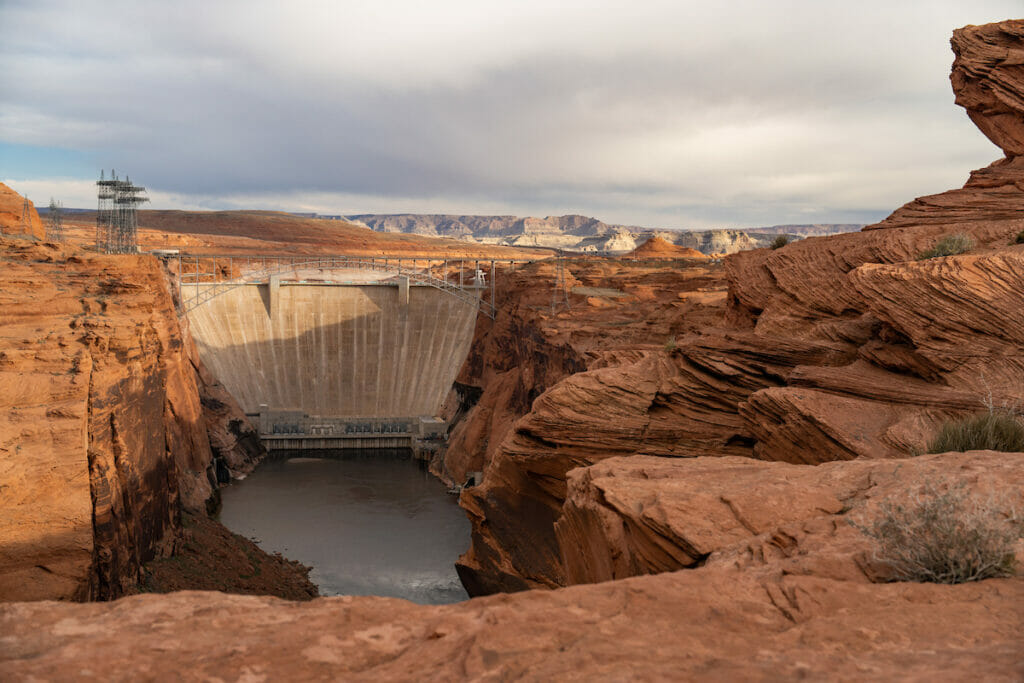 The repercussions of the western drought, no longer just a seasonal variation but what experts now call aridification because of its predicted permanence, is already being felt from the thirsty lettuce fields in California's Imperial Valley to golf courses in Phoenix to residential taps in sprawling subdivisions in Las Vegas.
"Everybody has to figure out a way to live with less water. And that's not just because of the compact or federal decrees. It's what's happening from climate change," MacKinnon said. "It tends to be the regional or even local agreements that support major multi-state agreements that have been able to come up with ways to accommodate new challenges, particularly in the last 20 years."
From the mountains to the plains
Far away from the Hoover Dam and desert irrigation projects, just north of Kruthaupt's place, is Quartz Creek. It's one more stream that begins in the Rockies and flows into the hilly sagebrush, a vein pumping water into Tomichi Creek, then the Gunnison River, then the Colorado.
Each of these feeder creeks stand out from the sky as life-giving water flows into surrounding banks and hills, creating rich green pastures. Mike Fields' great grandfather landed out West after the Civil War. His grandfather settled along Quartz Creek on a quest to find a better place to raise Hereford cows. Four generations later, Fields' nephews still help work the land.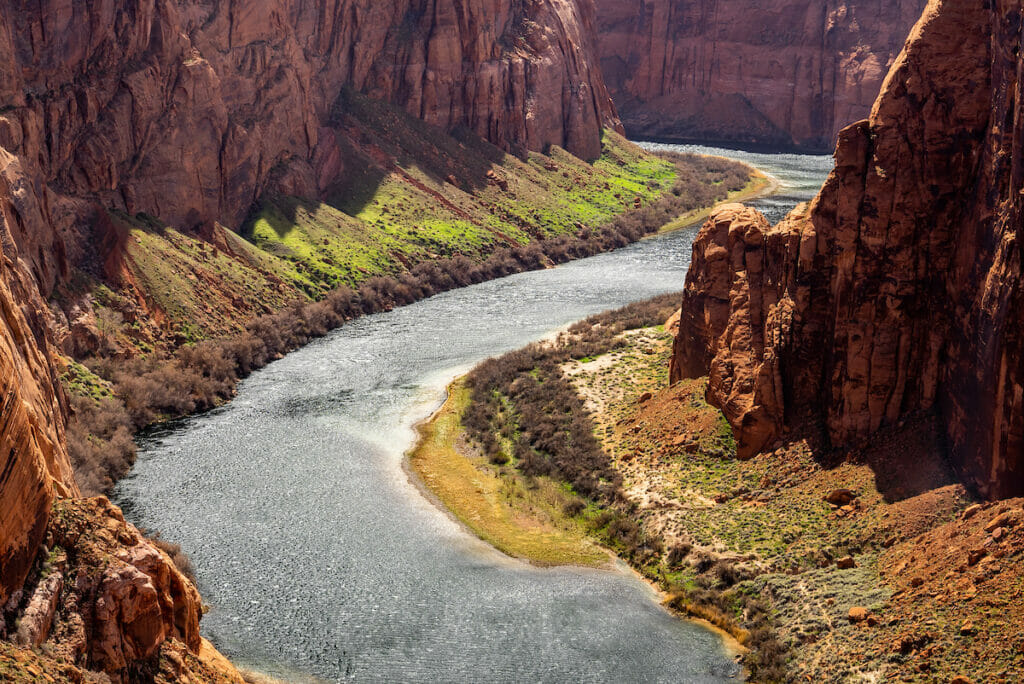 Fields has fished over the years, along with his two brothers, but fishing was rarely the focus. They rose early and went to bed late working cows, irrigating pasture and fixing fence. But when Kruthaupt came to Fields, now in his 60s, and proposed a new way of diverting water from the creek onto their meadows to help fish habitat, he and his brothers agreed.
"There's an old structure there that's being replaced by a new one designed and engineered to really help fish," Fields explained. "The ranchers in this country care about habitat, we care about wildlife, so if there's something we can do that's beneficial for everything, then terrific."
Creating that sweet spot of helping irrigators be more efficient while benefiting the fishery is the goal, Kruthaupt said. And he's watched it work on his own land.
About 10 years ago, in the summer of 2012, Kruthaupt saw Tomichi Creek dry up. Heat, drought and wildfires reigned that summer. Untold numbers of trout died in the stream as water temperatures reached lethal levels and then disappeared entirely. Kruthaupt figured something could be done.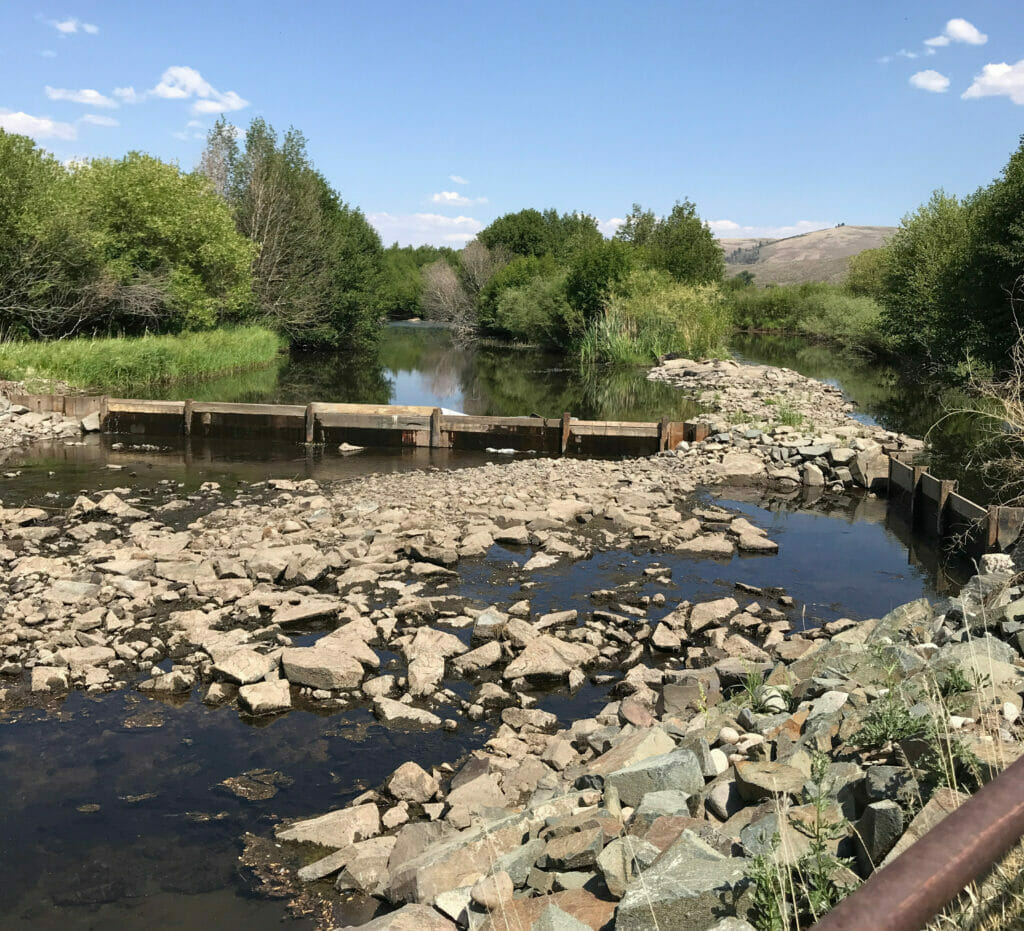 So, he and his family waded through the archaic complexities of Colorado water law to find a way to leave water in their stream to benefit fish, a break from the usual tradition of use it or lose it. If Kruthaupt's family didn't pull water, a junior water right user downstream could take advantage of it. Instream flow rights can protect that water and keep it flowing.
Kruthaupt also created a more precise irrigation schedule to maximize water on his field and in the creek. And he's piloting a project in the region that would automatically raise and lower gates to flush water from ditches onto fields. It's a simple fix but it would make life easier for ranchers and keep more water in streams at key times of summer.
"There are tools out there that can provide large-scale benefits to the watershed. Funding from the Bipartisan Infrastructure Law and the Farm Bill is key to this work," Kruthaupt said. It then comes down to finding the right tools for the right places while there's still water to use.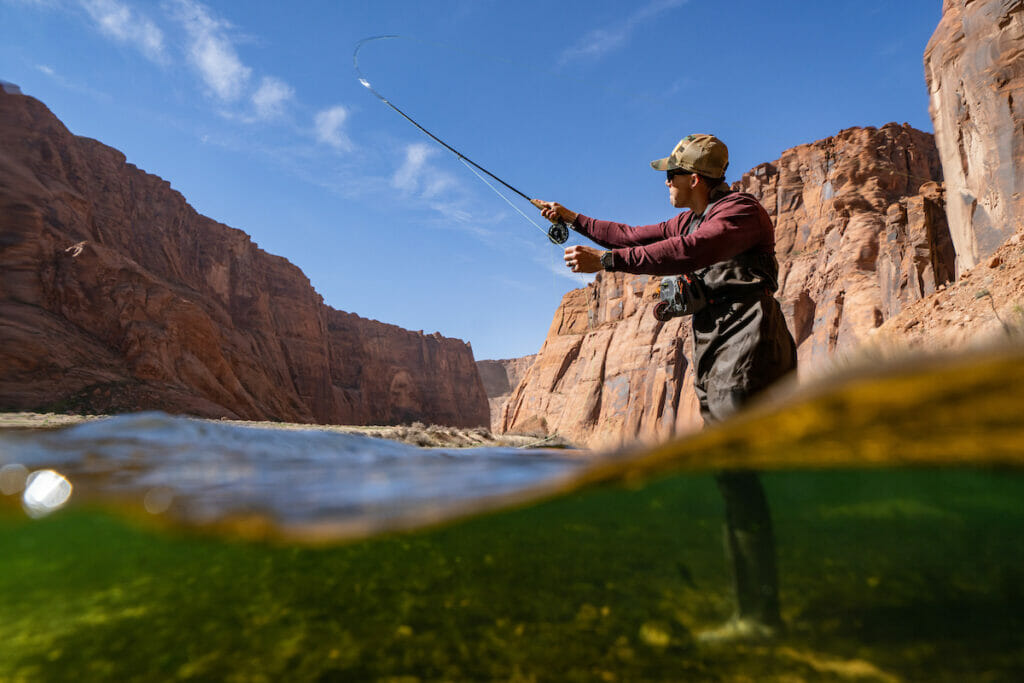 Water for tomorrow
Cities like Phoenix, Los Angeles and Las Vegas might look thirsty with tens of millions of people, golf courses, fountains, lawns and high rises, but about 80 percent of the Colorado River's water goes to agriculture, MacKinnon said. And much of it is used in the Lower Basin states like California for growing crops such as fresh salad greens shipped across the country throughout winter, and hay for cattle.
Numbers like that make it easy to point to ranches and farms, particularly those that irrigate by flooding water indiscriminately over fields, as perilous guzzlers in an arid region. But it's not quite that simple.
Flood irrigation in states like Wyoming, Colorado and Utah—used at the right time in the right places—allows water to seep into the soil where it migrates ever-so-slowly through the ground and then back into rivers. Done well, it can supply rivers with late season flows specially cooled by its journey through the earth.
Six years after the drought that killed fish in Tomichi Creek and set forests ablaze, another one hit. But this time, Kruthaupt had applied for instream flow rights, and Trout Unlimited joined with other groups to pay irrigators to shut off their water July 1, and changed the way he released water on his land.
"The stream temperatures still skyrocketed, but we essentially doubled the flow through the Tomichi Wildlife Area," he said. "We learned from previous sampling that impacts of the 2012 drought were much more severe than the 2018 one."
In other words, with innovative programs, tweaks to water, an understanding of the legal system and enough money, more water stayed in a river and more fish survived.
And while ending irrigation altogether may be a way to keep even more water in streams, it's also the quickest way to increased loss of wetlands and the stretches of green wildlife need to survive.
The best way to use water in the West has always been a balance, and a warmer, drier future only complicates matters. But ranchers like Kruthaupt and experts like MacKinnon believe with enough cooperation and federal money, those who depend on the river can learn to live with a little less in hopes there will always be enough.