We all know that 2020 was far from a normal year. Despite the challenges brought on by the coronavirus pandemic, Trout Unlimited's Great Lakes team soldiered on. The team, which continues to grow, was able to accomplish many key projects in the field as well as to continue advocacy efforts. Below are a few of the highlights from 2020, as well as a look ahead to what's on the horizon for 2021. As always, if you have any questions about TU's work in the Great Lakes region, please reach out to the field staffers below, or to the team's leader, Nichol DeMol at nichol.demol@tu.org. You can also keep up with the team's many efforts by following the TU Great Lakes Facebook and Instagram pages.
Rogue River
TU's staff in Michigan wrapped up a large scale tree planting effort this year. TU and the Rogue River Tree Army, made up of a small work crew and volunteers, planted over 17,000 trees by the year's end. These trees were strategically planted along the Rogue River and its tributaries to have the greatest impact on water temperature and water quality, and to enhance climate change resilience. The work of the Tree Army is far from over. In 2021, the Rogue River Tree Army will be expanding to neighboring watersheds and will plant an additional 31,000 riparian trees in an effort that will stretch over the next two years thanks to generous support from the Great Lakes Restoration Initiative through the U.S. Forest Service.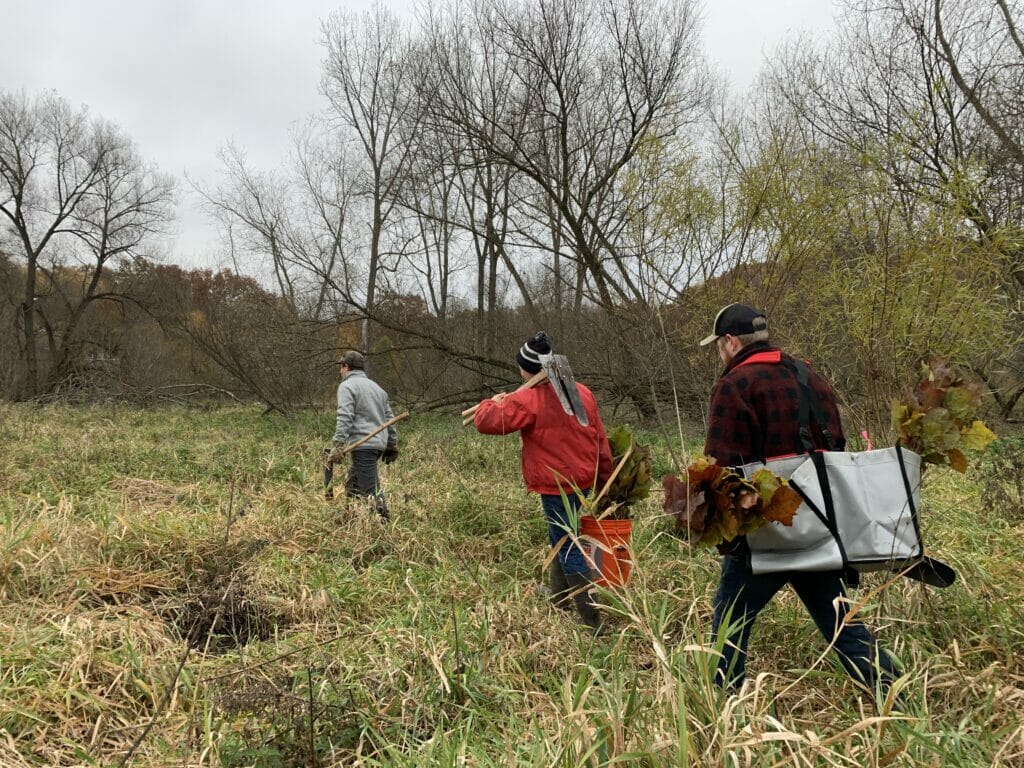 TU was excited to bring the STREAM Girls program to Michigan girls again this year. While program offerings were reduced in 2020 due to the pandemic, TU staff worked with partners to hold two successful small outdoor camps in the fall along Muskegon's Bear Creek. TU also received the exciting news that we were awarded a U.S. EPA Environmental Education grant to expand the STREAM Girls program to new watersheds throughout the state, including the Detroit River and Rouge River watersheds. By reaching audiences from three of Michigan's top five most diverse counties, this project will provide outdoor and informal education opportunities to girls who have not typically participated in these types of activities, giving them equitable access to programs like STREAM Girls.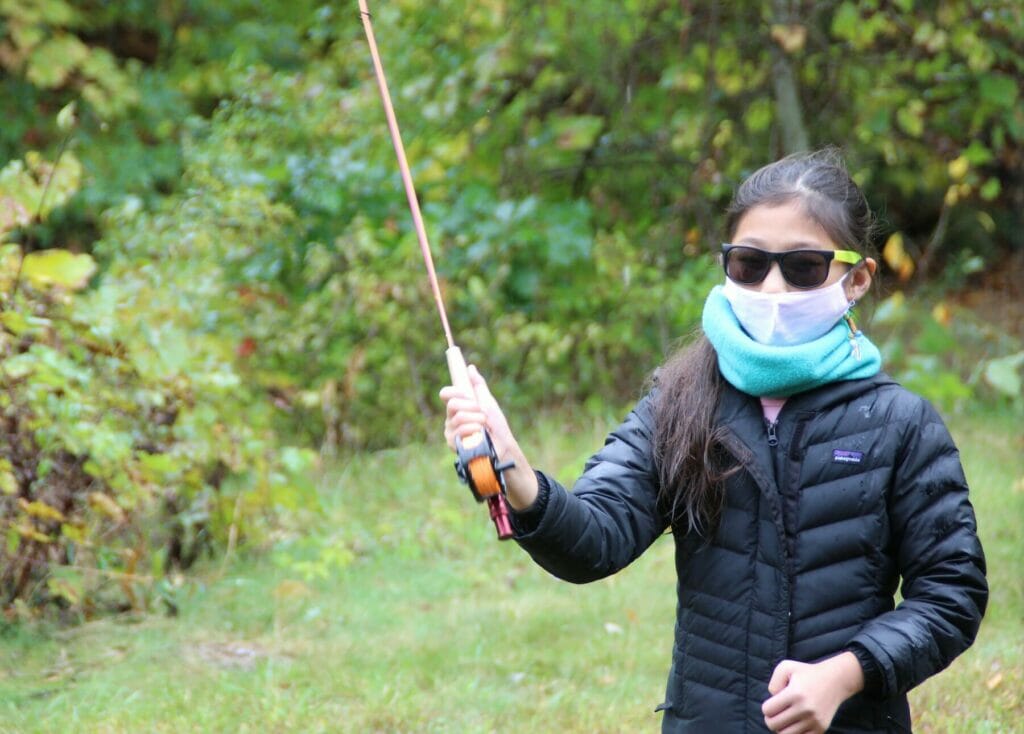 While the pandemic affected many outdoor education programs this year, TU was pleased to continue its Green Team program for a sixth year, hiring eight high school students and college mentors to do hands-on restoration throughout the Rogue River watershed. The Green Team does the important work of maintaining restoration practices long after projects have ended but still require some attention.
TU's expertise in outdoor environmental education became even more valuable this year as outdoor education became so critical. TU continued to help train local teachers in getting students outside to explore community resources and connect activities to classroom lessons. Parkside Elementary teacher Tara Dzirbowicz found her school rain garden to be an incredible resource for outdoor exploration during this difficult year. TU staff joined Tara and her students for two days to add native plants to the school's rain garden and conduct a stream study of the insects of Rum Creek.
To learn more about Trout Unlimited's Rogue River Home Rivers Initiative, please reach out to Jamie Vaughan at jamie.vaughan@tu.org.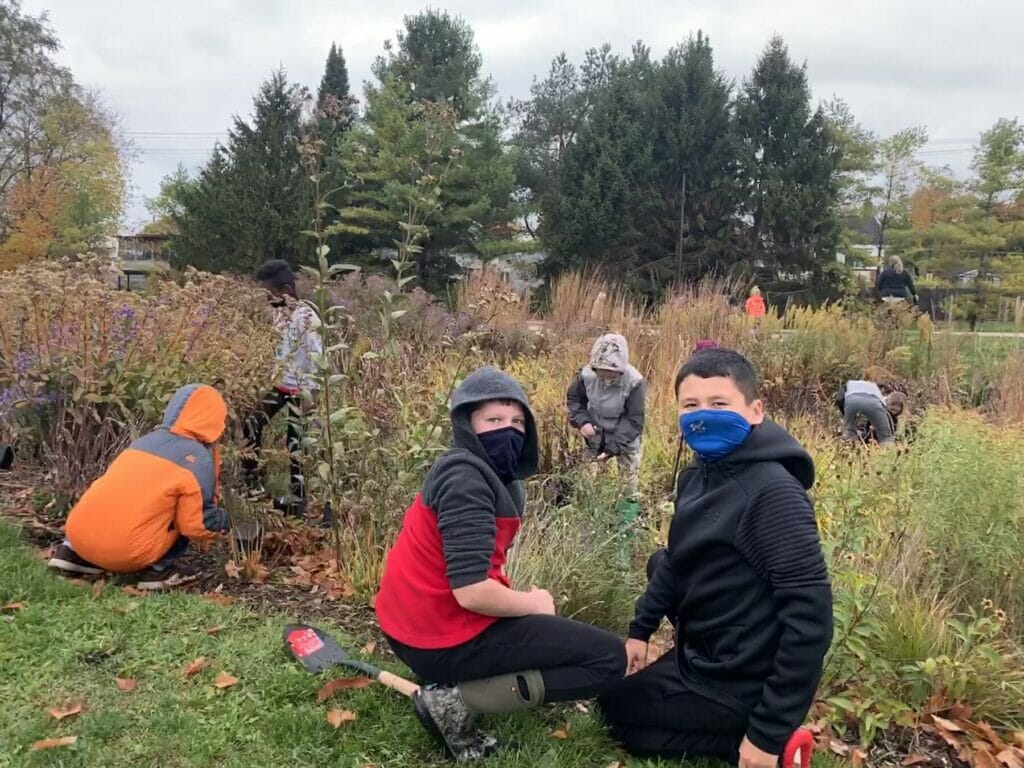 Great Lakes Science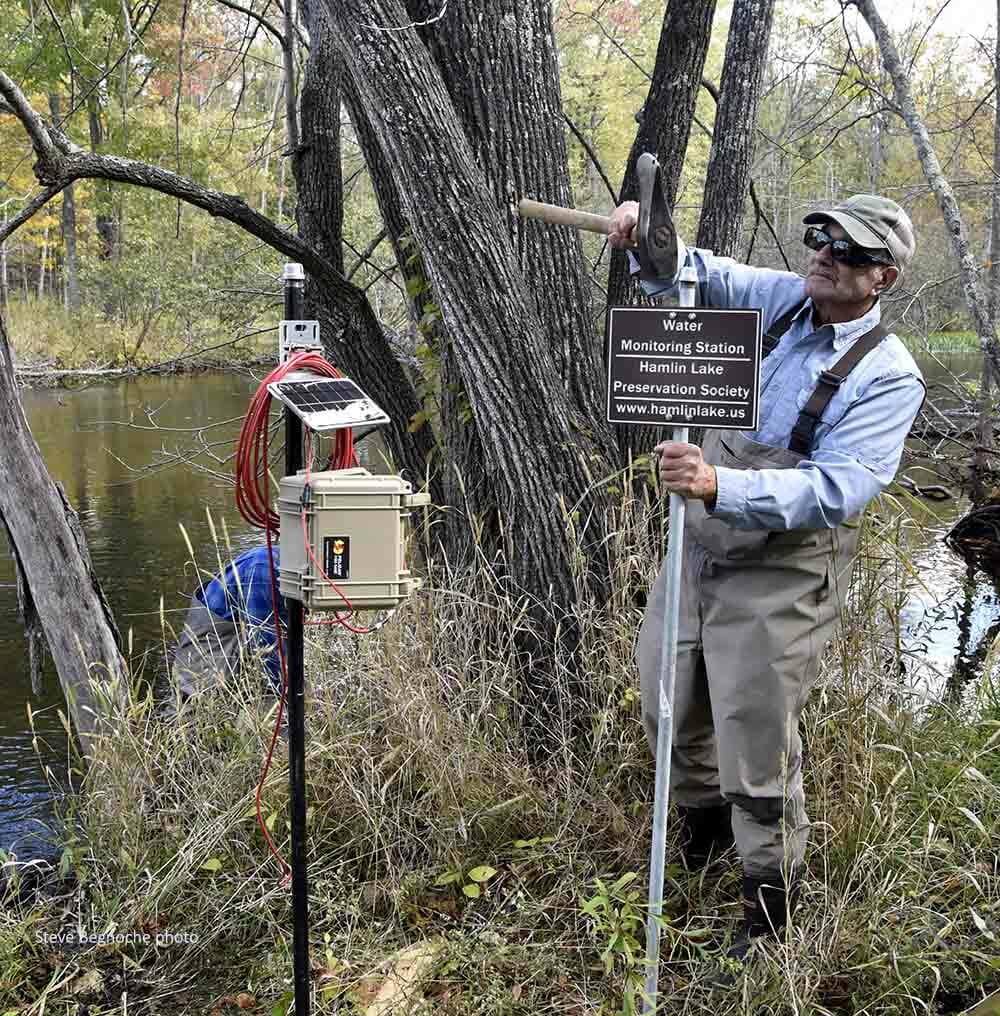 TU continues to expand its science program efforts in the Great Lakes, including supporting our chapters and partners in enhancing their water monitoring activities with the Mayfly Sensor Station, a low-cost real-time stream monitoring technology. Developed by Stroud Water Research Center, the Mayfly Sensor Station is a low-cost, easy-to-use water monitoring station designed to collect continuous data. Data are then uploaded to an online database via cellular signal for real-time access to current stream conditions.
To aid in prioritization of future projects, we will continue working with the Forest Service to evaluate coldwater habitat suitability and species distribution in watersheds within the Huron-Manistee National Forest..
TU has been contracted by the National Fish and Wildlife Foundation to conduct a mapping effort and assessment of brook trout populations throughout the Great Lakes region. The project will gather information on brook trout occurrence, abundance and life history diversity, along with additional information about habitat condition and vulnerability. We will then interpret these attributes using TU's conservation portfolio framework to identify stronghold populations to inform restoration and protection priorities.
Also in 2021, TU will be launching a new project involving mapping stream temperature in fine-scale using thermal cameras mounted on unmanned aerial vehicles, also known as drones. This fine-scale mapping will enable us to find seeps, springs and tributaries providing thermal refugia to coldwater species, enhancing our ability to prioritize and site projects.
If you would like to know more about TU's community science efforts in the Great Lakes region, contact Jake Lemon at jacob.lemon@tu.org.
Northern Wisconsin
TU had another productive year protecting northern Wisconsin's coldwater resources, despite delays to our field season caused by the pandemic. In 2020, we reconnected more than 30 miles of coldwater habitat bringing us to more than 115 miles reconnected since 2016.

Highlighting this reconnected habitat is the first completed project under our community flood resiliency program. This project is located on the North Branch Beaver Creek, in the middle of a state fishery area, and was completed in partnership with the Wisconsin DNR and Town of Beaver. Most of our road-stream crossing replacement projects involve TU bringing significant financial resources to the table to facilitate implementation, but our partners already had funding lined up and where help was needed was with survey, design, and monitoring. TU staff were able to jump in and complete that work helping our partners improve fish passage and stream health.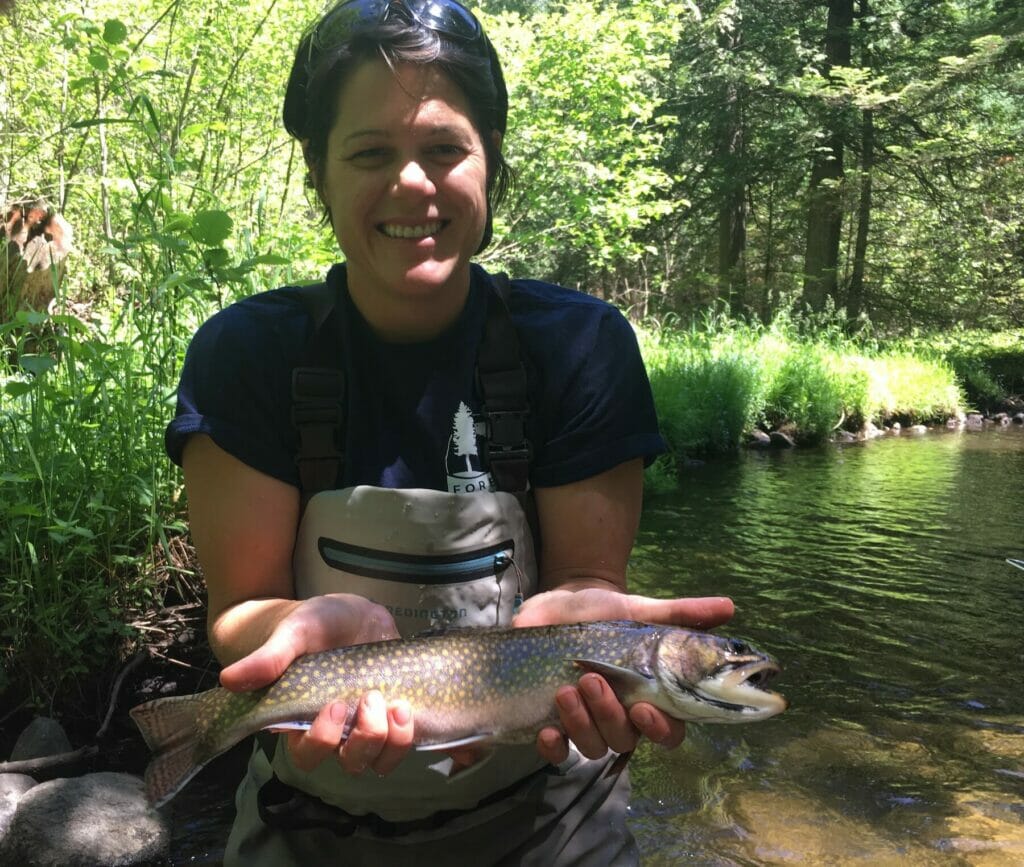 Complementing our fish passage work, we also completed a habitat restoration and reconnection project in Wabeno, Wisc., by removing a remnant logging dam in the North Branch Oconto River. The dam structure created a drop in water surface and constricted the stream, preventing fish from freely moving upstream and degrading in-stream habitat. Thanks to financial support from the US Forest Service and buy-in from landowners on both sides of the river, we were able to remove the dam and restore coldwater habitat to benefit native brook trout.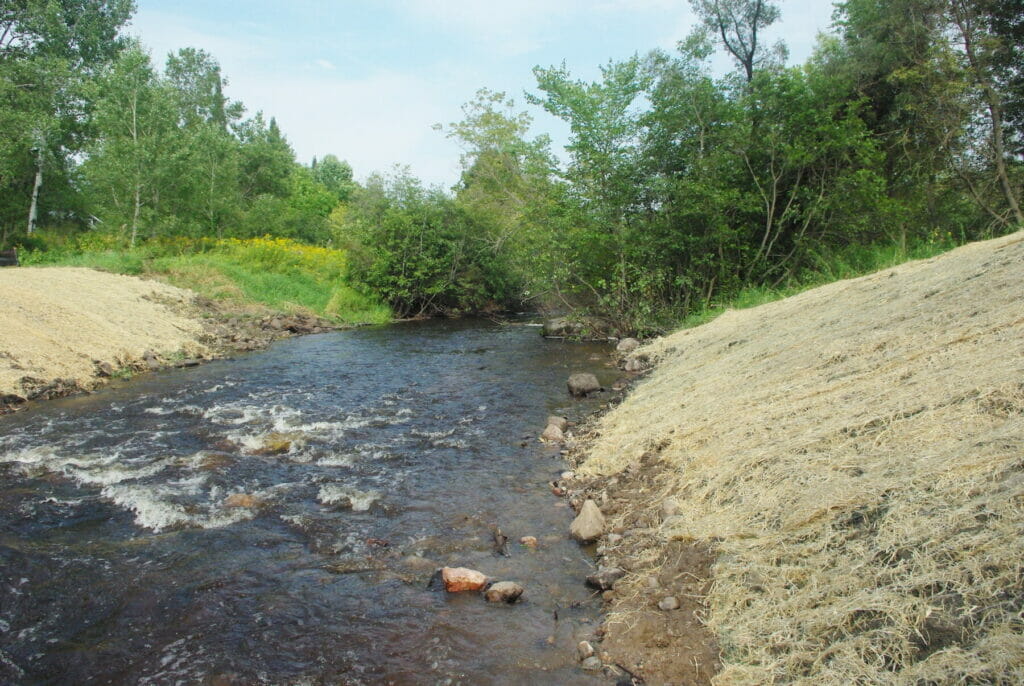 While we always take the time to celebrate our coldwater conservation victories, we do so with an eye on the future. This past year we hired two college interns, who adapted to difficult field conditions presented by COVID-19 and inventoried more than 100 road-stream crossings to identify future projects. Our interns also helped roll –out an updated inventory protocol that TU helped develop with the US Forest Service, US Fish and Wildlife Service, Michigan and Wisconsin DNRs, and other partners to identify fish passage and flood concerns. We owe a huge thank you to our interns for their great work.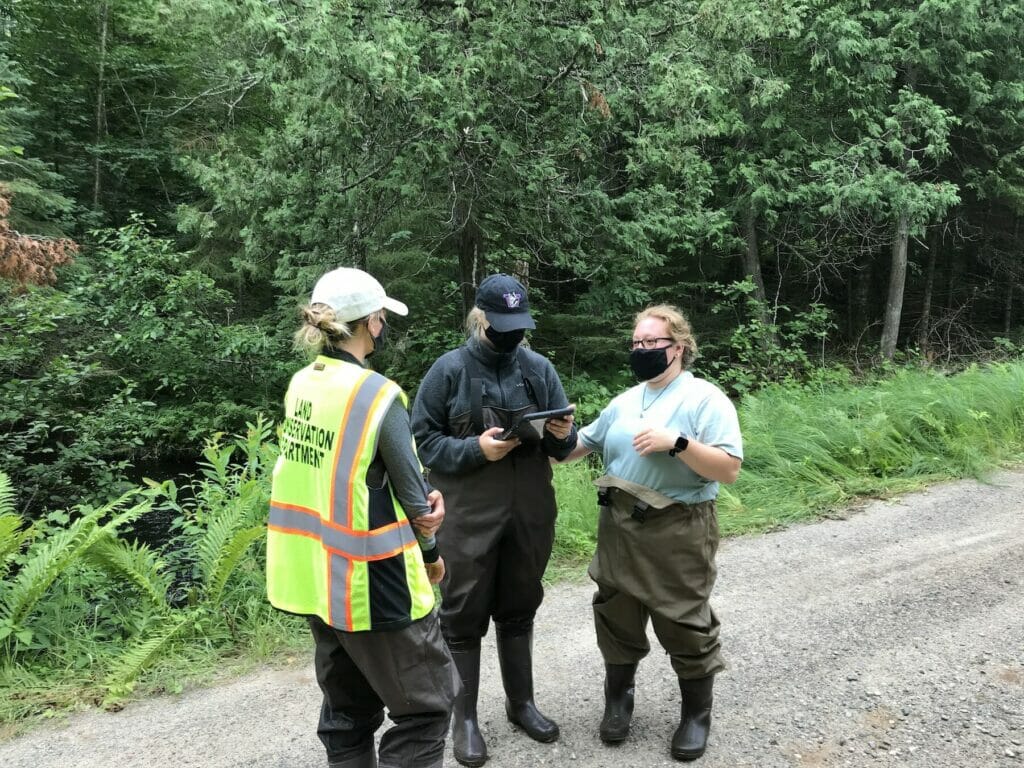 Looking ahead to 2021, we have several road-stream crossing projects planned in partnership with the US Forest Service, towns, and counties. We also have an in-stream restoration project planned for the Marengo River, in partnership with the US Forest Service, that will restore damage caused by historic floods in 2016 and 2018. Lastly, I want to highlight a new funding partner. The Fund for Lake Michigan awarded a grant to TU to continue building our fish passage and flood resiliency program to benefit Lake Michigan communities and ecosystem health. We are excited to be working with them and are excited to see how their support helps our efforts grow!
Finally, thank you — our members and volunteers — for your support. Without your continuing support and passion for coldwater conservation we would not be able to get this work done.
If you would like to learn more about our northern Wisconsin projects contact Chris Collier at chris.collier@tu.org .
Northern Michigan
Despite the challenges caused by the pandemic, it was yet another active year for TU Great Lakes Stream Restoration staff working in Northern Michigan trout streams. In 2020, we completed our fourth and fifth culvert replacement projects on Bigelow Creek, one of only two coldwater tributaries of the Muskegon River. We have now reconnected over 20 miles of Bigelow Creek to the mainstem Muskegon and with three more culvert projects we will have reconnected the entire Bigelow Creek watershed for resident and migratory fish. Trout Unlimited worked in partnership with Forest Service staff in the Huron-Manistee National Forest, local conservation organizations, Michigan Department of Natural Resources, and the Newaygo County Road Commission to complete the projects.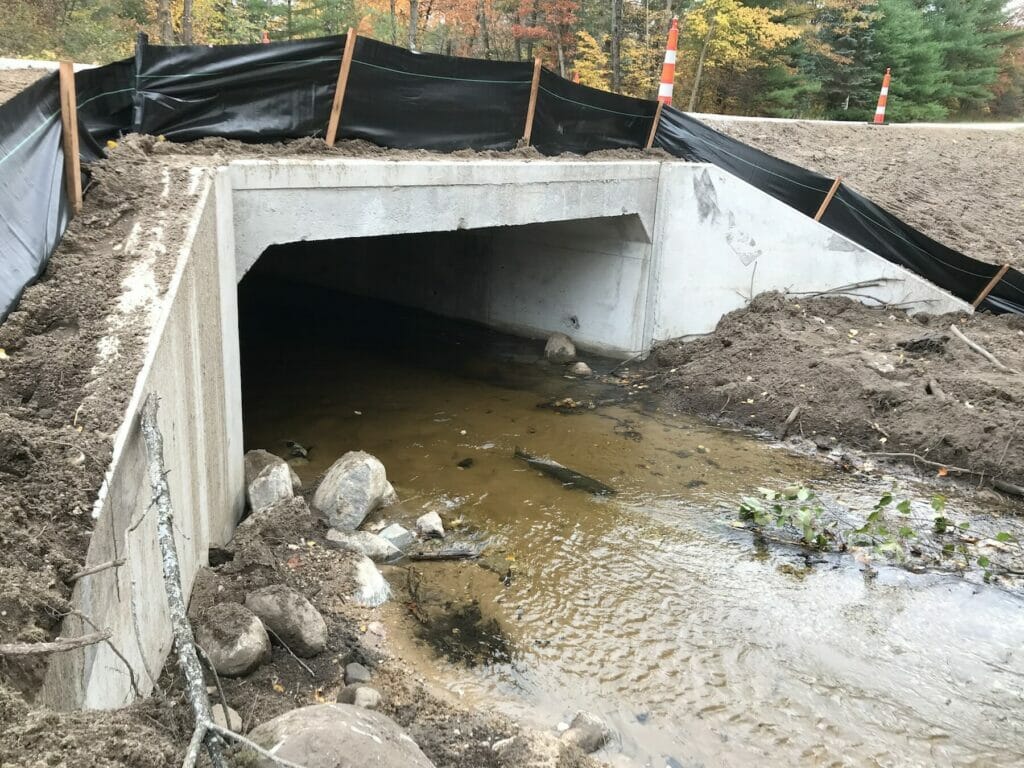 Working with Forest Service staff in the Huron-Manistee National Forest, TU field technicians continue to inventory and manage wood accumulations (e.g., channel spanning trees, log jams, etc.) in trout streams in an effort to maximize habitat benefits and provide safe passage for recreationists. The work is done by utilizing a mechanical grip hoist to reposition trees and woody material in the stream channel. This method helps to avoid cutting the trees into smaller pieces while minimizing disturbance during the process.
TU continued its "Trout and Trees" project, which aims to educate the public about the importance of the connection between streams and their adjacent (riparian) forests, and also includes native riparian plantings and in-stream habitat restoration throughout State- and Privately-owned properties. Working with local conservation districts and land conservancies, TU completed riparian planting and stream bank restoration projects on private lands on the Pere-Marquette and Muskegon Rivers.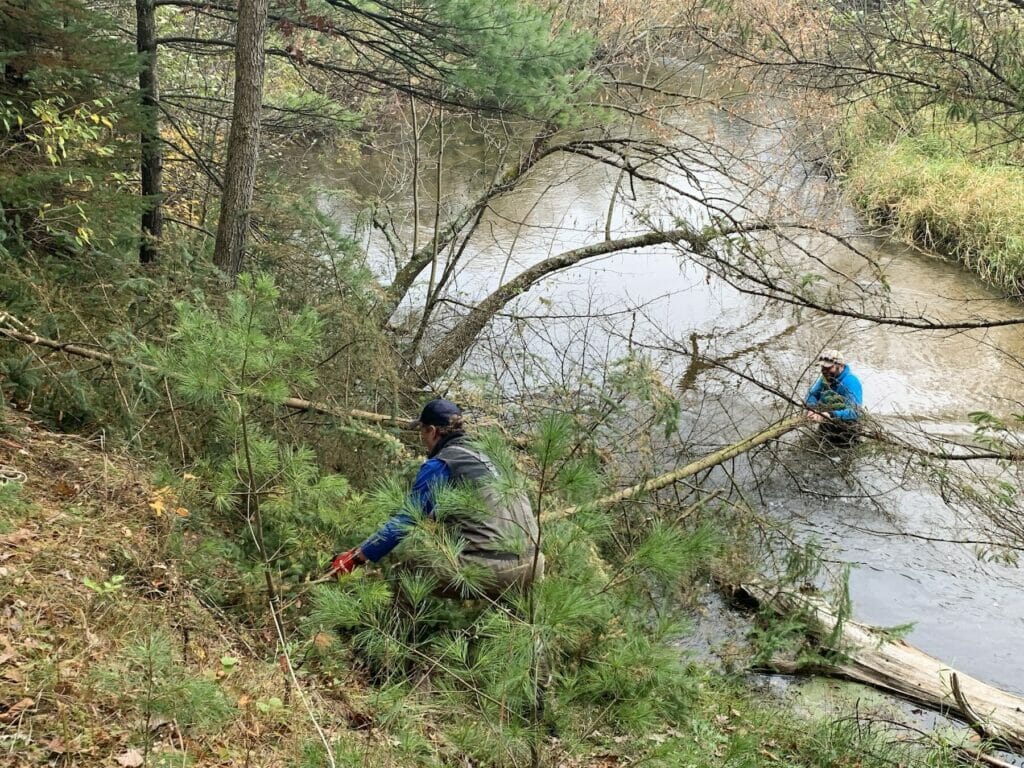 TU field staff continued its monitoring efforts in Northern Michigan trout streams conducting water quality, fish and invertebrate surveys in coldwater watersheds across the Huron-Manistee National Forest. Additionally, TU and partners continue to collaborate and monitor for the invasive New Zealand Mud Snail (P. antipodarum) in trout streams throughout Michigan.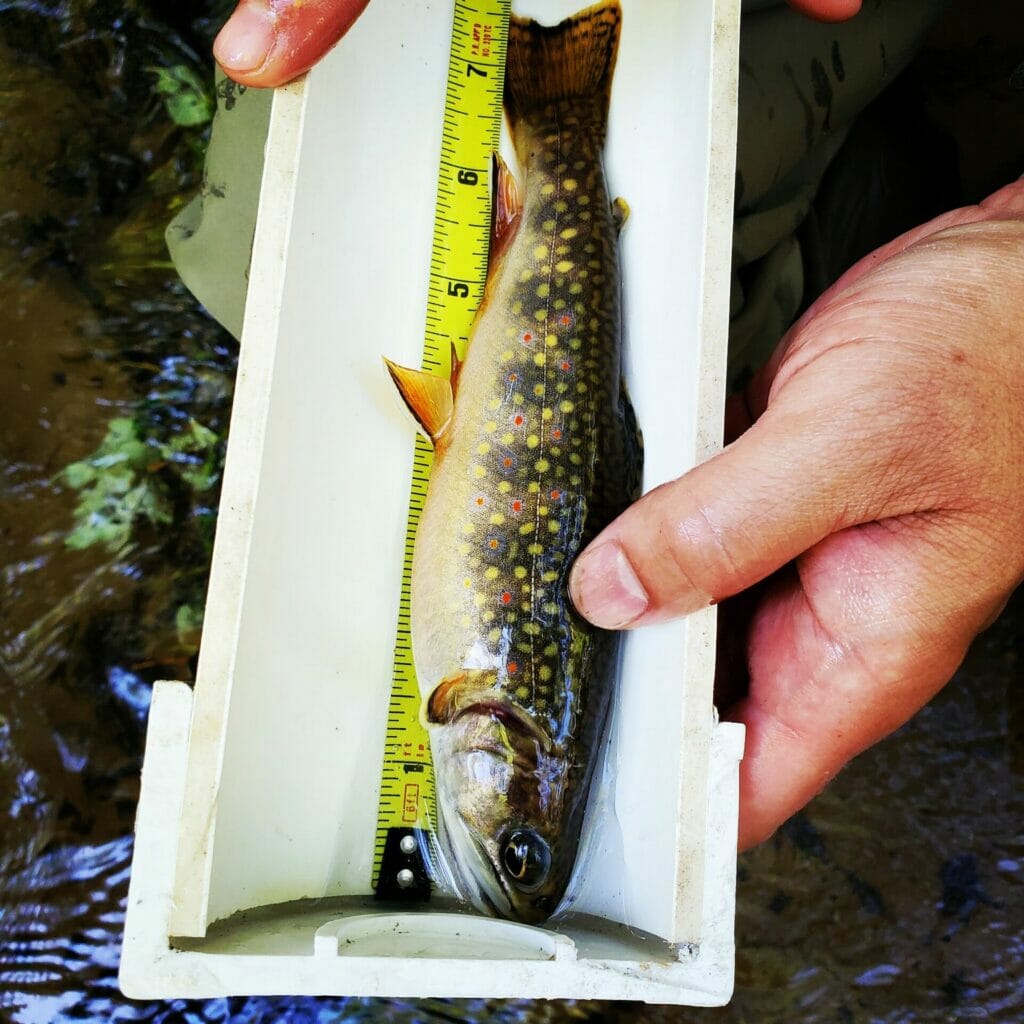 Engaging and educating the public about the values of coldwater streams and National Forest Wild and Scenic Rivers helps to promote stewardship and conservation of these incredible resources. TU partnered with the Huron-Manistee National Forest to create a River Stewardship program and brought on six interns. The "River Interns" were stationed along highly popular coldwater streams within the National Forest and provided public outreach and information to river users. The interns also participated in community-based events such as trash cleanups and stewardship events, and assisted TU field staff with water quality monitoring and restoration projects.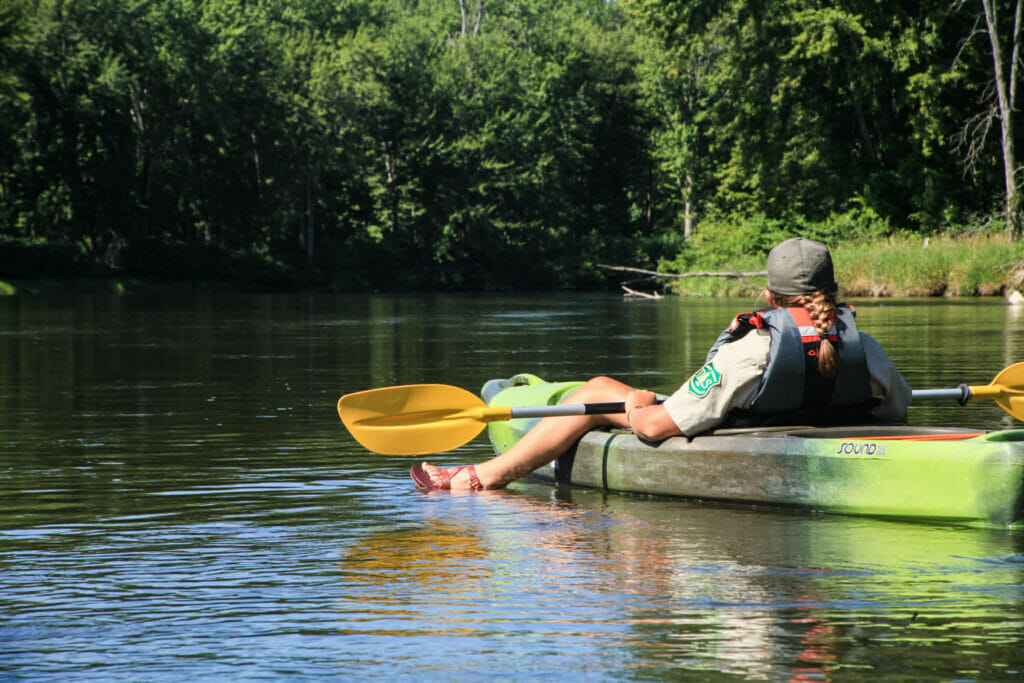 In Michigan's Upper Peninsula, TU staff is working closely with the Forest Service and is well underway in planning efforts to implement priority restoration and reconnection projects in the Ontonagon River watershed. TU field staff is also working with the Michigan Department of Natural Resources to assess road-stream crossings across the western UP, surveying nearly 300 crossings during the 2020 field season.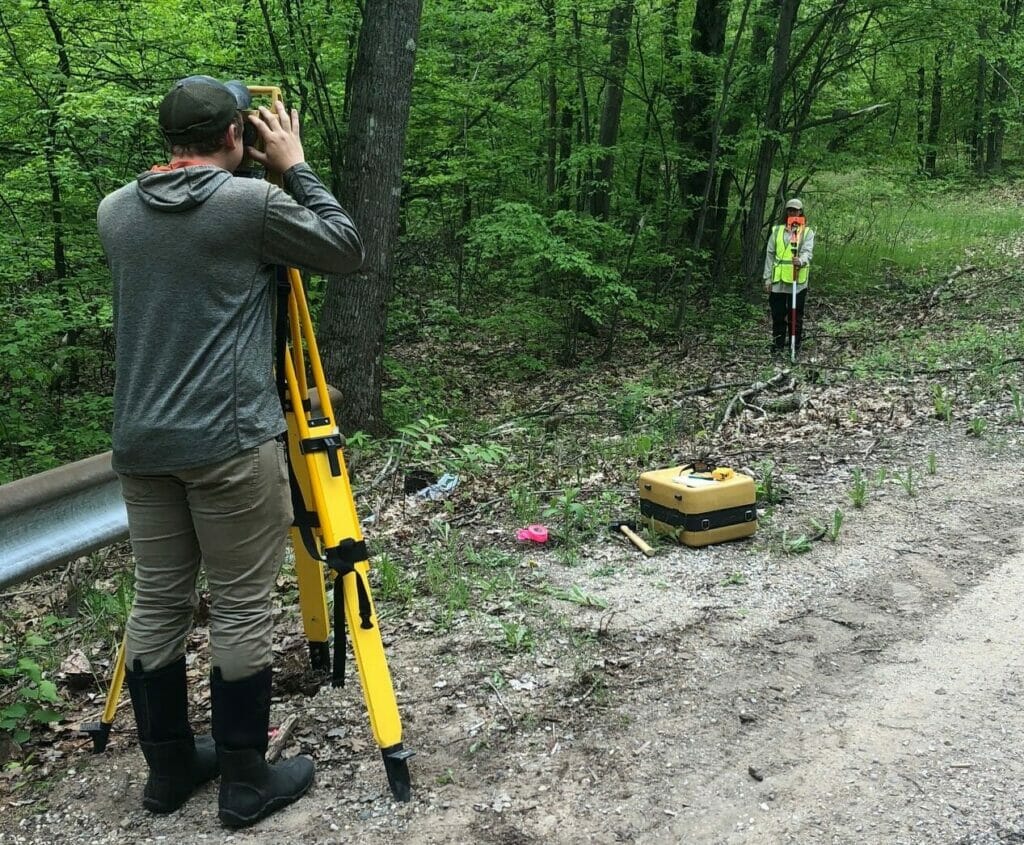 TU staff are looking forward to the work lined up in 2021 in Northern Michigan. Continued efforts in the Manistee River watershed are planned with staff undertaking six culvert replacement projects. This work will add to the over 35 miles of already reconnected habitat in the watershed.
Work through "Trout and Trees" will engage state and private landowners to increase awareness of coldwater habitat and the forests that surround them. A stream bank restoration is set to occur on the White River at Diamond Point Recreation area. In the Upper Peninsula, a remnant dam removal and several culvert replacement projects will be implemented in the East Branch Ontonagon River.
TU staff will continue to work with federal, state and local partners in 2021 to inventory coldwater biological communities, monitor for invasive species and assess problematic culverts throughout Northern Michigan.
Please reach out to Jeremy Geist (jeremy.geist@tu.org) or Matthias Bonzo (matthias.bonzo@tu.org) if you would like to learn more about their efforts in Northern Michigan.
Great Lakes Advocacy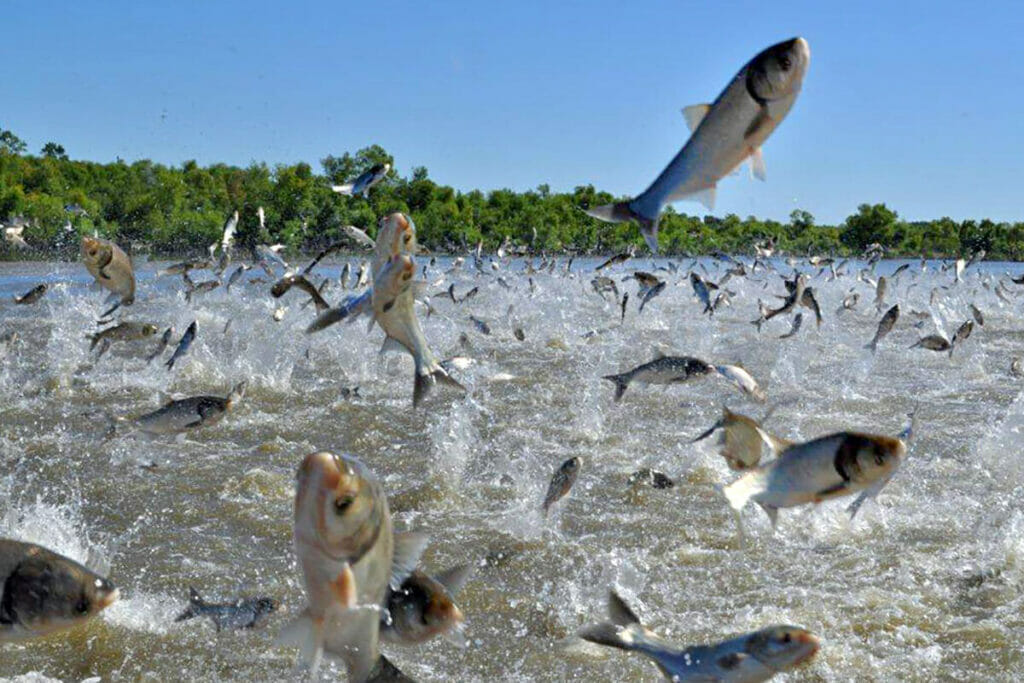 In 2020, Trout Unlimited built on last year's success in the advocacy realm. TU advanced the fight against invasive Asian carp and again secured authorization and increased funding for the Great Lakes Restoration Initiative. Furthermore, TU has renewed its involvement in Michigan's water withdrawal permitting.
The Brandon Road plan to stop Asian carp from reaching the Great Lakes has been authorized by Congress through the Water Resources Development Act (WRDA), allowing them to appropriate the funds to begin construction. Additionally, this allows the Army Corps of Engineers to begin work planning for the project. This version of WRDA also adjusted the local cost share of the project to from 65% federal/35% local sponsor to 80% federal/20% local sponsor, shifting 15% of the financial responsibility to the federal government.
Along with Congressional success, the Brandon Rd. project also saw significant progress at the state level. The State of Illinois signed a design agreement with the Corps and also signed an intergovernmental agreement with the State of Michigan to transfer funds for the project. TU will continue to work with Congress and our partners in conservation to ensure the implementation of the Brandon Road plan and further reductions to the local cost share.
The GLRI remains a top priority and TU's grassroots advocacy proved effective once again with passage of the GLRI Act, which reauthorizes the program for another five years, upping current funding to $375 million in 2022 and then increasing funds by an additional $25 million per year until reaching $475 million in 2026.
In Michigan, TU has been working as a part of the State's Water Use Advisory Council (WUAC) to implement recommendations for updating the State's water permitting program. After a year of work, the WUAC has submitted its report to the state legislature. The report identifies data gaps within the state's groundwater assessment tool and seeks to protect lakes, streams and rivers from over withdrawal while allowing for other stakeholder uses.
For more information on Trout Unlimited's advocacy efforts in the Great Lakes region, including how you become involved, contact Taylor Ridderbusch at taylor.ridderbusch@tu.org.
Great Lakes team welcomes new staffer in Michigan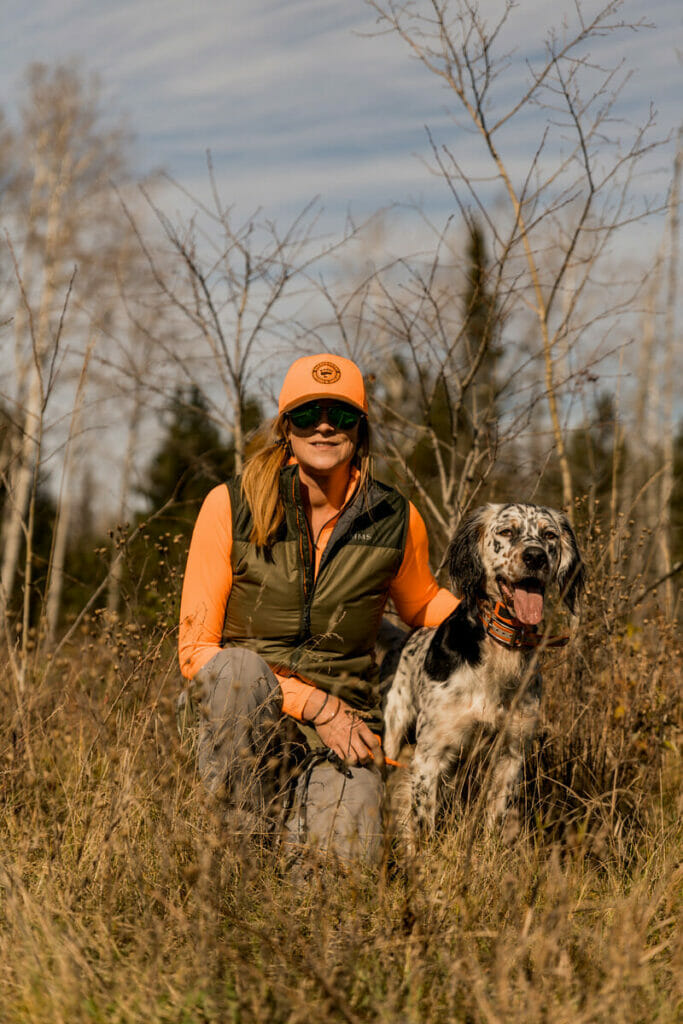 Heather Shaw recently joined Trout Unlimited as the Upper Peninsula Stream Restoration Manager in Michigan.
Heather is a Michigan native and comes to us from the Ruffed Grouse Society, where she worked as a regional biologist. She holds a master's degree in Conservation Biology from Central Michigan University, Institute for Great Lakes Research.
Heather will be filling a new role to collaborate with state and federal agencies and local communities in the Upper Peninsula to plan, fund, construct and monitor aquatic habitat restoration projects. This work provides multiple benefits to the U.S. Forest Service and the local community including flood resiliency, improvement of aquatic habitat and water quality, and protection of aquatic health and biodiversity.
Heather has a deep-rooted passion for the outdoors and is an avid outdoorswoman, hunter, and angler and we are thrilled to have her on our team. If you would like to contact Heather, she can be reached at heather.shaw@tu.org.
For year-round updates from Great Lakes staff, follow us at facebook.com/GreatLakesTU and on Instagram at @troutunlimitedgreatlakes