The COVID pandemic presented a variety of challenges for the Trout Unlimited Driftless Area Restoration Effort team, but solid progress on Driftless stream restoration projects moved forward in 2020 and the team has aggressive plans in place for 2021.
One of the key elements of the TUDARE founding platform is collaboration. The success of TUDARE over the past 17 years has resulted from successful collaboration with National TU, local Midwest TU chapters, Driftless Area landowners, other conservation organizations (Trout & Salmon Foundation and Hawkeye Flyfishers, for example) federal, state, and local government agencies (U.S. Department of Agriculture, U.S. Fish & Wildlife Service, state DNR, and county land and water conservation departments). The purpose of this newsletter is to provide TU members and our partners with a summary of TUDARE/Driftless activities, best practices, and plans.
Led by Jeff Hastings, TUDARE Project Manager, the team is involved in many stream restoration projects, but also consults and coordinates with other groups doing stream restoration, including local TU Chapters, state DNR agencies, and county land and water conservation departments. Much of the team's time is focused on applying for foundation and government grants and assisting landowners who are applying for Natural Resources Conservation Service (NRCS) conservation dollars.
Meet the TUDARE Team
Jeff Hastings is the TUDARE project manager. Jeff is based in Westby, Wisc., and has been with Trout Unlimited for 15 years. Prior to Trout Unlimited, Jeff worked with county land and water conservation departments for over 25 years. He graduated from the University of Wisconsin Stevens Point with degrees in wildlife management and biology.
Paul Krahn, TUDARE Stream Restoration Specialist, has worked with TUDARE since May of 2017 and has been executing restoration projects in the Driftless for more than 30 years. Paul is also based in Westby, Wisc. He focuses most of his time working with our partners to implement habitat projects in the Driftless Area, as well as taking on several projects from start to finish on his own.
Dustan "Dusty" Hoffman, Southeast Minnesota Driftless Area Restoration Effort Project Manager, is our newest employee and is based in Winona, Minn. He graduated from St. Mary's University with an undergraduate degree in environmental science and a Master of Science degree in resource analysis and GIS. Dustan is focused on maintaining and implementing new Outdoor Heritage Projects in Southeast Minnesota. He is also working to develop relationships with Minnesota TU chapters, landowners, and cooperating partners.
John "Duke" Welter has recently stepped down from a long-time career as outreach coordinator for TUDARE and is now working part-time for Trout Unlimited. His focus these days is securing funding for the removal of the last two dams on the Kinnickinnic River in River Falls, Wisc.
We also contract with professionals like Dave Vetrano, retired LaCrosse Area Fish Manager for over 35 years, to work with agriculture producers and partners on trout habitat management and managed grazing. Kent Johnson, a retired professional water quality monitoring expert, will help us roll out the new Driftless mobile phone water quality app.
In 2021, we will also partner with Pheasants Forever to hire two summer interns for county field offices to work on Farm Bill-related projects. We have also increased the hours for a local conservation assistant in the Viroqua, Wisc., field office to assist with conservation planning.
Special thanks to TU volunteer Jim Brown of Evanston, Ill., who was instrumental in the production of this newsletter.
Driftless Symposium and Training
In February 2020, the TUDARE Team held a successful Driftless Symposium in La Crosse, Wisc. More than 140 attendees, including county, state, federal, private engineers, and executives from nonprofits from the four-state area (Wisconsin, Iowa, Minnesota, and Illinois), attended the two-day event. Twenty-two presentations related to coldwater management, including research, restoration, monitoring, phosphorous trading, non-game habitat, use of drones, and vegetation management were presented.
Jeff Hastings addressing large crowd of participants at the Annual Driftless Symposium
Due to COVID restrictions, the 2021 Driftless Symposium was cancelled. The next Driftless Symposium is being planned for February 1 and 2, 2022, at the Radisson in La Crosse.
The cancellation of this year's Driftless Symposium allowed time for Jeff to start the development of a Driftless Area Restoration Effort YouTube channel. We hope to develop an extensive catalogue of videos related to restoration, monitoring, science, and education. We also started a "Playlist" of partner projects, including "Evaluation of Trout Population Trends and Fisheries Management in the West Fork Watershed" by Kirk Olson, a senior fisheries biologist with Wisconsin DNR.
Fall Bus Tour
The TUDARE team typically schedules a fall bus tour of recently completed stream restoration projects, but in 2020 the team instead created and shared three stream restoration videos of completed projects with partner organizations. The TUDARE team also partnered with the Wisconsin Land and Water Conservation Association to present and record two training sessions, for county and federal conservation employees, on cold-water stream restoration management. The team plans to schedule a fall bus tour again in 2021.
Phosphorus Mitigation and Stream Restoration
A new initiative for 2021 is working with small municipalities to help them develop successful trading strategies to comply with their Wisconsin Pollutant Discharge Elimination System (WPDES) permits. We now have several excellent examples of the municipality working with agriculture producers to implement bank stabilization and trout habitat projects. Landowners sign up for Farm Bill dollars and then the municipality covers the remaining share of the project not covered by Farm Bill funding. The result for the landowner is a stream restoration project completed at no cost. The municipality reduces the phosphorous load at one tenth of the cost of upgrading their water treatment plant. By incorporating trout habitat into the project, the municipality receives additional phosphorous credits. In the case of Monroe County projects, the Land Conservation Department also included angler easements, something we will promote with other projects.
In 2020, 64 stream restoration projects were executed in the Driftless area, restoring 17 miles of stream habitat. Additionally, TUDARE and our partners spent over $4 million in donations, government awards, and state funding for Driftless projects.
Brook Trout Restoration
The Wisconsin DNR continued the removal of brown trout from Maple Dale Creek in 2020. The DNR observed major increases in catchable brook trout following the first year of brown trout removals. In 2020 sampling they captured and released 3,661 catchable-sized brook trout in the watershed, a major increase from 2019, when only 570 brook trout were captured.
The same level of increase was not observed in Cook Creek, which was also sampled the past two years. Brown trout were not removed from Cook Creek, indicating that brown trout removal is likely a key factor in the brook trout population increase in Maple Dale Creek. Brown trout continue to be common in the watershed, so the DNR expects that the removal project will extend at least two more years. In 2020, all brown trout captured in the watershed were euthanized and donated to the Raptor Education Group in Antigo, Wisc. The fish will be used to help rehabilitate injured raptors.
The Iowa DNR worked with staff from the University of Wisconsin-Stevens Point to finalize the genetic evaluation of Iowa's wild brook trout populations. This research project was funded by the Driftless Area Restoration Effort Fish Habitat Partnership, Iowa Chapter of the American Fisheries Society, the North Bear Chapter of Trout Unlimited, the Iowa Driftless Chapter of Trout Unlimited, and the Iowa Trout Program. The results of this work are being used to develop Iowa brook trout restoration plans.
Free Pollinator Seed for Driftless Stream Projects
For the past two years, the DARE team has been providing free pollinator seed to enhance Driftless Area streams. The seed mix is not intended to replace the planned seeding mixture, but to supplement pollinator plants into the mixture. This is a custom mix we developed with Prairie Moon Nursery in Southeast Minnesota and is made up of all forbs. We tried to come up with a list of plants that we thought would survive competition from grasses and the challenges of establishing perennials in the riparian area. In 2020, we provided seed for 21 projects encompassing over 9 miles of coldwater streams. Anyone doing a stream restoration project in 2021 who would like some additional forbs to add to their mix can contact Jeff Hastings at 608-606-4158 or Jeff.Hastings@tu.org.
Wisconsin DNR Stream Monitoring and Evaluation
Monitoring ability was reduced in 2020, however, samples were taken from high-priority streams, including Timber Coulee, North Fork Bad Axe, South Fork Bad Axe, Plum Creek, Mormon Coulee Creek, Rush Creek, and the Little La Crosse River. The data show that populations are doing well, with plenty of natural recruitment and, as usual, moderate to high densities of catchable-size trout.
Wisconsin DNR submitted 16 streams to be classified as Class I or II trout water this year. Most of the streams are in the West Fork Kickapoo, Coon Creek, and Mormon Coulee watersheds. An additional 45 streams are being considered for updated classifications. Trout populations are expanding both up and downstream in the region as groundwater levels continue to improve.
Water Quality Measurement App
In 2019, the TUDARE team piloted a successful WiseH2O water quality monitoring app on 10 local streams, making 83 observations. The team provided feedback to the app developers and these suggestions were incorporated into the final version of the app.
The objective of this tool is to connect with Midwest TU chapter volunteers and anglers and to have them take water quality samples throughout the Driftless region while they are fishing. The 2020 plan was to roll out the Driftless Water Quality app across the region, but the team was unable to execute in-field training sessions due to the pandemic. However, the team was able to adapt the app for the iPhone and make contacts with 14 Midwest chapters. Chapter contact persons were assigned to coordinate water quality materials and reporting. The team has also developed online training materials for the app, with the expectation of full program implementation in spring of 2021. We have contracted with Kent Johnson to coordinate the training and implementation of this app. If your chapter/organization would like to be involved, contact Kent at d.kent.johnson@gmail.com.
Download the WiseH2O App:
Android and iPhone versions of the WiseH2O App are available for free download at the Google Play Store and Apple Store. Instructions for downloading the WiseH2O App can be found in the WiseH20App Use Guide, located on the MobileH20 website. Detailed on-line instructions for use of the WiseH2O App can be found in the WiseH20 App User Guide and the Video Tutorial for Using the WiseH2O App, both located on the MobileH2O website.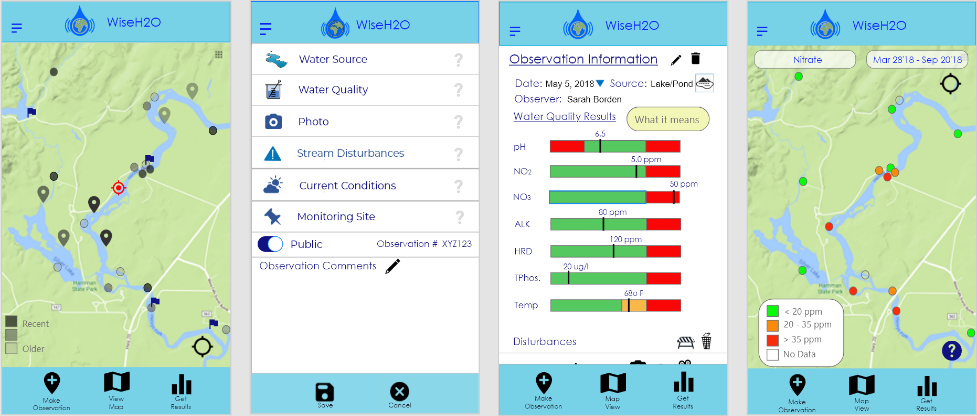 Key interfaces for the WiseH2O mApp
Stihl chips in for workday on the Kinnickinnic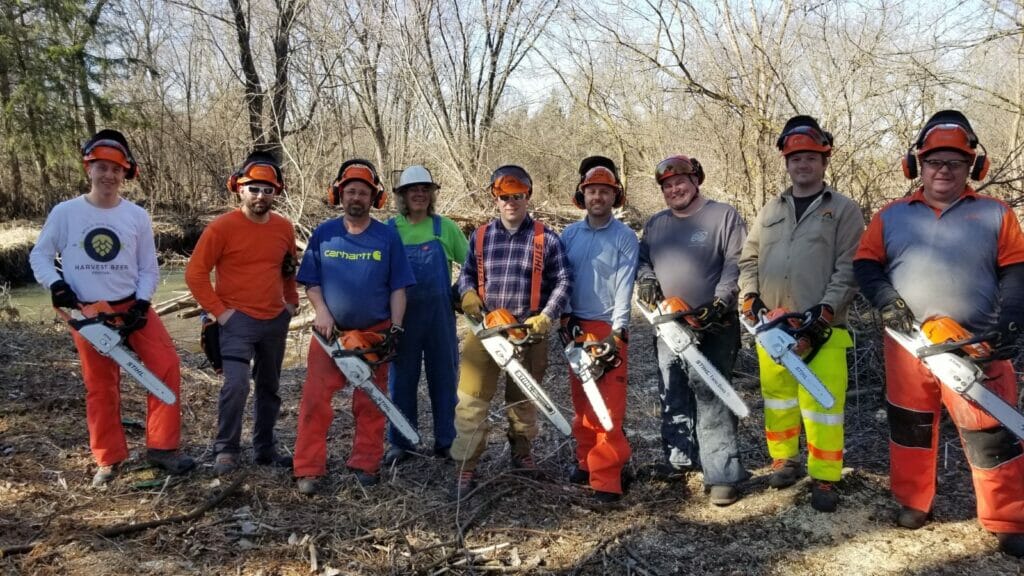 Randy Arnold, Kiap-Tu-Wish Chapter workday boss (white helmet, above) received a helping hand with a workday on the Kinnickinnic. Eight Stihl representatives from the Midwest (from as far away as Chicago) came out to help the chapter clear unwanted trees and debris at a popular fishing spot.
Stihl Midwest Sales Manager Dan Pherson (center, tan pants) contacted Jeff Hastings in late January to offer a $1,500 product certificate donation to one Driftless Area TU Chapter each year for the next four years. Kiap-Tu-Wish can use the certificate at a Stihl dealership of their choice for any Stihl product.
Pherson went on to say that the goals of TUDARE and the goals of Midwest Stihl are very much aligned. The Stihl representatives enjoyed the day and promised to come back next year and provide a hands-on chainsaw safety training and assist volunteers in another workday.
Mark Taylor, Eastern Communications Director for Trout Unlimited has plans to use photos and drone footage taken to develop a short clip for an upcoming Field Day Friday feature on TU national's YouTube channel.
Driftless Project Overviews
Below are recaps of several recently completed Driftless Area projects. Many other projects were completed by local county conservation field offices and chapters. The projects highlighted here were executed by TUDARE staff, state DNR staff, local TU chapters, and other conservation organizations. This overview clearly shows the significant results generated by the collaborative effort of partners working in the Driftless. Many of the projects utilized special funding that TUDARE was awarded for the Driftless, a $9.2 million Regional Conservation Partnership Program award for cold-water restoration. Funding was targeted for habitat and bank stabilization. To date, 68 farmers have signed contracts to implement cold-water restoration projects, encompassing more than 25 stream miles. The projects incorporate over 250 habitat structures and matching dollars from our partners in excess of $5 million. Projects with angler easements are given additional points and score higher than streams without access.

Driftless Area Restoration Effort, Fish Habitat Partnership Did you know that TUDARE is also part of a national initiative? DARE was one of the first partnerships formed under the National Fish Habitat Partnership Program almost 15 years ago. Jeff Hastings co-manages the program with Louise Mauldin, a Fisheries Biologist with the U.S. Fish and Wildlife Service. DARE annually receives funding for administrative work and funding for projects most years. In 2020 we received funding to work with partners to enhance 2.77 miles of stream on Swinn's Valley, Hay and Plum creeks in western Wisconsin. Dollars are targeted for native fish and are used to improve instream and riparian habitat that benefit brook trout, invertebrates, and other aquatic fauna. Also, two dams were removed on the Wapsipinicon River in Iowa and replaced with rock rapids to improve passage for priority species smallmouth bass, redhorse and a host of other native fish and mussel species. Utilizing Fish and Wildlife Service fish passage and DARE funds, the removal of the two dams reconnected over 192 mainstem and tributary miles, eliminated public safety hazards at both dams, improved site fishing, and provided improved navigation for paddlers.
Anyone looking for additional funding for their restoration projects should contact Jeff Hastings. Applications are now open (till May 7th, 2021) for 2022 projects targeting native fish (brook trout, sculpin, smallmouth bass, etc.). These dollars are federal dollars and can only be used to match nonfederal dollars. They can still be used as part of the project costs if other federal dollars are involved, but they must be part of the nonfederal match funds.
Minnesota Outdoor Heritage Fund
The Outdoor Heritage Fund in Minnesota is an important funding source for restoration work in that state. Thirty-three percent of the sales tax revenue from the Clean Water, Land and Legacy Amendment (approximately $80 million each year) is distributed to the Outdoor Heritage Fund. Those funds "may be spent only to restore, protect, and enhance wetlands, prairies, forest and habitat for fish, game, and wildlife."
John Lenczewski, (Minnesota Trout Unlimited Executive Director), Dustan Hoffman and Jeff Hastings manage funding from the Outdoor Heritage Fund to improve cold-water streams in southeast Minnesota. John has successfully applied for and received over 13 rounds of funding totaling more than $20 million. We have now completed over 40 miles of coldwater stream restoration in southeast Minnesota alone. TU's staff is involved with contract management, oversite, and long-term maintenance of the projects. Projects are typically designed by private consultants. More recently we have enlisted state agricultural engineers. In 2020, approximately 8,000 feet of the South Branch of the Whitewater River was restored. The project was located within the Whitewater Wildlife Management Area, near Elba, Minn.
The Outdoor Heritage Program was the primary funding source for two other projects. One restored more than a mile on Wisel Creek; the other 3,700 feet on West Indian Creek. The West Indian project was the start of a more than 2-mile section of stream restoration.
Plans for 2021 include a 3,800-foot section on Mazeppa Creek; 3,700 feet on Rush Creek; 7,800 feet on Mill Creek, and a little over 4,000 feet on Wisel Creek. Dustan is working with John to work with private contractors to clear over 6 miles of cold-water riparian areas of boxelder and invasive plants on these streams.
Wisconsin
During 2020, Driftless stream restoration projects took place on over 25 streams in Wisconsin. This work was coordinated and executed by the TUDARE team, Wisconsin DNR, local chapters (Harry and Laura Nohr Chapter of TU for example), county land and water conservation departments, and Natural Resources Conservation Service field offices. Much of the stream restoration work was funded by working with landowners (who agree to angler easements), coordinating applications for NRCS conservation funds, and then working to raise additional funds from TU chapters and other conservation organizations to fully fund the work, so there is no expense for the farmer.
During the 2018 flood event, Bohemian Creek was severely damaged. Wisconsin DNR executed a major project restoring 5,240 feet of trout habitat along Bohemian Valley Creek with plans to continue additional work in 2021.
For a more complete list of Wisconsin projects and plans for 2021 please click this link.
Iowa
TUDARE staff and Iowa DNR collaborated with the Iowa Natural Heritage Foundation, Iowa DNR Trout Program, the Iowa Coldwater Conservancy, and other conservation organizations to purchase land, extend angling easements and execute stream restoration projects on multiple watersheds including North Bear Creek, Little Paint Creek, Bloody Run Creek, and many more. For a full listing of Iowa stream restoration projects and plans for 2021 please go to this link.
Minnesota
Minnesota has an active cold-water restoration program and habitat crew that executes miles of improvement on southeast Minnesota (Driftless) streams each year. Minnesota DNR has secured stream easements on more than 40 percent of the trout stream miles flowing through private land. For a listing of 2020 projects please click here.