The president's son tweets in opposition to Pebble Mine, noting the headwaters of Bristol Bay are too fragile to risk
On Tuesday, the president signed the Great American Outdoors Act into law. This law, widely supported and celebrated by anglers and hunters across the country, will provide important funding for stewardship projects on public lands and will help tackle the maintenance backlog on trails, roads and buildings in our national parks and other public facilities.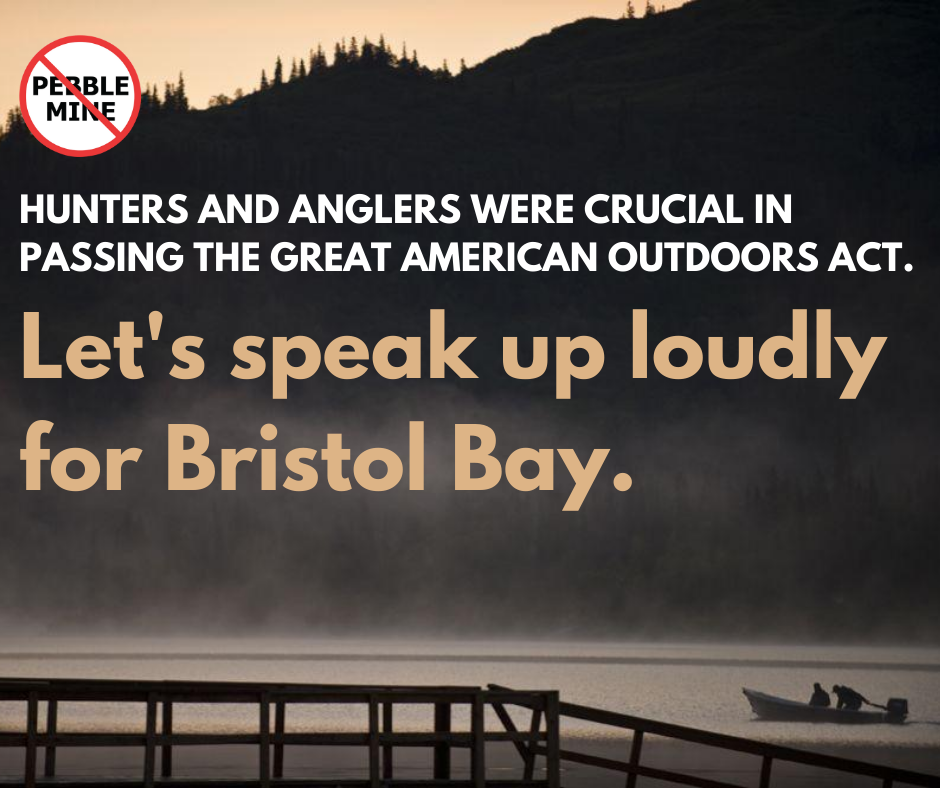 While the passage of the Great American Outdoors Act doesn't have a direct impact on Bristol Bay and the Pebble mine, it's important to note that sportsmen and women were instrumental in speaking up to see this bipartisan bill become law. Now, it's time to channel this energy to see that denying the permit for Pebble mine is next on the President's agenda.
Just after the signing of the Great American Outdoors Act, Donald Trump Jr. retweeted former Chief of Staff to the Vice President, Nick Ayers. In the tweet, Ayers opposed the Pebble mine and called on mine's key permit to be denied. The president's son, an avid hunter and angler tweeted: "As a sportsman who has spent plenty of time in the area I agree 100%. The headwaters of Bristol Bay and the surrounding fishery are too unique and fragile to take any chances with. #PebbleMine"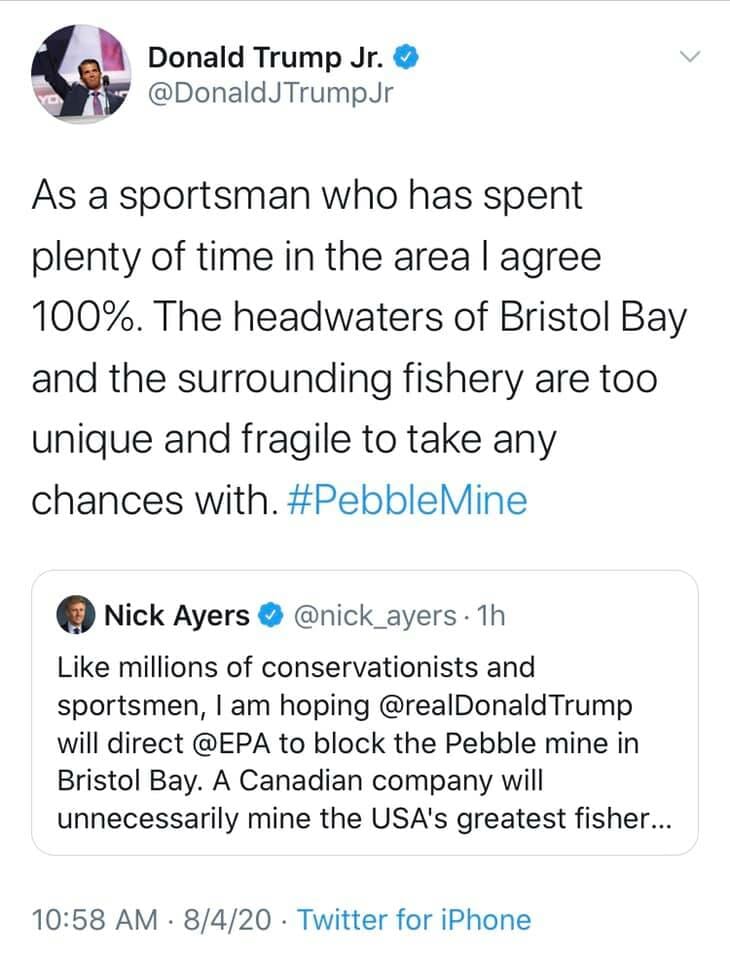 Sportsmen and women have been saying what Trump Jr. said today for the better part of two decades. As Bristol Bay sits atop the bucket list of hunters and anglers from across the country and around the world, the region is too unique to risk by building a massive open-pit mine in the headwaters of the planet's most important salmon-producing region. In May, over 250 fishing, hunting and outdoor recreation businesses, alongside 31,000 individual sportsmen and women signed and delivered a letter to the President calling on him to deny Pebble's permit.
With the July 23 release of the Final Environmental Impact Statement for Pebble, the Army Corps of Engineers could now issue a record of decision to grant or deny Pebble's permit in the next 3 to 6 weeks. The president talked a lot about being the "conservation president" when he signed the Great American Outdoors Act into law this week. If that's a legacy he wishes to craft, there's no better way to do so than to deny a foreign mining company a permit to trash one America's greatest landscapes.
In the final stages of the permitting process, the sporting community must once again call on the President to safeguard this national treasure by denying Pebble's permit.
It's critical that the roar of the sporting community comes out loud and clear once again for Bristol Bay.