A couple of weeks ago I showed up to a friend's house after a day on the water. My choice in footwear became the focus of conversation. One would assume I was going for a mid-day stroll in my Crocs and socks.
"What in the world are you wearing?"
"Do those work?"
They were talking about my new river footwear, and I didn't care what they thought one bit because they're comfortable.
Being a self-proclaimed Chaco Footwear fan for nearly 20 plus years it's hard to imagine that there might be another brand or manufacturer out there that could do it any better. This specific decision was prompted by the fact that my old trusty Chacos were nearing the end of their river-filled life. They had been everywhere with me. The Salmon, Smith, Colorado, Green, Platte, Arkansas and Snake rivers to name a few. While it's not advised, I've also been known to have green stained toes because I mow the grass in them as well.
But as the saying goes all good things must come to an end.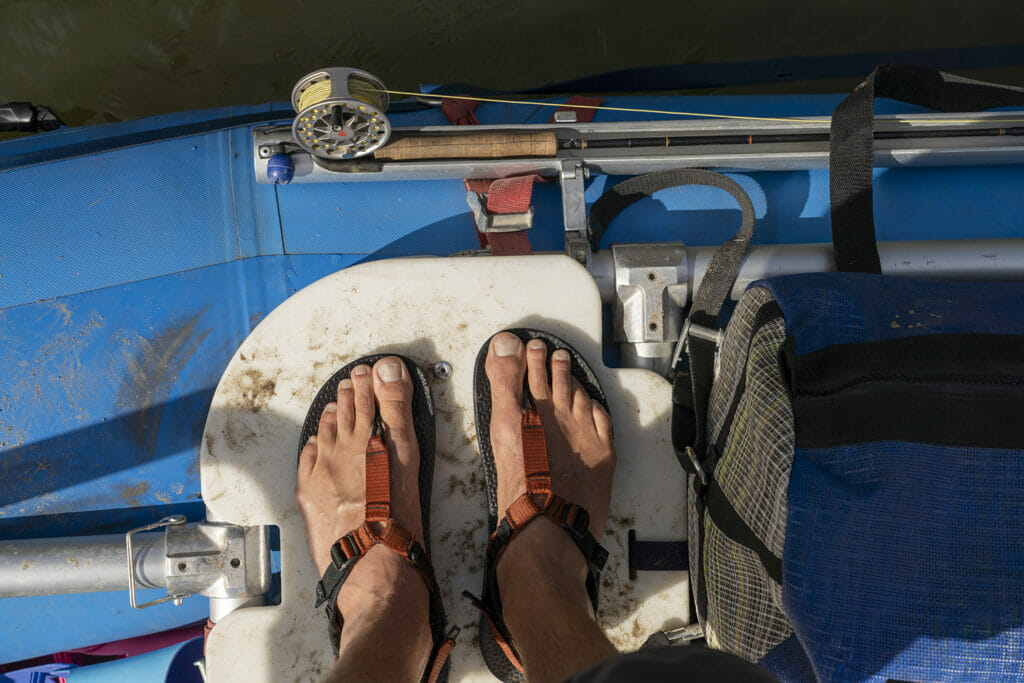 Bedrock Sandals, based in Missoula, Mont., is the company I'm turning to as I look to replace my tried-and-true Chacos. Often, I bring a pair of flip-flops with me on multi-day river trips for hanging around camp. If I could wear them all day long, I would, but flip-flops aren't very safe or smart to wear all day in the boat. Occasionally, one must jump out of the boat to push off a rock or jump into the water to rescue a wayward squirt gun. Flip-flops don't hold up well in those situations which is why they end up being worn strictly at camp.
Full disclosure: Bedrock didn't send me these sandals to try out — I paid full price, knowing the risk of trying something new. The Cairn 3D Adventure Sandals happen to be a solid combination of "flip-flop meets full on supportive Chaco sandal."
Being in and out of the boat all day long and then setting up and breaking down camp in these new sandals has me amazed that I haven't noticed them before. They didn't rub in places with heavy sand. They felt incredible on short hikes and swimming in them was a breeze because of how extremely light they were on my feet. And, just like my old friend Chaco, the soles of the Bedrock Sandals are replaceable once you're ready for a new pair.
Footwear matters on the river, especially when you're putting in big miles and days in and out of the boat. If you can keep your feet happy, the rest will follow.