Bittersweet. That's how I'd describe my brief encounter with the Redington Field Kit, a clever compilation of a medium-fast-action fly rod, a sturdy and dependable reel and a fly line designed for the fishing you're doing at the time.
A few weeks back, I took the Field Kit's tropical saltwater version with me to Long Island in the Bahamas. I and a couple of buddies rented a vehicle from a vendor at the Dead Man's Cay airport and spent the better part of a week on a do-it-yourself adventure, exploring flats along the coast of the remote island. It was to be an epic journey for bonefish — proof that we'd all arrived at the point in our angling journeys that we could walk and wade the flats, find fish and catch them … all without a guide.
The very first morning, Field Kit in hand, we found a stunning inshore flat that just screamed "bonefish!" And, while the scream didn't exactly match reality, we did see some gray ghosts cruising the shallows, and I actually hooked one. Sadly, I didn't clear my line appropriately and it bounced up, wrapped around the fighting butt of the 8-weight rod and the bonefish was gone.
Chalk it up to first-day jitters.
Things slowed down a bit, so we hopped in the rental and motored over to another flat on an incoming tide, hoping to find fish as they moved into the shallows with the rising water. We split up, each heading a different direction, and within seconds, I was seeing bones moving along the end of a channel and popping up into shallow water to feed.
I made a quick cast, immediately hooked up and then … a barracuda entered the equation. It wasn't a big fish — likely not something that would have gone after a 5-pound bonefish. But, for some reason, it did go after the tip of my RIO Premier QuickShooter fly line (included in the Field Kit) and proceeded to slice it in two. Two bones, two misses. One slightly shorter fly line.
Again, the fish disappeared as quickly as they showed up, and we were back in the car. I was frustrated at my luck — both self-inflicted and pure happenstance — and, after we arrived at a third flat, with the tide still rising, I set about re-rigging my reel with a second line, the RIO Saltwater Tropical Bonefish line that comes with an aqua front taper and body, a black back taper and a yellow running line (just like the Bahamian flag). My fishing buddies headed out to the nearby flats while I toiled in the stickty, humid tropical heat, tying back knots and such.
Then, as it often does, a tropical squall started brewing and the wind picked up. Looking to the west, I could see some clouds building and I could smell the rain on the way. Just as it started to pour in earnest, I rested the newly assembled Field Kit against the car, opened the door and hopped into the passenger seat. No sense getting wet for no reason, right?
Well, as my weight hit the car, the rod slid down the side of the vehicle and managed to come to rest against the door hinge … just as I closed the car door.
And that was that. The Redington Field Kit became the sacrificial lamb of the DIY bonefishing trip. It made for a good story at Max's Conch Bar and Grill in Dead Man's Cay that evening, but the pang of the loss stuck with me. So much for the comprehensive test of the rod and the line that arrived loaded on the Behemoth fly reel. To it's credit, I hooked two bonefish with the combo and survived an encounter with a foot-long predator. Sweet.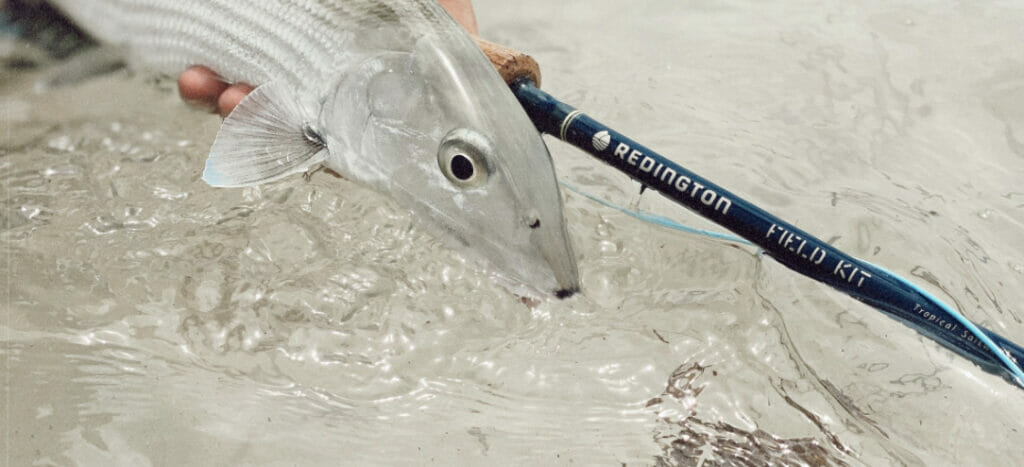 But, due to sheer bad luck and a rusty bonefish regimen (and a careless act of desperation to avoid a rainstorm that lasted all of 10 minutes), I'll never really know how the Field Kit compares to other rod-and-reel combos. Bitter.
I will say this, though. I love the idea of the Field Kit. It comes with everything you need — the above-mentioned rod, reel and fly line as well as a 10-foot RIO Bonefish/Saltwater tapered 12-pound leader. For traveling, it might the idea setup.
Not a saltwater angler? Never fear. The Field Kit comes in various iterations, from a trout kit that comes with a 9-foot, 5-weight rod with a corresponding reel, line and leader, to a salmon kit complete with an 8-weight setup for the next trip to Alaska. There's also a bass kit that comes with a 7-weight rod, and a coastal coldwater kit that comes with a 9 -weight rod-and-reel combo.
And the whole enchilada, regardless of your choice of kits, comes in at $350. Think about it. A perfectly serviceable fly rod customized to the fishing you plan to do, coupled with a solid fly reel loaded with a high-end RIO fly line. It's easy math.
Just keep it way from the car door.