Oshki turns recycled Great Lakes plastic into fashion.
Jackson Riegler wanted to be a marine biologist. Or maybe a scuba diver. He was a kid from small-town Michigan in love with the Great Lakes.
Now as a newly-minted University of Michigan graduate, he's swimming in fashion-industry waters poised to make an even bigger difference on the lakes he cherishes.
It all started as a project to raise money for the Great Lakes in high school. He sold t-shirts his buddy, Jimmy Cobb, designed and donated 5 percent to nonprofits. The seed money came from what he saved up as a landscaper his senior in high school. But then he went to college, took classes and realized printing t-shirts made from unsustainable products shipped from who-knows-where wasn't enough.
He could make shirts out of the plastics polluting his beloved waters. He could start something.
"I didn't have a huge passion for fashion, it was more of a route to raise money and awareness for Great Lakes issues," he said. "But then I learned a lot about the impacts of fast fashion. Many industries have gotten arguably cleaner as we transition to renewable and solar, but fashion has actually gotten worse."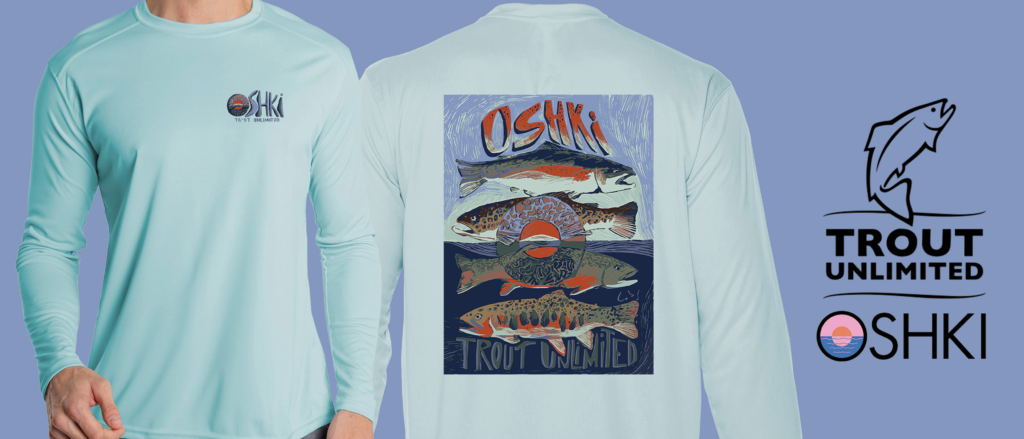 People are purchasing twice as many garments of clothing as they did 20 years ago and keeping them for half as long. "That stood out to me, and I wondered, how can I make my products more sustainable?"
One question led to another, one conversation to another, and soon Riegler was arranging community beach cleanups to collect plastic for recycling plants that could turn that waste into fabric for his shirts. The result has been a company that keeps expanding—including a commercial University of Michigan made of him and played during football games—and a new partnership with Trout Unlimited.
He's idealistic, sure, but also moving forward, said one of his former university professors, Sara Soderstrom. "For a teenager to get the media attention and buzz he's gotten, he could have sat on his laurels and used it to get a really cool internship and job and checked the box, and instead he's continued to think about, 'How do I make Oshki better,' and also, 'How do I take what I'm learning about Oshki to think about implications more broadly about business in Michigan and other areas that have the tension of nature being degraded.'"
He's struggling with the hard questions, exploring new ways to be even more sustainable and looking to make that difference. We caught up with him this summer to learn more about Oshki and those places where sustainable fashion and fishing intersect.
Buy A Shirt, Support Sustainability
Trout Unlimited is offering limited-edition Oshki shirts. Be a part of a collaboration that helped remove and reuse the equivalent of over 100,000 plastic bottles and get your shirt today!
Go to www.tu.org/TUshirt
What were you seeing and learning about that inspired you to leverage your landscaping savings to help the Great Lakes?
There were already a lot of threats toward the Great Lakes, and in 2017, the Trump administration had a $300 million budget cut in proposal for Great Lakes funding. I knew that was a real problem. To have budget cuts when there was already so many issues in Lake Michigan like invasive species and plastics. Basically, I wanted to do something for the preservation of Lake Michigan and the Great Lakes.
Where did the name Oshki come from?
It means "fresh" in Native American Ojibwe. The intent behind that name was that the Ojibwe tribe is native to the region, and it pays respect to the Tribe. My mom worked as an architect with the Tribe, and so I was able to talk with them and was able to learn a lot more about their history and culture. It was just really inspiring.
You talked about how the fashion industry has become, in many ways, worse for the environment. What does that mean?
Sustainable fashion is kind of a buzzword right now. And something that drove me crazy was companies were claiming to be "sustainable." And while they might have been sourcing things pretty "sustainably," a lot of these companies were sourcing from all over the world. So they might source their cotton in South America and their polyester in Asia. And what a lot of these companies weren't considering is the amount of emissions it takes to transport these goods all over, especially if your final customer is in the United States.
So you're trying to source locally? Is that pretty hard?
You can source sustainably, but you should focus on the central location, like for me, 98.99 percent of my customers are in the U.S., so I should produce out of materials that are based in the U.S. or Central America. I started working with a company called Repreve that uses plastics to make polyester yarn into clothing. The Repreve people we work with and recycling centers we're partnered with, it's all made of 100 percent United States plastic waste.
Where do you go from here? What's next?
We're doing a big fall line that we're prepping for right now. And the more I meet people the more I realize how much people love where they live and take pride in where they live and preserving the Great Lakes. This could go beyond what I ever thought was possible. There is a lot of room for expansion. Everyone loves the outdoors here, and it's a special community, and that's what gives me a lot of hope and ambition to where Oshki could go moving forward.
— Christine Peterson
Buy A Shirt, Support Sustainability
Trout Unlimited is offering limited-edition Oshki shirts. Be a part of a collaboration that helped remove and reuse the equivalent of over 100,000 plastic bottles and get your shirt today!
Go to www.tu.org/TUshirt