I may have finally found my solution to dependable travel luggage in the Simms GTS Roller bag, so forgive me if it seems I'm a bit too excited about it. You see, I have a toxic relationship with luggage. I expect perfection, even if I don't always return the favor.
Here's the backstory.
Several years back, upon arrival at Yelcho en la Patagonia lodge in southern Chile, I opened my trusty travel duffle only to find that, while I endured the rigors of uber-long plane flights, cramped middle seats and bland airline food on my journey from the states to South America, the bag endured an adventure all its own.
No less than three of the five rods I'd packed safely in their protective tubes, and two of my fly reels, each loaded with 7-weight line, were all but crushed. The PVC tubes wrapped in bomb-proof Cordura were just flattened, and the rods contained within were pulverized. It appeared as though, my bag, an expensive vinyl duffle that served me adequately for years, got caught in some sort of conveyor system and damn near exploded altogether. Luckily, I still had a pair of rods for the trip, and my fishing buddy's gear fared better on the trip south.
Two years earlier, on a trip to Argentina, I packed my goods in a quickly purchased rolling duffle (I'd lent my good bag to my daughter for a trip of her own), only to have to have the bag wrapped in plastic upon arrival because the outside pockets holding everything from tippet to toothpaste had come unstitched.
Some bags just aren't meant for the rigors of cross-continent travel. And it seemed I would never find a bag that safely transported all my gear while also being less of a burden navigating airport check-in lines, parking lot shuttles and Lyft rides.
Then I found the GTS Roller. GTS stands for "gear transport system," and Simms features a line of goods, from the roller bag that I'm now inordinately fond of, to an upscale rod vault, a reel vault and double-rod cases.
The roller bag is easily the best of its kind I've ever used. Three compartments (yes, three!) give travelers a level of packing flexibility that is unmatched. Imagine being able to to pack rods, reels, tools and fly boxes in the hard-sided base, loading the middle compartment up with soft goods, like shoes, rain gear, hats, wading boots and waders and then loading the top compartment with basic clothing. Inside pockets keep the little things protected — your toiletries, a good book, or spools of tippet and leader containers. Thoughtful outside pockets are good for more durable smaller items.
As a bonus, the bag seems perfectly designed to pack about 50 pounds of stuff. On a recent trip to the Bahamas to chase bonefish on the flats of Long Island, I packed four fly rods, half a dozen fly boxes, four reels, a pair of wading boots, all the needed tools, line, leader and tippet, and a week's worth of clothes, both for fishing and for wearing around the lodge. On the scale at the airport, it came it at 50 pounds on the nose. And the bag, by itself, weighs in just 11 pounds.
In the past, my roller bags have failed where it matters most — the wheels and the handles. The wheels on the GTS offering have a reinforced skid plate and an easy-to-grab, telescoping handle that's just the right length. As a bonus, Simms claims this system is "field reparable." I hope I never have to find out how to fix it.
What impressed me most was a feature I suspect many will appreciate. Rather than the usual snap-grab plastic connectors to cinch down the load and tighten everything up from the outside, Simms included a real steel hook-and-grab system that pulls everything tight and makes the bag feel totally secure.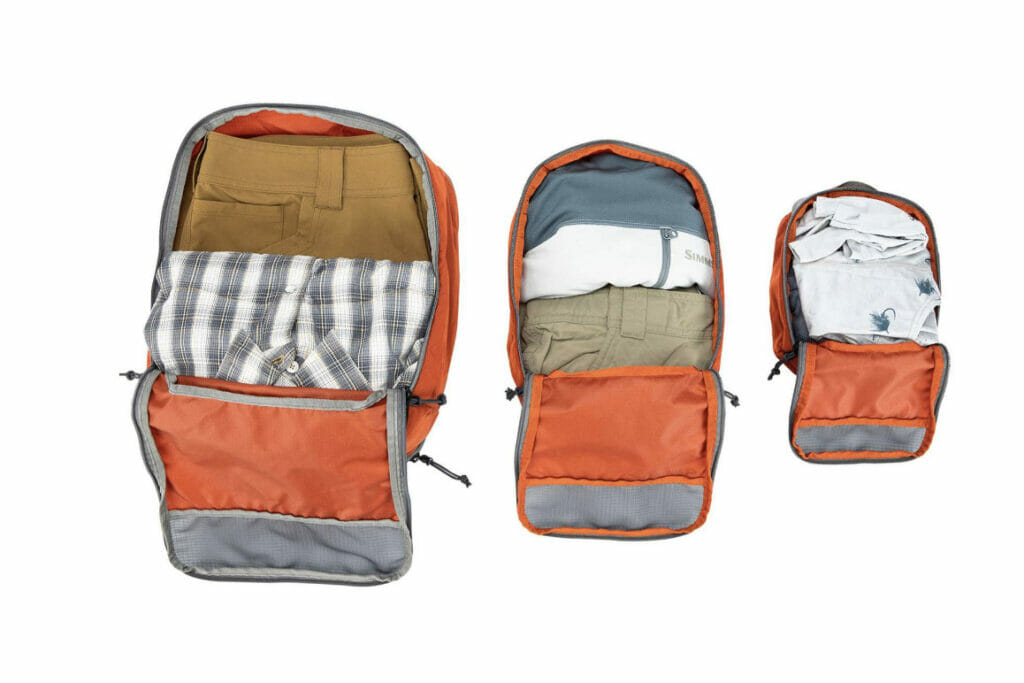 If you want to "go big," Simms also offers the GTS packing kit that might take the edge off your OCD — it's a cool little addition for those who like or need to stay organized when they're on the road.
With COVID-19 vaccines now readily available and travel back on the table as the pandemic hopefully continues to wane, it might be time to upgrade the travel luggage that's gathering dust in the closet, particularly if you're itching for a trip a bit more far-flung than the local trout stream. Longer trips require more durable luggage, and I couldn't be more impressed with Simms' offering. Considering how many bags I've worked my way through over the years, the $400 price tag doesn't scare me away — if I'd only found it sooner, I might have three more fly rods and a pair of reels in my closet, and I wouldn't have had to replace other bags that just didn't meet my needs.
After one trip in the books with the GTS Roller, I'm ready for the next adventure, knowing everything I need will arrive just as I planned. Here's to a long relationship with this luggage.