Remember the approach we took as kids when fishing?
"The big ones are all out in the middle."
So we'd cast as far as we could because, well, we wanted to reach the fish that no one else could.
We know now that such an approach is (usually) misguided on a literal level, but it's a mantra many of us still follow: The farther we get away from the crowds, the better the fishing will be.
So we hike deeper into backwoods streams. Use boats and rafts to reach spots unreachable to waders. And sometimes even drop big dollars for trips or access to exclusive private water.
I think we forget that sometimes great fishing can be right under our noses. In some cases, spots don't get much pressure because they are so easy to access that we all assume they get hammered. 
"Everybody fishes that spot in the park," we think. "No way I'm dealing with that."
But because we all think that, not many people actually fish the spot in the park.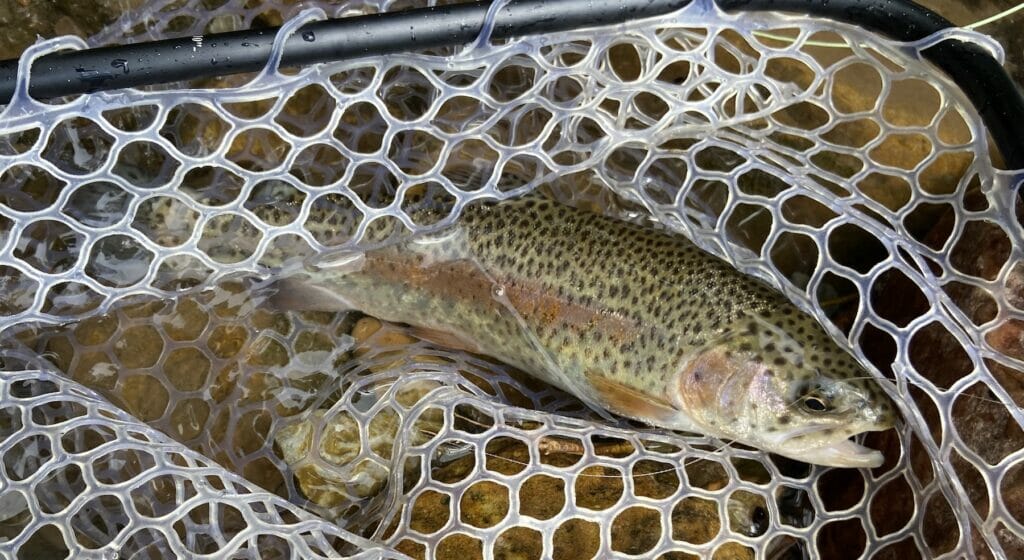 On the other hand, sometimes it can be a spot near a place that does get hammered.
The term "Special Regulations" can be like a bold "Fish Here!" invitation. Head upstream or downstream and there's a good chance you'll find the same kind of fishing that invited the special regs — without the crowds.
Sometimes there are other factors. During a recent trip out of town for work I ended up at one such spot.
It's a spring-fed creek I identified years ago after digging through a state database. Like I had hoped, it had fish — wild rainbows and plenty of them.
Since, I've found evidence of other fishermen there but never actually seen anyone else on the creek despite easy access.
Why so little pressure?
Noise.
The stream runs alongside a busy highway. With cars, trucks and even the occasional tractor trailer rolling by at a steady clip, this is not a place you go to if you're seeking a peaceful evening of fishing.
Still, a couple of times a year it's worth dealing with the sound of traffic for an hour or so for some fun dry fly action on the 3-weight.
When I lived in Virginia Beach, I fished a pond adjacent to the Oceana Naval Air Station. Casting poppers for bass as F-14 jets roar overhead on their final approach is, shall we say, interesting. But the bass didn't seem to mind.
I recently picked up a pair of noise-cancelling headphones. They are amazing. I admit that before I hit that highway spot the other day I considered wearing them.
I opted against it. Sure, I had to deal with the traffic noise. But even with that I could hear the tiny splashes as fish rose to my little parachute Adams. That sound makes dealing with traffic noise worthwhile.
At least for an hour or so a couple times a year.
Mark Taylor is Trout Unlimited's eastern communications director. He's based in Roanoke, Va., in the heart of Virginia's Blue Ridge.