Social distancing, Bahamas style. Chris Hunt photo.
When the pandemic hit home last spring — when the reality of lockdowns, quarantines and an alarming rise in infections turned our world upside down — I knew the first thing I would miss would be going places.
I love to travel. I don't so much love climbing aboard airplanes and making the journey to wherever I'm headed, but I love being wherever I end up, especially if it's somewhere on the water with a fly rod in my hands.
A few weeks ago, when I got my first dose of Moderna, I reached out to some friends on remote Long Island in the Bahamas. It was there where I first learned to chase bonefish on the fly, and I wanted to go back and see the island and its endless flats again. It was almost a feeling of desperation … like … I needed it after a year of fishing close to home.
I was feeling a bit emboldened — one dose behind me, one more to go, and then I'd feel somewhat comfortable taking a trip that required some serious planning. I got in touch with a couple of far-flung friends — guys I'd seen precious little of thanks to the coronavirus outbreak — and we concocted an adventure. We'd rent a car and seek out the flats and beaches of the island. We'd drink cold Kaliks, eat conch salad and wear ourselves out each day walking miles across sand and mud in search of bonefish.
And, while the fishing wasn't great, the trip was. We fished through a full moon, which wasn't ideal, and while we saw and caught a few, the bones were spooky and picky. But I think all three of us realized that it wasn't the fishing that we missed so much — it was the ability to actually go fishing that we were craving. To hop a plane, clear customs and pull a fly rod out of the tube and just wander. And to do it with friends was even better.
We had to jump through the the COVID-19 hoops, of course. We all three had to test negative for the virus before we would be allowed into the country, and then we had to test negative while in the Bahamas in order to be allowed to come home. Masks were the norm, social distancing was a given and just general respect for the folks on the island was a must.
I also realized that, as much as we missed the ability to go fishing, the folks on the island desperately missed people like us, who essentially power the economy and bring outside money to a remote location that desperately needs it.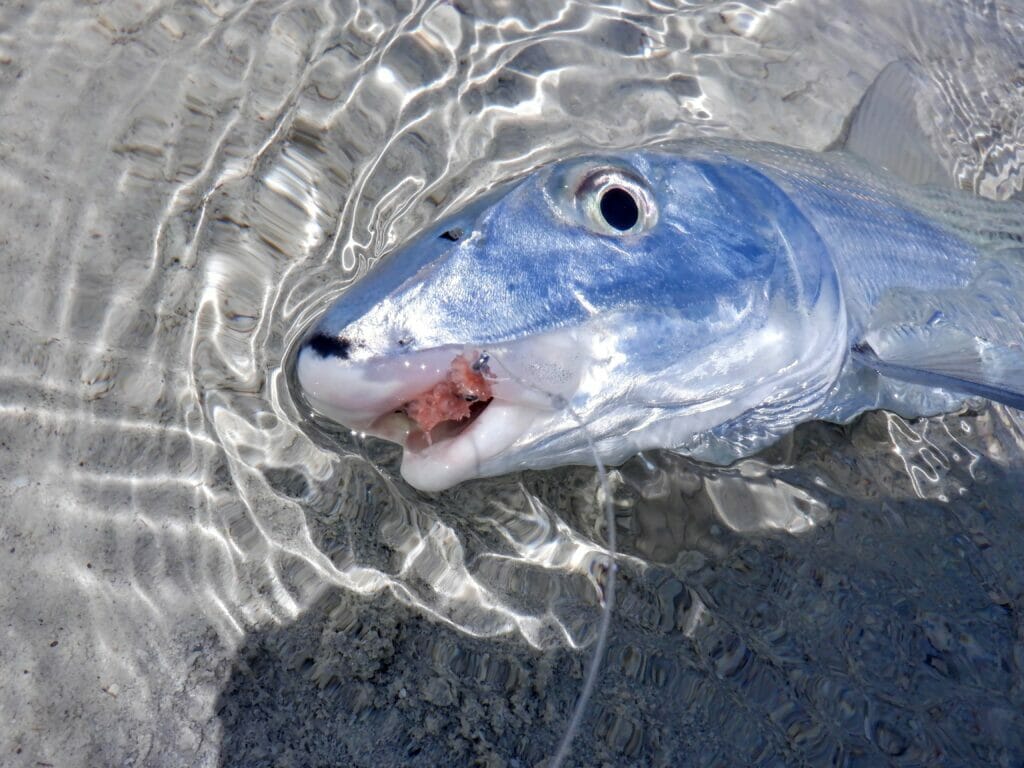 While I'd never actually suggest to anyone that traveling during the time of COVID is something they should do, I can confidently say that, if you can follow a few simple rules, be considerate to those you encounter while in transit and be smart about the process, it's a doable proposition.
The point? We've arrived at a point in the pandemic where everyone knows the basics — or they should. More and more of us are getting vaccinated and, while we can't let our guard down, with the proper precaution, hopping a plane and taking a trip isn't something that should be out of the question.
As I said, as much as I've missed traveling, I think the folks who depend on visitors from afar missed us even more. If you can, and you feel comfortable doing it, make some plans to travel and fish.
I know, for me, it was exactly what I needed.