Matt Jennings and I are standing on the bank of Wisconsin's Root River on an early spring day. And we are plotting.

"I think we need to cross down there," says Jennings, who then starts pointing his fly rod at various spots in the river. "We'll hit that one first, then that one, and then that one."

The "ones" are fish, stout steelhead that have recently entered the river from Lake Michigan and that are holding throughout the thigh-deep run.

Plan finalized, we cross at a downstream riffle and work back into position for the first shot.

"I get to fish here a lot," says Jennings, who lives not too far away in a suburb of Chicago. "You're up."

The fish hits on the fifth or sixth cast, and rips off up river.

Five minutes later the fat 10-pound buck is in the net. Then it's Jennings' turn. We're on river right and Jennings is a lefty, so the cast is a little tricky. He is cautious, taking his time to make a good presentation. It works and he is soon hooked up.

We are both giddy.

For years I've been hearing about how amazing steelhead fishing can be in Great Lakes tributaries. But in my few previous trips the fishing had been tough.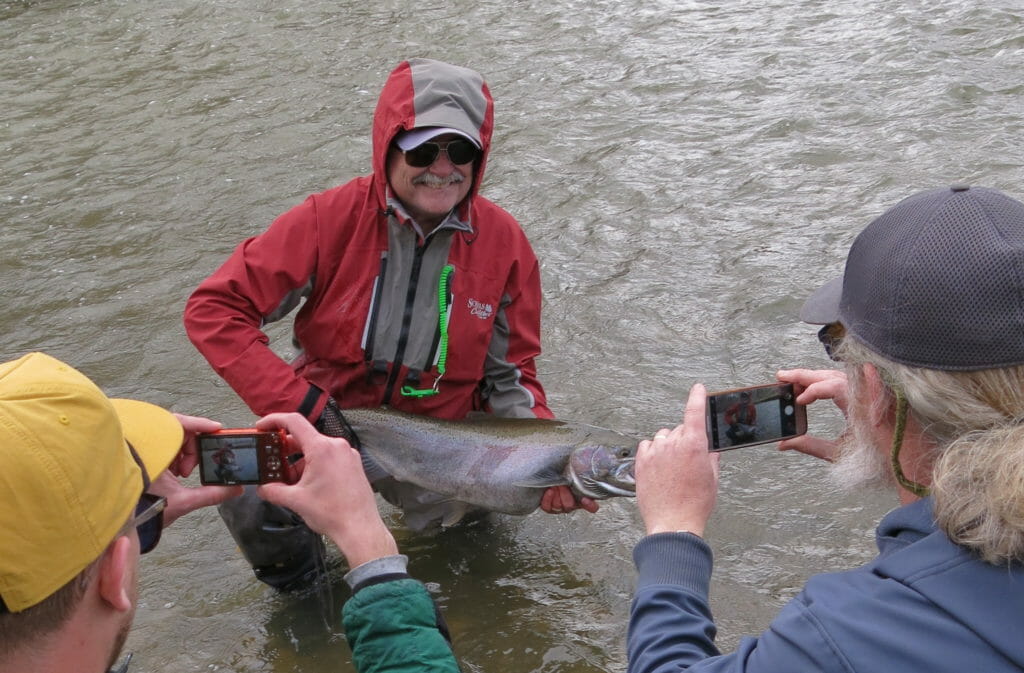 That's what often happens when we try to fit in a day of fishing here and there while traveling. When you're committed to a day you simply can't account for changing conditions, be it with river levels, weather or the mood of the fish.

"You should have been here yesterday (or last week)," is a cliche', but it is one because it's so often appropriate.

This was one of rare occasions when I was actually on the water for one of those epic yesterdays.

A group of us were on the Root River as part of the "fishing day" held prior to Trout Unlimited's upper Midwest Regional Rendezvous meeting, held in Zion, Ill.

During fishing days, local hosts volunteer to informally guide meeting attendees on area waters. It's always a crap shoot because, well, it's one day. I was on the host side a couple of years ago when the TU annual meeting was in Roanoke. It was hot. Rivers were low. The fishing was brutal.

It seemed at first on that brisk Friday morning in Wisconsin that we could be in for a slog.

Despite good guidance from local volunteer Jim Jones, fellow TU staffer Taylor Ridderbusch and I were struggling, losing lots of flies on the Root's rocky bottom.

We had wandered upstream from our starting spot when we ran into Jennings and fellow mentor Jerry Sapp and their crew.

"Get in there," Jennings said. "There's room."

They had actually arrived on the Root only shortly before us, bailing from another river when the fishing was slow. The move was a good one, as Rodney Schwartz, a chapter president from Nebraska, already had landed a massive lake-run brown trout.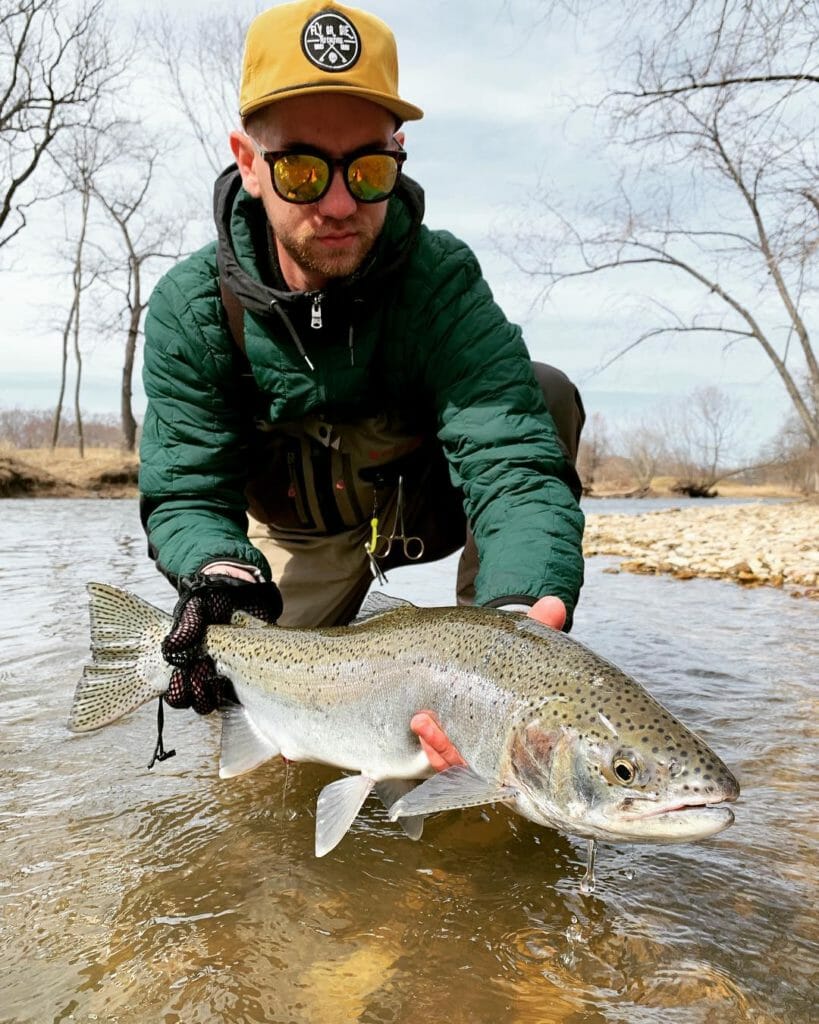 And there were fish. Quickly I hooked a big brown that jumped once and broke my tippet. Armed with heavier tippet I was able to handle the next big brown, a fat 29-incher that had to weigh at least 10 pounds.
Ridderbusch, TU's Great Lakes advocacy manager, was celebrating his birthday on the river in good fashion, landing a couple beautiful steelhead. Schwartz followed his trophy brown with a 12-pound steelhead, his first ever.

Egg flies and beads were money. Barely did 15 minutes pass without someone hooking up.

Jennings had been deferring to us all day, so as the afternoon turned to early evening I urged him to walk upstream with me to try for some steelhead I'd spotted earlier in the day.

"We've got to roll out of here pretty soon so let's give it a shot," I said. "This crew is in good hands with Jerry."

So we headed up and connected with three more steelhead in the 30 minutes we had left.

Heading back to the car Jennings could only shake his head.

"I've fished this a lot," he said. "I've never seen it this good."

A couple days later I pointed out on a map the exact spot to another co-worker who planned to fish the Root River the day after the meeting.

"Well?" I inquired after his day on the water.

He saw one fish caught. The guy who caught it told him he'd been fishing hard for a week.

"It's been really slow the past couple days," the guy said. "You should have been here last Friday.

"It was awesome."