Native fish come first at Trout Unlimited. Wild trout come second, when they do not compromise native fish. Hatchery fish do not belong if they interfere with wild and native fish.
TU was founded on the banks of the Au Sable River of Michigan by a group of anglers who were frustrated that the state was masking the effects of habitat degradation by pumping out more and more hatchery trout. Our forebears would be proud, for example, of the Deerfield River chapter in northwest Massachusetts, which is working with the state and a dam owner to provide sufficient flows so that its namesake river can support a wild trout fishery without the need for stocking.
Yet on the home river of one of the most conservation-oriented chapters in the country, 1.2 million non-native rainbow trout are stocked every year. The Guadalupe River in Texas is a completely artificial trout fishery. The state built a dam for flood control and irrigation, and stocked trout, and decades later, we have a man-made destination fishery.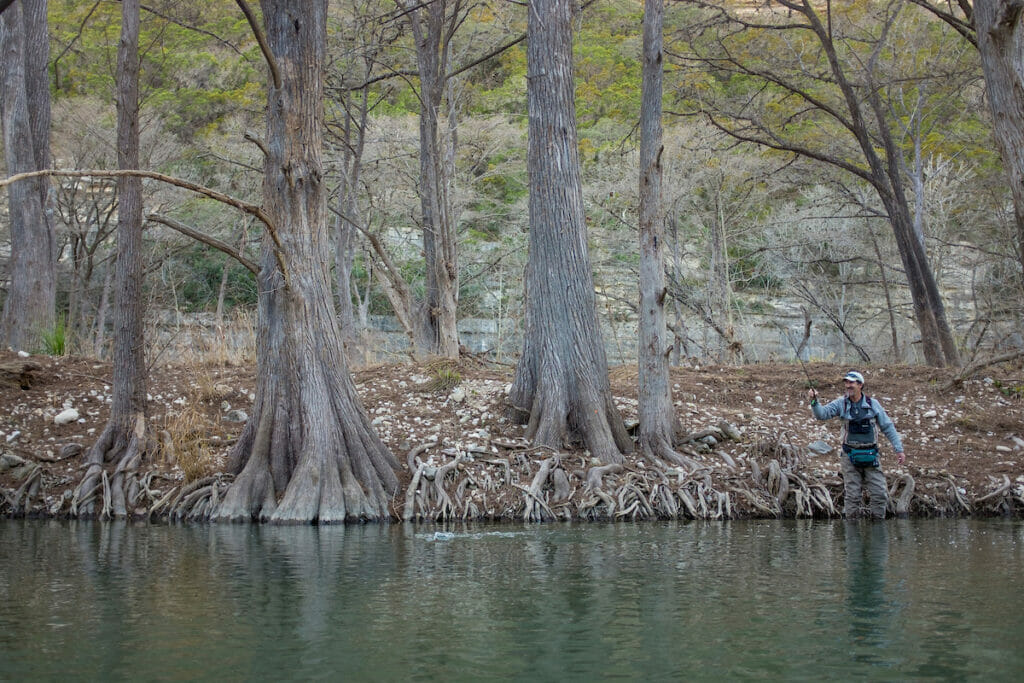 This past weekend several thousand people turned out on the banks of the Guadalupe for Troutfest, an annual event organized by the Guadalupe River chapter of TU (GRTU). Dozens of volunteers are involved in pulling off this weekend-long event, but special thanks go to the event co-chairs, Bill Marshall and Lise Lozelle.
I was blown away by the thousands of people who attended. Equally impressive was the number of young people there to learn about TU, the fishery, and conservation.
Dozens of vendors showed up to hawk their wares, including a number of TU Businesses, such as Living Waters Fly Fishing and Spoke Hollow Outfitters.
Multiple colleague nonprofits had booths, too. TU staffer Franklin Tate and dynamic national board member Judi Sittler ran a TU Headwaters booth.
Among many other things, the agenda included a presentation by the head of the Texas Parks and Wildlife Division; a talk about TU's new direction; a lesson on catching game fish in Louisiana; tips on how to fish the Guadalupe (where we heard the tantalizing proposition that wild fish are spawning in the river); and a round-table discussion of conservation issues on the Texas coast involving flounder, oysters, and speckled trout—not exactly coldwater conservation.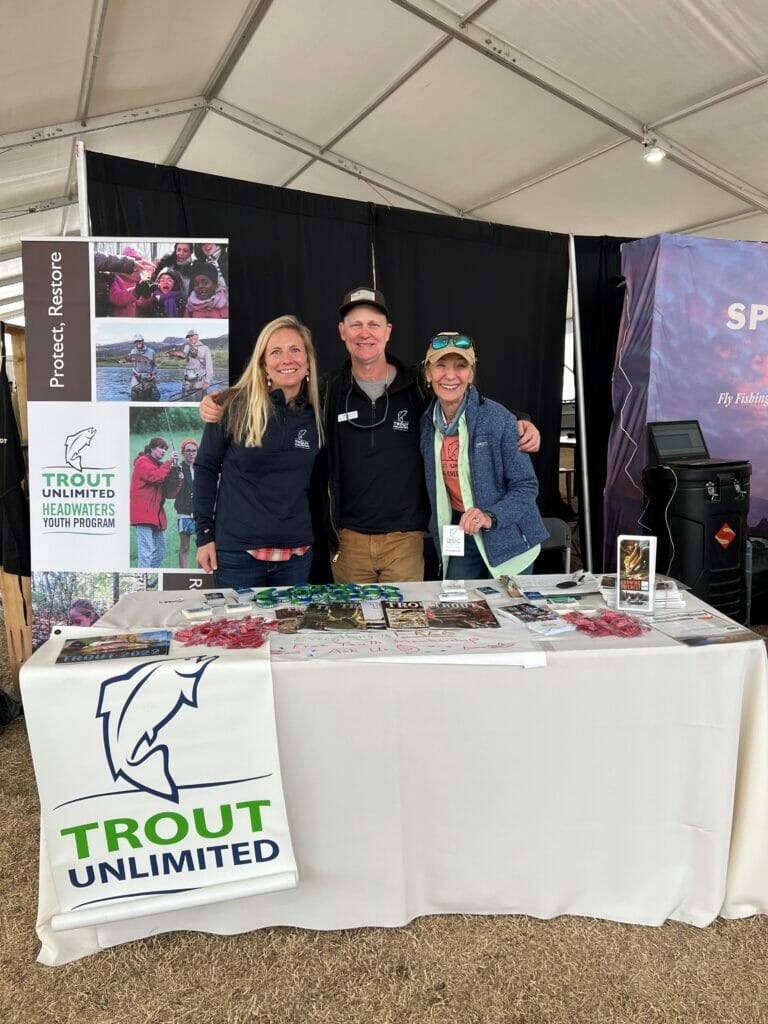 What is most impressive about GRTU is its capacity to look outside the confines of its state and its engineered river, and drive important conservation changes around the nation—especially when it comes to native fish.
Fifteen or so years ago, soon after TU took up the mantle of fighting the proposed Pebble Mine in Alaska, I received a call from Mick McCorcle. He later served with distinction as the head of the NLC and as a trustee, but at the time he was the GRTU chapter president.
"Chris," Mick said, "GRTU wants to send you $10,000 to fight the Pebble Mine."
I paused for a moment. "Do a lot of your members fish up there?"
"No. None. We just think the finest native trout and salmon fishery on the planet needs to be protected."
A few years ago, we had our annual meeting in California, and Rafael Torres, who was in GRTU's leadership, put his arm over my shoulder. "We want to talk to you. Tonight."
With some trepidation, I agreed to meet with Rafael and several of the GRTU volunteers like Phil Dopson, Brad Gardner and Mark Dillow. At the table, Rafael asked, "Chris, we want to help support youth education in TU. Are you on board with youth education?"
At first, I thought this a trick question. I slowly nodded.
"Good," he said. "We are committing $100,000 to creating the Tomorrow Fund to help with the Headwaters program and its highest priorities. What good is it for us to work on conservation today, if tomorrow's adults don't support that work?"
In addition to its support of Bristol Bay and our Headwaters program, GRTU has backed native brook trout restoration in the Driftless area of the Midwest. The chapter was also an early financial supporter of our efforts to suppress invasive lake trout from Yellowstone Lake and recover native Yellowstone cutthroat trout.
In New Mexico's Los Alamitos Creek, the chapter helped to fund the development of a barrier to protect a strain of genetically pure Rio Grande cutthroat trout. In New Mexico, GRTU helped the TU council get rid of non-native brown trout on Willow Creek and reintroduce the Pecos strain of native Rio Grande cutthroat trout.
GRTU also helped the Pikes Peak chapter of TU in Colorado engage a scout troop to conduct a restoration project near its camp, to the benefit of native trout.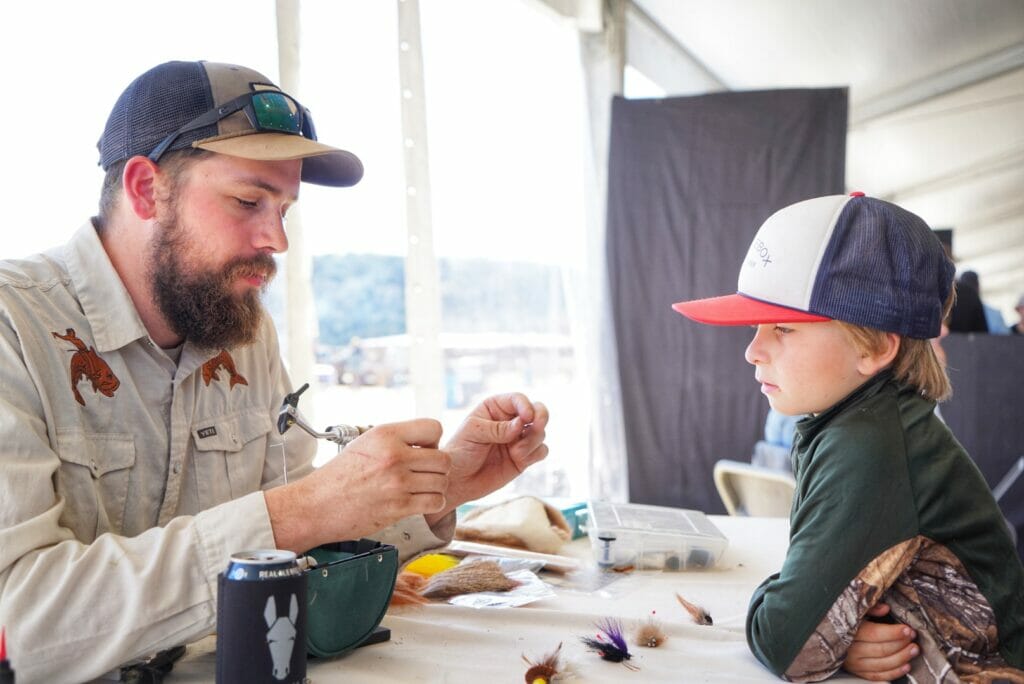 Why is a chapter with such a tenuous local connection to native trout and salmon so committed to its restoration? It might be because its members realize that as the native trout go, so do we. If we cannot care for and recover the lands and waters that sustain us, why would we believe a better future lies ahead? That may also explain GRTU's commitment to the Tomorrow Fund. Without a new generation of conservation stewards, who will hold the line when the next greedy company tries to sacrifice a place like Bristol Bay, one of the world's most important salmon strongholds, in the name of profit?
The Guadalupe River chapter of TU, in the absence of any (or perhaps "many?") wild and native trout of its own, continues to lead the way in TU's efforts to engage diverse communities to care for and recover rivers and streams so our children can experience the joy of wild and native trout and salmon.
Bully for GRTU!