By Jake Lemon
In October, Trout Unlimited volunteer Mike Smalligan went for a scenic paddle down Michigan's White River. Mike was out to enjoy a brisk fall day on the river, and to inventory disturbances in the watershed using TU's new RIVERS app. This inventory, a partnership between TU and the White River Watershed Partnership, identifies potential restoration project opportunities by recording areas of damaged or degraded habitat.
While paddling Mike noticed a tiny tributary with a large pile of sand deposited in the channel. He walked a short way up the tributary to find a road culvert with a large amount of sediment below it, and a massive amount of erosion above. The erosion was threatening the nearby road and washing large amounts of sand through the culvert and into the White River.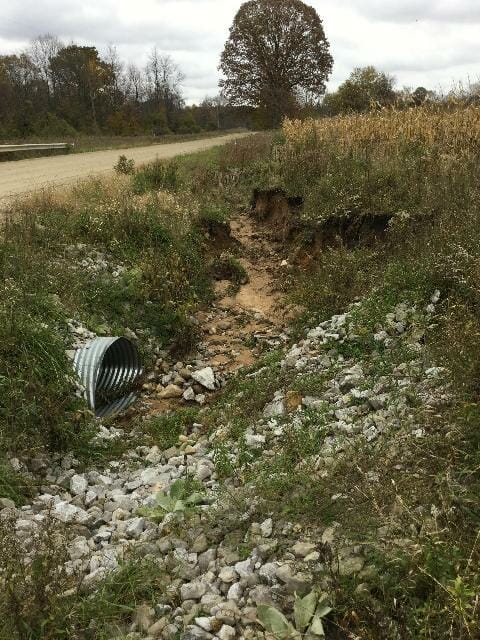 The photos and descriptions Mike collected through the RIVERS app were shared with the Newaygo County Road Commission, who responded quickly, fixing the issue less than a week later. A win for the river and local infrastructure.
"We realize that often times roadways and the maintenance of those roadways put a strain on the natural habitat, and it is our goal to minimize the possible negative effect we have on it all the while providing a sustainable road system," said Kelly Smith, Manager of the Newaygo County Road Commission. "Responding to disturbances in timely manner can lessen the impact on those natural resources.
"While that is not always possible due to circumstances it remains a goal for The Newaygo County Road Commission."
The RIVERS mobile application is a convenient way for TU chapters and partners to collect data and map disturbances on their home waters while fishing or conducting a watershed inventory. This online database, with geolocated photos, provides a resource for easy sharing and storing of water quality and habitat issues. Chapters, watershed associations and other TU partners can use RIVERS to build a catalogue of potential restoration projects to help identify and prioritize projects when funding opportunities arise.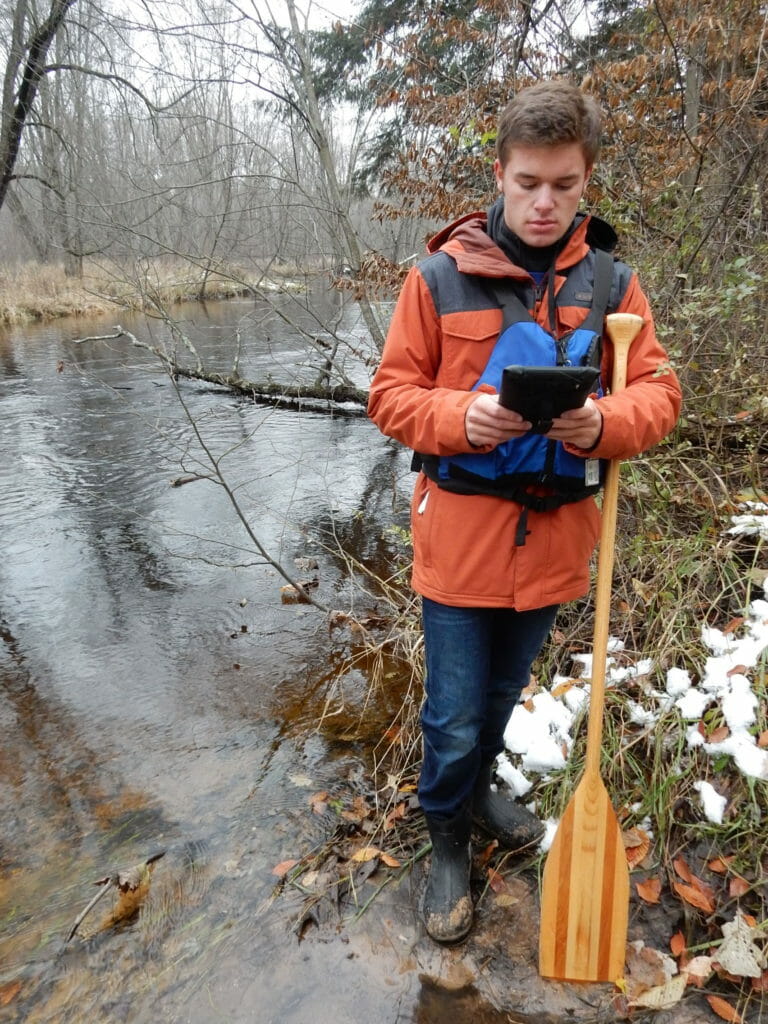 At a training on the RIVERS app during the TU Southeast Regional Meeting in Dillard, Ga., volunteers walked a small stream, noting culverts and riparian vegetation issues. Suddenly, the stream went from gin clear to chocolate milk. The newly trained volunteers documented the issue and investigated upstream, finding cows wallowing in a small tributary.
TU has extensive experience in conducting outreach to farmers to identify collaborative opportunities to improve habitat and water quality, while also providing water for livestock. Using the RIVERS app, this issue was documented.
In Pennsylvania, a fish kill on the famed Letort Spring Run was documented using the app.
Having folks on the stream who know what to look for, knowing how to effectively document issues, and having a user-friendly database to store and share that information greatly increases the likelihood of such issues being addressed.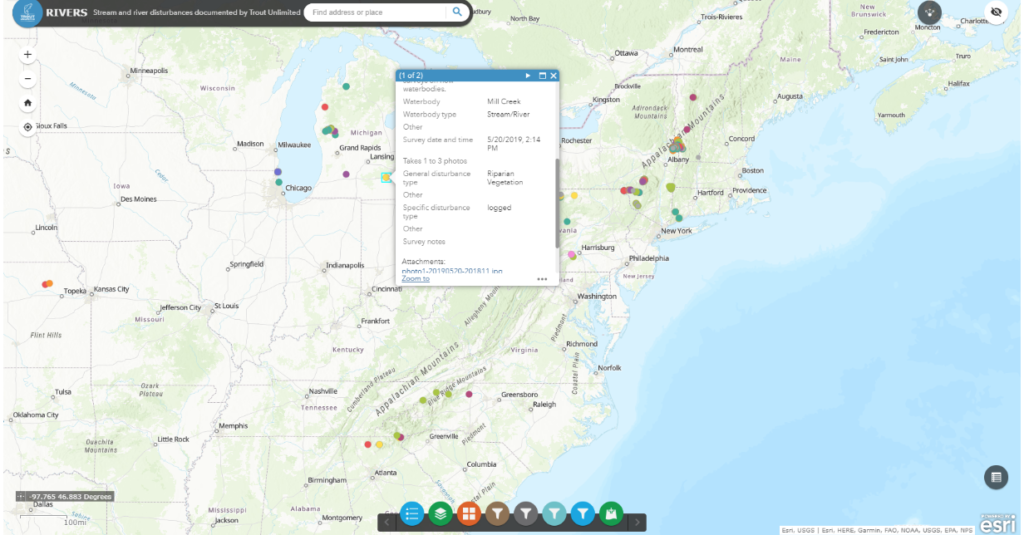 Every angler should have the RIVERS app on their phone to help TU and our partners develop a much more robust understanding of issues affecting our streams and rivers, and to be better equipped to prioritize projects that will have maximum conservation benefit.
TU has developed several RIVERS training documents that explain how to get the app on your phone, what to look for on the stream, how to take good photos and how to use the RIVERS database.
The app even works in areas with no cell reception.
Mike Smalligan, who grew up in the White River watershed, spends many weekends paddling the White and cooling off in its waters. This strong connection to the river drives his efforts to improve it, whether through the RIVERS survey or the Forests for Fish initiative, which seeks to better integrate water quality and aquatic habitat outcomes into forest management.
The RIVERS app provides volunteers such as Mike with a platform to help turn their everyday observations into actions that help protect and improve our coldwater fisheries.