Normally, I would've recently returned from a saltwater fishing trip this time of year. But as we all know, 2020 is far from normal. COVID-19 isn't a great excuse for me because I haven't even seen the ocean in three years. Priorities, huh? But I can still dream about the trip that could've been and reminisce about trips of years past.
The crystal blue waters and cool ocean breezes counteract the intensity of the fight once a bonefish, tarpon, permit or other saltwater species is attached to your fly. I love the mornings heading out on the skiff to a flat with so many colors of blue passing in an instant and the anticipation of what's to come for the day. I relish the soggy sandwiches and cold beer for lunch, but mostly I just hanker to fish for something other than trout.
My saltwater obession started with a trip to Roatan, Honduras, to celebrate my and my husband's 30th birthdays. Since we were born six days apart, it's easy to celebrate together. This maiden voyage brought us to a small, eco-lodge miles away from the bustling scuba diving hub of the rest of the island. We stayed in perfectly appointed cabanas perched just offshore over the water and fished early each morning, returned for a siesta and then went out again for the evening. We learned about nervous water, how to watch for tailing bones and eventually found the knack of finding them cruising the flats.  
Once I started working in the fly fishing industry handling public relations for a few clients, I was invited (as well as planned) some great media trips. One of my first was with Ross Purnell, the editor of Fly Fisherman, to Ascension Bay on the south end of the Yucatan Peninsula. I'd say it was a perfect trip with many bonefish coming to the boat, my first (and only) permit, a barracuda and rounding out each day with snorkeling and a shot or two of tequila.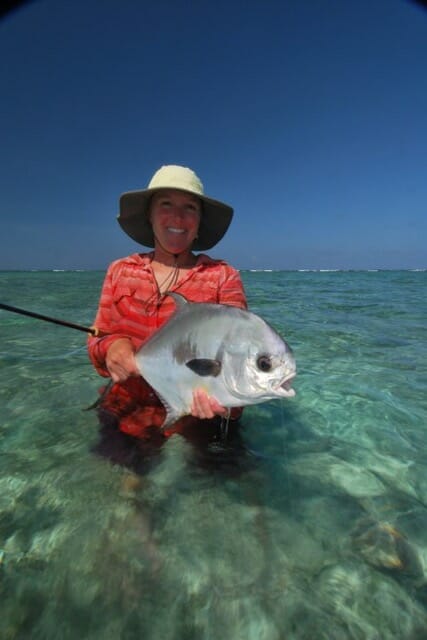 Another great trip with Ross handed me my first tarpon, and after a 45-minute fight, I landed a 75-pound behemoth (at least to the small, 110 pound me) and rejoiced with a cannonball into the pool upon returning to our hacienda. On that trip, Ross caught a beast of a tarpon and as he nearly got it to the boat, a massive bull shark nosed the boat trying to get at the fish. We tucked back into a small cove to revive and safely release the fish. Celebratory beers and cheers for all.
The only time I've ever played matchmaker culminated in a lovely beach wedding near Playa del Carman, so after a few days of reveling in love, my husband and I booked a guide near Mahahual, Mexico. On the first afternoon, we pulled up to a small roadside pullout and launched his camouflage boat through some dense mangroves into a cenote filled lake. Catching baby tarpon on poppers was the name of the game, and after three days of doing just that we had a serious case of poon-thumb with the skin rubbed raw from their sandpaper mouths.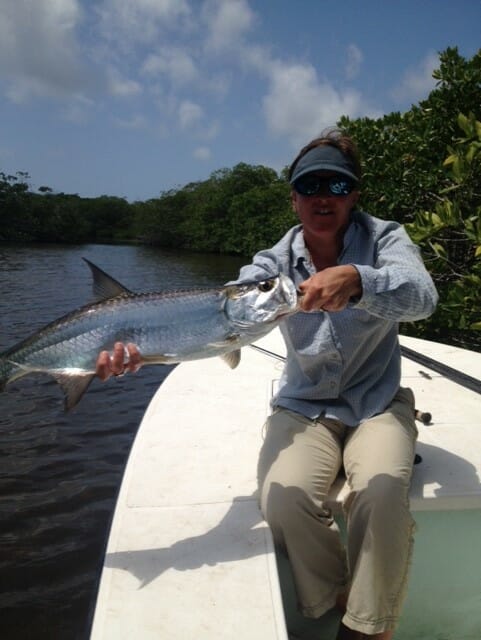 The last saltwater trip I made was to the Florida Keys for tarpon. This trip was again with Ross, but this time I brought along my husband. Our plan was to deck out some stand-up paddle boards Ross was tasked with testing for the magazine, paddle along flats and cast at some fish. With small anchors, coolers and our fishing gear, we launched from public beaches and fretted to think about how far we'd get towed if a 100-pounder latched on. Luckily (or not, depending on how you look at it), we didn't catch any fish. We had pods of 100-plus-pound tarpon roll by us, we saw lots of rays and small sharks, but the best had to be when we had a manatee swim with us during a long afternoon paddle for nearly an hour or more. It was an incredible trip and one that I hope to repeat soon.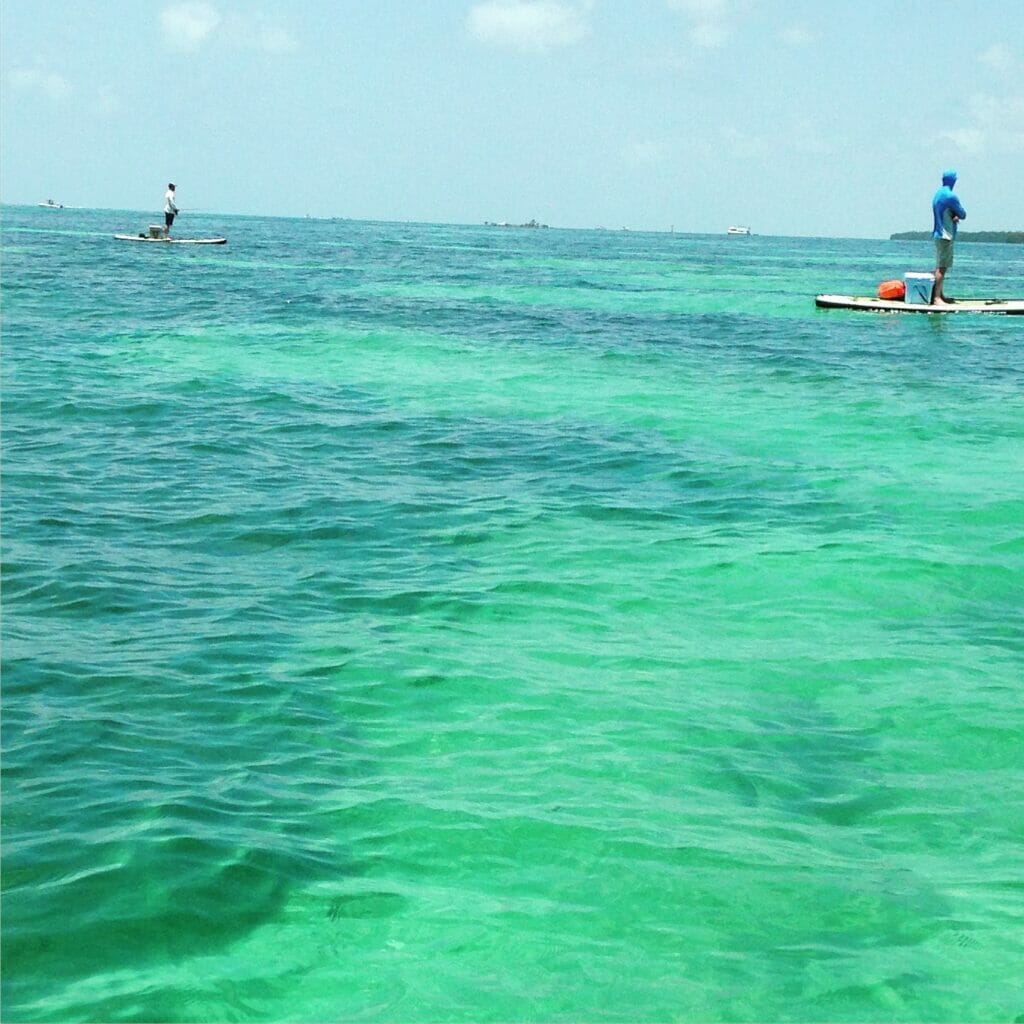 Now that spring saltwater season has nearly come to a close, all I can do is dream about my next time fishing for saltwater species. In the meantime, I'll be daydreaming in my hammock overlooking a trout creek.
Here's to planning a saltwater trip for 2021.