The giant ponderosa peers over blue-green water cascading and flowing around boulders, plunging into pools and meandering in eddies. This tree must be well over 100-years old. It stretches skyward with giant, twisted branches leading to more twists and turns extending over a spectacular reach of river. The pumpkin and burnt-orange bark has splits and cracks in its puzzle-like texture and its hunter-green needles extend long at each branch tip. 
Oh, to know what this tree knows and to see what it has seen.  
Lurking beneath the surface of the water reside beefy browns and hungry rainbows. I know they are there, but today they are not showing themselves. This ponderosa knows where they are and gently sways in the wind perhaps telling me which runs will be most successful. I lay at its base to smell the sweet vanilla smell and watch birds soar in and out of its branches. I marvel at the immensity, the age, the strength and the wisdom of such an impressive specimen. I highly recommend this method of passing time when the fishing is slow.  
After a while in awe, I wonder what fly I'll try next. It's too cold for dries, though, of course. I tried. I have a nymph rig going, so I guess I'll choose a flashier pattern. After another sniff of the bark, I wade next to a deep run. I add a bit of weight, tie on my chosen fly and roll cast into the run. I wait, wait, wait for it to sink and … nada. Cast again, wait again, again nada. I'll try another fly in a few casts, but first, I need to let my fingers warm up.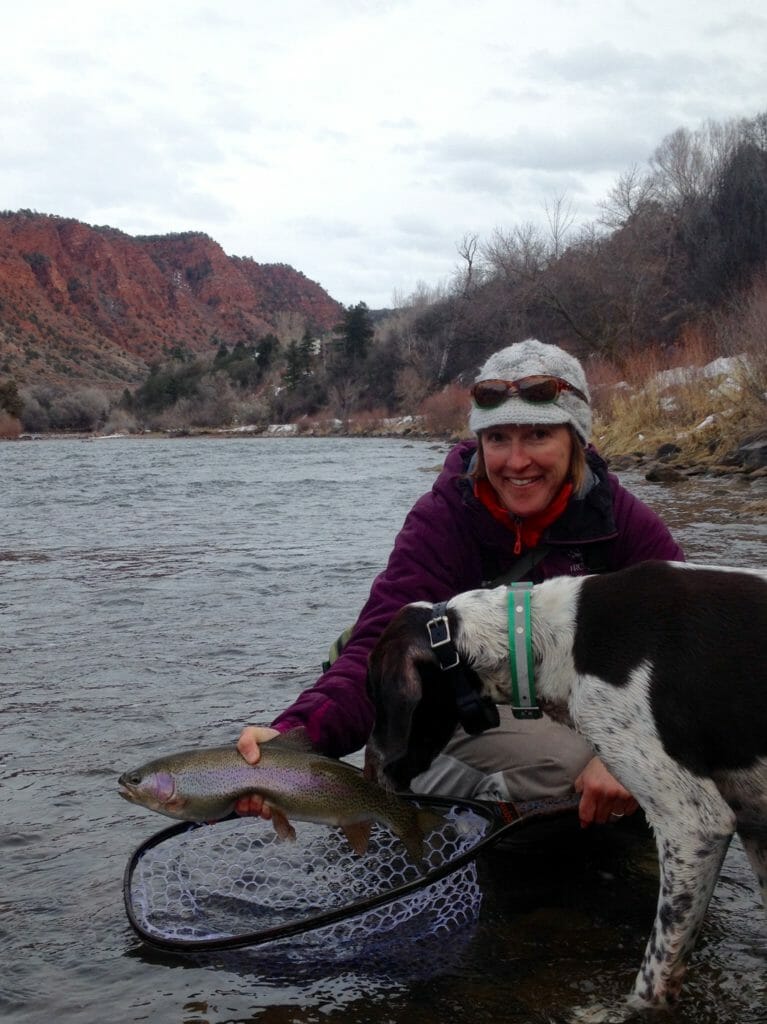 In between casts, I gaze up at the pondy to see if it will give me any advice. With my neck craned, I peer to its top seeing clouds breeze by and its uppermost branches seemingly grazing them. I'm pretty sure it just whispered, "Tie on a streamer."
With warmer temperatures lately and longer days, I think, "Of course, fish are ready to eat!" I tie on some meat and move my footing a bit upstream.  
Once I have the cast dialed and the drift just right, I start to strip. The wet line is cold against my bare hand, but it keeps me aware. As the streamer tumbles downstream, I gaze up at the tree — after all, that's the best part about streamer fishing: you can look around. I look down momentarily to cast again, then strip at a different pace and stare skyward. I see a hawk gliding effortlessly to the pondy's south side to gather a bit more heat from the dipping sun. I feel my fly stop and give the line a short tug. Just a rock. After inspecting my fly, I give it a few more goes. Nothing.  
With numb feet and the wind picking up, I begrudgingly exit the water for the day. Catching was not in the cards today, but I'm ok with that. I got to stand under one of my favorite trees in one of my favorite runs and experience all the river has to offer. Next time, pondy, I'd appreciate it if you gave up just a few of your secrets. I'll give you a hug, and maybe a kiss, too.  
Kara Armano is TU's southwest region communications director.