Native Rio Grande cutthroat trout.
Contrary to many conservation-minded anglers, I am one who believes that, along with cockroaches, coyotes and Siberian elm trees, brown trout will survive the apocalypse.
They possess many of the traits we Americans admire most: they are intelligent, confident, adaptable, rugged, ambitious and breathtakingly handsome. And for the time being anyway, they seem blissfully oblivious to our ever-warming climate. 
I love brown trout with all my heart. I really do. If browns could play even Steven without taking over completely, I'd be all for allowing them a place in native cutthroat trout ecosystems. Alas, there's a shadow side of the aforementioned attributes: the competitiveness of brown trout, their non-stop striving towards dominance. Equipped with such teeth and seemingly limitless appetites, they think nothing of eating big things, cutthroats included. As fall spawners, they reproduce more successfully in cutthroat streams while making cutthroat reproduction less successful.
And did I mention browns were smart?  
It amounts to the ultimate paradox: if browns could peacefully coexist with cutthroats, then the myth of the brown trout — of which cold brutality and badassery are invaluable aspects — would be destroyed.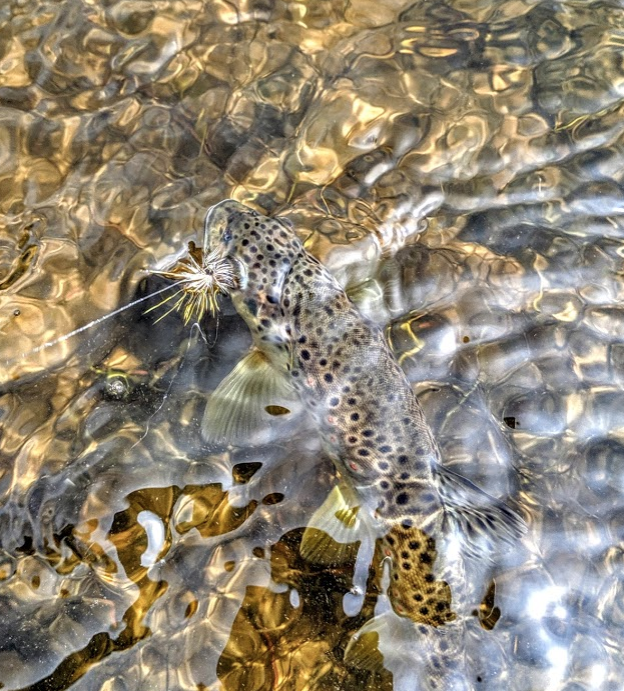 Many sportspeople might contend that, as a force of nature, the brown trout should be free to take its course. Unfortunately, the apparent trajectory of "nature's course" leads to a gold mine in Bristol Bay, a do-less-than-nothing approach to climate change, and hatcheries as cure-alls for declining fisheries.
So no, something must be done about the browns. 
I'm talking about the headwaters here, not the mainstem streams where brown trout removal would be unpopular, expensive and probably ineffective. Columbine Creek, a tributary to the Red River near Questa, N.M., is home to a most beautiful strain of pure cutthroat. Until recently, a waterfall about two miles up the trail from Columbine Campground was thought (by the Forest Service and New Mexico Game and Fish) to be an effective barrier to brown trout invasion. Sadly, browns are everywhere above the falls now. Their populations need to be stabilized or reduced until a more comprehensive removal strategy can be developed. Until then, it's up to anglers to at least try to stem the tide. 
Like many, I cut my teeth on small streams before growing into more adult-sized fisheries and fish. And while I've continued to dabble in tiny streams, it's mainly been to fill an hour here and there, to throw a couple casts en route to home and other commitments. Certainly I haven't taken creeks as seriously as I did as a fifth grader, when I recorded the fish I caught on a stat sheet and my girlfriend was not a human but whatever fishing mag had most recently hit the newsstand. 
But that's going to change in the face of the brown trout onslaught. Yesterday on Columbine, through its abundance of deadfalls and groping streamside brush, I caught eight browns (saw many more in several age classes) and two cutthroats (one very adult age class), a reverse ratio to how my fishing went just two years ago. I realized that catching fish in small water isn't as easy as simply dusting off childhood skills, especially since childhood's smaller and more durable body is so many decades gone. I also learned that there are benefits to playing the creek game with adult financial resources and wisdom.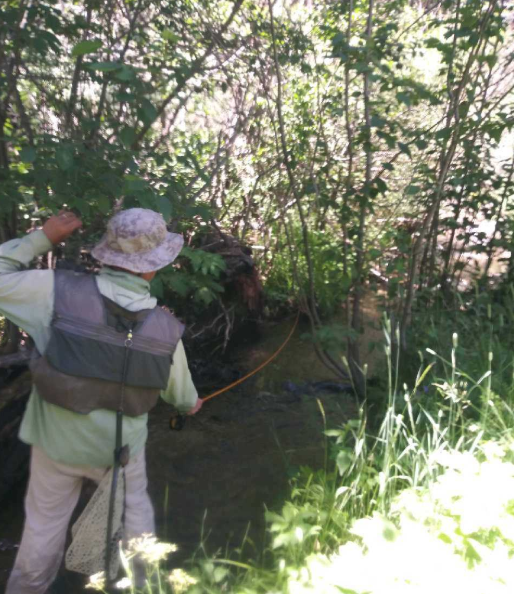 Other things I learned:
Use two casts, the bow and arrow and the dap. With the bow and arrow, sight your target off the rod tip. Sometimes when dapping, you won't have room to flip the fly and can only lower it to the water. Do so under tension – as opposed to just dropping it – to ensure a solid hook up. Using a Panther Martin spinner or a lure-like heavy beadhead helps maintain a tight line and will result in many fish hooking themselves. 
Gear matters. A short, soft rod will keep a bend in tight spaces, which helps to keep browns from flopping off barbless hooks (a must, since you will hopefully be hooking cutthroats, too). A short rod is easier to steer through thick forest, and it's fun to be able to fight fish in the space of a hall closet. Leaders should be a tad longer than your rod, tippets strong enough to lift bigger browns onto the bank. Creek fish are not leader shy; they are drift shy. Columbine fantasy add-ons: a machete or handsaw and a forest colored hockey helmet. 
Camo matters. As forest animals, trout rarely encounter broad patches of a single color, and when they do, they usually run from them. Camo head, face and legs. Stick and leaf patterns, green-themed for summer, yellow and brown for fall. Until fall arrives, my yellow fly rod will be a liability. My white beard sticks out like the sparkling jewelry you shouldn't wear when fishing creeks. 
Before approaching a likely spot, take some time to scan the water for tattler fish. Determine in advance the best combination of concealment and operating space for presenting, hooking, and landing. Stalk as glacially slow as possible; instead of being the backdrop, focus on becoming it. 
Make notes, numbers of species caught, hooked, and seen. Sex of harvested browns, ease and difficulty of stream access, potential spawning sites. Until more comprehensive restoration can be implemented, the information you gather might help agencies with planning.  
If you fish in late fall and encounter finished spawning beds, crush them completely. I know it feels horrible and goes against our most fundamental conservation instincts, but it's necessary in these invaded habitats. Knocking back the browns is the objective.
Prepare for keeping fish. Bring plastic bags, a cleaning knife, and a cooler full of ice in the car. Collect awesome trout recipes. Wild trout from headwater streams is clean and healthy food, and the effort you've taken to acquire it makes it that much more delicious.