By Mike Enos
The bobber began to twitch and then it submerged twice just before taking off in an arc across the glassy surface of the lake.
Just as her line, seemingly possessed by a supernatural force, started to move, the quiet was pierced by my 8-year old granddaughter's high-pitched squeal of excitement.
Avery, whose attention had been riveted to that small floating red and white sphere, now looked toward me. Her face was the perfect reflection of:  What do I do now?   
I said, "Keep your rod tip up and reel it in."
For the next 30 seconds we both held our breath — she wondering what would happen next, me hoping the fish would stay hooked and not use all of the now slack line to reclaim its freedom.
Avery, relying mostly on naiveté and youthful optimism, managed to gain control of the situation and soon her special-edition LL Bean child's spinning rod had a proper bow and arced back and forth as she reeled. A smile crossed my face as I recalled surprising my wife six months earlier when I came home with matching pink fishing vests and spinning rods for each of my four granddaughters.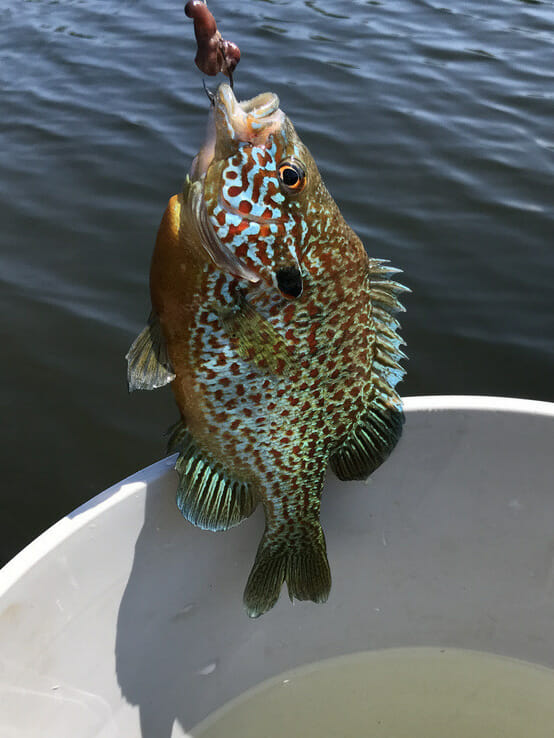 As Avery held onto her pole while the fish swam in short circles dockside, I decided against the net and coached her to gently lift her fish out of the water and swing it up over the dock.
After posing for a quick photo or two, Avery dropped the fish and line into a bucket of pond water that I had waiting.
No, Avery's fish wasn't a trout, nor was it even a game fish. But we didn't care. It was her first fish. She had caught and landed an 8-inch, pumpkinseed sunfish.
As I reached into the bucket to carefully unhook her prize, Avery watched but apprehensively kept her distance from the fish. Though the fish was now encroaching on our turf, Avery soon realized that her finned friend was not a serious threat and she joined me beside the bucket.
Once unhooked, our scrappy sunfish flipped its tail and momentarily turned on its side, as if to get a better look at the two of us as we peered downward.
At the same moment the sunfish executed its roll, we both nearly gasped out loud with astonishment over the beautiful pattern and colors on the fish's side and operculum. The shades of blue, green and orange were no less striking than the perfect spots and halos on the sides of small brook trout that I caught when I was Avery's age.
Those long-ago memories were etched into my mind from my own childhood fishing experiences, some 60 years ago.
They say that time can stand still in certain situations. I don't know whether Einstein ever tried to verify that concept but, if it's true, it can surely be experienced in those moments when it's just you and a fish on the line.
Time's even continuum was momentarily interrupted for both of us while Avery landed her sunfish. I couldn't say whether it took a wrinkle in the fabric of time to create our memory. That's conjecture that most likely will never be confirmed. But I do know, with utmost certainty, that sharing experiences and creating memories is what really counts in the long run.
Many of us wish that we could do more to support some of the high-profile conservation efforts like dam removals, fish passages, stream cleanups, public land reservations, political advocacies, waterway restorations and so on.  And hopefully we can and will.  Our world needs everyone doing all they are capable of and more to ensure that our native fisheries remain viable, and that our wild, and formerly wild, coldwater fisheries are restored to healthy environments.   
But, what is the "and more?" 
Fortunately, there is a way to contribute to native and wild fish conservation efforts that is relatively low budget and available to everyone, yet arguably has the biggest impact. What it lacks in prestige it makes up for in long term results.
That "and more" contribution is paying it forward by taking a child fishing. It's the simplest, time-tested and proven way to get the younger generations involved in fish conservation. So, find a kid, take her fishing, and create some memories. 
We remember the detail of some events for a lifetime, while others are quickly lost in the blur of time's passage. Fishing is on the short list of activities that has the power to form lifelong memories.
Kids, boys and girls alike, need an adult to get them started and teach them some fishing basics. Be that person and rescue a kid from digital devices for an afternoon. They will thank you for it and you efforts will pay it forward for generations.
My granddaughter was captured by her first fishing experience — even more so than the sunfish that was brought to the dock and then released back into the pond. Just one outing and Avery is well on her way to becoming a lifelong outdoors person and environmental advocate.
How do I know?
As we were collecting our gear and saying goodbye to the sunfish — all now schooled under the dock just waiting for another freshly baited hook to strip — Avery said, "Grumpah, when can you take me trout fishing?" 
Mike Enos is a charter member and on the board of Maine's newest Trout Unlimited chapter, Downeast TU. He is a chapter representative on the Maine Council of Trout Unlimited, on which he serves on the Arctic Char committee, and is a member of the NLC's Native Trout Working Group Subcommittee.