I learned to fish in the creeks and beaver ponds of Colorado's high country, pulling nuggets of wisdom from willing grandfathers who believed time spent with their grandchildren should be time spent outdoors.
These two men introduced me and my brothers to the wonders hidden high in Colorado's mountains. Together, they wandered with us through the Rockies in search of wild trout in wild places. They stood over our shoulders and watched us cast. They coached us through our failures and they celebrated our success. They taught us to take a breath now and then and look around. They taught us to appreciate the places wild trout called home.
They are special places, indeed.
A couple of years ago, I went home again. I journeyed across Colorado and revisited some of the old haunts my grandfathers shared with me and my brothers. I cast a fly to the progeny of the trout I first caught as a child, marveling at how, despite the many changes to the world over the course of 35 years, things hadn't really changed much in the far-flung places of the Sawatch Range.
But, then, the backcountry doesn't change much, so long as it's left to its own devices.
Sure, things change over time. A fire might blow through, or a tree might fall across the trail. But on the whole, if it functioned three and a half decades ago, it functions today. That is, if we haven't gone and messed it up.
As a kid, I remember bouncing up a gnarly dirt road along the shoulder of the Continental Divide high in Colorado's south-central Rockies. My grandfather's old Ford Bronco slowly climbed over jagged rocks, hugging the mountainside all the way to a secluded trailhead. There, we'd park the rig, and I was told to be totally quiet (no small feat for a kid). I remember my grandfather walking slowly around the truck, pausing by each tire. Listening for that tell-tale hiss and hearing none, we'd load a couple of backpacks and hit the trail.
And, while the ride up the mountain was truly exhilarating, the adventure really began when we started walking into the wild. A couple miles or so of steep climbing at altitude would put us in a lonely meadow bisected by a quiet, meandering stream. Not many knew of the creek that flowed from a timberline spring and swelled with cold, pure snowmelt. Most continued to follow the trail, content with a different destination in mind.
But not us. This was our destination.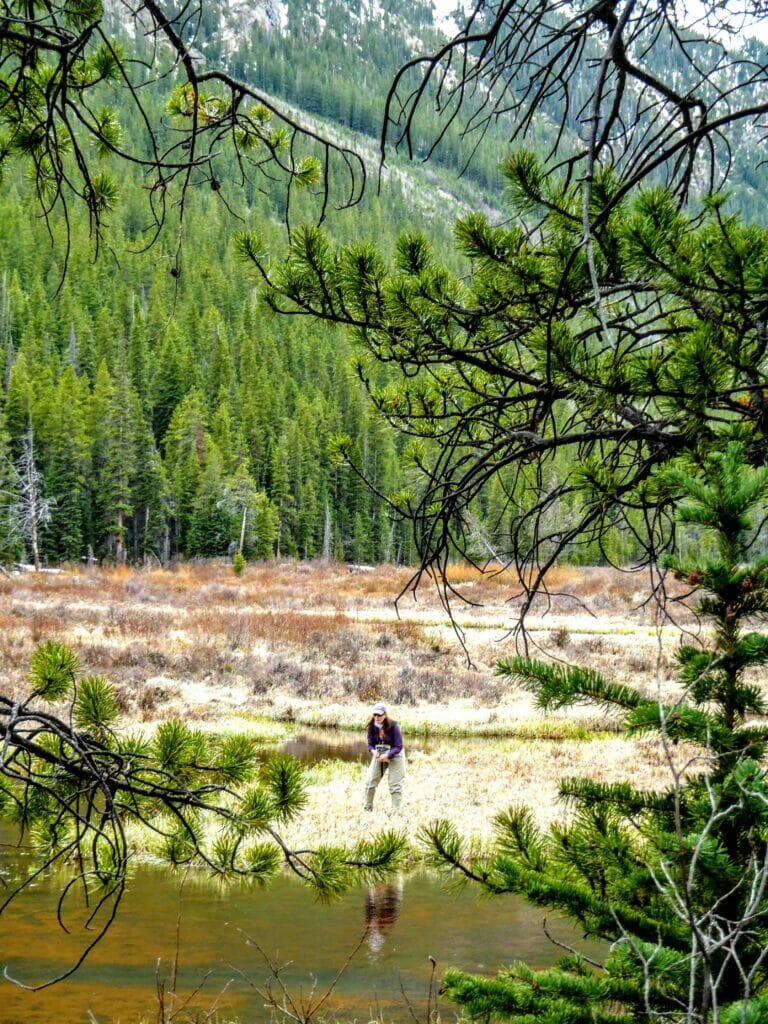 There, beneath the 14,000-foot mountains of the Collegiate Peaks, we'd slowly make our way to the water and the wary trout that swam there.
This was the first place I remember catching a cutthroat trout. My grandfather simply called them "natives," a tip of the hat to the fish that belonged in these out-of-the-way waters. Even then, decades ago, he knew there was something special about these trout and the place they called home.
I traveled that same road, crawling my way up the rocky bi-way until snow slowed my assault. From there, I got out and started walking. And I walked. Wearing a pair of wading sandals, I climbed over snowbanks and followed the road as best I could until I got to to the trailhead.
And then, my feet blocks of ice, I walked some more.
Finally, I broke through the trees and there, spread out before me, was that very meadow. In my mind's eye, I could picture my grandfather crouched along the creek casting his old bamboo fly rod to rising cutthroat trout in this wilderness where snow hung on through summer, where elk grazed among the short grass and where the sky is so impossibly blue. This was his reward for the journey up the mountain, for the walk through the woods.
And the cutts were there, too. No imagination necessary. I spent the afternoon casting to these remarkable fish that have managed to hang on through brutal winters, and survive in skinny water … for centuries. Here, in a place that takes a little effort to reach, lies a treasure for all willing to make the investment and then make the cast.
Sure, the backcountry changes. But, if we leave it like it is, it also stays the same. And I'm grateful for that. One day, if I'm lucky, I might get to take my grandchildren to this quiet little meadow. I might get to stand over their shoulders and help them cast to wild fish in a wild place.
And I might get to tell them to stop casting for a minute and look around at the wonders the backcountry shares with those willing to visit it on its terms.
"Take it in," I'll say. "This is the way things are supposed to be."