At a time of year when the state is supposed to be at the top of its game, the last few weeks have been tumultuous for Alaskans.
If you follow the TU's Alaska Program efforts in Bristol Bay, you know that we've had a roller-coaster couple of weeks with the close of the Pebble Mine comment period, and confusing messages from the EPA on protection for this powerhouse fishery.
Outside of Trout Unlimited, perhaps you've seen on national news that Alaska is burning, physically and politically. Wildfires are raging from the Kenai Peninsula to the North Slope, communities are choked by smoke, and two weeks ago our Anchorage office saw 90-degree temperatures.
Meanwhile, Gov. Dunleavy's budget cuts have caused uproar from Alaskans and delegates across the state and from both side of the aisle. These cuts include slashing funding for a wide variety of programs across the state, most notably $140 million from the University of Alaska school system.
Alaskans are stressed; the immediate challenge of our changing climate paired with the open-ended future of our state has left many anxious and at a loss for how to save the place and people that we love and that characterizes our great state.
So after a heavy week in the office, I was grateful for the opportunity to head north to support the Howie Van Ness Memorial Kids Fly Fishing Camp, put on by the Midnight Sun Fly Casters based in Fairbanks.
In its 23rd consecutive year, this camp is arguably one of the longest-running kids camps in the country. Held at the Lost Lake Boy Scout Camp about an hour southeast of Fairbanks, 31 kids ranging from age 10-16 came with a parent, aunt or uncle, or grandparents for a weekend of casting clinics, fly tying lessons, and knot reviews.
Since Trout Unlimited Alaska is a sponsor of the camp, I was invited to attend, but also volunteered to be the photographer for the weekend. I got to go around with the different groups of kids taking pictures, and occasionally setting down the camera to tie a fly and practice my knots- which always need some work.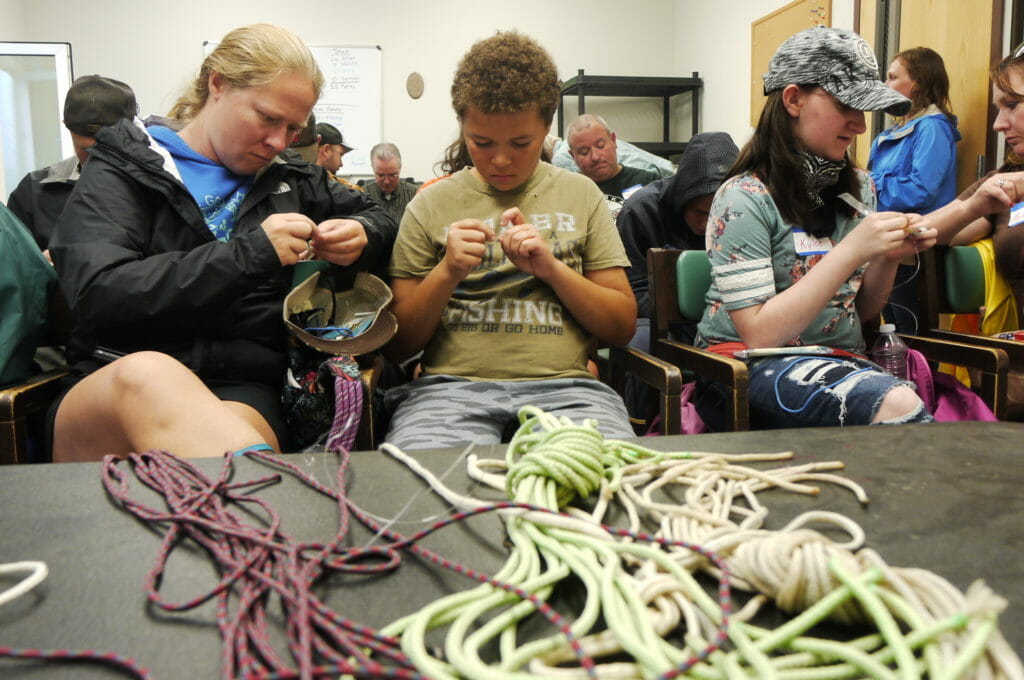 After a full day of casting lessons and fly tying on Saturday, parents and volunteer instructors spent hours down at the lake after dinner helping and watching the kids catch rainbow trout from the dock. I began chatting with one of the dads who had brought his 13-year-old son to the camp for a second year. I asked him what he did in Fairbanks, and he told me he was faculty at the University of Alaska- Fairbanks (and not the only parent there with ties to UAF).
With the budget cuts, UAF altogether is on the chopping block–so I knew this man was more than stressed about his job. I grimaced and jokingly said, "Oh, so you've been having a fun couple of weeks." He replied with a sigh and slight chuckle, realizing my sarcasm. Then he said, "Yeah, it's been a rough go at things. But this camp couldn't have been more perfectly timed… it's been a great distraction getting to be out here watching my son learn to fish. There's nothing better."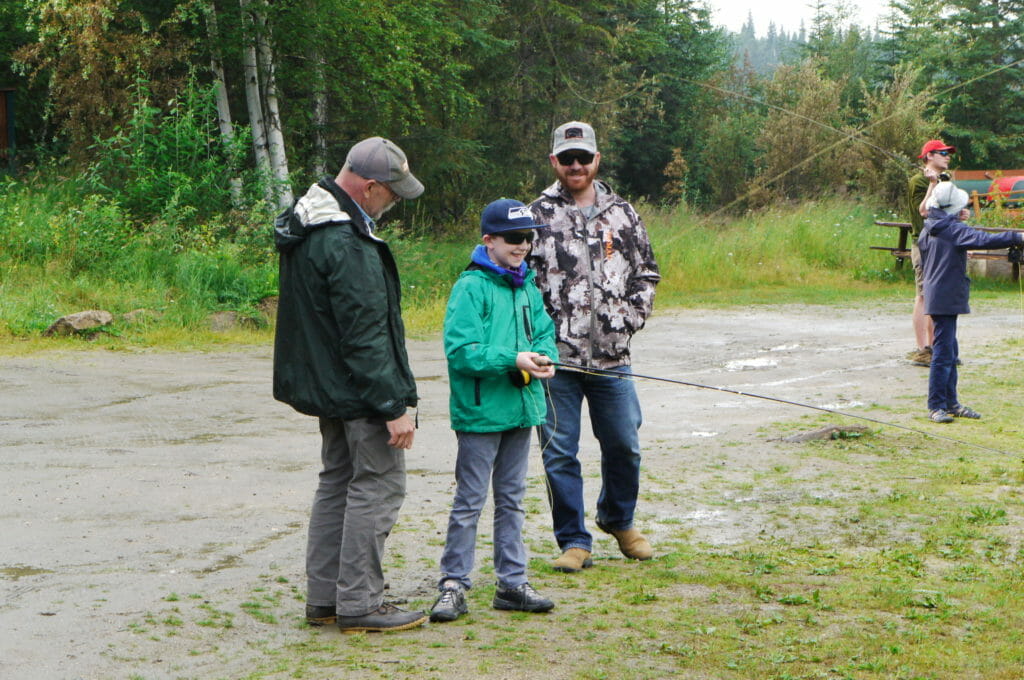 Our conversation wrapped up when his son asked him to help him fix his fly, and I went over to talk with some of the volunteers who had been teaching the classes throughout the weekend. I walked up on them agreeing that they were dog-tired, but had had very fulfilling days sharing their vast knowledge with this group.
Chris, who had been teaching casting, put it well:
"This is what it's all about–these kids are the future of this sport. How cool is it that some came never casting a line before and now are catching fish on flies they tied themselves?"
These statements sum up exactly why I love Alaska. This community is strong, and knows its values. When we are at a loss, we support each other, focus on our kids, and go fishing. This camp is as Alaskan as it comes because it brings all three components together.
After some rain in the evening and off and on throughout the night, we woke up on Sunday for the final morning of camp to blue skies. The smoke had cleared off, and I feel like I too gained a little bit of clarity.
In the middle of chaos, we must return to what we know. While there remains uncertainty about what the rest of the summer will look like, and what our state will look like as the cuts hit Alaskans hard, we know that when we invest in our kids and in fishing, we are at our best.
I'm always grateful for the opportunities that my job provides. With this trip in particular, I'm grateful for the refreshing energy it brought. I'm grateful for getting to see Alaskans in action–serving others, fishing the incredible waters of the Last Frontier, and making sure that tradition is carried on. The Land of the Midnight Sun never disappoints, and Midnight Sun Fly Casters certainly lived up to their name.
View pictures from the 23rd annual Howie Van Ness Memorial Kids Fly Fishing Camp on the Trout Unlimited Alaska Facebook page.