Historic mill key to native fish recovery in Rogue River basin
Oregon's Rogue River is one of the most famous salmon and steelhead fisheries in the West. But these and other native fishes in this watershed are struggling. Water diversions, climate change and other factors have diminished many freshwater fish populations to the extent that they are now listed, or at risk of being listed, under the Endangered Species Act.
An historic mill, and its former owner, are playing a key role in a collaborative effort to save native fish in an important Rogue River tributary. This campaign reached a milestone recently with a formal agreement to sell the mill's historic water right to Trout Unlimited, with two years to raise the funding.
---
Little Butte Creek provides vital spawning and rearing habitat for native fish in the upper Rogue River basin near the community of Eagle Point. This town and the stream that provides its water are major tourist attractions — not for their fish, but for the Butte Creek Mill. Built in 1872, the old mill draws visitors from around the world. The Butte Creek Mill is on the National Register of Historic Places as the last water-powered grist mill still operating commercially west of the Mississippi River.
Tragically, this mill was destroyed in a fire in 2015. The Butte Creek Mill Foundation formed soon after and began an ambitious campaign to restore the mill for his historic values and importance to the Eagle Point area economy. The foundation now owns the mill and has nearly completed reconstruction of the facility.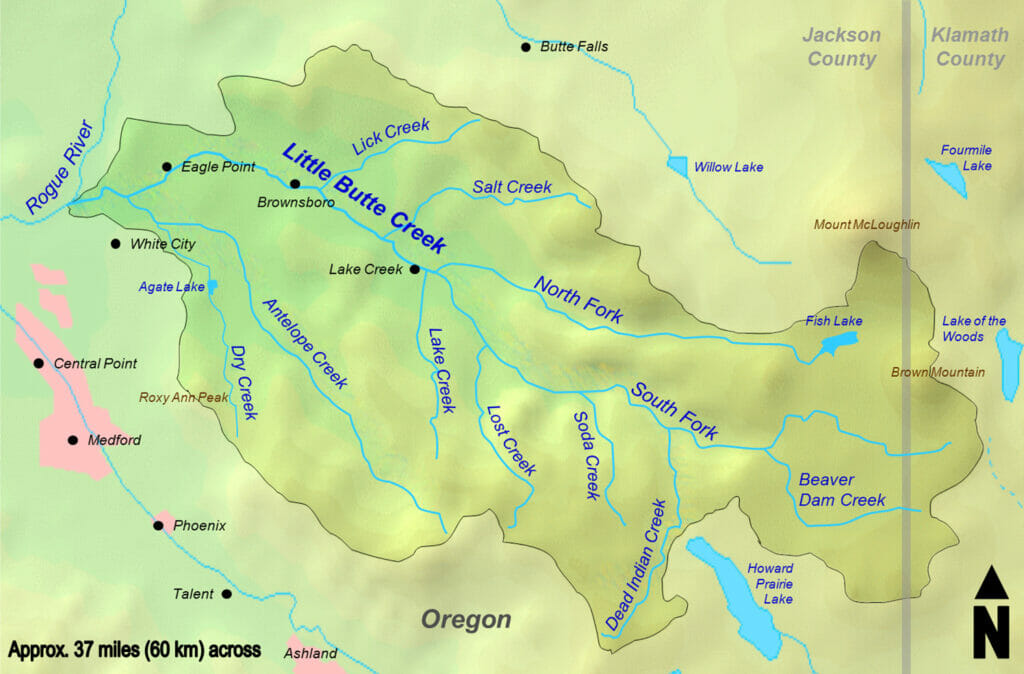 However, the mill, located near the mouth of the creek, has an important water right which was retained by Bob Russell, the previous owner. The mill's hydro power water rights are amongst the most senior rights on Little Butte Creek, with a priority date of 1872 and a diversion rate that varies seasonally between 22.62 and 24.40 cubic feet per second (cfs).
The location and seniority of this right is critical to sustaining flow in Little Butte Creek through to its confluence with the Rogue River, and to supporting water quality and recreational values in the City of Eagle Point. Without this water right, it is possible that upstream water withdrawals by junior water rights holders could severely de-water up to 12 miles of Little Butte Creek, as there would be no senior right holder to call for water downstream.
Further, while this water right is non-consumptive (water diverted under it returns to Little Butte Creek after use), it still dewaters approximately 1800 feet of anadromous fish habitat and, at times of low water, can create a significant fish passage barrier.
Fortunately, the former mill owner has a strong conservation ethic and wants to ensure that Little Butte Creek and its fish populations are conserved. Enter Trout Unlimited. TU's Oregon Program director Chrysten Lambert has been working for several years, in partnership with the Butte Creek Mill Foundation, to permanently protect instream flows in Little Butte Creek and sustain operation of the historic mill by acquiring the mill's water right.
This effort has two intended outcomes. The first is to permanently transfer 6.62-8.4 cfs of the mill's right to instream flow for the benefit of fish and wildlife. The second is to ensure the remaining 16 cfs of the mill's right will continue to be used by the mill for hydro power generation in support of the rebuilding of the historic site and tourist attraction.
Additionally, if there are extended periods of non-use by the mill, these rights will be leased or transferred to instream flow as appropriate to assure they are not diverted higher in the system, causing dewatering of Little Butte Creek.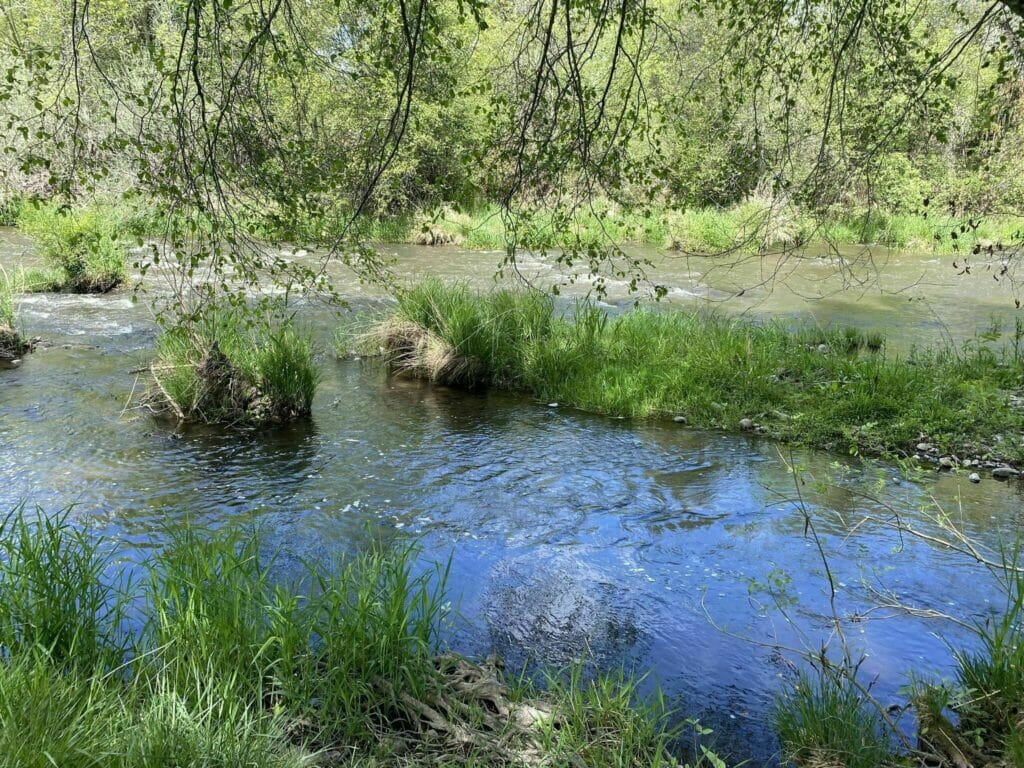 Trout Unlimited and the Butte Creek Mill Foundation are currently seeking funding for the water right acquisition through state grant programs and private donations.
Lambert noted, "This water right transaction will be the largest and most important transaction of its kind in Oregon to date. It will help conserve a beloved historic resource, local community values and economy, and some of Oregon's most iconic fishes. TU is proud to work with Mr. Bob Russell and the Butte Creek Mill Foundation to conserve both high priority aquatic and riparian habitat and a traditional commercial use of the stream. We salute these partners for their commitment to an outcome that works for everyone."
This story was well covered by local media. Go here to read a previous post on TU's work on Little Butte Creek, and go here to read the Medford Mail-Tribune's coverage of this story, here to watch TU's Chrysten Lambert interviewed for television on this project, and here to read the report from Fox 26 television.
---
Lack of adequate instream flow is a critical limiting factor in every sub-basin of the Rogue River watershed and affects all native fish, including federally listed Coho salmon, spring and fall Chinook salmon, summer and winter steelhead, and Pacific lamprey. Reducing water withdrawals to increase instream flow is essential to protecting existing anchor populations of native fish and other important species, as well as to the recovery of declining and imperiled populations.
TU's partnership with the Butte Creek Mill Foundation and the mill's former owner to ensure the Butte Creek Mill's water right is retained for its original purpose (powering the historic mill) and for its ancillary benefit of sustaining instream flows for fish and area residents has reached a critical point in the campaign. To help TU complete this water right acquisition, click here.