TU works with some extremely talented characters while developing and completing projects in the field that help make fishing better. We are excited to bring you a series highlighting these Contractors. We hire equipment operators, truck drivers, laborers, material suppliers, engineers, technicians, and water testing labs. They are unique, talented, humble and some are downright wild, but TU's Contractors are a driving force behind successful projects.
Many of these projects help maintain the livelihood for some of the smaller outfits that are common in rural towns where many of our projects take place.
In Oregon, for example, we are working with partners on a "Salmon Superhighway" to open rivers to spawning fish and protect against flood damage. By replacing nearly 100 road crossings over 10 years, we are creating hundreds of jobs, investing $34 million into county roads and river infrastructure, and contributing $54 million to the local economy.
For one recent project in Montana to restore a section of Cedar Creek in Lolo National Forest, 96 percent of the $486,033 budget went to local firms, which put a dozen people to work on the job. Our friends at American Rivers recently produced a report that found ecological restoration creates 226,000 jobs and contributes $25 billion to the economy.
TU project managers take pride in fostering these relationships, building community, and hiring local, when possible. So, let the highlights of these fine people begin.
Rattlesnake Dam comes down
And another dam comes down.
Thanks to Arlin Grimes and his Aqua Terra Restoration business, the Rattlesnake Dam near Missoula, Mont., is now down, and native westslope cutthroat trout and bull trout can move through unimpeded.
TU has worked with Arlin on projects in Idaho, Wyoming and now Montana thanks to his extensive experience. Arlin has an academic background in fish and wildlife studies from Montana State University. During college, he helped build ponds and private streams eager for the opportunity to go out on his own to work on restoration projects dear to him. Since Arlin grew up a stone's throw from the Rattlesnake Dam and his parents still live there, he couldn't wait to see what progress nature could make once the dam was removed.
Aqua Terra Restoration has over 20 years of experience in the field with projects all over the West, and it is Arlin's personal interest in these projects that drives the good work. He is immensely curious, and his ability to combine great skill moving earth with an excavator with his love of rivers and the work needed around them is unique.
He has an impressive understanding of how his construction work fits in with the larger and longer-term goals for watershed improvement and river ecology. He takes personal pride in minimizing impacts to the stream and its aquatic life while working thoughtfully through sequenced dewatering plans, pumping and basic erosion control and best management practices making him a dream to work with.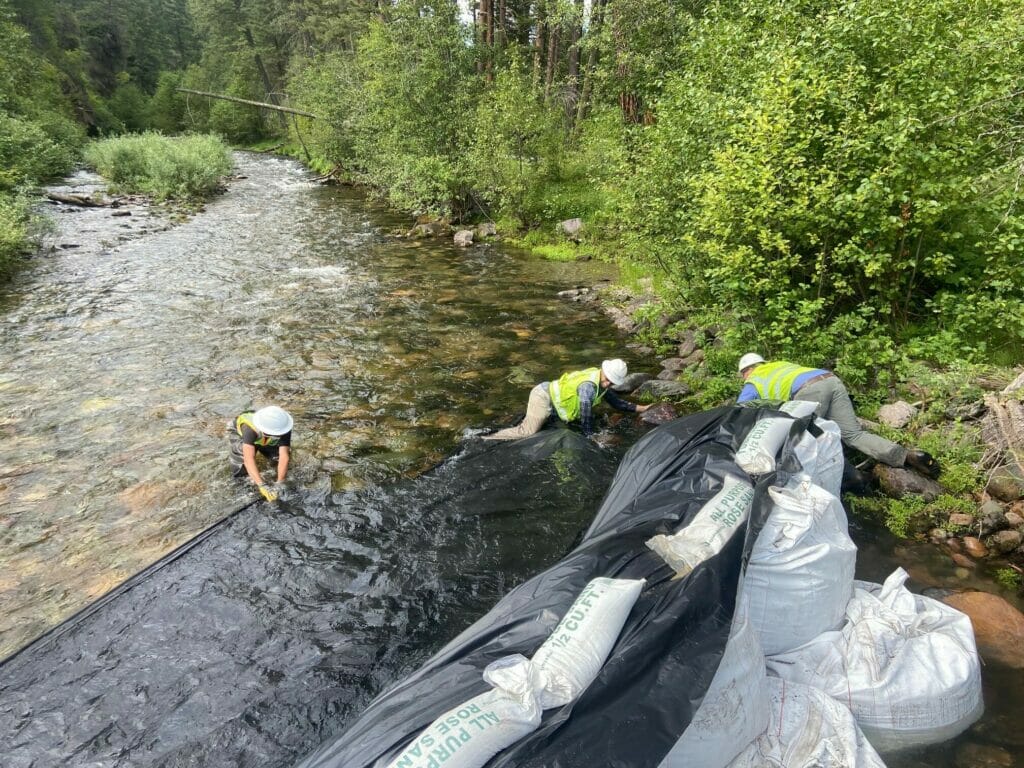 TU has some of the largest, voluntary restoration projects in Montana and regularly contracts between $3 million to $4 million in on-the-ground restoration in the Clark Fork Basin alone. For this project, some of those funds were provided by Montana Future Fisheries and Montana Renewable Resource Grant and Loan Program for state sources. Federal funds came from FEMA, Hazard Mitigation Grant and U.S. Fish & Wildlife Service Fish Passage Program.
And more than 25 businesses, nonprofits and other local sources also contributed — not to mention the help of more than 180 volunteers who collected willows, installed container plants, and provided other hands-on labor.
Thanks to Aqua Terra Restoration's incredible work — and the partnership between TU, the city of Missoula and Montana Fish, Wildlife and Parks — this dam is now down, fish can move through for the first time in 100 years and TU can't wait for this partnership to blossom into more great projects in Montana.