STATE OF THE BASIN
For far too long, the Colorado River has been overused and overworked. Despite this year's epic winter, the system's largest reservoirs are still less than a third full, while the Basin faces threats to its environmental, economic, and cultural values. With so much at stake for the future of the Colorado River, many are trying to understand how we got to this point and what we can do to help restore our water.

Between the nihilistic headlines and doomsday predictions for the Colorado River, TU offers a different perspective: optimism. Across the Colorado River Basin and greater Southwest, we set ourselves apart through the rigor and expertise required for our field projects to better watersheds, conservation, wildlife – and even humans, too!

We're optimistic because we serve as trusted local experts in the communities where we reside, regardless of whether they are conservative, liberal, rural, or urban.

BY THE NUMBERS
Across Colorado, Utah, New Mexico, Arizona, and Southwest Wyoming
WHERE DO WE WORK?
Although not a complete list, the map is representative of the places we have projects and campaigns across the Colorado River Basin and greater Southwest. Our staff often live and work in these same communities, allowing us to have a more hands-on approach to conservation.

Project funding is made available through myriad ways, ranging from the Bipartisan Infrastructure Law and Inflation Reduction Act, state conservation trusts, private landowners and water rights holders, TU memberships, corporate partners, and philanthropic foundations.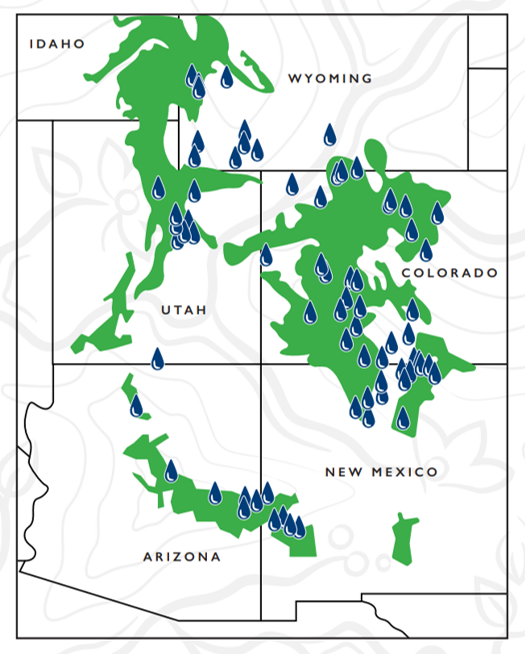 PROJECT SPOTLIGHT
CAMPAIGN SPOTLIGHT
WHY ARE PROJECTS NEEDED?
The Colorado River watershed is the lifeblood of the West. With increasing demands and dire drought, TU's conservation projects can help by storing as much moisture as possible in the soil – which by extension creates better fish and wildlife habitat – so it's available downstream during the hottest months of the year. Without this type of work, annual runoff can degrade streambeds and allow creeks and streams to run dry by summertime.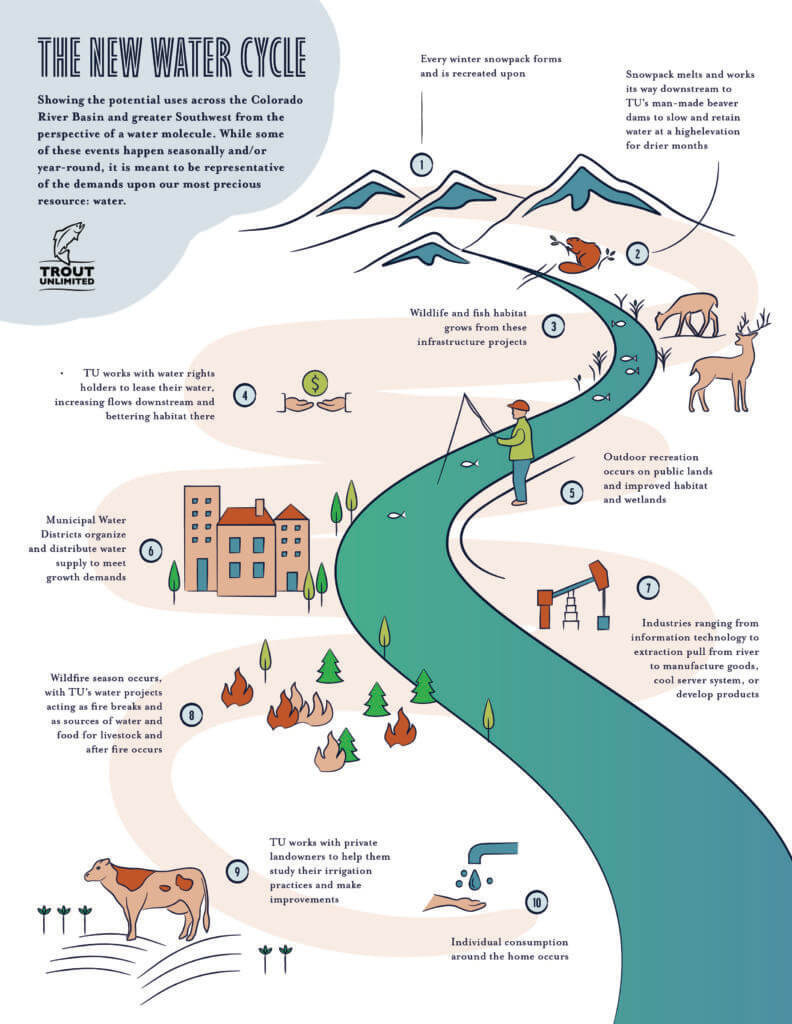 HOW ARE PROJECTS BUILT?
When TU signs on as project manager on a stream reconnection or habitat restoration project, we essentially "quarterback" the project from concept to stewardship while working with a team of partners, funders, landowners, water users, contractors, and volunteers along the way. This "anatomy of a project" timeline provides an overview of what goes into each distinct phase of a project's lifecycle—and demonstrates how, with your support, TU acts as a catalyst to advance projects to completion and ensure their success.

WHAT IS THE CURRENT STATE OF THE REGION?
Currently, the states of Arizona, California, and Nevada have agreed on a proposal to reduce water use by 3 million acre-feet of water over the next three years across the Lower Basin of the Colorado River. Although this is a major step forward to restore our water, we must continue to identify opportunities to help the watershed that 40 million people, our agricultural industry, seven states, two countries, and 30 Tribal Nations rely upon for drinking water and electricity.

The map below shows areas reliant upon water from the Colorado River Basin (outlined in black), the main stretch of the Colorado River and its tributaries (light blue and purple), every dam in the basin (blue square), and every town with a population of over 10,000 people (red dots).
WHAT DOES THE FUTURE HOLD FOR THE REGION?
In 2022, the U.S. Forest Service made projections about what Western waters would like by the end of the century. Water temperature is an important factor in determining the health, abundance, and persistence of cold-water fish species such as salmon and trout. As stream temperatures warm, dissolved oxygen levels decline, causing these species to experience increased physiological stress, slower growth rates, and higher susceptibility to environmental toxins, parasites, pathogens, predators, and competitors. Use the magnifying glass to compare the historical and end-of-century time periods.
WHAT DOES THIS MEAN FOR TROUT?
Although warmer and drier landscapes suggest long-term declines in iconic cold-water species, each species consists of numerous individual populations and some of those occupy habitats that will be resistant to changes according to the U.S. Forest Service. That being said, cutthroat trout habitat is projected to shrink under current warming scenarios. Use the slider to compare the historical and end-of-century time periods.