Each year since 2009, Sept. 11 has marked a federally recognized National Day of Service and Remembrance. On this day Americans across the country volunteer in their local communities in tribute to those lost and injured in the September 11, 2001 attacks, first responders, and the many of us who have since risen in service.
Within the Trout Unlimited community, we honor and remember those who have dedicated their lives to serving others through the TU Service Partnership. For the past several months, TU members across the country have been reaching out to their local military, fire service, medical, and law enforcement communities to both thank them in a small way for their continued dedication and to offer a free one-year introductory membership to Trout Unlmited.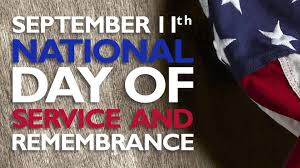 This includes a full year of TROUT Magazine, local chapter activities like fly-fishing lessons, discounts on travel and fishing gear, opportunities to win trips, prizes and more! Efforts in a short period have brought in over 120 new TU members and sparked vibrant new partnerships between our chapters and leaders in their communities. We've begun to realize the potential of the TU Service Partnership, but we can do more.
In honor of this year's National Day of Service and Remembrance, chapters are encouraged to contact their local first responders and members of the military community and introduce them to TU through the TU Service Partnership. Every community across America has service-oriented leaders who can benefit from our approach – and through whom Trout Unlimited can better protect, reconnect, restore, and sustain healthy waterways throughout America. Those volunteers who have stopped by – while observing appropriate health and safety precautions – their local fire station, EMS squad, or police station with the attached flyer have been universally welcomed and thanked for the outreach! Let's continue to build on that momentum and reach hundreds more!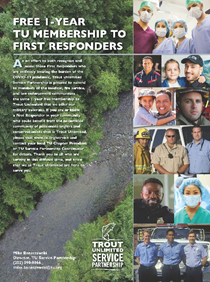 Your chapter or council may also decide to use this time to start developing plans to host a special event for next year. There are a variety of opportunities to collaborate and cultivate meaningful service opportunities in honor of this national day of service and remembrance. Share your recognition ideas in the TU Leaders Forum.
For additional information, the new TU Service Partnership webpage contains additional resources to assist chapters and councils. Please don't hesitate to contact Mike Banaszewski, Director of TU's Service Partnership, if you ever have any questions.