By Henry Strawbridge
Editor's Note: The Strawbridge family from Lakeland, Fla., hiked the length of the Continental Divide Trail – all 3,100 miles of it – from Canada to Mexico. Henry Strawbridge, 14, provided updates of their journey to Trout Unlimited as they passed through the historic range of seven native trout species. You can track the family and see reports submitted by Henry on this map.
It was time to leave Denver, our cousins, and head back to the trail.
After a four day rest, you might think we were ready, but it was hard to leave. Still, it needed to be done. We have only 1,200 miles left to go, having completed over 1,600.
The winter storm was expected to be a one day event. We headed back to
trail knowing that there would be snow on the ground at hiker elevations. With several peaks over 13,000 feet in the next 100 miles we would be certainly be seeing higher elevations. If we thought snow on the ground would be our greatest challenge. How very wrong we were!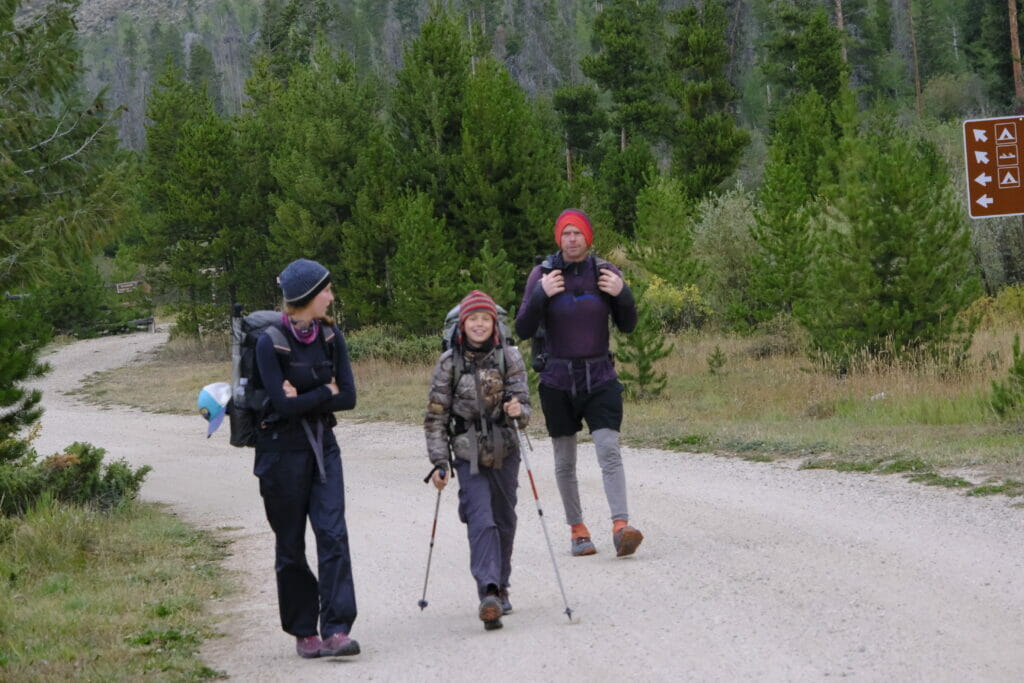 Because we weathered the storm down in Denver, we remained unaware that there had been very high winds at Lake Granby. Those winds had blown over trees in huge patches, destroying acres and acres of forest.
We got to the trailhead full of energy. Our cousin Silas was going to walk with us. Less than two miles in we ran into our first blow downs. The first set was challenging, and slowed us down a little more than 10 minutes. After that, all the way around Monarch Lake was pretty easy. By that I mean, every few hundred feet there was only one hip-high tree blocking our path. Soon after that it got worse. The trees were downed in rows blown this way and that. Making the trail invisible. After scrambling our way up the hill past the lake the trail cleared up for about 3 miles. We thought we might be past the worst of it.
We ate lunch having done about eight miles total. If we could do 13 more miles, we could clear the pass and make it a good day.
I came around the corner, and my heart sank. "More trees!"
"Let's go up and around," my dad said.
After two hours of that he said, "Maybe if we drop down by the creek it'll be better."
Over, under, and around all day long. For almost four hours we climbed
and crawled at an agonizing pace of about less than one mile per hour.
There were some places where the trees were so thickly packed I could
be walking 8-feet up in the air. The tree I climbed could be stacked on at least five others below it.
We eventually made it through this obstacle at about 6 p.m. We were excited to be walking on the trail without obstacles, but we were to have no rest that day. Soon snow began falling on us and our backpacks. And the trail was climbing to alpine levels and out of the trees. We decided to set up our tents under the last clump of trees while we still had light.
We hurriedly set up our tents, jumped in, climbed into our sleeping bags, and prayed for the next day.
The next morning I woke up and my first thought was that I was in a snow cave. The tent had frost all over it and the vestibule showed a lot of white out there. Silas slept in our tent, so we had an extra body for extra warmth.
We walked out of camp in about 4-inches of snow ready to climb a short
pass and then down out of the wind. It didn't seem like it would be too difficult. The wind was coming in sporadic gusts around 20-miles-per-hour.
Wind has a strange habit of taking anything light off the ground and
throwing it in your face. Snow is light, therefore it is blown in your face. Your face gets cold, then your hands, then your toes. And you slowly begin to freeze into one big icicle. It was especially cold, because I had no gloves.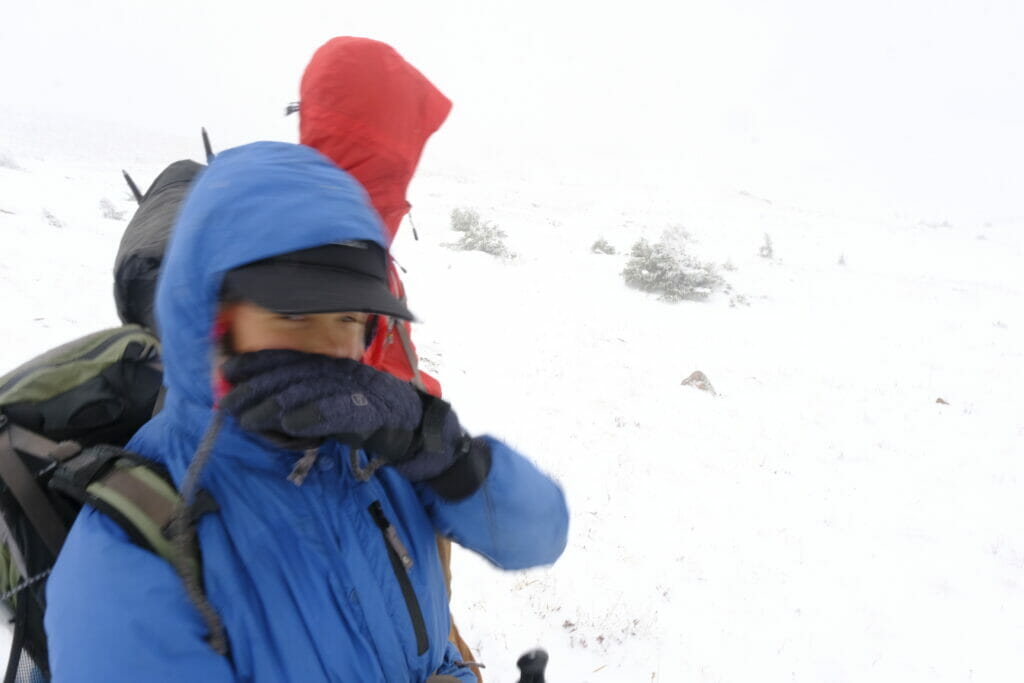 It only got worse, the wind picked up, you couldn't see 30 feet, and we were only getting colder. There has been some debate on how fast the wind was blowing, but I would guess about 60 mph by the time we reached the top of the pass. Enough for me to lean into it on a 45 degree angle.
At the top of the pass the wind had swept the rock clean of snow, and the trail was very hard to find, but after a few wrong turns we found our way over and down toward the valley on the other side. The other side of the pass was windless and calm. Three miles down we reached a junction that led to a trailhead 1-1/2 miles away. We could either go out and spend another night with the cousins or we could stay out here and walk another three miles and set up tents by a lake. We took a vote, and walked toward the trailhead.
What was really fun about that was that my grandparents had arrived in
Denver and were already planning to spend the night in Winter Park, so my dad arranged for them to surprise us when we reached the nearest town. They picked us up and drove us to a condominium in Winter Park. The funny thing was that it took us 2-1/2 hours to drive around the mountain range to the condominium, but when you looked on a map it was only 12 miles away as the crow flies.
After a relaxing half day in Winter Park with some delicious meals,
Grandpa drove us back around to the trailhead on the east side of the
mountains.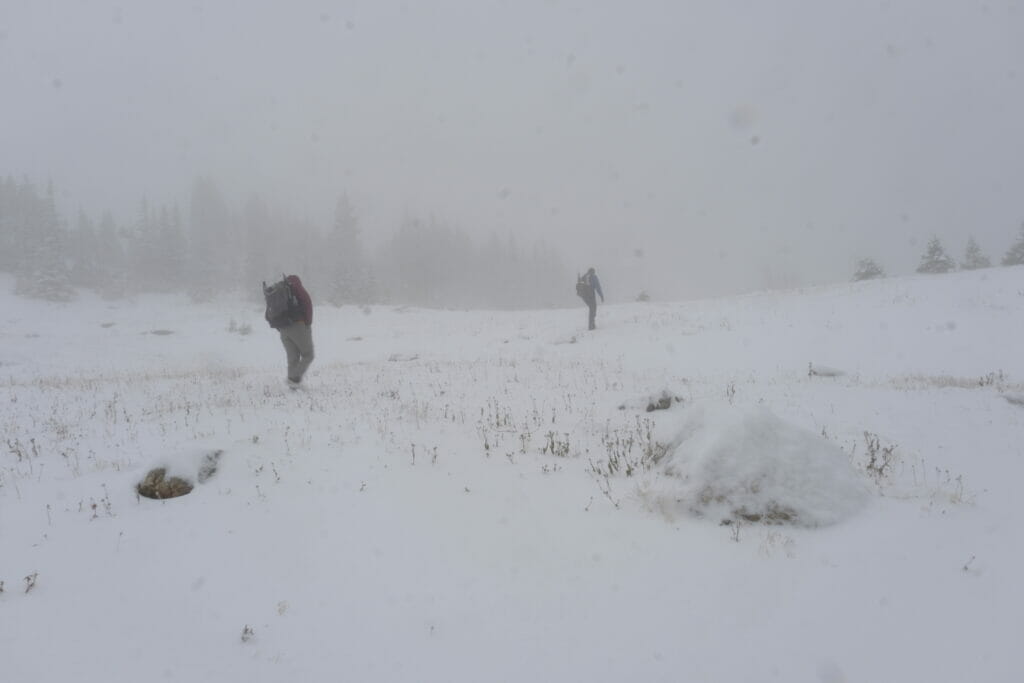 There's nothing quite like walking in snow, it's wet, it's cold and it's generally really fun. I'm almost always in a cheerful mood when I'm in snow. The whole day was exactly what Colorado should be, there was snow, sun, big mountains, big climbs. It was as different from the day before as possible.
We spent the night under James Peak. We had hoped to make it over the top, so we wouldn't have to walk on it's icy north face first thing in the morning. It was late and getting cold though, so we decided to make the best of it and camp where we could. We set out early in order to summit the 13,800-foot peak around sunrise.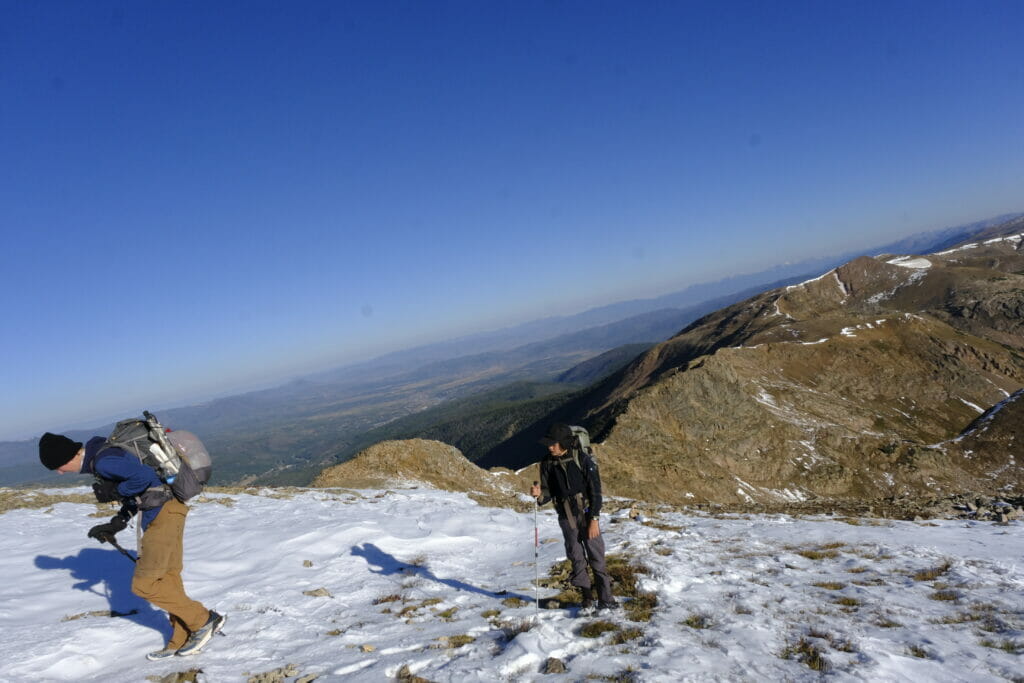 To our surprise what waited for us at the top was people. Hundreds of people were ascending the peak from the south side to enjoy the view. Here we were all the way from Canada enjoying a view that no one else got to see and then we realized there was a parking lot three miles away. It almost seems like cheating to me.
The next couple of days we made up our own alternate route around Gray's Peak, it was still a climb the whole morning but we figured out a way around the snow covered peak. As is often the case, our "shortcut" ended up being a little longer, since we couldn't walk through the Eisenhower Tunnel. Our grandparents, our aunt, her kids and their friends had rented a place in Breckenridge.
For the next five days my dad had figured out a way that we could end up at a place that they could pick us up every night. After a couple of months of sleeping on the ground it began to feel like we were in the lap of luxury.
Until next time …
Henry
COVID-19 note: The Strawbridge family anxiously watched as the coronavirus issue threatened their plans to do the CDT this year. After careful consideration the family made the decision to drive to Montana to start the trip to avoid any possible exposure on airplanes. None of the family members exhibited symptoms during the journey.