Rachel Brinkley uses a fallen tree to reach a spot to collect a sediment sample from Hell Roaring Lake. Camden Kay photo.
Rachel Brinkley uses core samples to measure historic returns of Redfish Lake sockeye salmon
As a child, Rachel Brinkley's family had a tradition of visiting a "secret" spot in Idaho to climb through tall willows and over fallen lodgepole pines for a chance to glimpse chinook salmon moving upstream to spawn.
Brinkley watched from her father's shoulders as the big "zombie-like" fish moved around the pool pushing and shoving while jostling for spawning space. Over the years the fish became harder to find.
"There were no fish in the hole one year, 'low returns' the next, then another and another year of grim returns," she said. "Until eventually this traditional stop was no longer a part of our routine."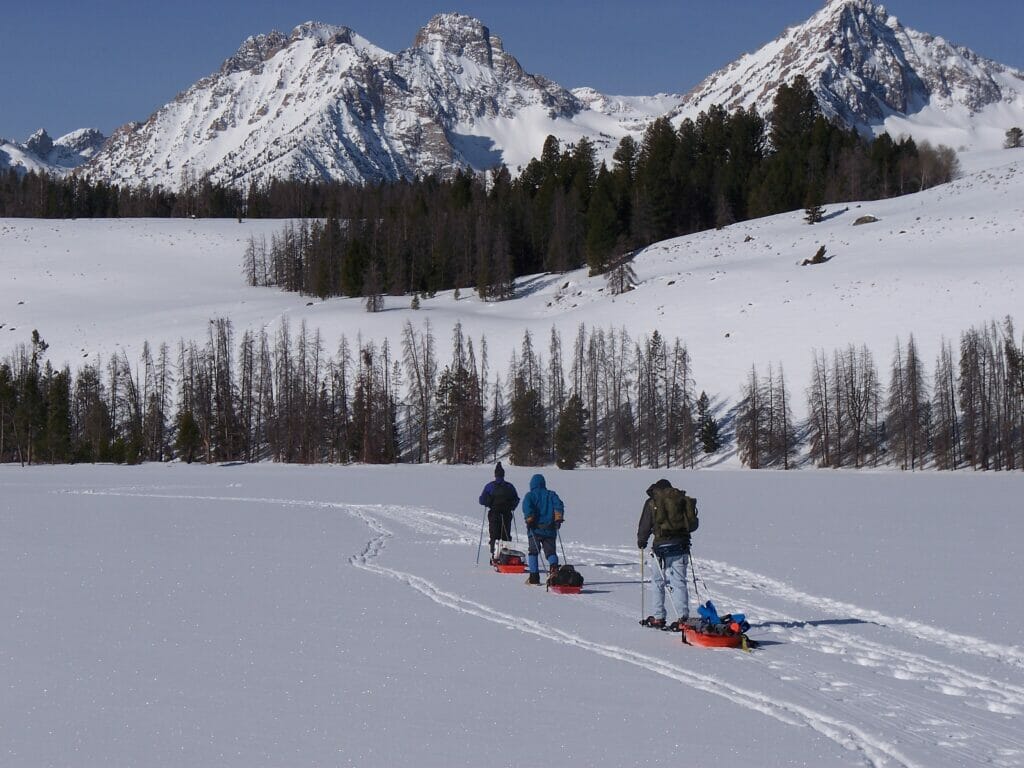 Brinkley later learned the story of Lonesome Larry, a sockeye salmon that swam more than 900 miles from the Pacific Ocean to Redfish Lake in the Sawtooth Mountains only to find he was the only fish in a lake that once contained so many of his kind that it was named after them.
"Those events were formative in my understanding that there is a serious problem and left me wanting to do something to address the issues that are keeping them from returning," Brinkley said. "I wanted to get involved in conservation and natural resources."
It is no surprise Brinkley ended up doing important sockeye research at Redfish Lake as a now nearly completed master's degree candidate at Idaho State University.
TU's Costa 5 Rivers Club
During her first four years at ISU in Pocatello, Brinkley earned a bachelor's degree in conservation biology. Then, while taking a fly-fishing class, she heard about Trout Unlimited's Costa 5 Rivers college club program. She liked the idea of college students getting involved with conservation efforts and issues, so she started the first 5 Rivers club at ISU.
She found a natural relationship between the new TU club and the existing American Fisheries Society chapter already on the campus.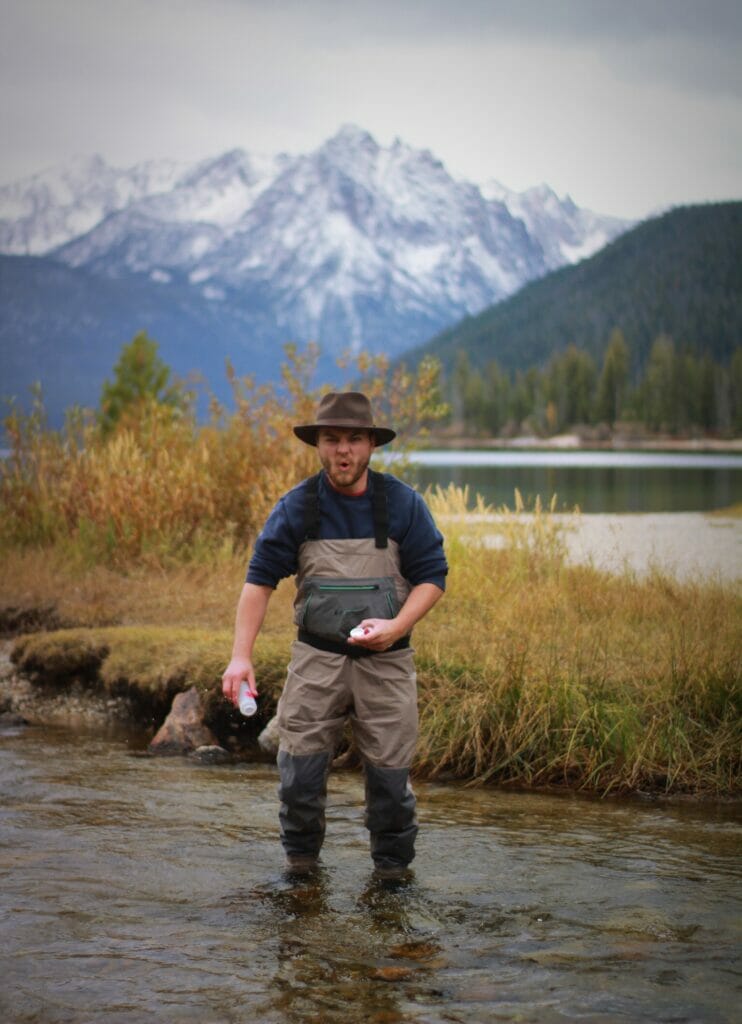 "The two are largely intertwined," she said. "We are primarily comprised of students who want careers in conservation or in fisheries biology."
The 5 Rivers Club at ISU holds an annual river cleanup on the Portneuf River — with the exception of 2020 due to the pandemic. The group also ventures out on club fishing trips and hold an annual ice fishing tournament fundraiser on American Falls Reservoir. Many of the AFS chapter members working on research need help and 5 Rivers club members are excited to contribute.
"I've had a handful of 5 Rivers members come and help me collect data. I feel lucky to have been in a position where I hired some of them to help with field samples collection and data analysis," Brinkley said.
The 5 Rivers Club and AFS chapter are also engaged on the advocacy side of native fish conservation. Together they are selling merchandise to support nonprofit groups with a priority to remove the four dams on the lower Snake River in Washington state.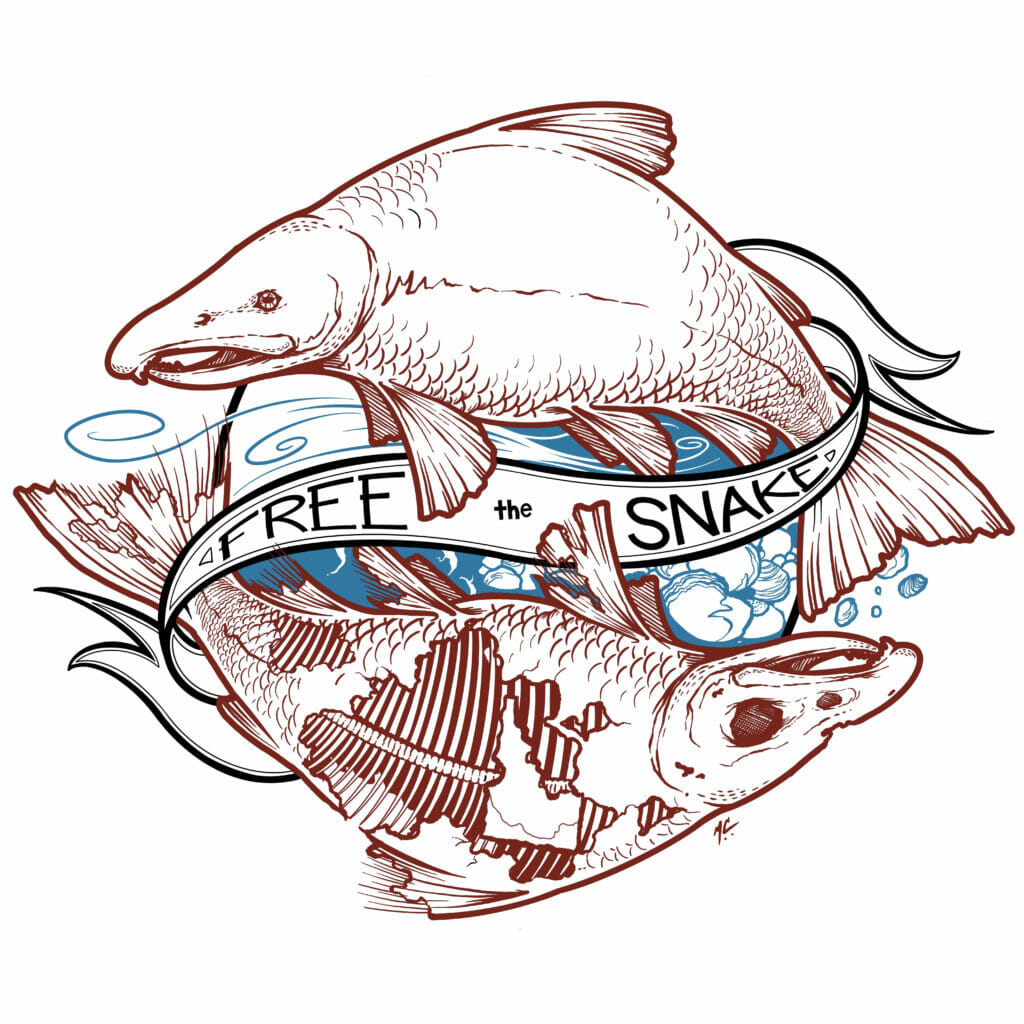 How many sockeye?
Brinkley's research focused on estimating the abundance of sockeye salmon that once used the Upper Salmon River watershed for spawning. She has been supported by ISU and the Shoshone-Bannock Tribes. Snake River sockeye salmon were listed as an endangered species in 1991, the year before Lonesome Larry made his sad trip to Redfish Lake. Researchers estimate the population has declined by 99 percent; making them species one of the most depleted salmon in the world.
Brinkley uses a combination of geology, chemistry, hydrology and ecology as part of her research. Her main work is a based on using lake sediments to show how salmon runs have changed over the centuries — yes centuries— in response to pressures like human harvest, European settlement and the construction of dams and reservoirs.
"Understanding how these populations have changed throughout history is critical to informing attempts at restoration and management and may play a role in better understanding the degree of decline and the success, or lack-there-of, of current restoration attempts," Brinkley said.
Recording nitrogen levels deposited by sockeye salmon returning from the ocean to freshwater over time in the sediment provides an opportunity to estimate spawning runs through the years. The deeper she collects a core sample the further back in time she can see what the populations were like. Through her work, she has, in a way, traveled back in time to the early 1400s.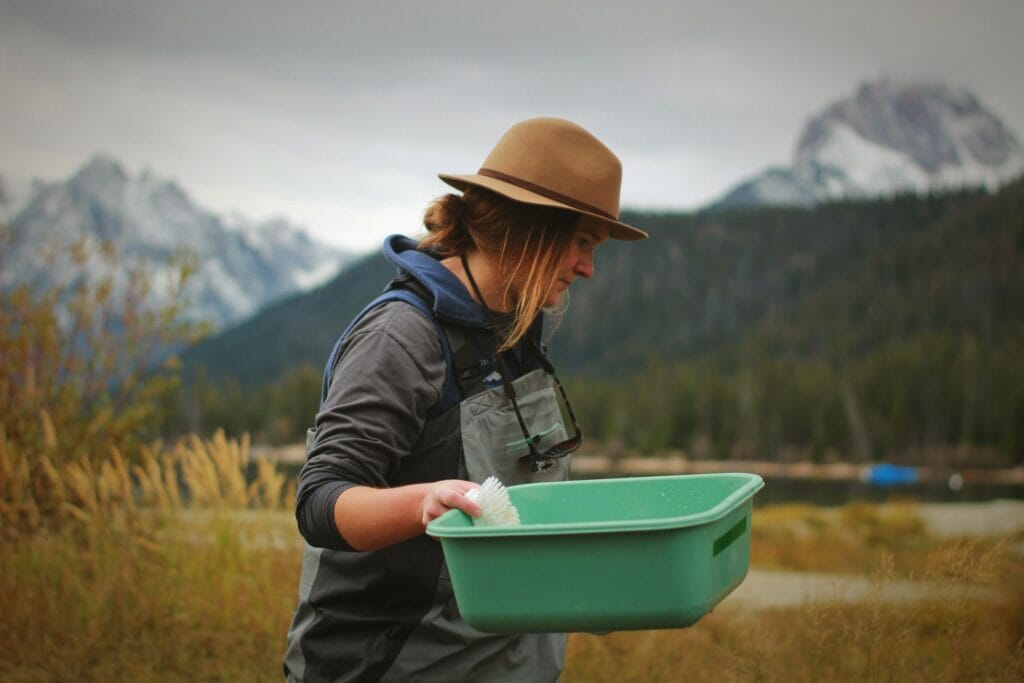 Brinkley is fine tuning her numbers, but she is confident around 20,000 Snake River sockeye salmon returned to the lake during peak years. She saw dramatic declines from 1990-1995, so low she essentially documented zero fish — poor Lonesome Larry gets no respect even in sediment samples.
Barriers are the issue
A single event from 1910 showed up in Brinkley's samples in a dramatic way. That was the year Sunbeam Dam was built on the Salmon River 10 miles downstream from Redfish Lake. Brinkley discovered an 80 percent decline in the sockeye run to Redfish Lake immediately following construction of Sunbeam.
"You very clearly see, from 1400 on, an ebb and flow of the population and then the dramatic decline after Sunbeam. The dam was breached in 1934 but the sockeye never recovered," she said.
Brinkley hopes to end up a working on conservation of native fish of the West and wouldn't mind staying in her home state of Idaho. Wherever she ends up, Brinkley is proud of her work as a student at Idaho State.
"For me and my research specifically, I want to make people aware of the numbers of fish that use to be in these lakes. We can fall into a trap of seeing a couple of hundred fish after years of seeing a few and think things are good," she said. "It is important to understand dramatic measures will need to be taken to restore these fisheries."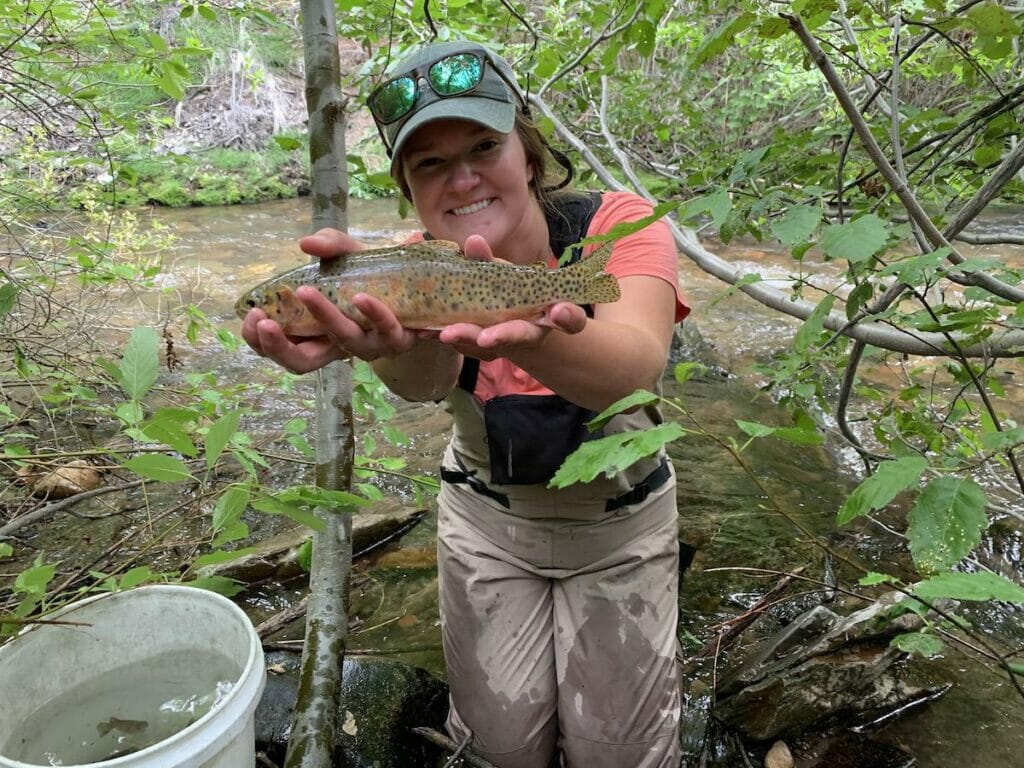 Bruce Finney, Brinkley's supervisor at ISU, worked on similar nitrogen levels in lake sediment in other Pacific salmon species. Finney has been a vital part in Brinkley's research on the Upper Salmon and is excited to review her final results.
"She has a lot of skills and can go in a number of different directions once she leaves here," he said. "This proposal from Congressman Mike Simpson (to remove four dams on the Lower Snake River) is going to create a need for a lot scientists to determine things like baselines. There will be a lot of opportunity in the coming years if it happens."
Brinkley is excited about the idea of opening the rivers for salmon and steelhead to make their way back to traditional spawning grounds in Idaho. She is also thrilled with the prospects she sees for TU Costa 5 Rivers and ISU's AFS Chapter members if it happens.
"I see how passionate and inspired other college students are about conservation and I am so excited," Brinkley said. "We as a group of young people and fisheries researchers are to dramatically impact the fisheries community and I am so excited to see what we are all going to do."
Maybe she could even help bring back the possibility of a family tradition to go and view wild and native salmon and steelhead in Idaho waters working to create the next generation of ocean-going fish.
Brett Prettyman is Trout Unlimited's communications director for the Headwaters Youth Program and Science programs. He is based out of Salt Lake City.