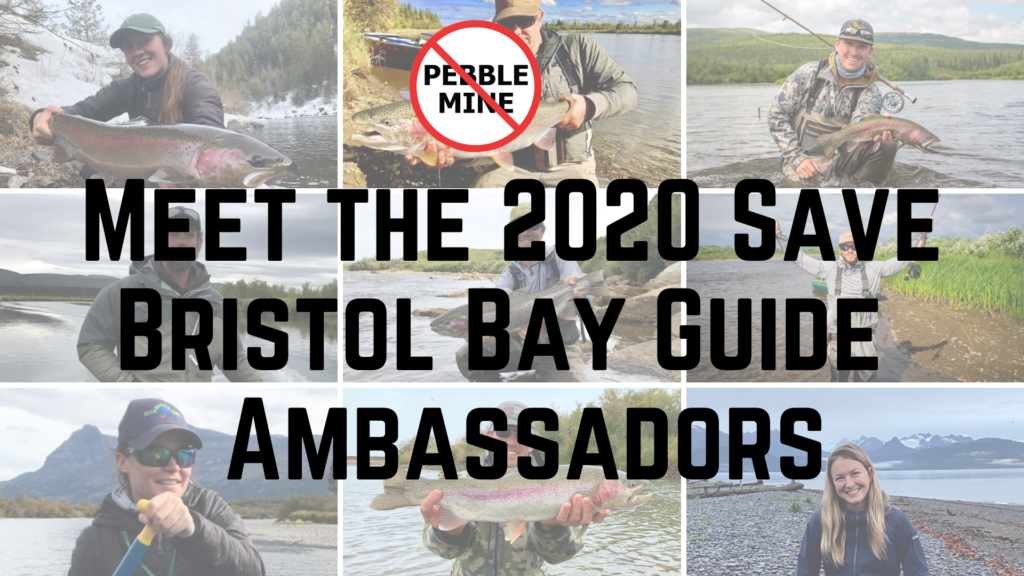 It's the job of the guide to know the river. It's the job of the guide to know which fly a fish will go after. It's the job of the guide to get that killer picture of their client holding their catch of a lifetime.
It's also the job of the guide to know what threatens the fish, recreation opportunities and economic drivers in the places that they work, live and play in.
In Bristol Bay, it's safe to say that every guide is aware of the proposed Pebble mine. The impacts of developing the largest open-pit copper and gold mine in North America in one of the most sought-after recreational fisheries on the planet serves as a direct threat to the Alaskan businesses, American jobs and sporting heritage that has been strong and growing in Bristol Bay for the last century.
Lodge owners, outfitters and sporting businesses have been some of the biggest advocates for Bristol Bay in the efforts to stop Pebble for years. Guides have proudly displayed the iconic "No Pebble" sticker on water bottles, coolers and fly boxes, and told visiting anglers and tourists about the mine proposal when they've inquired.
But with Pebble's most important federal permit looming in the next 6 months, we are deploying 42 Save Bristol Bay Guide Ambassadors to be in-region point people for sharing the latest information on Pebble with visiting clients, and driving them to take action, even after they've left their once-in-a-lifetime fishing adventure. Meet the 2020 Save Bristol Bay Guide Ambassadors today.
Guide Ambassadors are undergoing pre-season training to make sure their knowledge of the history of the region and Pebble is consistent, and will be coached by TU's Save Bristol Bay campaign staff in Alaska on how to have effective conversations about the mine, and what's at stake in 2020. Ambassadors will carry out challenges throughout the season to help spread the word and will be on-site resources for sharing information regarding Pebble's permit which is expected at the start of fishing season (June).
Are you going to fish Bristol Bay this summer? Make sure you ask to fish with a Save Bristol Bay Guide Ambassador when you go — we are confident they will help you land your wildest catch and give you in latest on Pebble when you stop to take a break for lunch. And yes, they will give you a "No Pebble Mine" sticker, too.  
Businesses with guides participating in the Save Bristol Bay Guide Ambassador Program: Rainbow River Lodge, Lakeside Barge on the Alagnak River, Intricate Bay Lodge, High Country Guide Service, Mission Lodge, Naknek River Camp / Katmai Trophy Lodge, Rapids Camp Lodge, Bear Trail Lodge*, Fishing Bear Lodge, No See Um Lodge*, Iliamna River Lodge, Alaska Rainbow Lodge, Bristol Bay Sportfishing & Adventure Lodge, Lava Creek Lodge, Kulik Lodge*, Royal Wolf Lodge, Alaska Rainbow Adventures, Alaska Trophy Fishing Safaris, Bristol Bay Lodge, Angler's Alibi Alaska, Cooper Landing Guide Service, Northern Lights High Adventure, Alaska's Wild River Guides, Tikchik Narrows Lodge*, Iliamna River Lodge, Fish and Float Alaska, Kvichak Lodge, Naknek River Camp, Alaska Fly Anglers.
*TU Endorsed business